Today I've got my technology geek hat on and I've decided not to tell you a travel story for a change, so unfortunately I won't be spilling anymore details about bikini-wearing Red Indians on motorbikes. Sorry guys and gals.
Today I want to talk about websites, blogs, apps and what I do for a living; it's what I've done professionally for the last 17 years. If you follow Nat and I on Instagram or Facebook, you'll know that we've released popular visual travel guide apps for Dubai,  Rio de Janeiro and Paris. What I've never told you is that I've also created websites and apps for the UK Government, Sky TV, Cisco, JP Morgan, Barclays, BBC Worldwide, Channel 4 International, Betfair and more.
I know a thing or two about websites, I know a thing or two about apps… I know a thing or ten about turning an existing website or blog into a Mobile, Tablet and Apple TV app. You might not have known that you could even do such a thing and that's fine, you know now! There are dozens of travel bloggers, destination marketers and hotels whose colourful content I can already imagine packaged up for these digital platforms; ready for travel-lovers (like myself and Nat) to download and keep in their pockets until the end of time.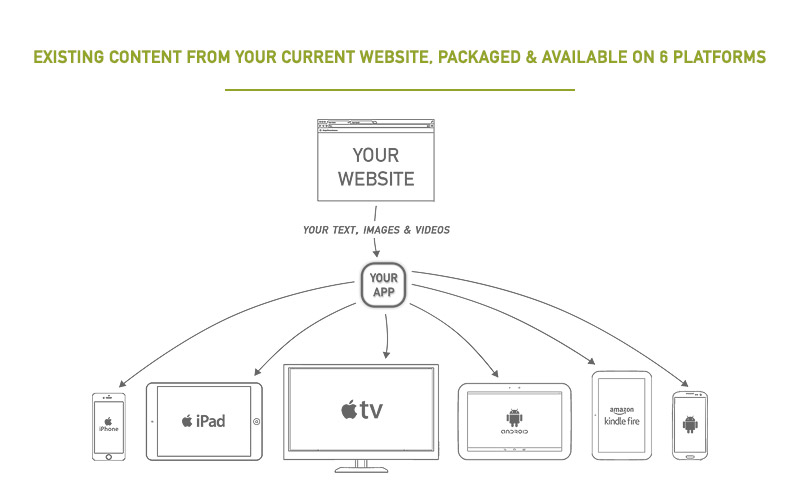 But, why should you care about turning your website or blog into an app and how will it benefit you? Based on my own personal experience of releasing apps on all of the platforms above, I've thought of 10 original, absolute no-brainer reasons why you should package up your existing website content for up to 2.5 billion people – and you'll wonder why you didn't do it sooner…
1. Increase Sales of Your Product or Service

More users equals more sales – a mind-bogglingly simple mathematic equation. With 2.5 billion people (including you) actively downloading apps each month on their iPhones, iPads, Apple TV's, Android devices and Kindle Fire tablets; putting your product or service in front of so many new people will instantly increase its' sales. Don't believe me? Check this out… In 2012, King.com released the Candy Crush Saga app and gained 30 million users. By 2013, they had 408 million users. This increase in users took King.com's annual earnings from $62 million in 2011 to a colossal $1.8 billion in 2013. In 2014, King.com reported earnings of $2.6 billion for that year. Yep… more users equals more sales.
2. People May See Your Brand on Their Phone's Home Screen 46 Times Per Day

Right now as I type this, I'm looking around at my fellow London Underground commuters on my morning commute to the office and I feel like I'm in The Matrix. We all do it. We're constantly glued to our smartphones. We wake up each morning, reach under our pillow and check our phone before we even say "Guten Morgen" to our loved ones! Even when we don't need to, we'll take out our phone, unlock it and swipe from screen to screen, sometimes forgetting the app we wanted to use. Studies have found that 18-24 year old's look at their phones 74 times per day, 25-34 year old's do it 50 times per day and 35-44 year old's do it 35 times per day. With this ludicrously high frequency of smartphone addiction, your app can sit on the home screen of someone's phone with them seeing your brand's logo 46 times on average per day – now how's that for free advertising?
3. Send Notifications Straight Into People's Pockets

When someone installs your app, you can ask them in your most polite voice if they'd like to receive notifications from you. From my personal experience, 98% of people say yes! It's so easy for them as they don't have to enter their name or e-mail address, they simply tap an "OK" button to receive notifications from you and then you can proceed to spam the hell out of them – please don't take my British humor literally. Thanks. This is a much easier way to acquire "subscribers" than using a traditional mailing list. When I write a new blog post, I send out a push notification and thousands of people instantly know that I've published a new blog post, rather than 80% of my mailing list subscribers ignoring me or not seeing my messages.
4. Increase Visits to Your Website, Blog & Social Media Accounts

Apps are consistently increasing visits to peoples' websites through their own in-app browsers, and you probably use an in-app browser every day without realising. When someone pins an article on Pinterest or shares an article on Facebook or LinkedIn, you click on that article from the respective app and the article loads inside the app (within an in-app browser) – and it doesn't ever take you outside of the app. By including links to your website and social media pages within your own app, you're giving your app users a quick'n'easy way to follow you on social media and to visit specific pages on your website – without them ever being taken outside of your app. It's a no-brainer.
5. Increase the E-Mail Subscribers on Your Mailing List

Although I really bigged-up push notifications earlier, you still cannot ignore e-mail marketing. After all, if somebody uninstalled your app, then you'd no longer be able to send notifications to them; but if you had their e-mail address you'd still be able to send your beautifully designed promotional e-mails to them. By including an e-mail subscription form in your app, you can collect the details of potential customers who have never even visited your website or blog before. Sidebar: the vast majority of the Go To Travel Guides mailing list is made up of people who signed up via the Go To Rio and Go To Paris apps, not via the website or blog.
6. Evoke Longer Engagement Times With Your Content on Tablets

Back in January 2010 when the iPad was first announced, I was asked by Betfair to create a football betting iPad app so that their 950,000 customers could place bets from their sofas during the 2010 World Cup. I instantly thought "I would personally use this iPad thingy because I'm a technology addict, but it will never catch on as a mass market device" – haha! how wrong was I? People have now replaced their laptops and desktop computers with tablets as their evening device of choice… with each tablet user spending up to 35 hours each month using tablet apps.
7. Easily Turn Your Existing Video Content Into Your Very Own TV Channel

Netflix did it, so did YouTube and so did Hulu. They all created TV channels from their existing video content, when all they previously had was a website. Because of video-on-demand streaming services, people have changed the way they watch television. We no longer rush to get home for 7:30pm to watch Eastenders, we just watch it on BBC iPlayer in our own time. The same goes for people who "binge-watch" TV series' like Breaking Bad and Making a Murderer on Netflix. Anyone with video content can now create their own video-on-demand channel thanks to the Apple TV, and your video content can proudly sit alongside the likes of Netflix.
8. You'll Instantly Stand Out From the Competition

Why follow the herd and blend in when you can be a Zebrephant and stand out? Think about this for a second… how many of your competitors have apps on 6 different platforms for mobile, tablet and TV? The Rio de Janeiro tourist board may be wondering how a Rio de Janeiro travel guide app by a random London couple has become more popular than theirs over the past 12 months. For a start, theirs isn't available on iPad, Android tablet, Kindle Fire or Apple TV – so I guess that mine and Nat's app stands out in that respect as we've made our app available to at least 1 billion more people than they have. Be a Zebrephant. Zebrephants are cool.
9. Apps Can Make You a LOT of Money

There are several ways that apps can make you money. Firstly you can sell your app, but I wouldn't recommend that. Free apps make waaay more money than paid ones, remember how much money King.com made from their free app, Candy Crush Saga? They made $2.6 billion in 2014 purely from in-app purchases in their free app. Besides in-app purchases, you can make money by selling advertising space in your app and you can also promote affiliate products within your app, where you get paid a commission for promoting another company's products. The possibilities are endless.
10. You're Giving Your Customers a Better Experience With Faster Load Times

Word on the street is that 40% of people abandon a website if it takes longer than 3 seconds to load. I knew that our attention spans had shrunk and that we'd become more impatient as people, but this is embarrassingly bad. I guess that if people had your content instantly available in the palm of their hand, then they would never become part of the "lost 40%". Let's face it, people want information and they want it quickly. Mobile and tablet apps load instantly because they are already installed and located on the device, and your content can even be made accessible to people without an internet connection. Websites take longer to load because a web browser (such as Google Chrome) has to actually visit a web server somewhere in a far away land, download the entire contents of a web page, then process it and display it to the user… and as you may know, not all web hosting providers are created equal. Some are verrrryy sloooooww.
There you have it… 10 of the best reasons I could think of from the top of my head, as to why your existing website should be turned into a Mobile, Tablet & Apple TV app.
Now you know why, I guess you want to know how you can actually do this. There's no magic button you can click that will instantly transform your website into a professional-quality iPhone, iPad, Android, Apple TV and Kindle Fire app… but if you want to find out how I'll help you to do it (with no extra work from you) and also see examples of how your own website would look on these platforms, then please e-mail me or get in touch on LinkedIn and I'll give you the lowdown on a customised presentation I've created for you called "10 Ways To Increase Your Sales, Brand Awareness & Customer Engagement By Turning Your Website Into An App" – this presentation is tailored specifically to your brand and will give you an insight into the app creation process and achieving your objectives with these apps.
Thanks for reading… and if you like pretty pictures, this information is also available as a Slideshare presentation – please feel free to download and share!