Thailand is home to a wide variety of beautiful places and exciting activities for your kids to enjoy throughout your whole trip. If you've been following our travels for some time, you'll know that we are huge fans of Phuket, Bangkok and Koh Samui. We've really had a lot of fun in these places!

From tropical beaches, ancient ruins and royal palaces to scenic views, cosy hotels and sprawling jungles, Thailand has it all.
If you're travelling to Thailand with kids for the first time, you may not know what to do and what to expect. Don't despair! We've hand-picked a comprehensive list of the 10 best things to do in Thailand with kids. Some of them are fun, some adventurous and some are completely free.
Important travel tip for a fulfilled Thailand trip with your kids:
If you're the type of person who likes to stay connected digitally while you're on holiday or vacation in Thailand, then a SIM or eSIM for your mobile device will make your experience more convenient and enjoyable. You'll be able to stay in touch with your family and friends at home, have access to digital maps and travel information, use messaging apps, and share your experiences in real-time throughout the trip.
We recommend using a Thailand tourist eSIM because it helps you to avoid the hassle of purchasing physical SIM cards, making it easier for your family to get connected wherever you go. Furthermore, using eSIMs means you don't need to worry about misplacing or losing traditional SIM cards, providing parents with peace of mind, and offering a smoother travel experience for everyone.
Now, are you ready to explore Thailand?
1. A Thrilling Adventure: Flying Hanuman with Kids

Cost: $72 – $110 USD
Location: Kathu, Phuket
This adventurous experience is suitable for kids 5 years old and above, who love adrenaline-fuelled activities.
The Flying Hanuman gives you a chance to zipline from tree to tree in the wilderness in Phuket, promising a Tarzan-like adventure. Phuket isn't only a beach destination but also boasts an impressive forest environment. This doubles up as an eco-friendly experience for your family.
A plus point for this activity is that the Flying Hanuman was built without harming the surroundings.
Tip: Make sure that you prioritise your safety and follow all the instructions given by the staff before starting the activities.
2. Enjoy a Fun-Filled Day at Cartoon Network Amazone Water Park

Cost: From 899 Baht per person, or Free for children under 90cm
Location: Pattaya
If your little ones enjoy vibrant and colourful entertainment, then head to Cartoon Network Amazone Water Park in Pattaya. This water park is filled with fun and adventure, offering a splash-tastic haven of joy for children. It includes 150 thrilling water slides, roller coasters, aquatic playgrounds, entertainment shows and interactive zones themed around popular Cartoon Network characters; as well as many other things to keep families entertained.
Here, you'll not only enjoy fun-packed water activities but you'll also see iconic cartoon characters from Adventure Time, Ben10 and The Powerpuff Girls. You can also look forward to experiencing an adrenaline rush together on rides like Omnitrix and Alien Attack.
Apart from thrills at the water parks, your little ones can indulge in a culinary adventure at local restaurants serving local specialities and international cuisines such as Korean, Italian, and Japanese, which surely light up your taste buds.
Tip: To have more fun, you should arrive early to secure a good spot. Consider bringing your own towels and snacks.
3. Interact with Elephants at the Elephant Jungle Sanctuary

Cost: $30 – $60 USD
Location: Chiang Mai and Kok Chang
Besides ancient temples and floating markets, Thailand is also home to majestic elephants that your kids are already looking forward to meeting. For an ethical and meaningful elephant encounter, visit the Elephant Jungle Sanctuary. This sanctuary rescues and cares for elephants, promoting a no-riding policy to prioritise the well-being of the animals.
At the Elephant Jungle Sanctuary, you'll find rescued elephants roaming freely inside the park. You also have a chance to feed, bathe, and play with these gentle giants in their natural habitat. Remember, the sanctuary does not allow tourists to ride the elephants for ethical reasons.
The prices for a half-day visit start at about 2,500 Baht per adult and 1,500 Baht per child, including both transportation and a meal.
Tip: Don't forget to bring a change of clothes, because you may get wet during the elephant bathing experience.
4. Visit the Floating Markets of Damnoean Saduak

Cost: Free
Location: Ratchaburi
When in Thailand, a visit to a famous floating market is a must-do for families with kids. Damnoean Saduak floating market in Ratchaburi is one of the most popular floating markets in Thailand. The market offers an insight into traditional Thai culture and cuisine that will fascinate your children.
Every day, many Thai and international tourists travel here to shop, eat and absorb the atmosphere of Thai water markets that have been like this for more than 100 years.
These floating markets offer a vibrant atmosphere filled with colourful boats filled with fruit and vegetables, as well as local Thai delicacies.
You can take a leisurely boat ride through the bustling market and allow your little ones to sample delicious treats there. Bargaining with sellers is recommended, especially if you buy snacks or souvenirs.
Tip: Arrive early in the morning so you can avoid the crowds and enjoy a more authentic experience. Also, don't forget to bring a selfie stick so you can capture yourself and your family enjoying those colourful moments on the water!
5. Taste Street Food at Bangkok's Night Markets

Cost: Free
Location: Bangkok
Thailand is renowned as one of the most popular foodie destinations in the World, not just in Southeast Asia. Bangkok's night markets offer an excellent chance for your whole family to explore local street food, making it a wonderful way to start your Thailand adventure with kids. Let them try dishes and snacks like Pad Thai and fried bananas, etc.
You and your family could even try eating a scorpion on a stick!
 

View this post on Instagram

 
We've eaten our way through Thailand a few times and the food is hard to resist when it's not only delicious but also super cheap. While out and about, you'll literally need less than $2 for a filling plate of food. In night markets, you can choose to eat a large variety of different foods and the kids can physically see what they want to try, instead of blindly ordering from a menu in restaurants.
However, the only downside of Thai food is that it can be a little too spicy for kids. You may never know how spicy something will be until you try it. Sometimes a "little spicy" to Thai people can be burning hot to foreigners!
Tip: You should choose popular stalls with many locals eating, meaning that the food is likely to be delicious, fresh and safe to eat.
6. Play and Relax on Pristine Beaches in Krabi

Cost: Free
Location: Krabi
The stunning beaches in the coastal town of Krabi offer a perfect setting for both fun and relaxing with your kids. Enjoy spending time building sandcastles, soaking up the sun and splashing in the crystal-clear waters.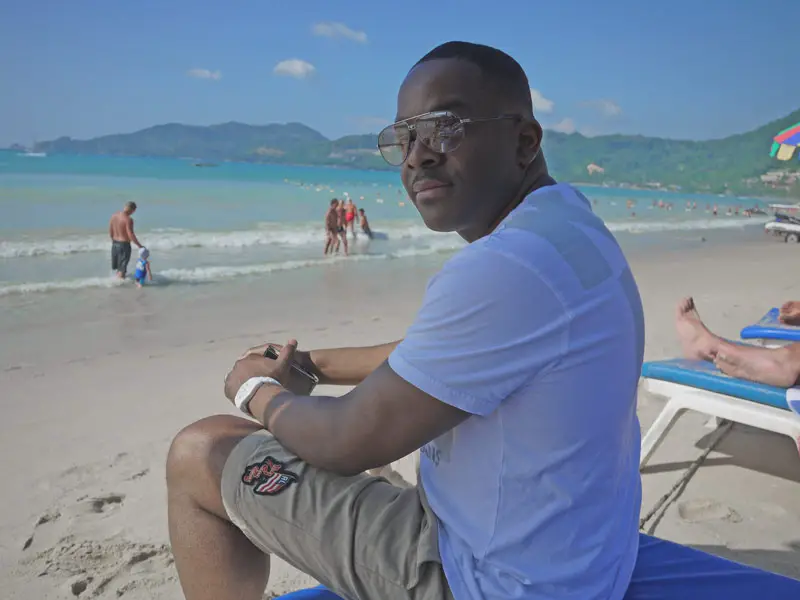 Ao Nang Beach and Railay Beach are two popular family-friendly options. For added excitement, you can choose from a fantastic range of activities, like sea kayaking among the rock outcrops to see cave art from prehistoric times and scuba diving to witness some of the most beautiful soft corals in Asia.
Remember to pack some essentials for a beach visit such as sunscreen, a bucket & spade, and swimming goggles or a snorkel set.
Must-haves for every beach holiday! Don't forget to pack these travel essentials for your Krabi trip
Tip: When planning your trip to Krabi (or Phuket), make sure that you consider Thailand's monsoon season. You may want to avoid travelling between April and October, as these months experience the heaviest rainfall.
7. Feel Refreshed at Sticky Waterfalls in Chiang Mai

Cost: Free
Location: Chiang Mai
Sticky Waterfalls is a magical natural attraction nestled in Chiang Mai. Traditionally, rocks at waterfalls are slippery, making them hard to climb. However, the rocks at Sticky Waterfalls are covered in limestone deposits, meaning that they are not slippery and can be climbed up and down with ease.

Take your little ones here, allow them to climb up and down the rocks, and swim in the pool at the base of the falls. There are also many shaded areas to take breaks and enjoy picnics.
Tip: You should wear suitable footwear to climb the limestone cliffs with ease because of their "sticky" feature.
8. Family Go-Kart Racing at EasyKart

Cost: Approx. $13 USD
Location: Bangkok, Pattaya and Koh Samui
The craving for speed and adrenaline is something that loads of children have. Rides which seem scary or dangerous for some adults actually excite these types of kids, no matter how small they are! At EasyKart, your family can race together at the track and get an adrenaline rush at one of the largest indoor go-karting tracks in Asia. The karts are designed for young drivers, warranting their safety while still creating an exciting and enjoyable experience.
There are different sizes of karts and speeds catering to various age groups and skill levels, which are 120cc, 160cc and 200cc engines.
Kids 7 years old and above can drive a kart but only the size of 120cc. There is no need to have a driving license or to be a well-trained driver to handle this track, so the activity is suitable for your little ones.
Tip: You cannot race in sandals or slippers, so wear shoes/sneakers/trainers and socks or you can rent them for only 90 Baht.
9. Have Animal Fun at Chiang Mai Zoo

Cost: 150 Baht per adult, 70 Baht per child
Location: Chiang Mai
Chiang Mai Zoo provides an enjoyable and educational experience for kids, guaranteeing fun encounters in a family-friendly environment. You can rest assured that your whole family will enjoy this zoo, which is home to cute koalas, majestic giraffes, adorable pandas and more. Children will have a chance to see and learn more about animals that they may have never met before.
The highlight of this zoo is the Panda House, giving your family a chance to see two adorable giant pandas in very close proximity. You'll have to pay an extra fee to see these cuddly creatures.
Your kids will love feeding and interacting with the friendly animals in designated areas. Feeding sessions can be both educational and entertaining, allowing kids to get hands-on with wildlife and fostering a sense of responsibility and empathy towards animals. This will surely create some unforgettable moments during the trip.
Tip: Plan your visit early to avoid crowds and have more time to enjoy the on-site activities because Chiang Mai Zoo is quite large.
10. Immerse in Thai Culture at the Siam Niramit Show

Cost: From 1,650 Baht depending on different options (show + dinner)
Location: Phuket
Treat your kids to a culturally enriching experience with the Siam Niramit Show in Phuket. The show features the richness and diversity of Thai culture, history and traditions through stunning costumes, captivating dance choreography, martial arts, and intricate set designs. Entertaining and educational, it's a fantastic chance for kids to learn about a different culture in an engaging and fun way.
Before the main show, there are some pre-show activities as well as exhibitions, which allow children to engage with different aspects of Thai culture and make the whole experience more immersive.
So, Are You Ready to Explore Thailand with Your Kids?
There's no doubt that Thailand is an incredible destination for travellers of all ages, especially families with kids. Whether you choose to explore ancient ruins, encounter exotic wildlife, enjoy water parks, visit vibrant water markets, or relax on pristine beaches, each of the things to do in Thailand with the kids mentioned above will leave your family with unforgettable moments to cherish for years to come.