Phuket, Thailand… the place that we fell in love with on our first-ever visit to South East Asia. The buzzing atmosphere, the mouth-watering (and cheap) food, the stunning beaches, the lovely elephants, the mesmerising muay thai fighters, the wild nightlife, electrifying new year parties, the other beautiful islands nearby… These are just a few of the elements encompassing so many amazing things to do in Phuket as a couple. It's a truly unforgettable place and we could go on about it forever (and ever).
If you're visiting Phuket as a couple or thinking about visiting, we hope to inspire you with a list of 5 unforgettable experiences that you can have on our favourite Thai island – based on our very own personal experiences there.

1. Canoe Through a Cave and Into the Unknown
Of all of the things to do in Phuket for couples, laying flat on your back in a canoe while your nose brushes the low ceiling of a cave has got to be one of our most unforgettable experiences. This is no every-day experience people! Once you get through the cave to the other side, what greets you is a serene, emerald green lagoon, leafless mangroves, an air of calm and the odd howling monkey that is so high up, you can't see it.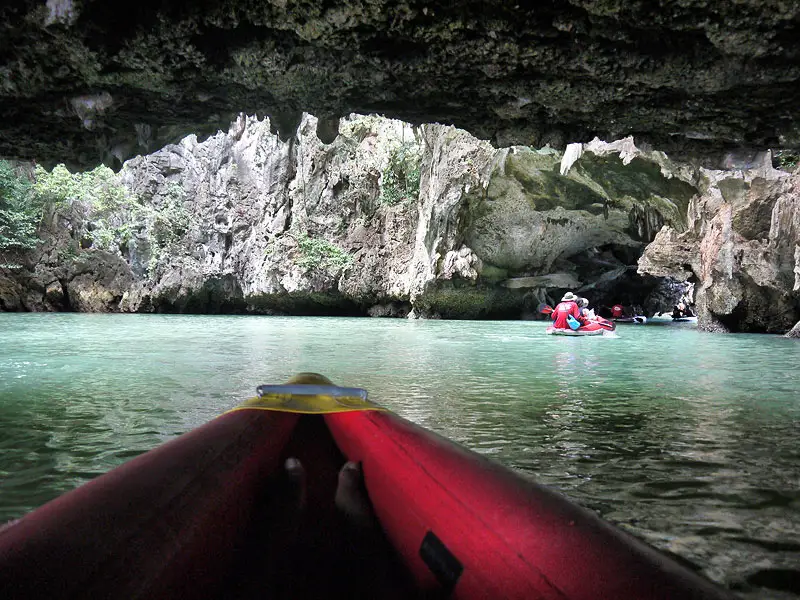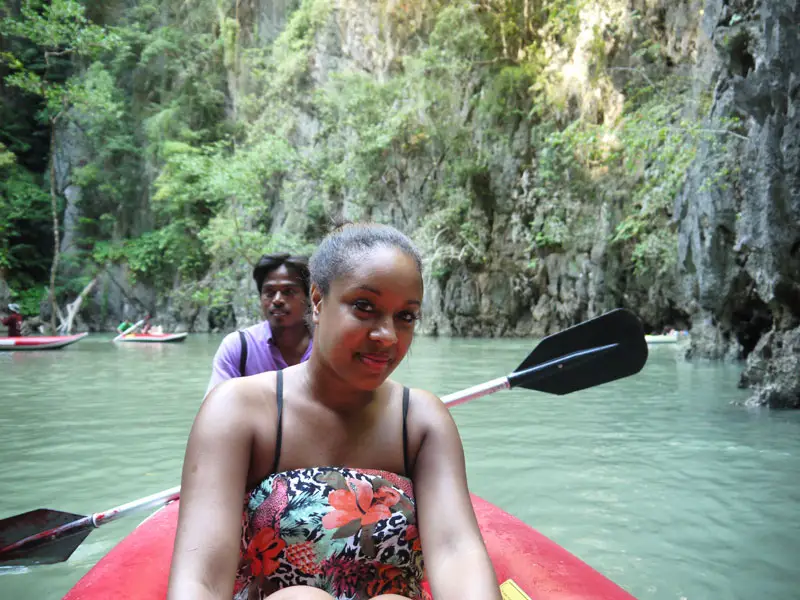 2. Lavish in 60-Minute Foot Massages Every Day
In the UK, a full-body massage will cost you around £100 and a 60-minute foot massage will set you back approximately £60. In Phuket, a 60-minute foot massage costs just 250 Baht, which is only £4.50 !!! Most women (like Nat) love to be pampered – and rather than treating yourself to the usual once-a-month pampering session, Phuket allows you to stretch your pounds and dollars to be pampered twice (or more times) a day! On our first visit to Phuket, we literally hopped off the plane in the middle of the night, dragged our suitcases along the busy Bangla Road – dodging 1,000 drunk people – and dropped our belongings off at our hotel before getting a 60-minute foot massage on a street corner at 2 o'clock in the morning! Swollen feet from the 14-hour flight? Gone. Instantly.
p.s. Full-body massages are only about 50 baht (£1) more; and these massage parlours are everywhere, you can't miss 'em.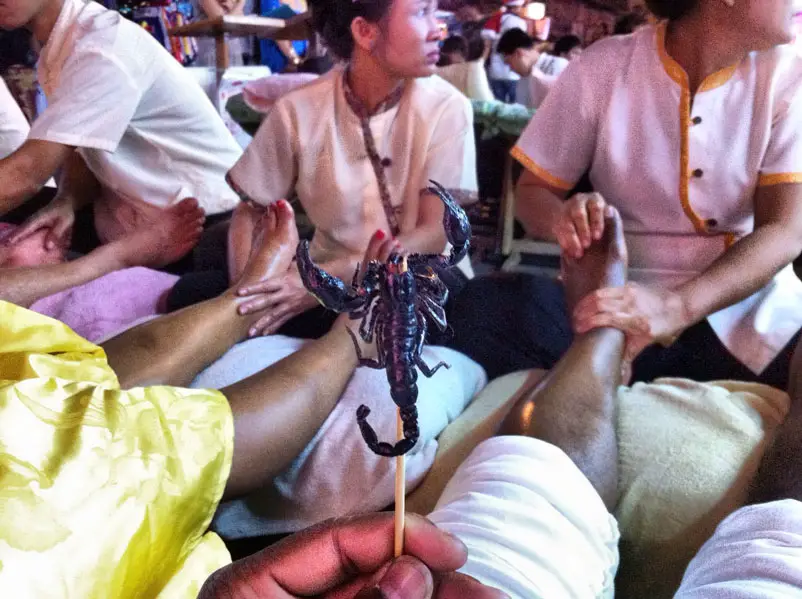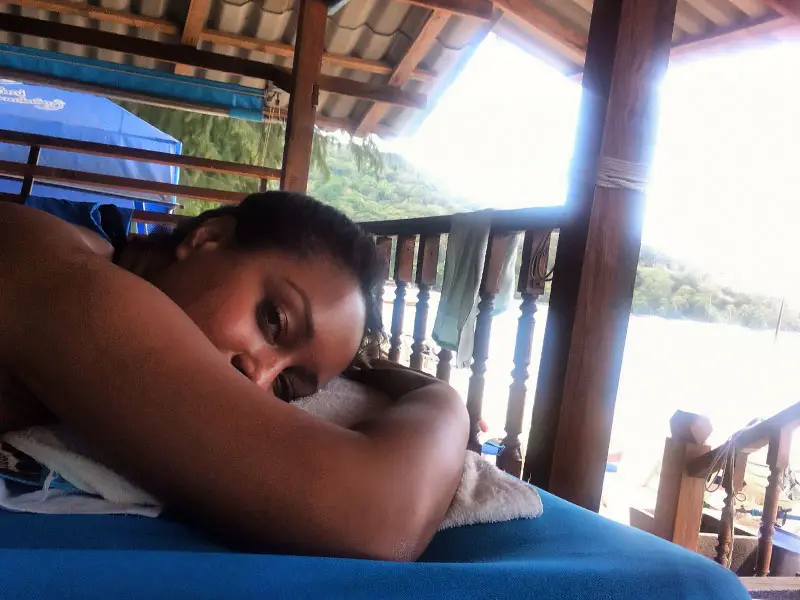 3. Visit the Island Where James Bond Squared up to Christopher Lee
The day that we visited the awesome James Bond Island, Mase was sooo hungover from the night before, he could barely enjoy the beauty of the island (shame on you Mase). Locally known as Khao Phing Kan, this island was home to the villain Francisco Scaramanga (played by Christopher Lee) in the 1974 James Bond movie, The Man With The Golden Gun.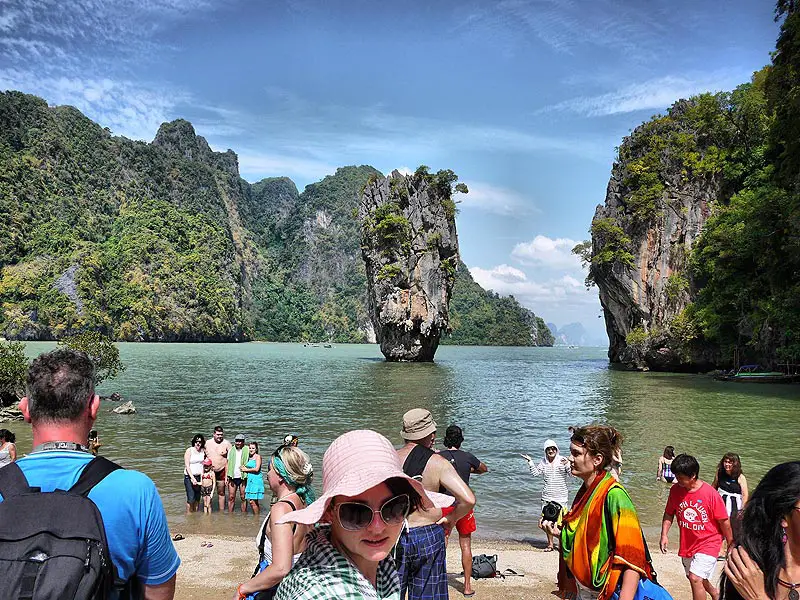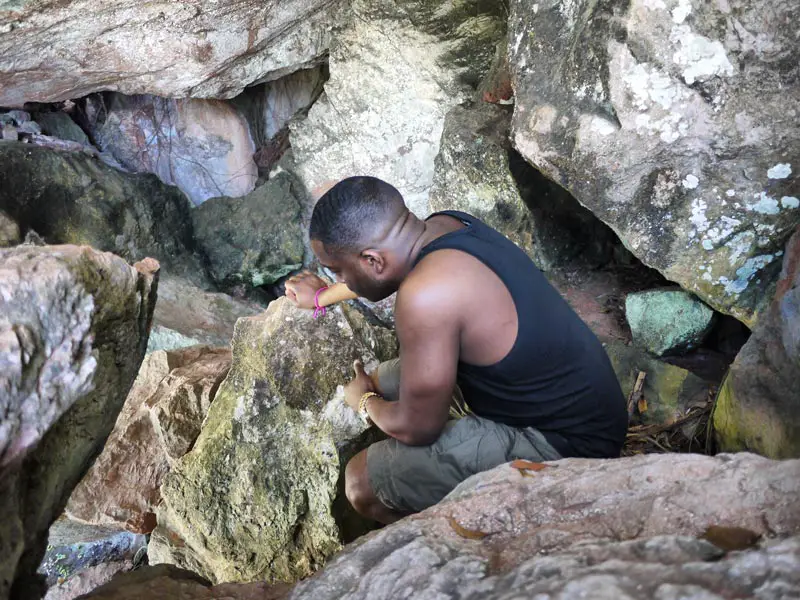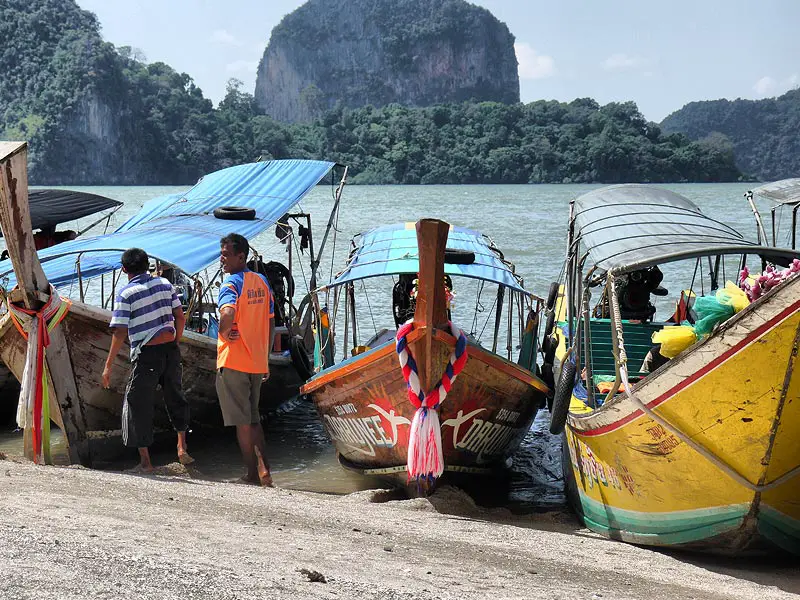 4. Dance the Night Away at a Lively Beach Party
Dear Patong Beach,
You have well and truly spoiled us with your new years eve parties. So much so, that we have tried (and failed) to replicate this unforgettable experience on subsequent annual new year trips to Rio de Janeiro and to Bali. As much as we've enjoyed spending new years eve in other destinations, the Patong Beach experience cannot be replicated.
You blessed us with new friends from South Africa, Japan, Australia, India and of course THAILAND! You allowed us to drink cheap alcohol, release lanterns into the sky, jump around on the sand to dancehall reggae, dance & house music and watch more than 1,000 fireworks explode above our heads. You've given us a life experience that we'll never forget. How can we ever repay you?
Yours Sincerely,
Nat and Mase. xx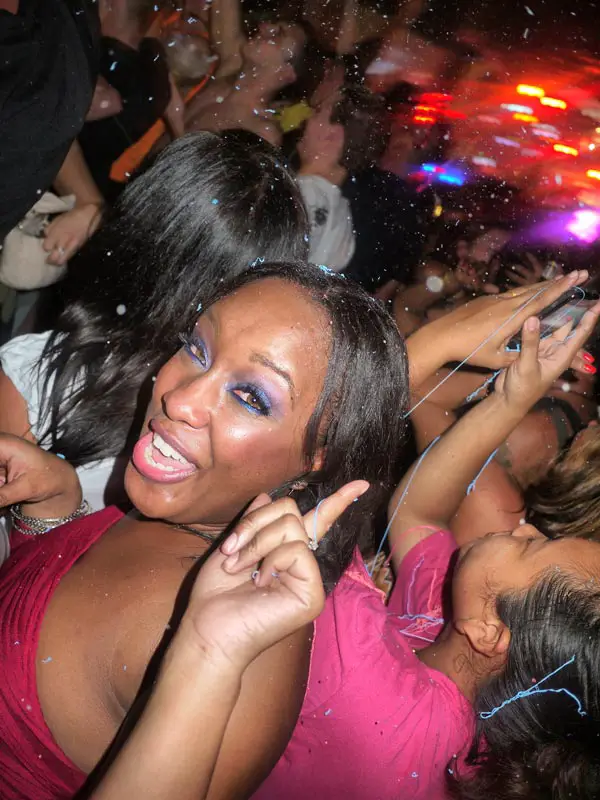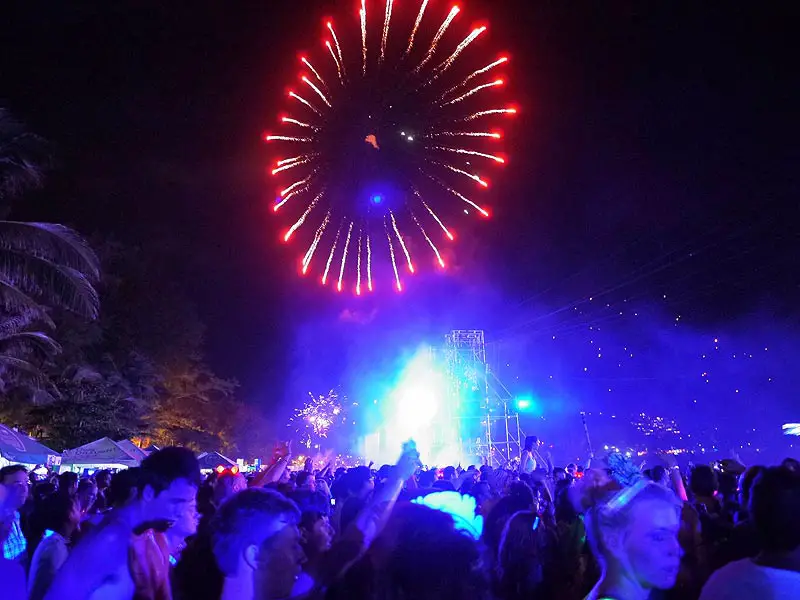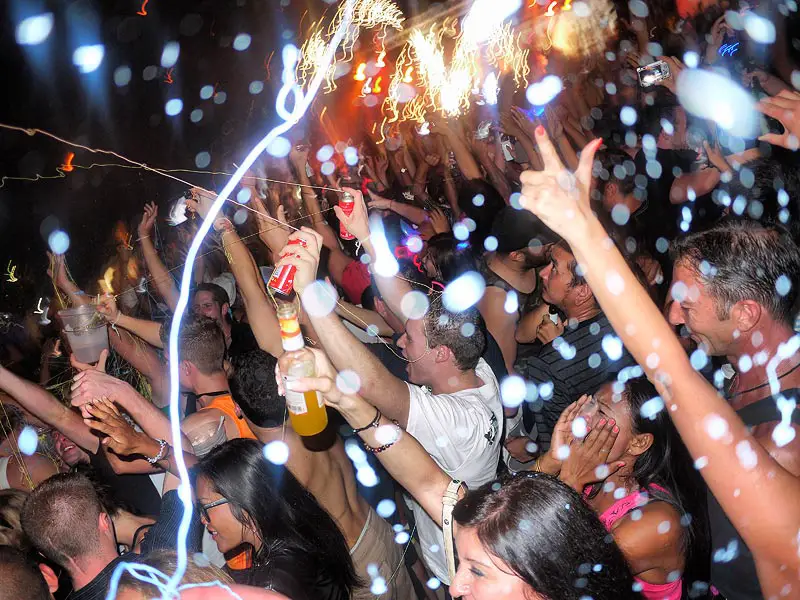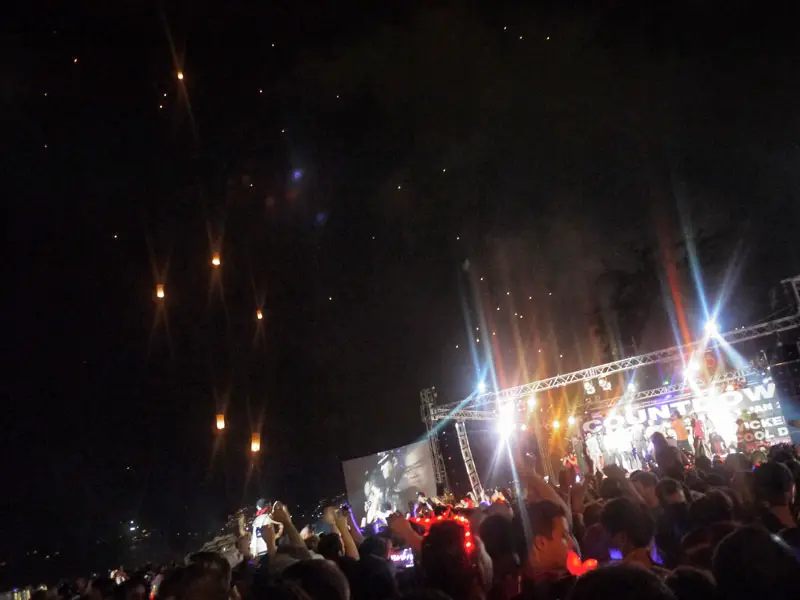 5. Swim Where Leonardo DiCaprio Swum in "The Beach"
The Phi Phi Islands have become one of the most popular tourist attractions in Southern Thailand. Maya Bay – on the island of Ko Phi Phi Don – is where the year 2000 movie The Beach was filmed, starring Leonardo DiCaprio.
So, what is it about Maya Bay that makes it unforgettable for us?
The stunning 100-metre high cliffs?
The number of beautiful white-sand beaches available?
The colourful coral reefs?
The tropical fish gliding through the crystal-clear waters?
Nope! What made this experience really unique and unforgettable for us was the tingling sensation we felt all over our skin as we snorkelled in the bay. Whist we found this intriguing, there were others in our group who jumped out of the water after a few minutes to thoroughly (and confusingly) examine themselves. After questioning our tour guide as to why they were (temporarily) covered head-to-toe in small red spots, our tour guide explained to these confused snorkellers that there are small microbes in the water that cleanse your body of its dead skin, similar to the fish in those fish pedicure tanks. The look on their faces. Priceless!
UPDATE: MAYA BAY HAS BEEN CLOSED INDEFINITELY !!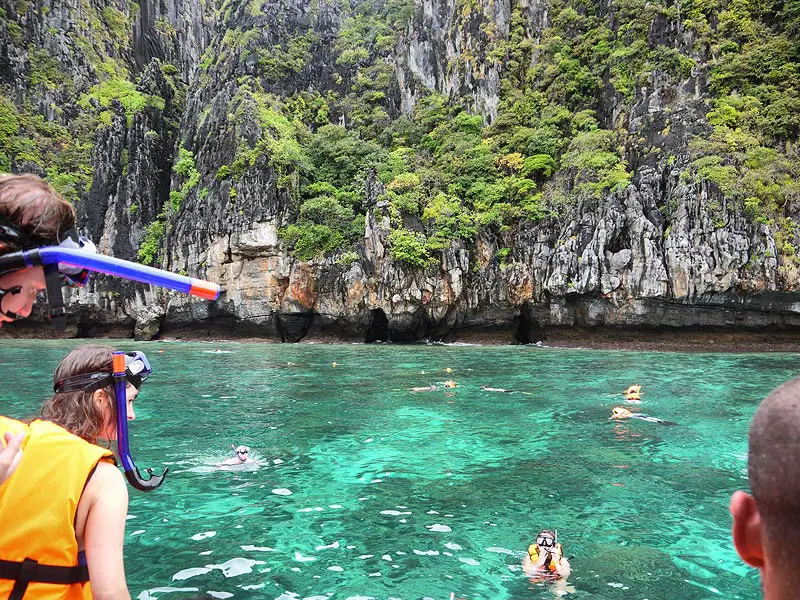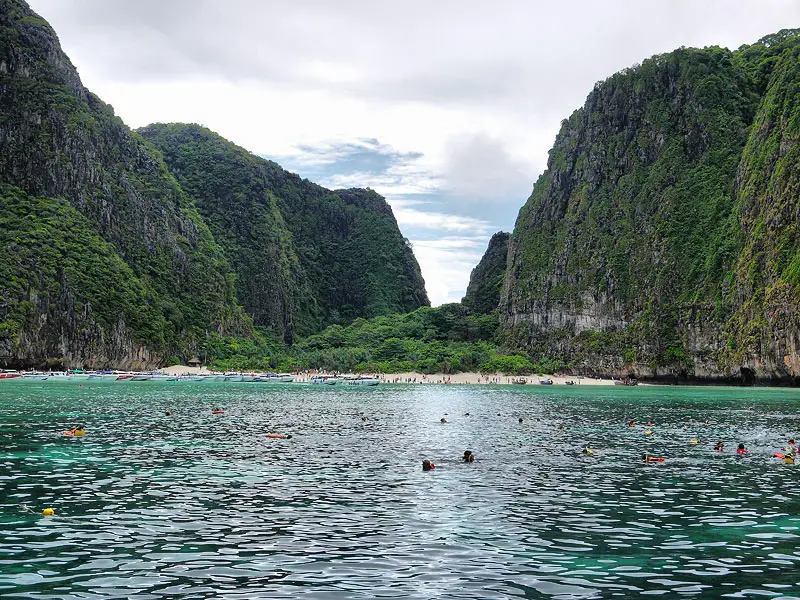 Plan Your Own Trip to Phuket
We always look for the best deals when it comes to flights, accommodation and tours. Over the last 19 years of enjoying trips together, we've come to rely on a few providers that have saved us money and given us a great service…
GUIDED TOURS, ATTRACTIONS & THINGS TO DO
GetYourGuide.com – Excellent guided tours and all of the top things to do in Phuket for couples, hand-picked by local, English and Thai speaking tour guides.
HOTELS & ACCOMMODATION
Hotels Combined lets you search and compare the best hotel deals in Phuket, from Booking.com, Expedia, Hotels.com and more! With a choice of 1,124 Hotels in Phuket, Expedia offers up to 60% Discount on selected Phuket Hotels. We've been using Expedia since 2005 !! Hotels.com offers up to 70% Discount on many of their Hotels in Phuket. We've been using hotels.com since 2003 !!
FLIGHTS
Expedia – Book a few months in advance and you'll find cheap flights to Phuket, with most international flights first stopping off in Bangkok. We booked our first flight with Expedia in 2005 from London to Miami