We don't know about you, but we are always on the lookout for a great deal when booking our trips. We pride ourselves on seeking out the best value flights, cheapest airport parking and booking luxury hotels at affordable prices! That's what we all want, right?

In the last couple of years, the cost of regional and international travel has exploded increased to levels that none of us could have predicted. This is primarily because of global inflation, a boom in demand (post-pandemic) and limited supply. With the steady incline of fuel prices to boot, overall travel prices have risen by 17%. Despite the worst peak hitting back in 2022, things still aren't looking so different in 2023.
If you're still aching to travel, now is the time when it is most important to seek out travel deals. It's especially good to find ways to lessen travel costs considering how experts don't expect any price crashes any time soon.
Tips for Finding Deals Online
Although we've become accustomed to "doin' it for the gram", the online travel landscape isn't just for documenting your holidays or vacations in memorable ways.
Beyond pretty pictures and sharing, the web is the best place to find travel deals. We're here to make sure you have a few guidelines in your back pocket to help you find a travel deal that fits what you're looking for.
Check Social Media but be Wary of Seeded Posts
 

View this post on Instagram

 
Hmmm, when you see us on this tropical island resort in The Maldives, does it inspire you to want to visit too?
Social networking platforms such as Instagram and TikTok are sometimes great places to discover new destination ideas and travel deals that you may have overlooked otherwise. One good thing about following lifestyle influencers on social media is how they inherently provide word-of-mouth and personal accounts of both popular choices and hidden gems, all with pictures and videos included.
The only problem is how you let this affect your deal search and whether you end up getting hooked by a blatant ad. With the rise of influencer marketing, you need to make sure you're identifying posts that are simply meant to share experiences, rather than ones designed to subtly get you to spend your hard-earned moola.
When looking at how social media impacts spending habits, influencers stand out as core pillars of digital marketing that inevitably make online users splurge.
Anyway, what is a seeded post on social media?
Seeding is a content creation strategy where brands give products and experiences to influencers without asking them for social media exposure in return. Why does this strategy work? Think about it. Influencers post about their lifestyle every day. Hotel X offers Miss Y (with 500k followers) a free stay in their fancy hotel "just because". Of course, Miss Y is going to share her luxury experience. Guess what, she doesn't have to disclose that it's an #ad because technically it isn't. Clever!
Explore Direct Booking Options Before Booking Elsewhere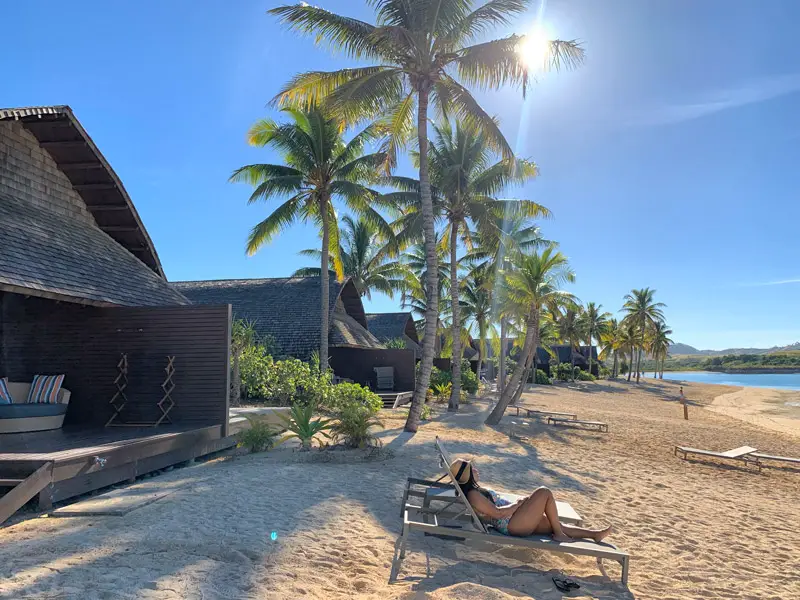 Although it's always a good idea to search on various websites that specialise in aggregating deals (such as TripAdvisor), it's also smart to check out providers directly. Whether it's flights, tours, or accommodations, many companies will often share special discounts or deals that are only exclusive to those that book directly with them.
Take the Fiji Marriott Resort (above) for example. When we were booking our trip, the price for a room on the beach (with Lagoon view) was unaffordable for us on Expedia, Hotels.com and Booking.com. We visited Marriott's website directly and were astonished to see the price was 15-20% less if we joined the Marriott Bonvoy program, which was free of charge !!
Always make sure you compare prices between aggregator websites and directly on companies' websites before making your choice. Booking directly also comes with the benefit of better customer support (more often than not).
Don't Shy Away from Flight & Hotel Package Deals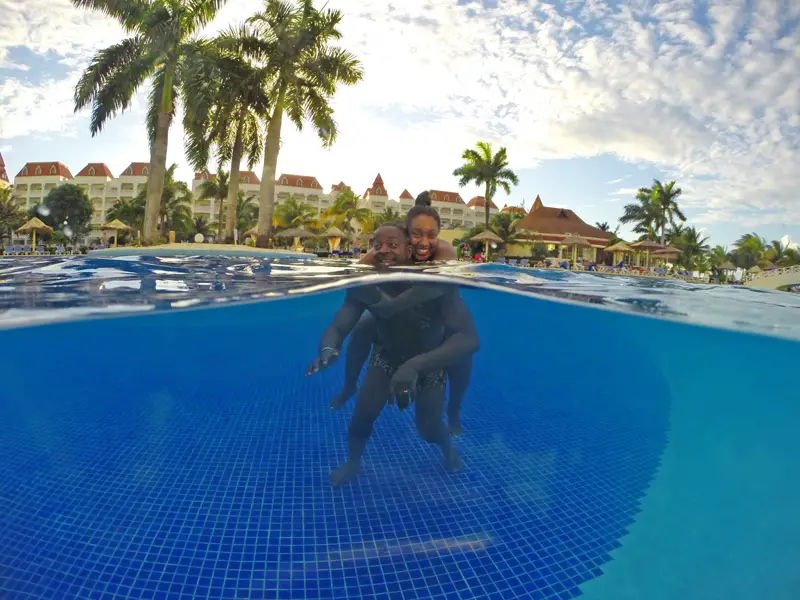 If you feel like holiday package deals seem sketchy, think twice. You may think these types of deals are "too touristy" but who cares, as long as you're saving money, right? Be like us… book a package to Jamaica, which includes direct flights, all-inclusive hotel accommodation for 14 days and transfers to and from the airport. Then spend literally 75% of your trip outside of the hotel exploring the island. It's up to you how you travel, and we've saved thousands of pounds (and dollars) travelling this way!

As long as you're searching with a reputable online travel agent (such as Expedia or TUI), you will often find an amazing deal as a package that may not be what you sought out at first.
This type of trip may or may not add extra stops to your itinerary (i.e. indirect flights), but a package holiday or vacation can be a great way to save money and end up with a more fulfilling trip in the end.
Great Platforms & Apps to Find the Best Deals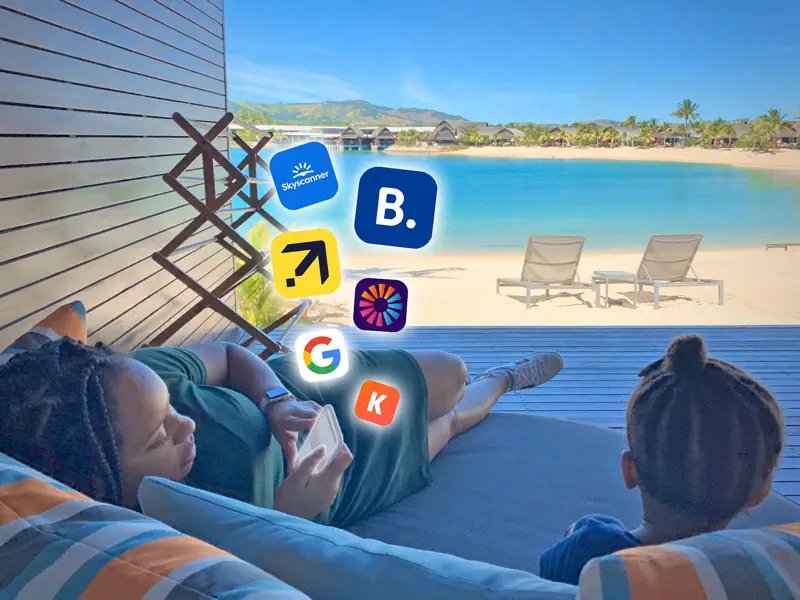 Although there is no single perfect website, app or platform to consistently give you the best travel deals, there are some standouts that are reliable when it comes to smooth transactions and getting actual discounts. If you don't know where to start, here are a couple of good platforms to kick off your search.
Momondo for Flights
There are plenty of platforms that we use to find flight deals, including SkyScanner, Skiplagged, and Google Flights. A good spot to start, however, is Momondo. As long as you're flexible with your dates, you can find plenty of cheap flights here. You can also find rental cars through the platform.
Considering the recent disaster of thousands of flights getting cancelled all through summer 2022 across airlines, it can be very helpful to have a platform that has flight compensation for cancellations and overbooking.
Of course, it's still smart to check out direct airline prices while using Momondo so you can get a full picture of all the deals available.
Booking.com for Hotels & Accommodations

When we booked the Hilton Barbados Resort (above) on Booking.com, we used their "book now, pay later" option. We basically put down a deposit a couple of months before our trip and then paid the balance when we arrived at the hotel. Very convenient for our family bank account!
Looking for holiday or vacation accommodation tends to be a more complicated journey than booking flights, simply because there are more options. You can rent a house or villa, book a hotel or resort, stay at a motel, or try out a hostel. If you want a platform that considers all those various options, you should definitely start with Booking.com.
While many major hotels will often offer exclusive deals if you book directly, the advantage of using a site like Booking.com is that you can also see deals for smaller places that may not have a website or just have a less active online presence.
Statistics show that re-booking flights and hotels due to unexpected changes in plans is one of the biggest stress factors for travellers across the world. Therefore, using a platform such as Booking.com help you both financially and mentally.