What a Day !! Have you ever planned your day, had little to no expectations for that day, then that day turned out to be one of the best days you've ever had? If so, you'll be able to relate to this epic day we had at Nikki Beach in Marbella, Spain…
How This Day Came About
When planning a trip, we always research the destination's attractions, culture, restaurants and nightlife in advance. This day came about as a result of an online search for the best places to eat in Marbs. Nikki Beach looked really good for lunch, so we made a reservation online – we were looking forward to above-average food with gorgeous sea views, but not much else.
The Lunch
On the third day of our holiday in Marbella, we jumped in a taxi at midday and headed to Nikki Beach for our pre-booked meal. When we arrived, there was quite a long queue outside the venue, but as we had made a lunch reservation, we were whisked straight inside. As we sat down, there were a few flies flying around our table so our waiter filled a saucer with coffee granules, placed it in the middle of our table and set fire to it. POW! No more flies.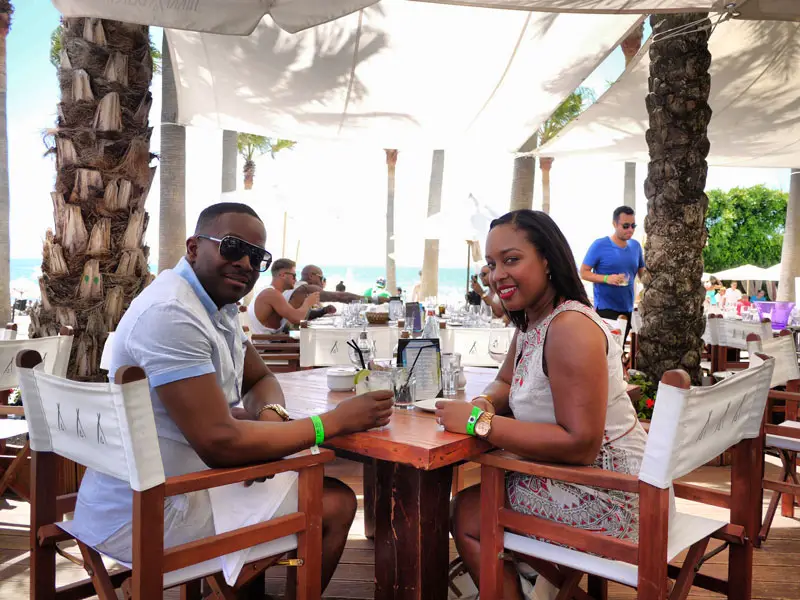 Nat had the Mediterranean Sea Bream and Mase had the Famous Chicken Satay. All in all it was a really nice meal, but it was quite expensive compared to a restaurant you'd find in the old town. But then again, we did have a few cocktails (each), which would have bumped up the price.
The Party
After finishing our meal, we got up from our seats and were getting ready to leave when we noticed the venue slowly filling up with people – all chatty, dancing and enjoying drinks. We decided to be sociable and stay "just for one more" drink. Yeeaah right!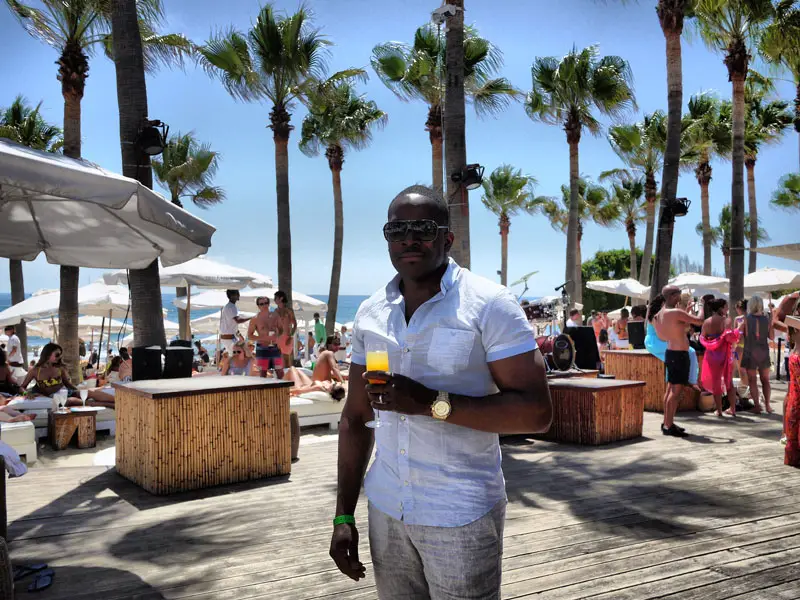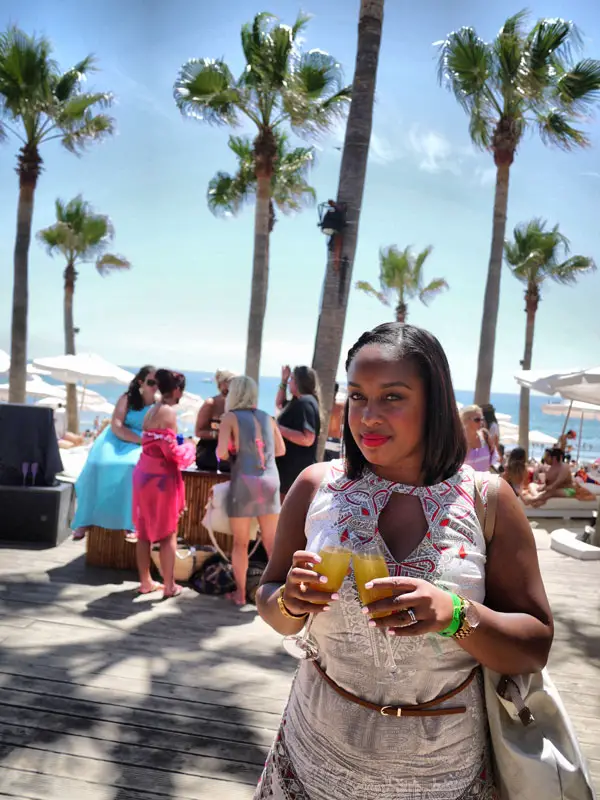 Soon, Nikki Beach was completely filling up with party people. Some people even had their children with them. The atmosphere was buzzing, the sun was blazing and the drinks were certainly flowing.
We were definitely dressed for a lunch and not a day party – so we were practically two of the very few people there not to have swimwear on; but by this stage the party was in full swing, we were having fun, meeting new people and had completely forgotten that we only came here for lunch.
Bikini-Clad Red Indians on Motorbikes
When Nat went to the toilet and left Mase to hold the fort, two motorbikes slowly weaved their way through the thick crowd, with loud firecracking noises emitting from both bike exhausts. Saddled on these noisy motorbikes were ladies in bikinis with huge feathers sprouting from their heads. As these feather-clad ladies stopped in the thick of the crowd, they unloaded what seemed to be a never-ending supply of Champagne bottles from the rear of their bikes and started handing them out to people.
When Nat returned from the toilet, she didn't believe Mase when he told her about the motorbikes – it just sounded way too far-fetched and Nat says that Mase always exaggerates.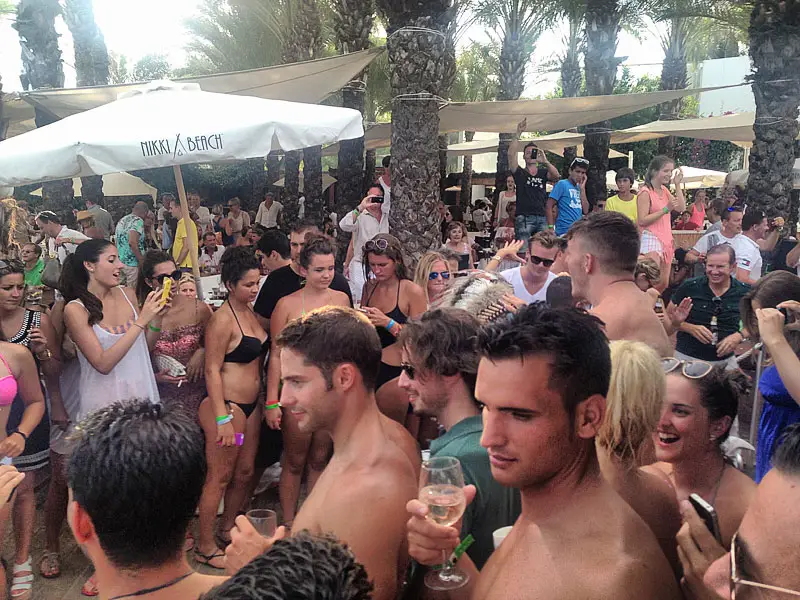 Being Soaked Under a Champagne Spray Shower
As she'd had quite a few bellinis, Nat once again – quite quickly – found herself visiting the ladies room. While she was away, Mase noticed that people began to vigorously shake the bottles of champagne that the bikini-clad red Indians had given to them. Before you knew it, the air was filled with champagne and Mase was completely drenched from head-to-toe.
We had heard about the infamous champagne spray parties in Marbella, but we had no intention of ever being caught up in one as we find that type of thing a little bit pretentious… Mase admits that he slyly enjoyed it though.
When Nat returned from the toilet, she didn't believe Mase when he told her about the Champagne spray – it just sounded like he was making this stuff up and he was probably wet from spilling his own drink on himself.
The Violinist and Saxophonist
Even though we do like it, after a while, house and dance music can sound quite monotonous as each drum pattern is basically the same – thump… thump… thump… thump (and repeat).
In a great effort to not let their party goers suffer from even 1 second of boredom, Nikki Beach unveiled an enthusiastic violinist who got up on the stage and strutted her stuff. She was top notch!
When the violinist had finished playing, a very captivating saxophonist appeared – standing on top of the bar – and he also played along to the dance music. We'd never heard anything quite like it, but we loved it!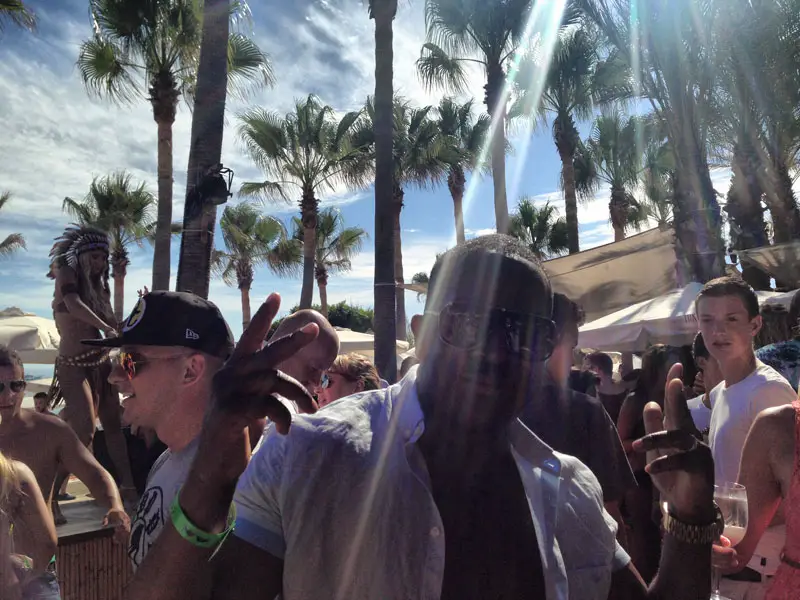 The Beach – and the Free Beach Party
For the revellers without Nikki Beach wristbands on, they were confined to the sand and the sea outside of the venue (poor them) – but the music obviously filled the entire beach so they could enjoy a beach party of their own, for free. The atmosphere seemed really lively down on the beach, so we went and mingled with the crowd.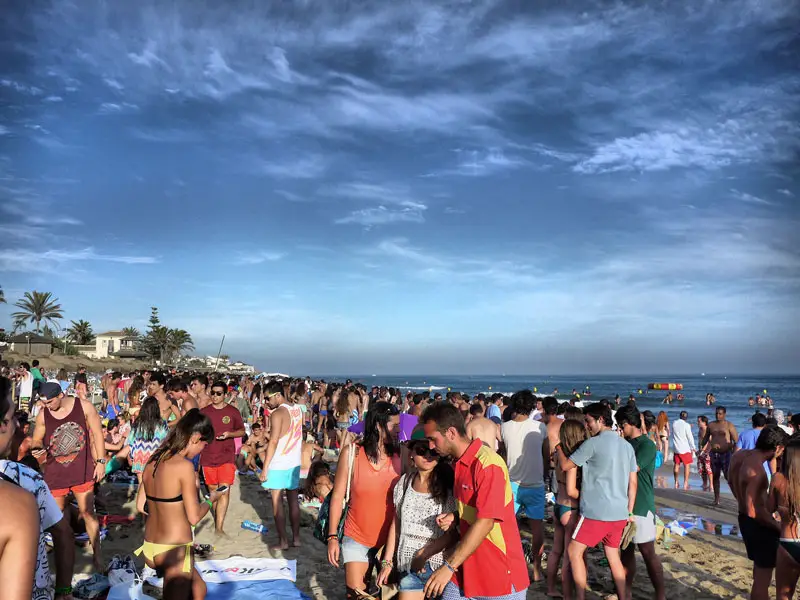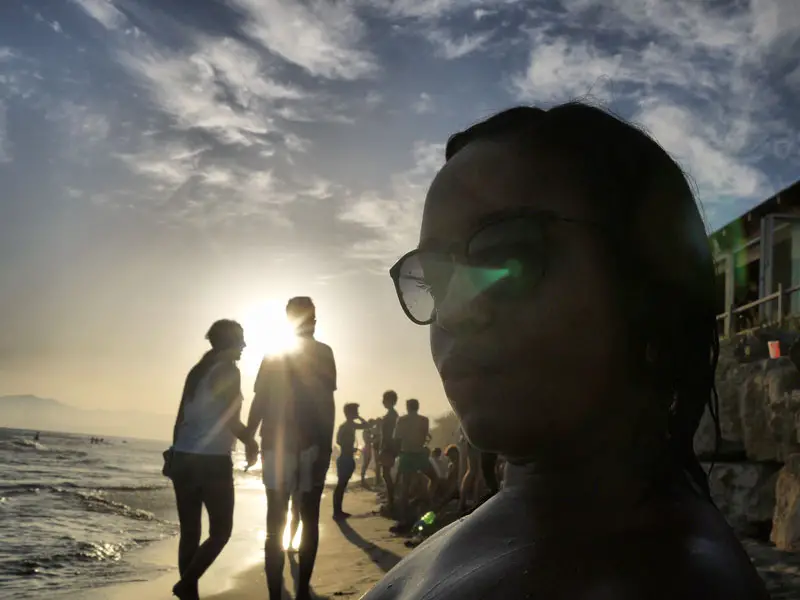 Whilst we were on the beach, several people asked us for our green wristbands to gain entry to Nikki Beach. Let us have a little think about that… "No!" (said in the most polite way possible, of course)
The Aftermath
Soaked head-to-toe in god-knows-how-old champagne, Mase smelled as if he had just crawled out of a sea of vomit… Nat was urgently in need of our hotel room bed… We ended up giving away our wrist bands after all… There were no taxis in sight… We stumbled around until we reached a main road (or was it a motorway?) where a taxi driver stopped for us, looked tentatively at us like we were escaped convicts and then eventually agreed to take us to our hotel.
What a DAY !!
Plan Your Own Trip to Marbella
We always look for the best deals when it comes to flights and accommodation. Over the last 19 years of enjoying trips together, we've come to rely on a few providers that have saved us money and given us a great service…
GUIDED TOURS, ATTRACTIONS & THINGS TO DO
ACCOMMODATION
Hotels Combined lets you search and compare the best hotel deals in Marbella, from Booking.com, Expedia, Hotels.com and more! With a choice of 80 Hotels in Marbella, Expedia offers up to 60% Discount on selected Marbella Hotels. We booked our Marbs hotel on Expedia and we've been using Expedia since 2005 !! Hotels.com offers up to 70% Discount on many of their Hotels in Marbella. We've been using hotels.com since 2003 !!
FLIGHTS
Expedia – Make a booking more than 2 months in advance and you'll definitely find cheap flights to Malaga, with most European flights flying directly to Malaga, which is the nearest airport to Marbella. We booked a very cheap EasyJet London-to-Malaga flight through Expedia and we actually booked our very first flight with Expedia back in 2005 from London to Miami