Along with the Statue of Liberty and Central Park, The Brooklyn Bridge is one of the most iconic symbols of New York City; spanning 5,989 feet across the famous East River, from lower Manhattan to Dumbo (a trendy neighbourhood in Brooklyn). When you're visiting the city as a tourist, walking across the Brooklyn Bridge is by far one of the most popular things to do in New York. Not only is its spectacular wooden structure and architectural design unique to look at (and photograph), but strolling across this bridge rewards you with an absolutely phenomenal view of the Manhattan skyline – and it's one of the less obvious fun things to do in NYC with kids.
If you're visiting New York as a tourist, build excitement by counting down the days, hours, minutes & seconds until your trip with our CAN'T WAIT! Vacation Countdown & Story Maker app 😊

When you're trying to think of fun things to do in New York City with kids, walking across the Brooklyn Bridge might not be the first activity that springs to mind, but our 2-year old toddler LOVED IT and your kids will too! There are some DO's and DONT's to consider before you take the stroll though, so continue reading…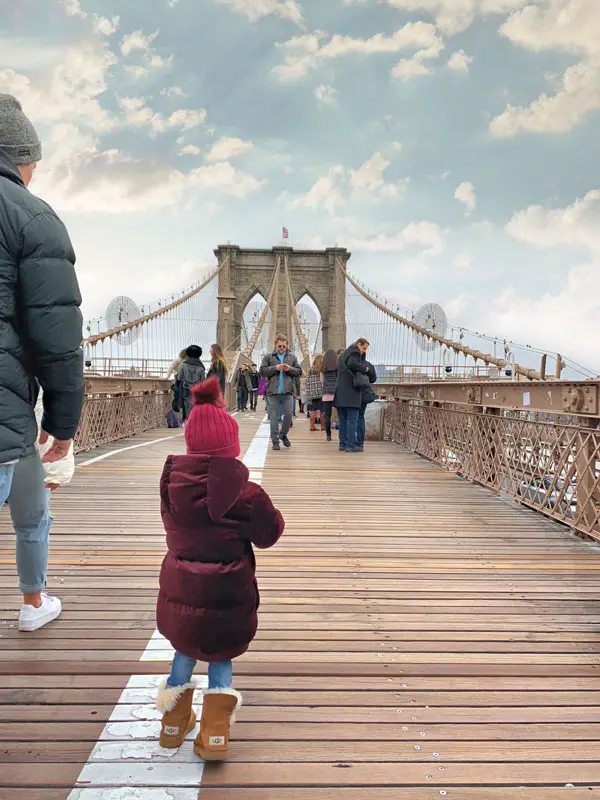 Now that we're (ahem ahem) seasoned experts at walking with a toddler across the Brooklyn Bridge, we've got 10 helpful, need-to-know tips to give you before you make the trip for yourselves!
1. Take a taxi (not the subway) to the entrance of the bridge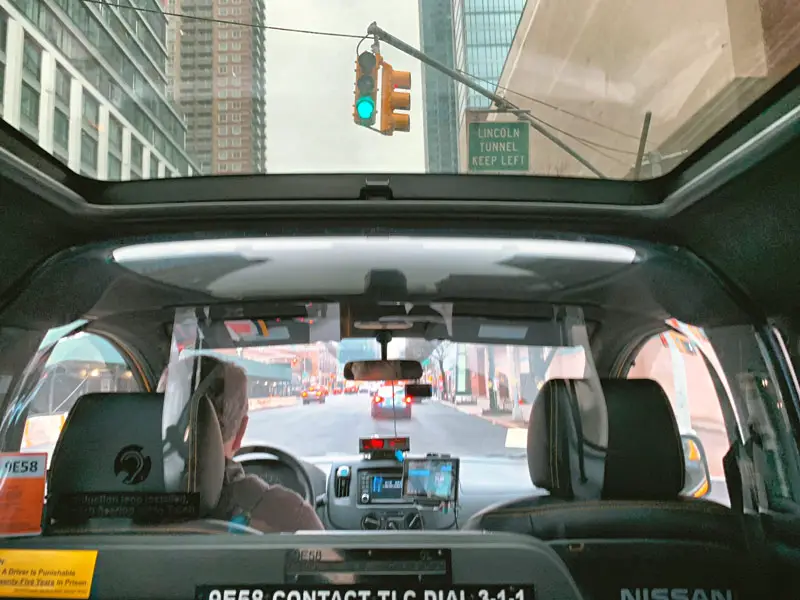 You'll want to put as little stress on yourself, your children and your legs as possible; so we'd recommend travelling to the entrance of the bridge in comfort – in a nice, yellow taxi. Walking through subway stations and up & down subway steps will only burn vital energy that you and your children will need later. If you're bringing a buggy or stroller (like we did), then you won't want to be carrying it up the subway steps when you're about to walk 1.1 miles across a bridge. Please do save your energy!
Yes, we understand that the subway is the cheapest and most-preferred mode of transport in NYC, but… As we're from London, we're used to astronomically high taxi prices so we actually find New York taxis good value in comparison! We paid approximately $20 to get from Midtown Manhattan (Times Square) to the entrance of the Brooklyn Bridge in a taxi – as a family of three. It's definitely more expensive than a subway ride, but also more comfortable and convenient.
You can also join a Brooklyn Bridge guided tour… you'll meet your licensed New York tour guide near the bridge, and they'll accompany you on a highly informative walk across the bridge, where you'll learn loads about its history 🙂
2. If you're taking a child that's younger than 3 years old, bring a Stroller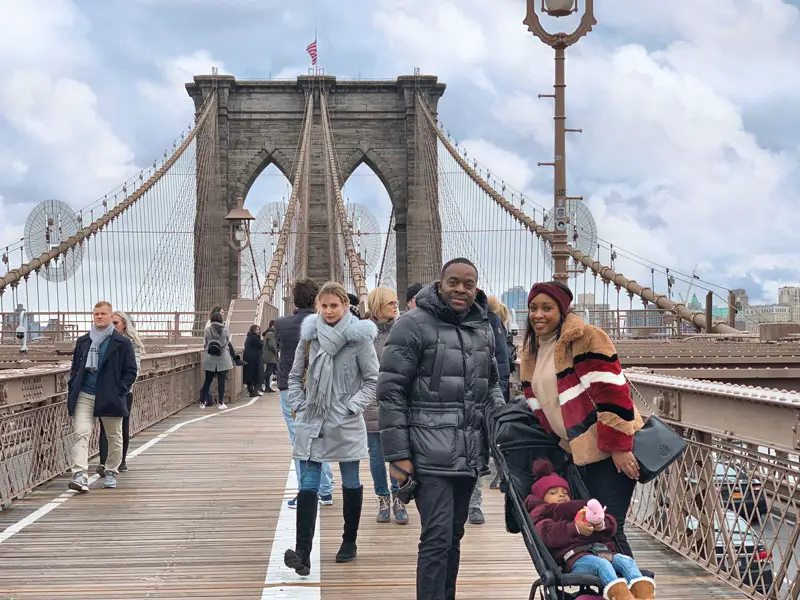 Toddlers can be are very fussy! One minute they want to walk, next minute they want to run away, and the minute after that they want you to pick them up and carry them (!!).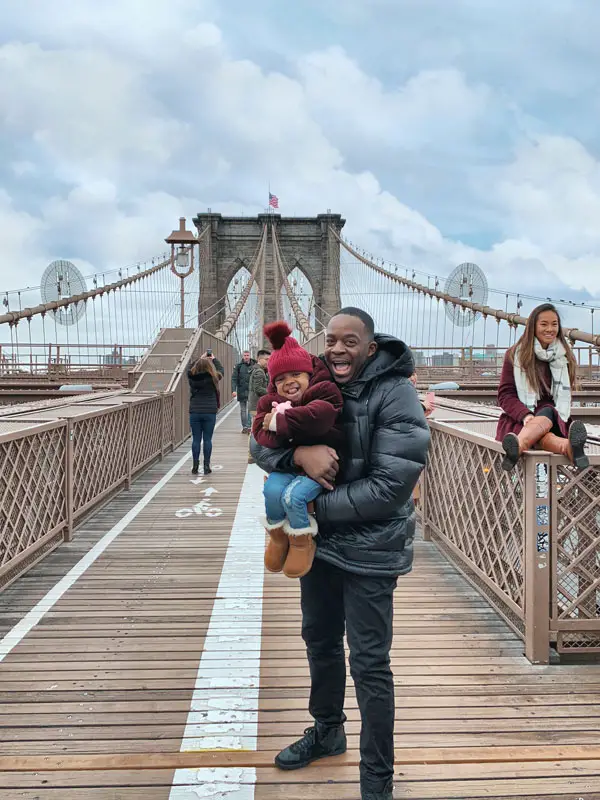 Our 2-year old daughter Layla is a typical toddler, and after running around, she sometimes burns herself out and needs to sit in her stroller and relaaax. After all, it would be unfair to expect a toddler to walk 1.1 miles, so please bring a stroller (preferably a foldable one that will fit in a taxi boot/trunk). We have the Mountain Buggy Nano, and we've used it on every trip since Layla was 3 months old – it has been a blessing!
3. Stop for regular breaks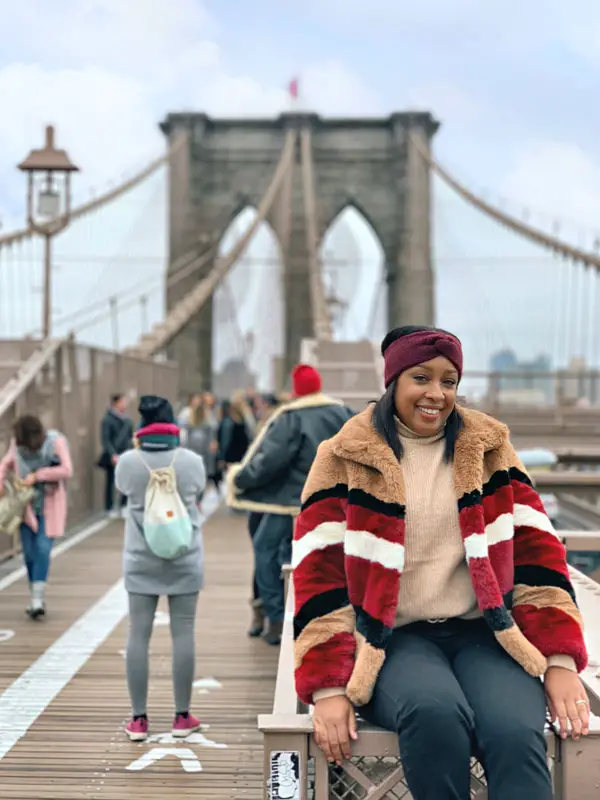 The 1.1 mile walk across the bridge takes an adult around 1 hour when walking at a leisurely pace. If you're walking with young children, it'll take a little bit longer (errr, twice as long to be exact) !! Not only will you want to make "photo op stops" along the Brooklyn Bridge, but both you and the children will need to rest your legs a couple of times throughout the 1-2 hour walk.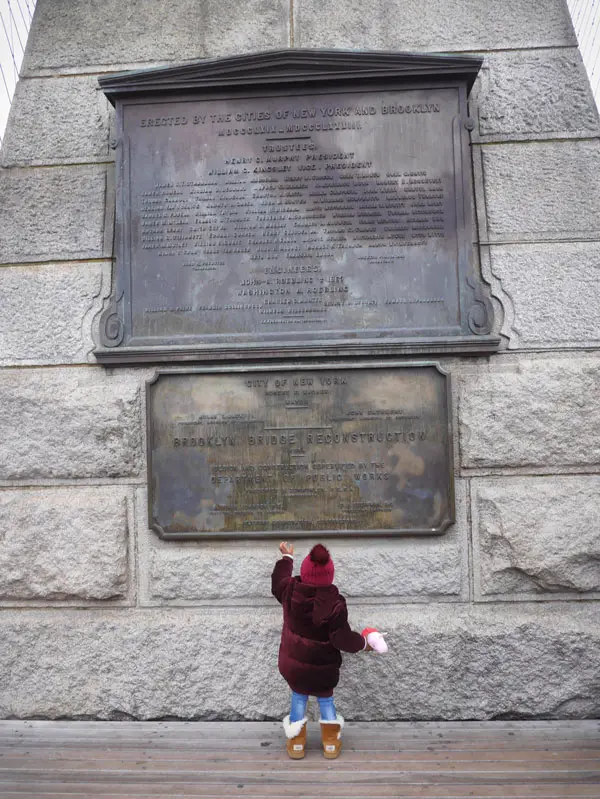 4. Wear comfortable shoes or boots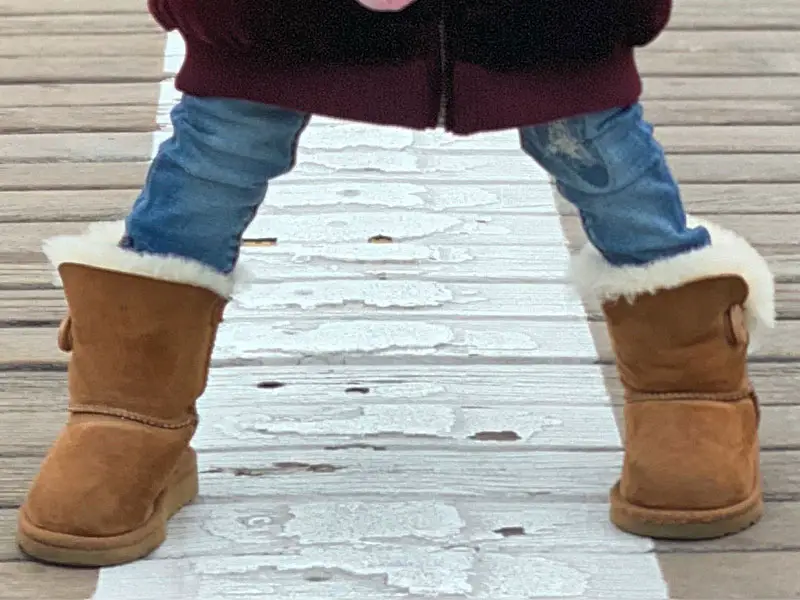 As you can expect to be walking for up to 2 hours, we'd recommend that both you and your children wear your most comfortable shoes. Our daughter wore Ugg Boots, so she was literally walking on cotton wool – you can't get more comfortable than that!
You can get cheap (and genuine) Ugg Boots for kids on Amazon.
Top tip: Grown-ups! Please don't wear brand new shoes that you haven't worn-in yet. You'll be feeling the pain afterwards!
5. Try not to lose your child in the crowd!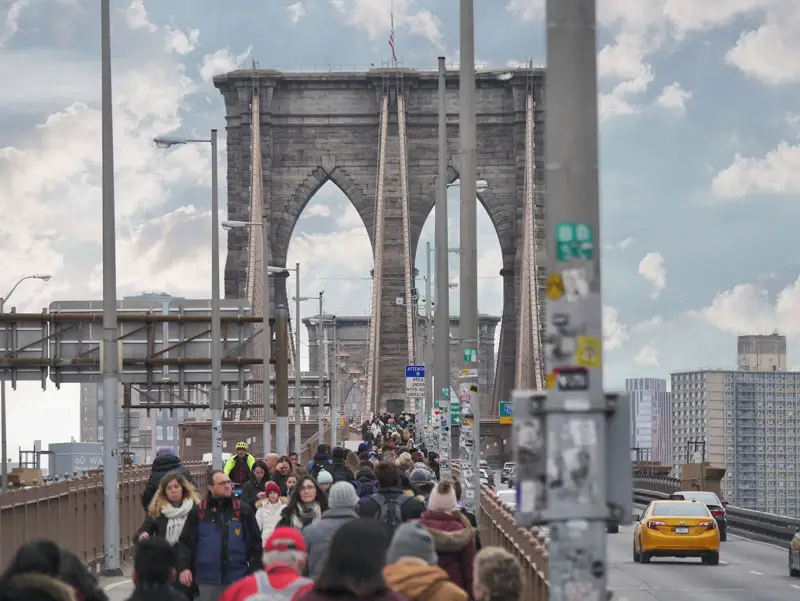 There will be a LOT of people (mostly adults) walking across the Brooklyn Bridge at the same time as you. Parts of the bridge get pretty crowded as you can see in the photo above; especially during the summer months, Thanksgiving (November) and the Christmas season. With huge crowds of people taking selfies marching along the bridge, it can be difficult to spot a small child if they wander only 5 metres away from you; and into a crowd of people that are three times taller than them.
So, please keep an eye on them!
Enjoying our Brooklyn Bridge Tips?
Get more Travel Tips like these Sent Straight to your Inbox
6. Don't get run over by a bike! (Stay in your lane)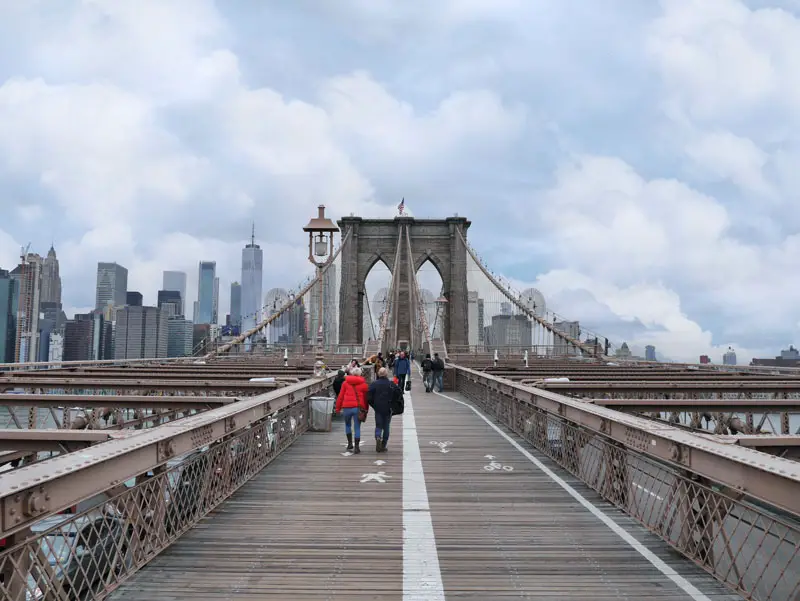 As you can see in our photo above, there is a clearly marked bicycle lane on the Brooklyn Bridge. What's it for? You guessed it… bicycles! Although the huge, white bicycle signs may make it seem obvious to you that this lane is for bikes, there are still people (i.e. in the photo) who walk into the path of speeding bikes. Guys, this is dangerous !!
Please please watch your children and make sure that they stay on the pedestrian path. We saw so many adults get shouted at by speeding cyclists while we were on the bridge, but these cyclists were simply warning pedestrians to get out of their way! When cyclists are going about their business on the bridge, they do it quite fast. If you or your children get in their way by walking on their path, then you (and them) could get seriously injured. Please "stay in yo lane" 🙂
---
More things to do in New York City with Kids…
---
7. You don't need to bring your child's scooter (or any other toy on wheels!)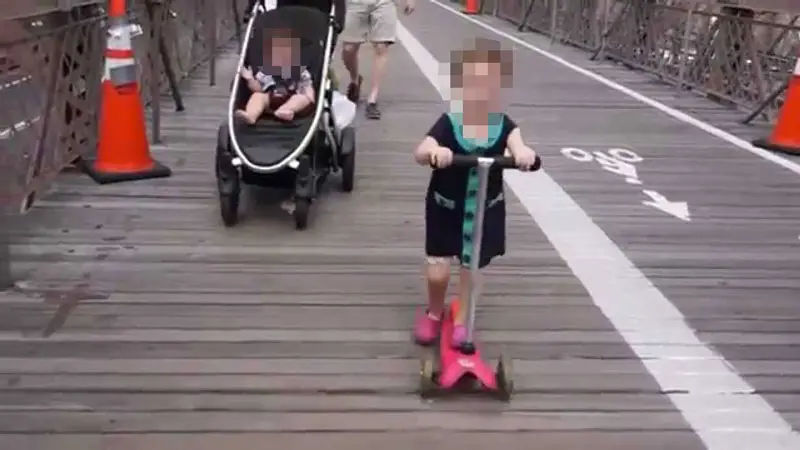 When planning your walk, it may seem tempting to make the journey across the bridge a little more fun for your children. However, please avoid bringing a scooter, a bike, rollerskates, a skateboard or a hoverboard for them to ride across the Brooklyn Bridge on – especially during busy periods. This can only result in three things for your children…
They may stray into the cycle lane and get hit by a cyclist
They will get in way of people walking along on the pedestrian path
They will get very frustrated at being unable to ride comfortably, in a straight line through a crowd
Please save these toys-on-wheels for a trip to Central Park, or at a time when you can guarantee that the Brooklyn Bridge won't be busy. Your children will enjoy walking across Brooklyn Bridge more than you think.
8. Don't forget to enjoy the experience yourself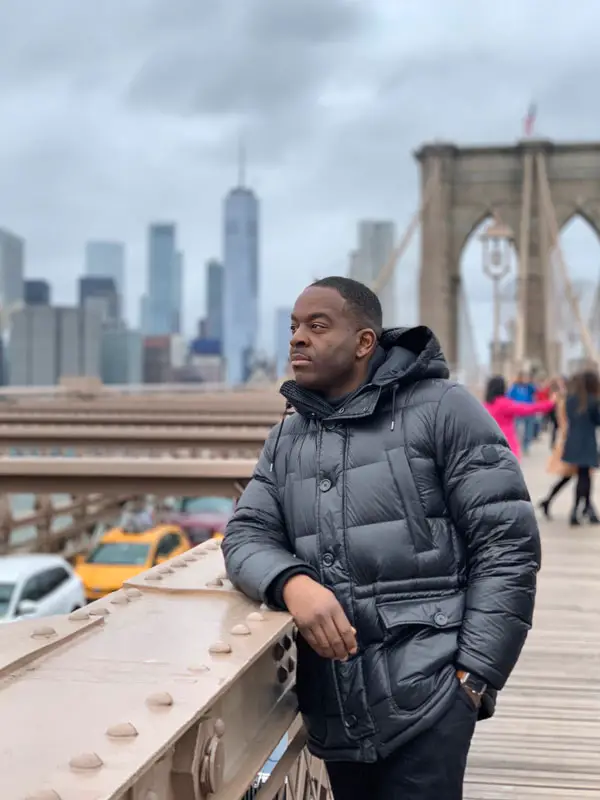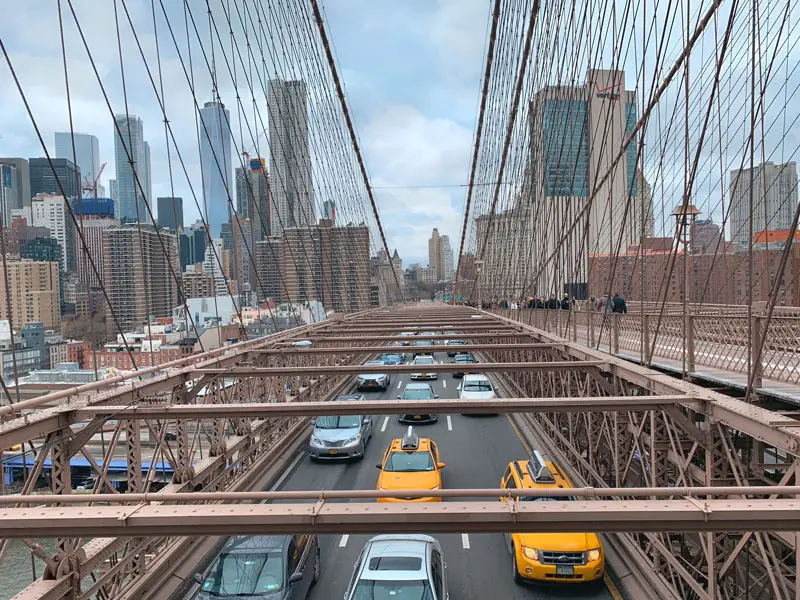 Remember, this world-famous walk across Brooklyn Bridge isn't solely for the benefit of your little ones. You need to enjoy the experience too! Here are a few tips for you to enjoy the experience:
Have your own little photoshoot on the bridge (the backdrop looks awesome in photos)
Take in the epic views of the Manhattan skyline
Strike up a conversation with your fellow tourists – we met a nice Australian family on the bridge who mocked us about our British Brexit shambles. Jheez, thanks guys, nice to meet you too! 🙂
9. Be prepared to get a LOT of attention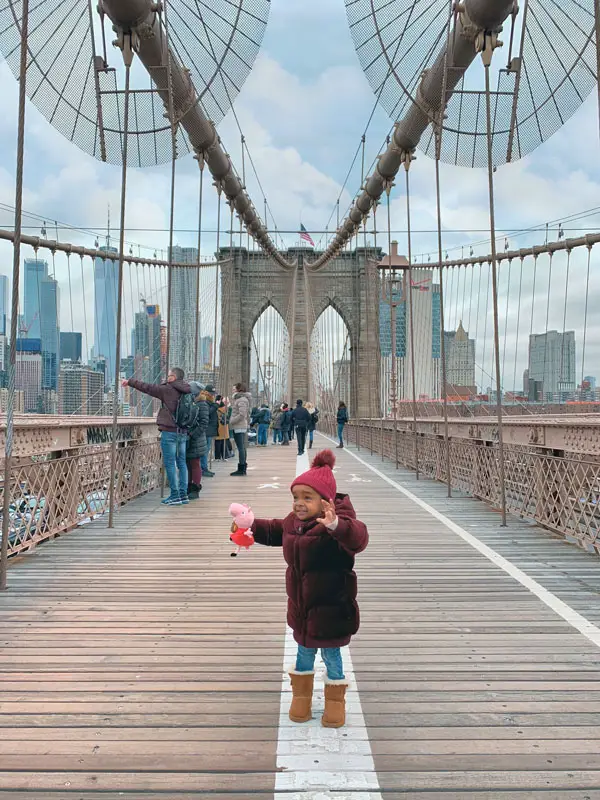 If you have a small child with you – believe it or not – it will fascinate a lot of people. People just don't expect to see a tiny person strutting along Brooklyn Bridge, and they'll stop to coo over your child every few minutes (in the nicest way possible, of course).
"Oh look, she's sooo cuuute in her little Ugg Boots, clutching her Peppa Pig toy!"
Hehe, thanks guys! As we travel quite a lot, we get this quite often at tourist spots. We now use this as a conversation-starter to find out where people are from and what fun things they've done on their trip so far.
10. Take a toilet break on the other side (or a lunch break)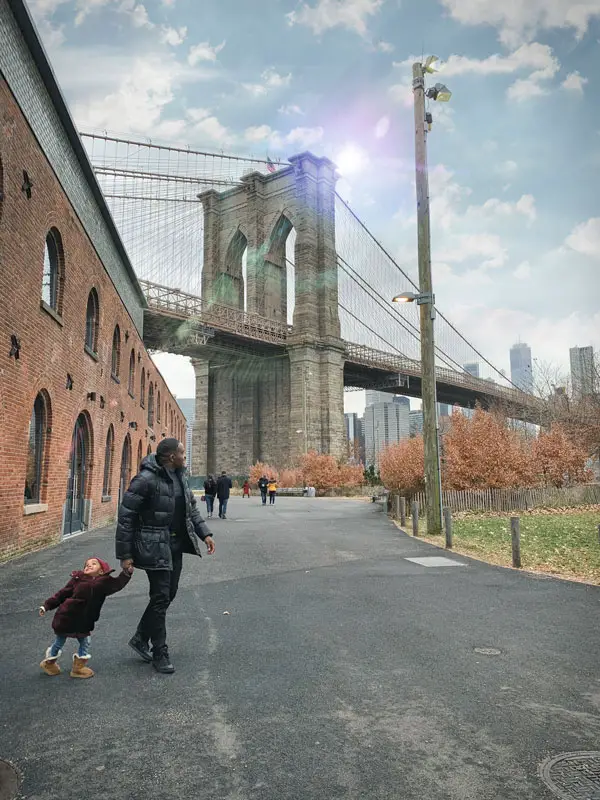 If you've completed your walk from the Manhattan end of the bridge to the Brooklyn end, you'll end up in the trendy neighbourhood named DUMBO (Down Under the Manhattan Bridge Overpass). If you fancy a coffee, a pizza or maybe just a trip to the restroom, you'll be spoiled for choice here. Other than its beautiful waterfront views, Dumbo is famous for its cobblestone streets, pizzerias, trendy cafés, art galleries and THAT Instagram photo with Manhattan Bridge in the background!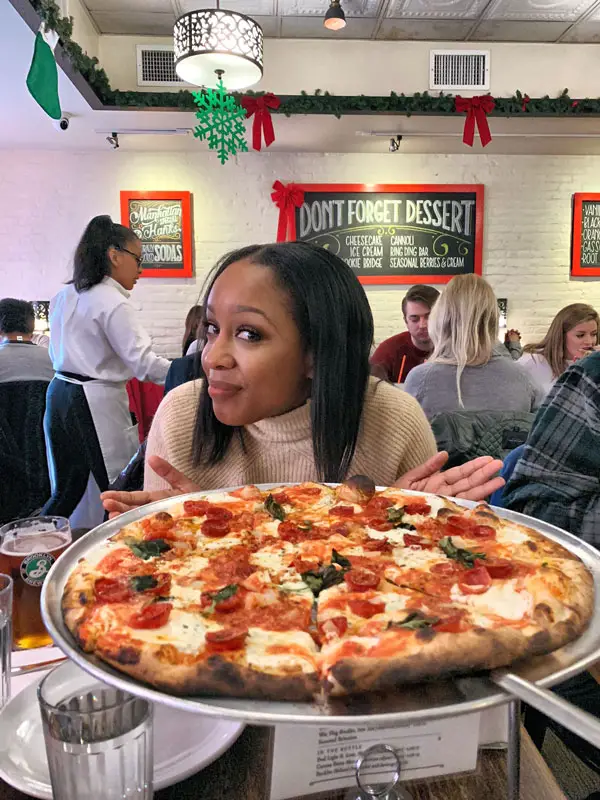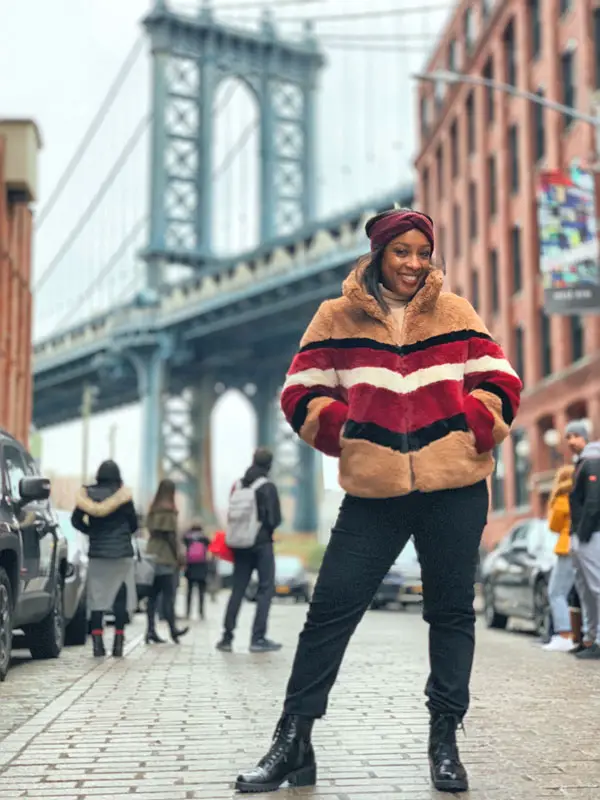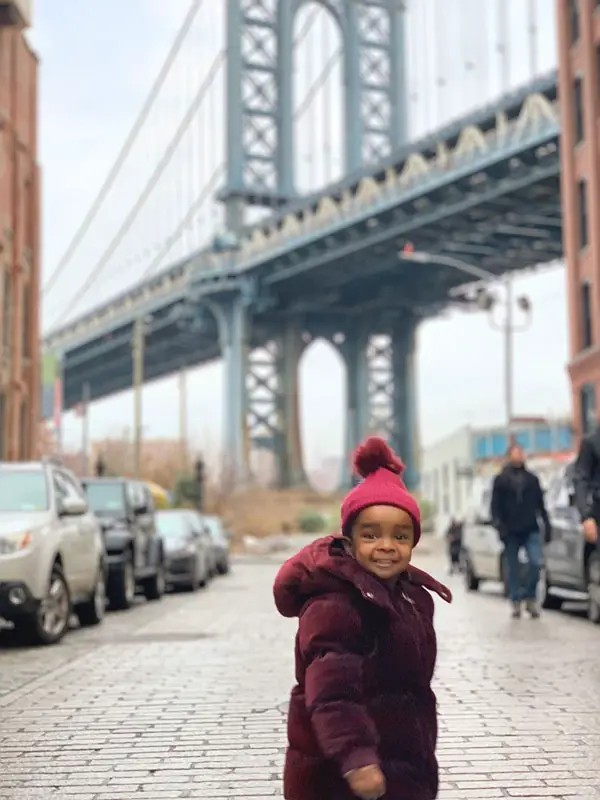 p.s. There are public restrooms in Brooklyn Bridge Park, if you really need to use the toilet after walking across Brooklyn Bridge
Plan Your Own New York City Trip
We always look for the best deals when it comes to flights, accommodation and tours. Over the last 19 years of enjoying trips together, we've come to rely on a few providers that have saved us money and given us a great service…
GUIDED TOURS, ATTRACTIONS & THINGS TO DO WITH KIDS IN NEW YORK CITY
GetYourGuide.com – Excellent guided tours and all of the top things to do in New York City, hand-picked by local, English speaking tour guides.
HOTELS & ACCOMMODATION IN NEW YORK CITY
Booking.com offers the lowest prices from a huge choice of more than 400 hotels in New York City!
CHEAP FLIGHTS TO NEW YORK
Skyscanner will get you up to 20% OFF your flight price by comparing flight prices on hundreds of websites including United, American Airlines, British Airways, Virgin Atlantic, Emirates and more! Book a few weeks in advance and you'll find cheap flights to New York, with several international flights flying direct to JFK Airport and Newark International Airport from major cities.
CHEAP CAR HIRE IN NEW YORK
TravelSupermarket – Offering car rentals for as little as £2.60 per day ($3.70 USD), TravelSupermarket finds you the cheapest and best deal by comparing car hire prices at Avis, Hertz, Sixt, Budget, Holiday Autos and more
TRAVEL INSURANCE FOR NEW YORK
World Nomads – Simple, flexible and affordable worldwide travel insurance which includes 24/7 emergency assistance before & during your trip, valuables protection, trip cancellation cover and more