As a London-based family, we're never stuck without any fun things to do in London with our daughter, or any of the other kids in our extended family. We know that we're lucky. Lucky to be born and raised in a City with so much life, culture, history and exhilarating activities to keep people of all ages entertained! Whilst we grew up in the 80's, both of our parents made sure that we had good childhoods in London; taking us to all the museums, funfairs, indoor waterparks, firework displays, zoos, you name it…
Now that we have a little family of our own (along with nieces and nephews), it's only natural that we carry on the tradition of exploring London and letting our kids experience all of the fun activities and things to do in our City.
Are you Visiting London as a Tourist?
If you don't live in London and you're planning on visiting as a tourist, then we look forward to having you in our City and you can rest assured that you're getting London travel tips from locals!
Are you looking for Touristy Things to do in London with your Kids?
BEFORE YOU CONTINUE: please note that none of our suggestions below include major tourist attractions such as Madame Tussauds, Buckingham Palace, The London Eye or the SEA LIFE London Aquarium – these places are great, but our suggestions below are less touristy and they provide the maximum fun for kids – trust us, we've experienced them all !! 😊
We truly hope that you find our suggestions useful, and we also want you to know that you can count down the days, hours, minutes and seconds to your London trip with our CAN'T WAIT! Holiday Countdown & Story Maker App for iPhone and Android.

We want you and your young companions to enjoy our City as much as we do, so here are 10 of the best (non-touristy) and most FUN things to do in London with kids…
1. Go Ape: Treetop Adventure Park With Zip Lines
North London Location 1: Alexandra Palace, Alexandra Palace Way, London N22 7AY
Nearest Tube or Train Station: Alexandra Palace (Great Northern Rail or City Thameslink)
North London Location 2: Trent Country Park, Cockfosters Road, Trent Park, Barnet EN4 0DZ
Nearest Tube or Train Station: Cockfosters (Piccadilly Line)
South London Location: Go Ape Battersea, Battersea Park, London SW11 4NJ
Nearest Tube or Train Station: Battersea Park (London Overground or Southern Railway) or Queenstown Road (South Western Railway)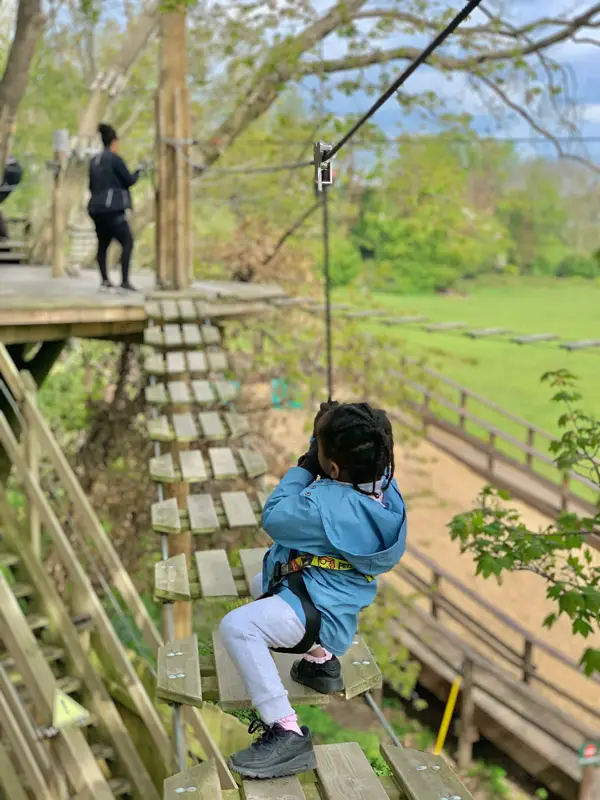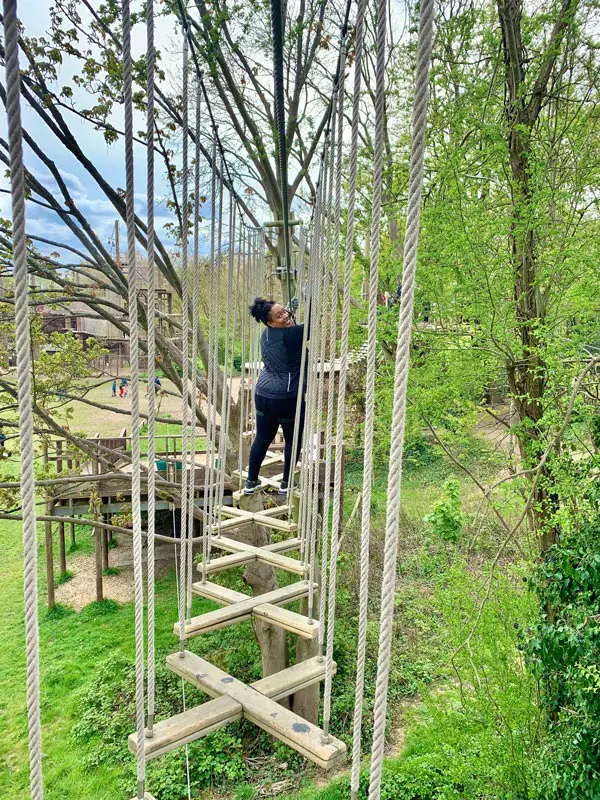 If you and the kids you're entertaining are tip-toeing along the fearless side of life, then Go Ape is the perfect activity for you all. While you're suspended above a forest, tightly gripping ropes and navigating from tree to tree, you'll spend most of your time wobbling around and saying "whoa, whoaaa" but you'll certainly feel several rushes of adrenaline at the same time.
You and your kids can test your wits and skills by taking on dozens of different obstacles, including clambering across shaky wooden bridges high above the forest floor and hurtling down zip lines!
As you're harnessed in at all times, there's no need to worry about dangerous things such as falling… and don't forget it's quite good exercise too!
Top Tip: Try to walk across the suspended bridges fast rather than slow. The slower you walk across them, the wobblier your experience will be!
---
---

2. KidZania London: An Indoor City Run By Kids
West London: 1st Floor, Westfield London, Ariel Way, W12 7GA
Nearest Tube or Train Stations: Wood Lane (Circle Line or Hammersmith & City Line) or Shepherds Bush (Central Line, London Overground or Southern Railway)
 

View this post on Instagram

 
Located on the 1st floor of Westfield London (White City) between Marks & Spencer and Gap, KidZania is literally a fully-functional indoor city that's run by kids! It is 100% kid-sized where children can drive taxis, fly planes, be firefighters, work as shop assistants and experience grown-up things! It's also one of only two KidZania centres in Europe (the other being in Lisbon, Portugal).
Basically, this is a place is where children are able to play out their dreams of being mini workers doing things adults would do, but on a child scale – all whilst learning important life-skills they'll need as they grow up. KidZania is perfect for birthday parties or even just afternoons out with the kids. Every little person who we've taken here has loved every moment; playing fireman games on ladders, waiting patiently in line for their turn at operating an airplane's controls, and the best part of it all? When they get to their turn actually pushing buttons and making things happen! We love this place as a family because we know that the kids are learning new skills in a fun environment whilst creating great childhood memories at the same time.
---
---
3. Flip Out London: Indoor Adventure & Trampoline Park
North London Location: Flip Out Brent Cross, Staples Corner Retail Park, Geron Way, London NW2 6LW
Nearest Tube or Train Station: Brent Cross (Northern Line), Hendon (Thameslink) or Cricklewood (Thameslink)
East London Location: 281 Barking Road, London E6 1LB
Nearest Tube or Train Station: Upton Park (District Line or Hammersmith & City Line)
South London Location 1: Bendon Valley, Earlsfield, Wandsworth, London SW18 4LZ
Nearest Tube or Train Station: Earlsfield (South Western Railway)
South London Location 2: Centrale Shopping Centre, Frith Road, Croydon CR0 1TA
Nearest Tube or Train Station: West Croydon (London Overground or Southern Railway) or East Croydon (Southern Railway, Thameslink or Southeastern)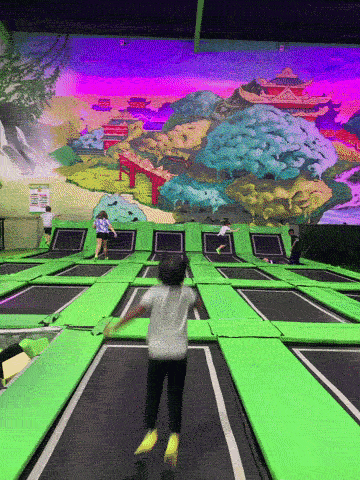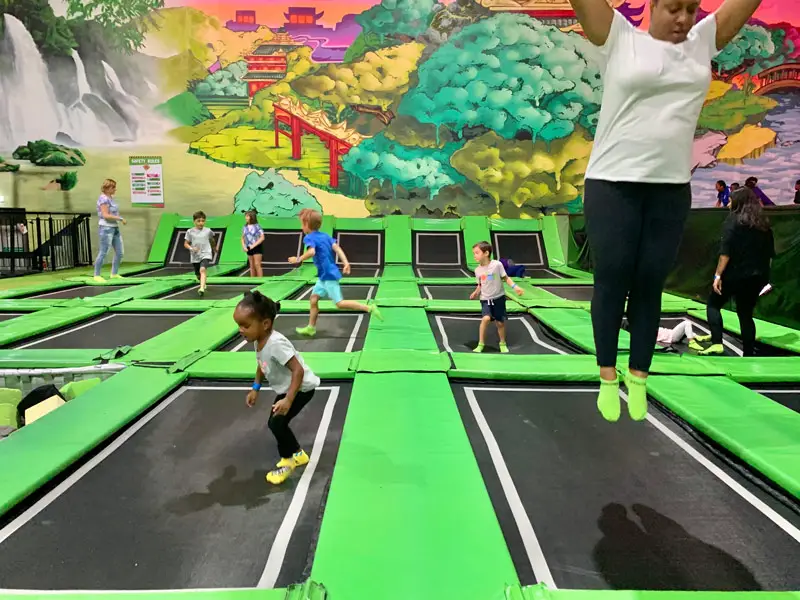 Flip Out London is a fun, energetic place for the whole family. There are dozens of single trampolines and a few ball pits that adults can enjoy too! If the grown-ups prefer to sit out rather than perform somersaults, then there's a café and restaurant to relax at with a coffee and a bite to eat while the kids burn themselves out. When visiting any of the 4 Flip Out locations across London, you'll discover that these trampoline parks are equipped with more than just trampolines. Their obstacle courses will have you and the kids scaling climbing walls and swinging across monkey bars until your heart's content (or having palpitations!). If you want to combine a workout with your day out, then Flip Out is a top choice for your bucket list of things to do with the kids in London.
Top Tip: Wear a t-shirt. Do not wear a long-sleeve top otherwise you WILL be sweating buckets within minutes of bouncing!
---
---

4. Dinosaur Adventure Experience Golf
West London Location: West London Family Golf Centre, Ruislip Road, Northolt UB5 6QZ
Nearest Tube or Train Station: Northolt (Central Line) or South Ruislip (Chiltern Railways)
North London Location: A1 Golf Driving Range, Rowley Lane, Barnet EN5 3HW
Nearest Tube or Train Station: no stations within reasonable walking distance
East London Location: Waltham Forest, A406 Southend Road, Walthamstow, London E4 8TA
Nearest Tube or Train Station: no stations within reasonable walking distance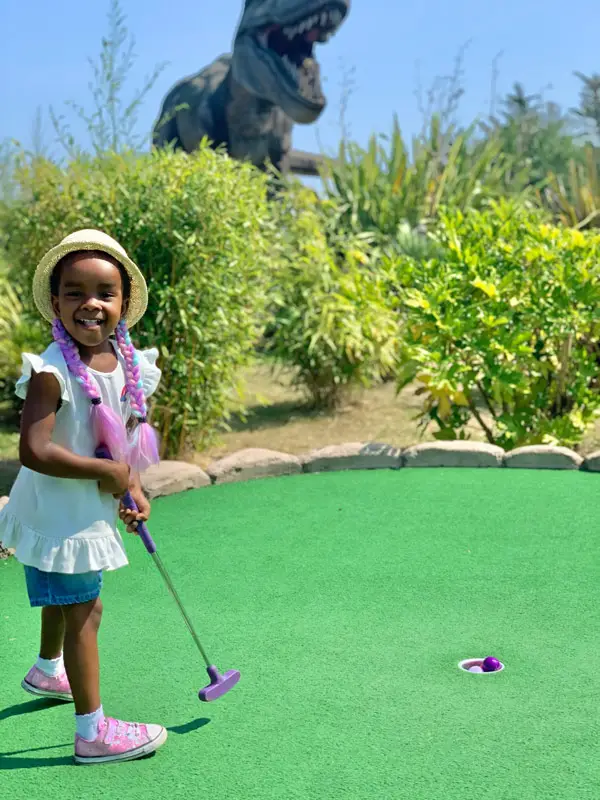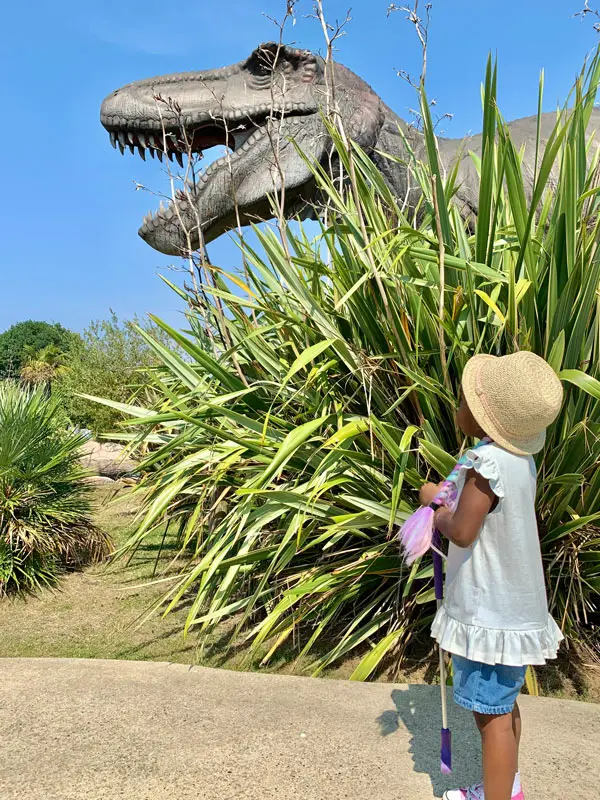 For us, we find the combination of family fun, friendly competition, education and otherworldly ambience perfect for kids. You'll be surprised to find out during your game of golf that many of the dinosaurs surrounding you are near life-size, they actually move their heads around and they roar loudly! This is a really good environment for children to learn how to play golf, by combining enjoyment, skill and a friendly jurassic atmosphere.
In the Adventure Experience chain, we're regular visitors to Dinosaur Escape Adventure Golf, which is their West London location in Northolt. Dinosaur Safari Adventure Golf is their North London location in Barnet, and Jurassic Falls Adventure Golf is their East London location in Chingford/Walthamstow. Each of these crazy golf courses feature 18 fun-filled holes and the pricing for groups is as follows…
£7.50 – one adult and one child
£20 – two adults
£30 – up to four people
£37.50 – up to five people
---
You don't have to be crazy about Golf! Book now to secure your jurassic putting session
---
5. The Beach Brent Cross
Location: Brent Cross Shopping Centre, London NW4 3FP
Nearest Tube or Train Station: Brent Cross (Northern Line)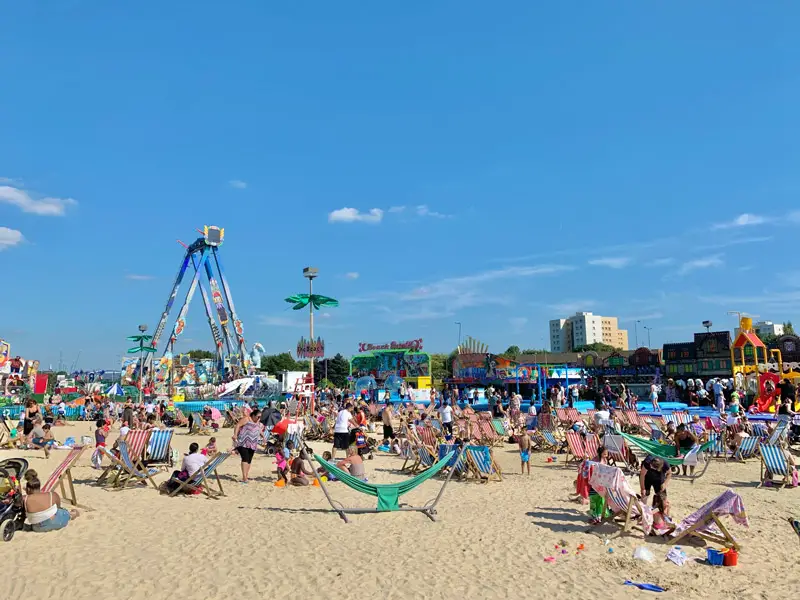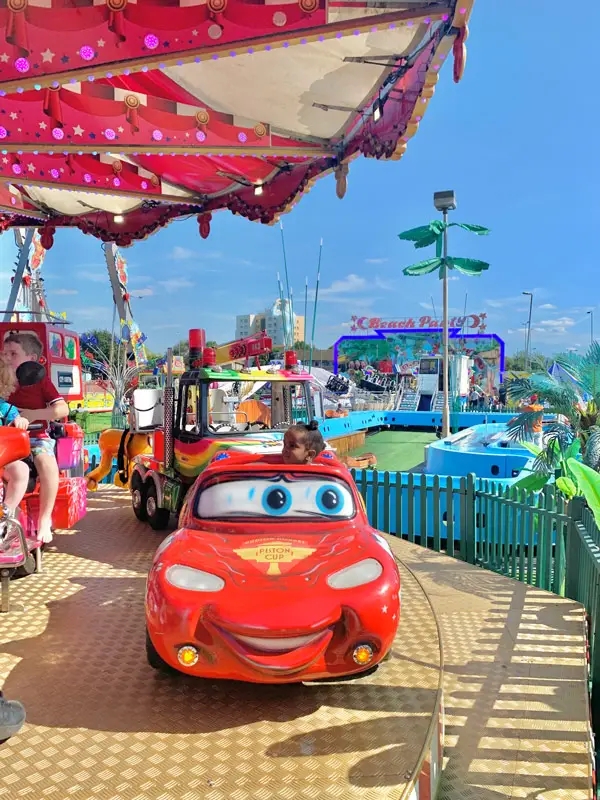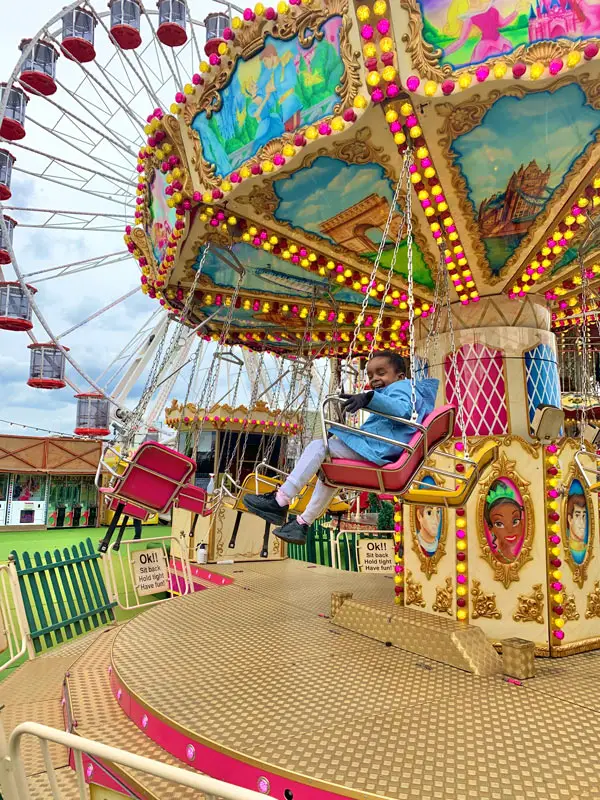 The Beach Brent Cross is a family fairground event that takes place at the Brent Cross Shopping Centre in North London each year during the summer months (from the end of May to the start of September). The fairground has more than 25 rides for visitors of all ages, ranging from toddlers to adults. Roller coasters are among the attractions, but there are also kiddie swings and other milder activities that everyone in the family can participate in. The splash pools and sandy beach are also hugely popular, as this is the only place in North London that kids can rock up to, splash about in water and build a sand castle!
Outside of the summer months when "The Beach" is closed, this site is home to other fairground events:
Top Tip: To make this a day out for all the family, combine this activity with a shopping trip at Brent Cross shopping centre. If you're driving, parking is free in the Brent Cross car park.

6. Snakes & Ladders: Play Centre, Soft Play & More
West London: Syon Park, Brentford TW8 8JF
Nearest Tube or Train Station: Brentford (South Western Railway)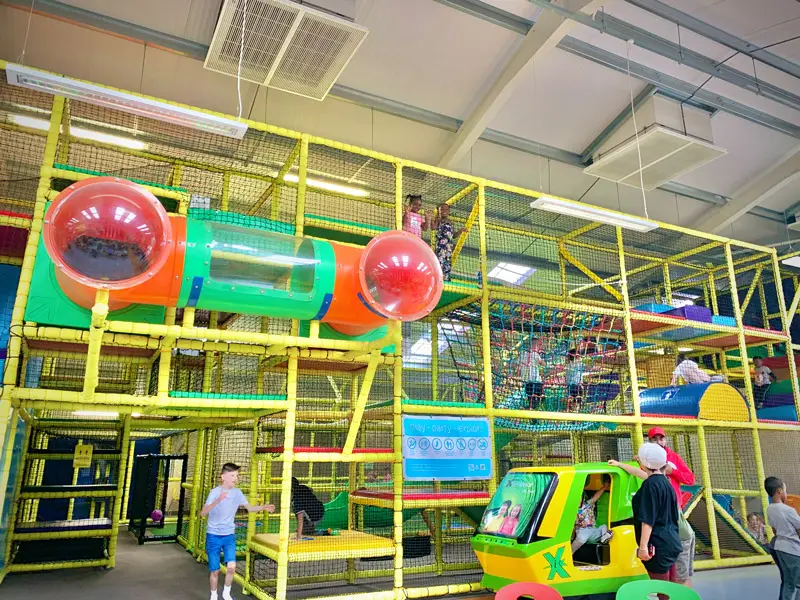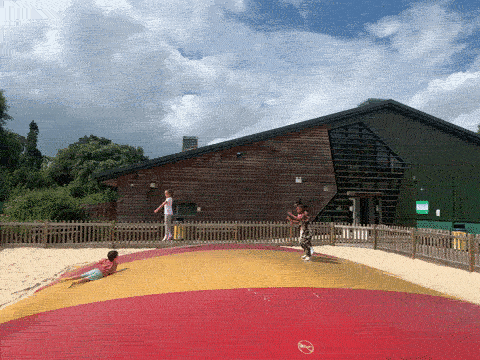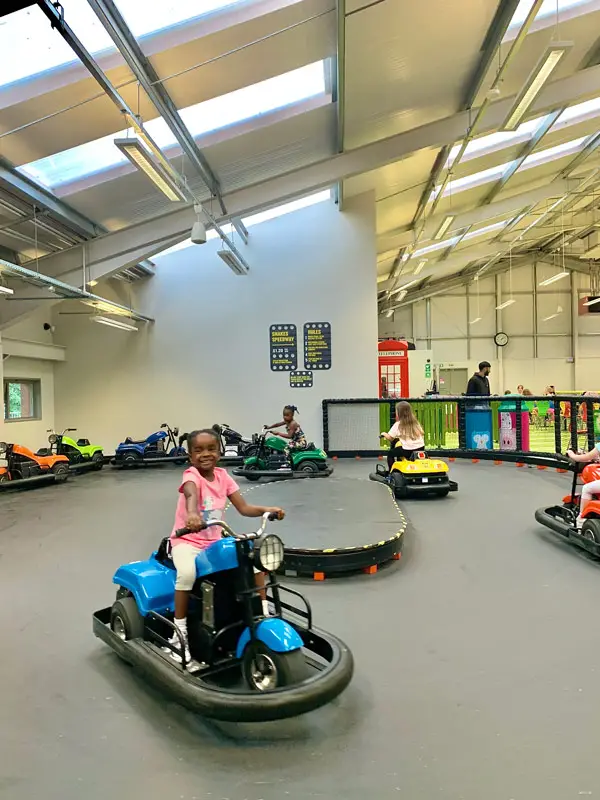 Snakes & Ladders is personally the biggest soft play centre we've seen in London (and we've been to many!). It's comprised of a huge indoor play centre and outdoor fun zone, set amongst the rabbits and deer at Syon Park in Brentford. Driving past the wildlife as you enter Syon Park is part of the fun for the little ones, and it will feel like you've left London as soon as you drive through the gates.
Once inside, kids can experience slides, helter skelters, mini trampolines and climbing nets within the maze-like soft play area. The "Snakes Speedway" motorbikes are also a popular choice for competitive fun as kids can race each other around a mini grand prix track. Outside – at the rear of the soft play centre – is an adventure playground, complete with a bouncy pillow, zip line, rotating swings, a pirate ship and more! During the summer months, kids tend to spend more time outside in the adventure playground than they do inside at the soft play area. It's great that they have a choice!
Fancy a fun day like this, but outside of the city? Snakes & Ladders also have locations in Dunstable (45 – 60 minutes drive from London) and Abingdon (65 – 75 minutes drive from London).
Enjoying our list of Fun Things to do in London with Kids?
Get More Travel Tips and Ideas like this Sent Straight to your Inbox
[optin-cat id="4276″]
7. Ruislip Lido: West London's Secret, Hidden Beach!
Location: Reservoir Road, Ruislip HA4 7TY
Nearest Tube or Train Station: no stations within reasonable walking distance (take the H13 bus or 331 bus instead)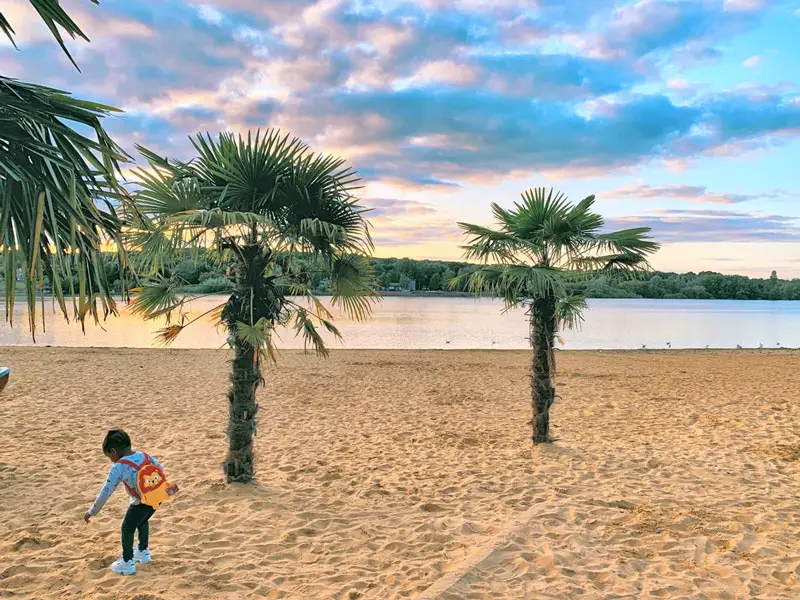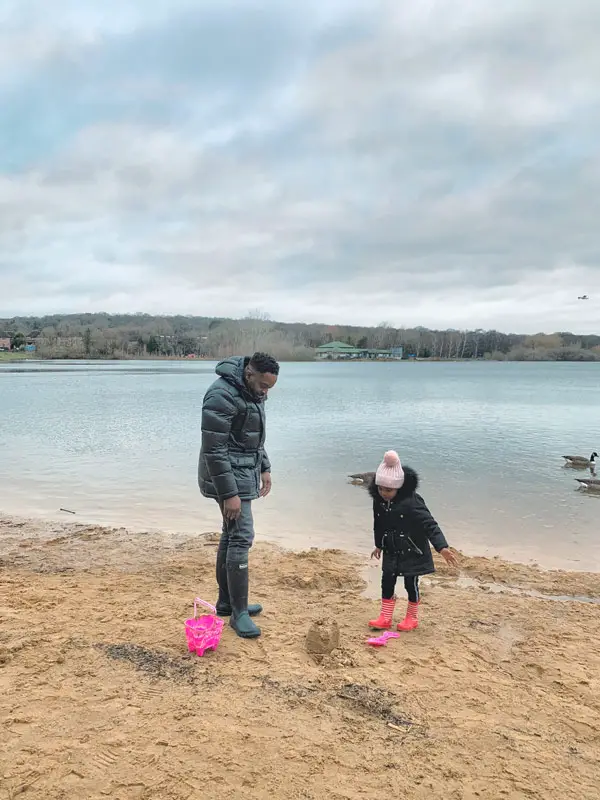 As you can see from our photos, Ruislip Lido is one of those places that we visit in both the summer and winter months – we are regulars to this huge reservoir and beach. If you're looking for a sandy beach to add to your bucket list of things to do with the kids in London, then this is it. Kids wanna build a sandcastle in February? Sure. Come to West London.
One of the best things about choosing this as a day out with the kids – entry is FREE! There are two car parks on-site and you will have to pay for parking however, if you live outside of the Hillingdon borough.
Our personal favourite things to do with kids at Ruislip Lido:
Hop on board the Ruislip Lido Railway (see the train timetable)
Get super wet at the splash park
Climb aboard the wooden pirate ship and become a pirate for the day
Build sandcastles while surrounded by palm trees
Swing on the circular swing when the tide's come in (so you're swinging over the water!)
Explore the surrounding woods and do some wildlife-spotting
Top Tip: PLEASE DO NOT SWIM IN THE WATER!

8. Winter Wonderland at Hyde Park
Location: Hyde Park, London W2 2UH
Nearest Tube or Train Stations: Hyde Park Corner (Piccadilly Line) or Marble Arch (Central Line)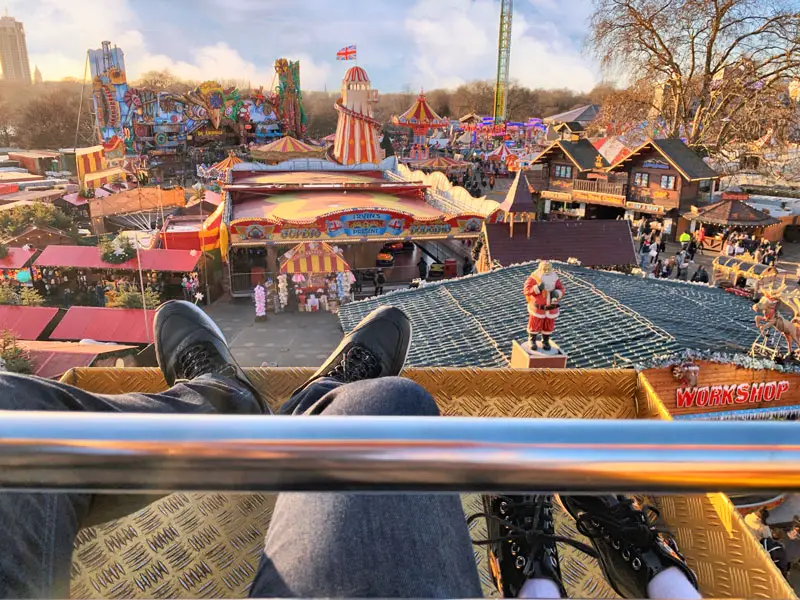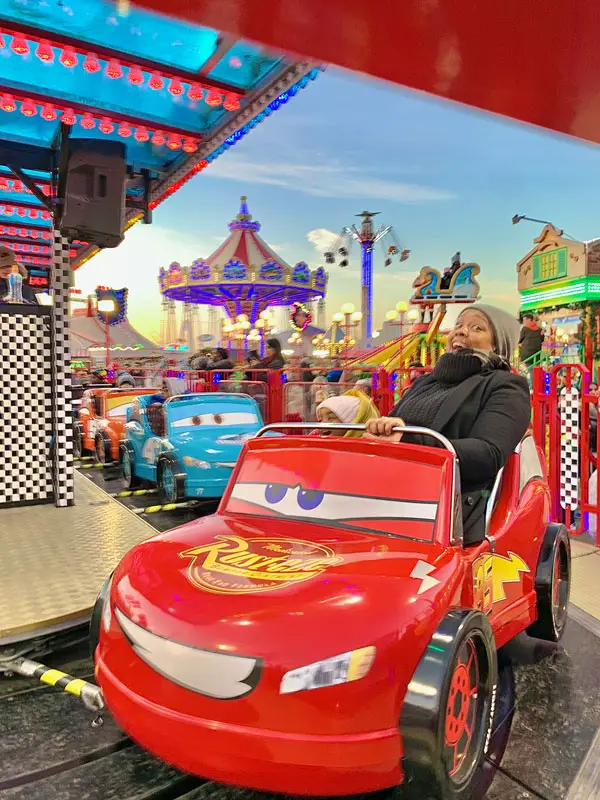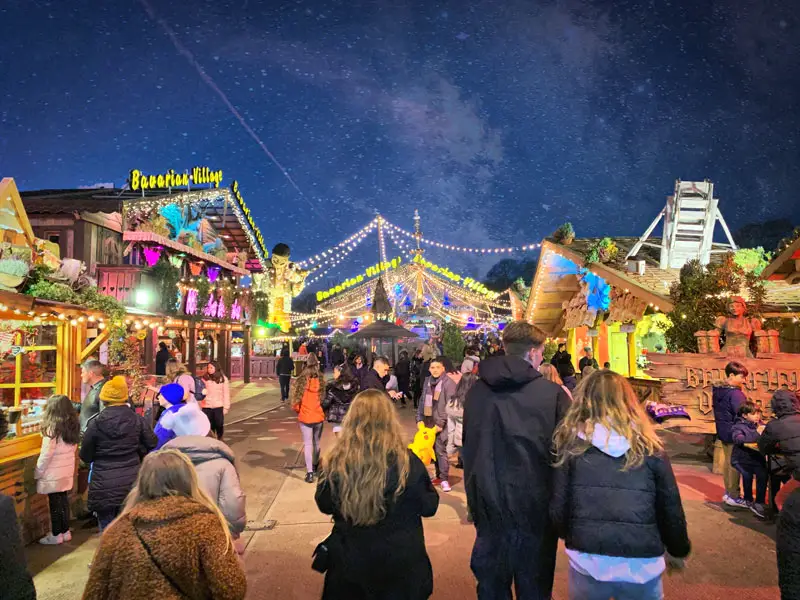 Winter Wonderland is a huge theme park and Christmas market located in London's famous Hyde Park. This magical day out is one of the best things to do with kids in London during the month of December, if not THE best thing. With a plethora of fairground rides and activities for toddlers, young kids, teenagers and adults, there's literally something to keep everybody entertained. This annual event takes place from the end of November to the start of January (for 6 weeks) every year.
On your visit, you will be wowed by thrilling rollercoasters, amazing circus shows, a German-themed Christmas market, a huge ice slide, a haunted house, dodgems, observation wheels, carousels and so much more.
Top Tip: Please don't drive here, take the tube instead. Firstly, there's nowhere to park a car. Secondly, you'll probably end up enjoying a mulled wine (or two or three) so driving is out of the question.
---
---
9. Disney on Ice – at The O2
Location: The O2, Peninsula Square, London SE10 0DX
Nearest Tube or Train Station: North Greenwich (Jubilee Line)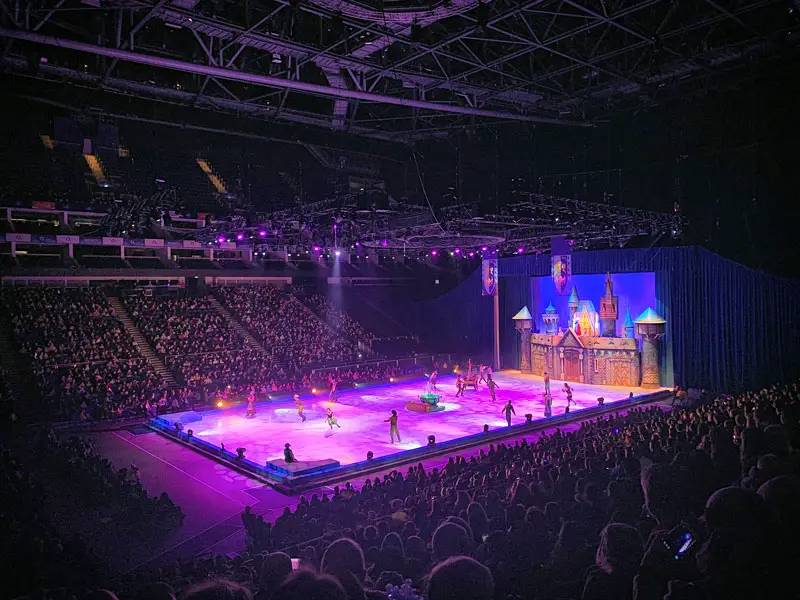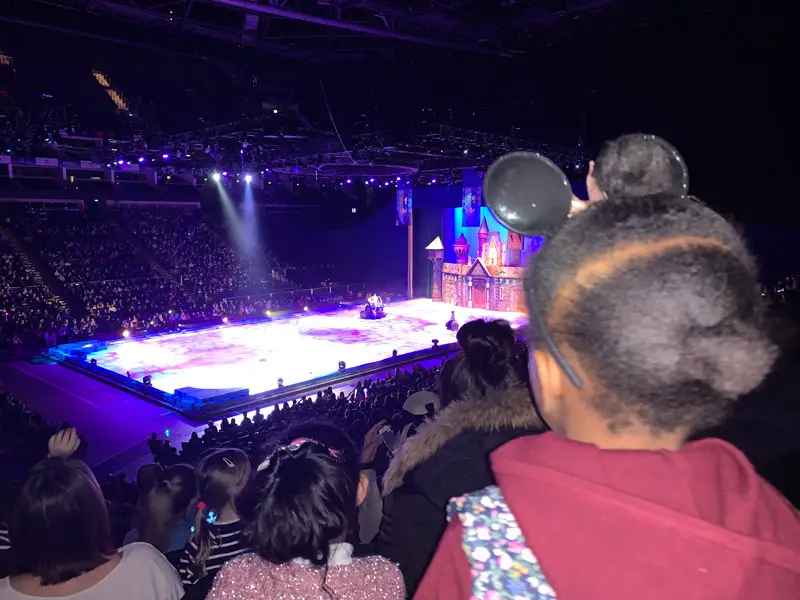 Disney on Ice at the O2 Arena may be a seasonal activity, but it's top tier entertainment for the entire family. Remember adults, the saying goes "you're never too old for Disney" and that definitely applies here. This touring ice show is well-known globally and its tickets sell out quickly for good reason, so don't hang around until December before planning your visit here. This event usually takes place from the end of December until the start of January.
As you take your seat in this famous concert arena, you can expect to dance and sing along with your favourite Disney characters. You'll see character appearances from Frozen, The Lion King, Beauty & The Beast and more. Children (and adults) are mesmerised as these characters tell their stories and perform popular songs from their respective movies.
Top Tip: Watch a few Frozen and Frozen 2 songs beforehand, so you can sing along with Elsa, Anna and Olaf. After all, this show is all about the ice! Oh, and don't forget to bring (or buy) some Mickey or Minnie Mouse ears to wear.

10. Raver Tots: Throw Shapes, Not Toys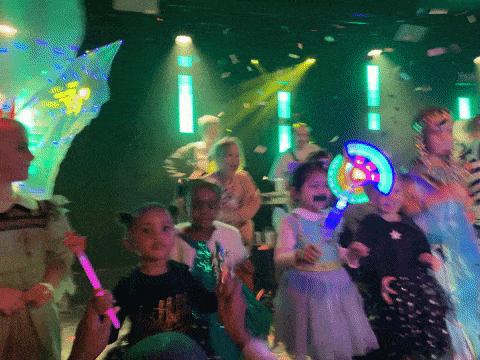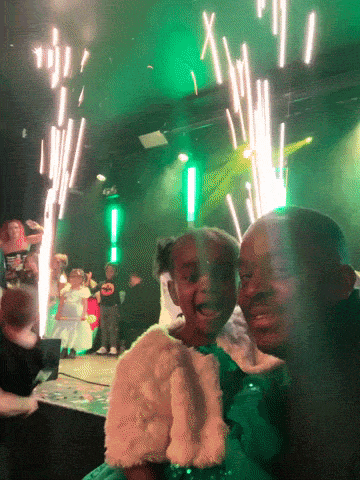 Why bring your kids to a child-friendly rave? Many of us Londoners spent our 20's fully immersed in the city's vibrant rave scene. For us and the people we grew up around, we'd spend at least 2 weekends a month partying our nights away on a nightclub dancefloor. The same goes for uni students in the UK who are known to "rave it up" on average 3 nights per week! Yes, we get it… hitting the dancefloor isn't one of those typical things to do with your kids in London, but you'll be surprised at how much they enjoy it.
Now that we've got kids of our own, why not let them experience a slice of the action? Dust off those pre-parent dancing shoes and get ready to throw some shapes to dance music, jungle, house and garage. The Raver Tots team put on several events throughout the year and their seasonal raves (such as Halloween) are really popular, with party games, competitions and face painting. They also ensure that the music isn't too loud for the kids ears, and decibel levels are monitored throughout each event. Children of all ages are welcomed and babies go free.
---
---
So there you have it, our very own Top 10 list of the best and most fun things to do in London with kids – coming from a London family. Please let us know in the comments if you've enjoyed any of these days out, and feel free to share your family faves with us too!
Plan Your London City Break
Excited? Count down the seconds until your London trip with our CAN'T WAIT! Holiday & Vacation Countdown App!
As avid travellers, we always look for the best deals when it comes to flights, accommodation and tours. Over the last 2 decades of enjoying trips together, we've come to rely on a few providers that have saved us money and given us a great service…
GUIDED TOURS, ATTRACTIONS & THINGS TO DO IN LONDON
HOTELS & ACCOMMODATION IN LONDON
Booking.com offers the lowest prices from a huge choice of 4,629 hotels and places to stay in London!
TRAVEL INSURANCE TO COVER YOUR STAY IN LONDON
World Nomads – Simple, flexible and affordable worldwide travel insurance which includes 24/7 emergency assistance before & during your trip, valuables protection, trip cancellation cover and more