The Catalan city of Barcelona is one of the best cities for nightlife, not just in Spain, but in the World. With packed bars, late-night beach clubs and laid-back sun terraces, there's a scene to suit all tastes. To celebrate the launch of our FREE Barcelona travel guide app for iPhone and Android, we wanted to give you your own slice of the party and show you the best nightclubs and bars in Barcelona.
Whether you're visiting as a couple, with a group of friends or even on a family trip, it's hard not to enjoy a night out in Barcelona. Something we love about partying in this Spanish city is that it's less expensive than major cities such as London or New York, and the nightlife scene is easy to navigate. If clubbing isn't quite your scene, then there are plenty of bars in Barcelona to sit back and relax in.
Is there a good nightlife scene in Barcelona?
Yes! Barcelona is home to some of the best nightclubs in bars in Spain. You can expect superclubs, lounges with beach views, open-air nightclubs, rooftop bars and concert venues.
Are nightclubs expensive in Barcelona?
Entry to a typical nightclub in Barcelona isn't pricey as it is in other popular party destinations, such as Ibiza and Las Vegas. Opium Barcelona is priced between 10 and 25 Euros to get in… Sutton Club is 20 Euros… Pacha Barcelona is priced between 10 and 25 Euros. These prices are for tickets purchased prior to entry (e.g. from the nightclubs' websites). Without tickets, you can expect to pay as much as 50 Euros on the door if there's a celebrity DJ or performer that night.
Which nightclubs play hip-hop and R&B music in Barcelona?
Every Friday night at Pacha Barcelona, DJs spin the best hip-hop, R&B, reggaeton, afrobeats and top 40 hits! Otto Zutz in the Gràcia neighbourhood is also a popular choice if you wanna dance the night away to hip-hop, R&B and reggaeton.
Which nightclubs play techno, house and dance music in Barcelona?
Barcelona's superclub, Razzmatazz, has 5 club rooms. You can expect high-energy electronic music played here. La Terrrazza (open from April to September) is also a popular spot to hear the best EDM, techno and house music.
Does Barcelona have LGBTQ-friendly nightlife?
Yes. There are dozens of gay bars and lesbian bars in the Gaixample area. "Gaixample" is a nickname that was given to a central section of the Eixample district, where many gay shops, bars and discos have opened since the 80s and 90s.
---
Are you visiting Barcelona on vacation or holiday? Build excitement by counting down the days, hours, minutes & seconds until your trip with our CAN'T WAIT! Vacation & Holiday Countdown app 😊

---
What are Barcelona's best nightclubs and bars in 2023?
If you find yourself wondering where to enjoy your nights here, we've hand-picked 10 of the best nightclubs and bars in Barcelona just for you! Hopefully, our list of nightlife venues will give you some inspiration when planning your night out.
1. Sutton Club
Neighbourhood: Sant-Gervasi / Gràcia
Best for: Luxe atmosphere, celebrity DJs and performers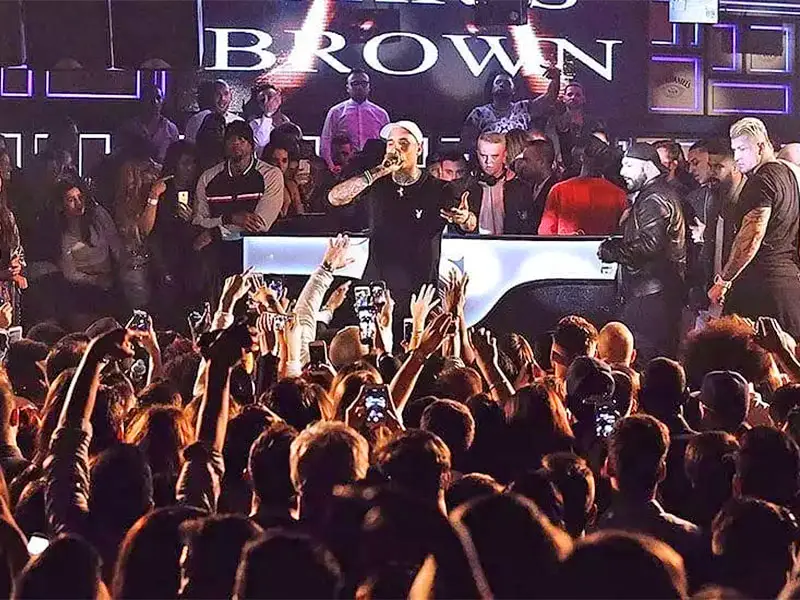 If you're seeking a sophisticated nightlife experience in Barcelona with trendy music and a touch of luxury, Sutton Club is the place to go. "The World's Finest Clubs" has named Sutton as one of the most exclusive nightclubs in the world.
If you appreciate high-end nightclubs, then it's well worth taking a visit to the Sant-Gervasi neighbourhood to check it out. This luxurious venue has hosted international musicians such as Chris Brown (pictured), Bruno Mars and French Montana.
Sutton Club features a cutting-edge sound system as part of its reputation as one of the best nightclubs in Barcelona. The club exudes affluence and excellent taste. If you're looking to add further chic to your night check out the Moët & Chandon-themed private room and the highly exclusive Moët Suite. According to what we've heard, it's one of Europe's best VIP spots!
Featured Events
A La Mode (every Friday – for over 23's)
This is Sutton (every Saturday – for over 23's)
Best places to stay near Sutton Club
---
---
2. Opium Barcelona
Neighbourhood: Barceloneta
Best for: Partying with beach views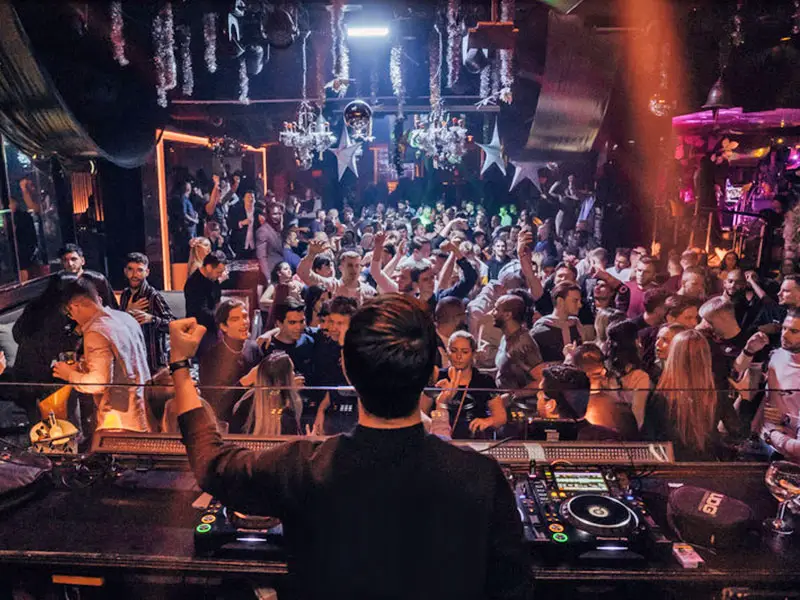 Opium Barcelona is one of the city's most well-known nightclubs. It's situated in the Olympic Port, directly across from the Barceloneta beach, between Shoko Barcelona and Catwalk. Inside, you'll find rooms divided into different regions, as well as a large dance floor with a super-cool white colour scheme.
There's also a restaurant as part of Opium, serving both Mediterranean cuisine and sushi. The acclaimed chef has worked in some of the world's most exclusive restaurants, including El Bulli.
Opium Barcelona is home to Barcelona's largest terrace, which is located just next to the seashore. You can pick from four VIP areas: Johnnie Walker and Mumm near the dancefloor, Grey Goose behind the dancers, as well as the VIP Box, the club's most exclusive space. This space is more for being able to spend time in the restaurant and on the terrace, but there's no reason why this wouldn't make a great night out if dancing is what you came here to do.
Featured Events
Addicted (every Friday – for over 18's)
Just Opium (every Saturday – for over 18's)
Full Party (every Sunday – for over 18's)
Blackout Mondays (every Monday – for over 18's)
Ladies Night (every Tuesday – for over 18's)
Zazata (every Wednesday – for over 18's)
May May (every Thursday – for over 18's)
Best places to stay near Opium Barcelona
---

---
3. La Terrrazza
Neighbourhood: Montjuïc
Best for: Open-air partying under the stars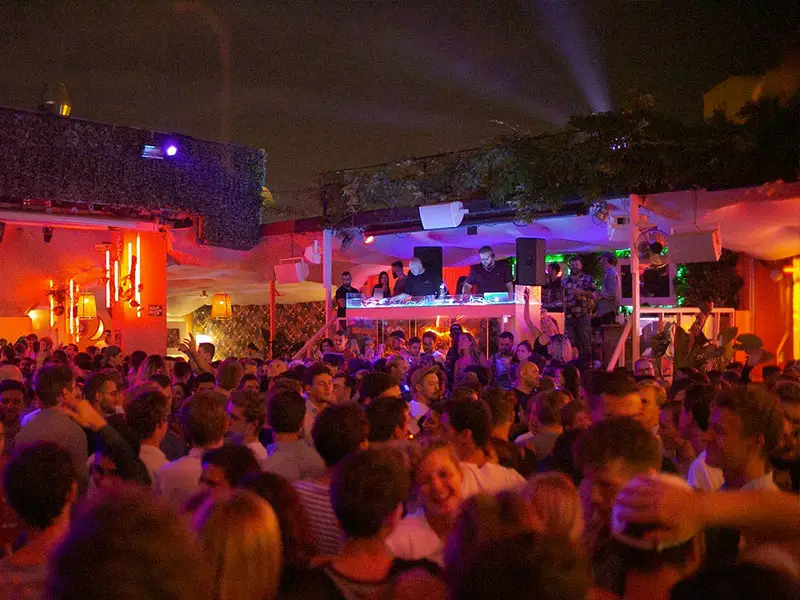 La Terrrazza is an open-air club located on the Montjuic mountain. The venue takes great pride in its decor, which is reflected in its position as part of this historic, hill-top neighbourhood. The downside of this, if you're a die-hard raver, is that sound limits are frequently imposed.
La Terrrazza is open from April to September and serves as a focal point for the annual Sonar festival. Secretsundaze, a London-based organiser, hosts events here, as well as follow-up parties later in the summer. EDM, house music and techno are the main musical genres playing at the club, so its name will often pop up when looking for the best things to do in Barcelona at night for ravers.
Featured Events
FRRRiday Night at La Terrrazza (every Friday)
SatuRRRnight at La Terrrazza (every Saturday)
Best places to stay near La Terrrazza
---
---
4. Razzmatazz
Neighbourhood: El Poublenou
Best for: High-energy clubbing and concerts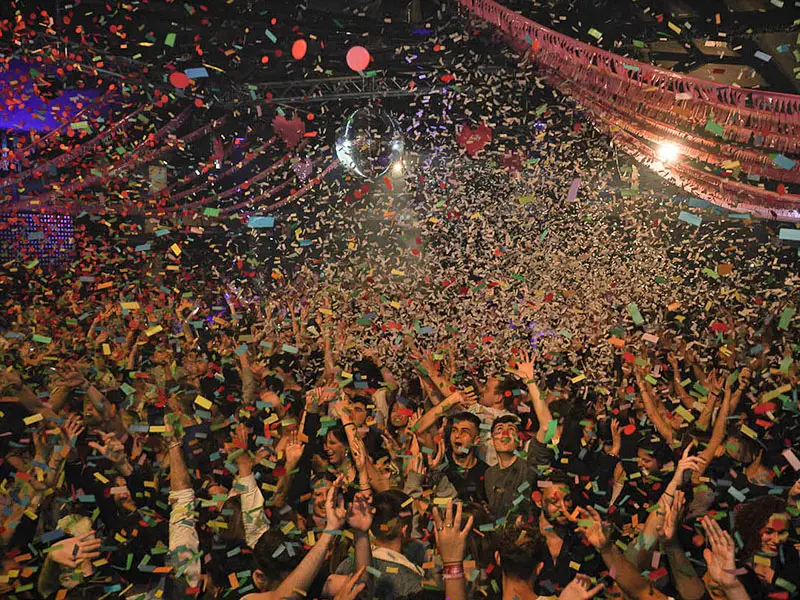 Barcelona's Razzmatazz is perhaps the city's sole super club. In one large warehouse-style building spanning 3,700 square metres, there are five different club rooms. You could come to this nightclub, pick a room, and spend the entire night feeling like you were in your own club. You can also embark on an adventure and become lost in the maze of pulsing dance floors and perplexing corridors.
Out of the five rooms, two huge venues and three smaller club spaces make up Razzmatazz. Each has its own dance floor and a number of bars. The music policy is really varied, ranging from night to night and from space to space on the same night. Expect contemporary and forward-thinking music that ranges from electro to pop to dubstep to disco and back again.
This nightclub complex has some of the strongest DJ line-ups so it's worth checking out the lineup on the particular night you're planning a visit.
Best places to stay near Razzmatazz
---
More articles and travel guides for Barcelona
---
5. Pacha Barcelona
Neighbourhood: Barceloneta
Best for: High-energy raving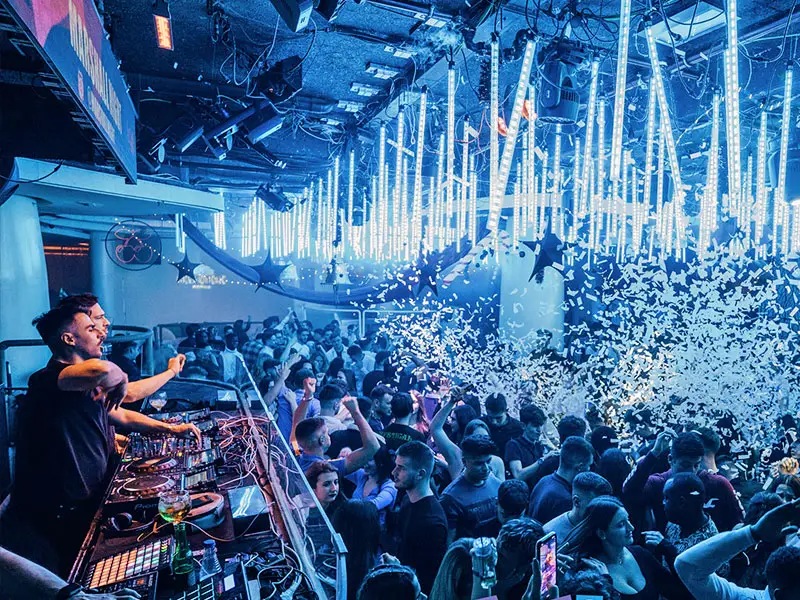 As you may know, Pacha is a world-famous nightlife brand that has firmly established itself in party destinations such as Ibiza. It's highly regarded as one of Barcelona's best nightclubs, thanks to its great location on the Barcelona Boardwalk in Barceloneta.
Pacha's irresistible energy pervades the entire club, keeping partygoers entertained with its high-frequency music. This venue isn't all about partying though. The patio, which overlooks the sea, features a high-end restaurant serving Mediterranean and Asian cuisine. This seafront patio is the ideal spot for a cocktail or a light lunch at any time of day or night while listening to the best chill-out music.
Featured Events
Moulaga (every Friday – for over 18's)
Pegao (every Saturday – for over 18's)
SIGHT (every Sunday – for over 18's, with a different special guest each week)
Vibra (every Monday – for over 18's)
Flirt (every Tuesday – for over 18's)
P.o.s.h! (every Wednesday – for over 18's)
Best places to stay near Pacha Barcelona
---

---
6. Otto Zutz
Neighbourhood: Gràcia
Best for: Hip-hop, R&B and reggaeton music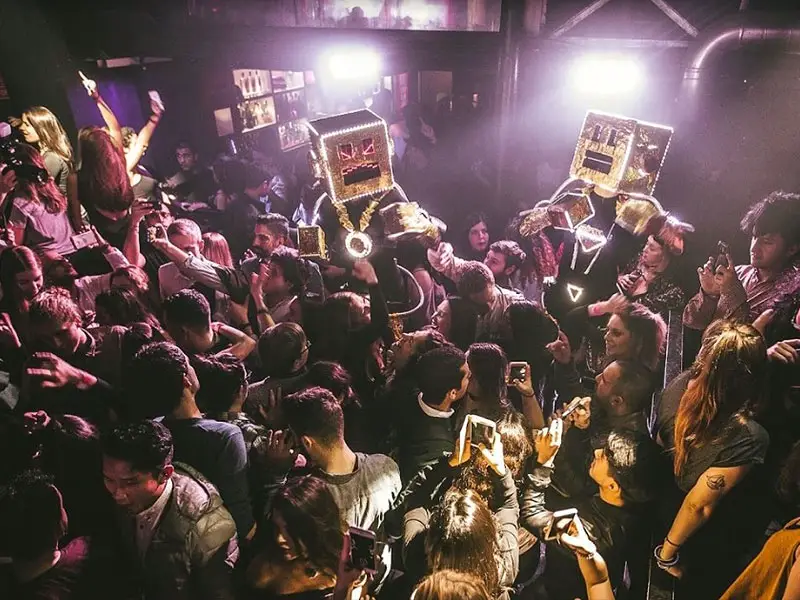 Otto Zutz is a three-story nightclub in the heart of the Sant Gervasi neighbourhood, housed in an ancient textile mill. Hip-hop, R&B, reggaeton and house music are popular among a more 'boujee' crowd.
People have made the effort to come here for the music because it is one of the few clubs in town where some of the less common music genres will be played. Otto Zutz can accommodate up to 1,000 people on three separate dance floors, each with its own DJs and music. The DJs here are all locals who are known to be experts in their respective genres, making it a must-do nightlife experience for music tourists around the globe.
You can expect the partygoers at Otto Zutz to be a little older (we're talking about you, 30's clubbers) who appreciate the vibe and music here. You won't find many teenyboppers in here that's for sure.
Featured Events
Censored Fridays (every Friday)
The Box (every Saturday)
M.A.D City (every Thursday)
Best places to stay near Otto Zutz
---
---
7. Eclipse
Neighbourhood: Barceloneta
Best for: Cocktails with ocean views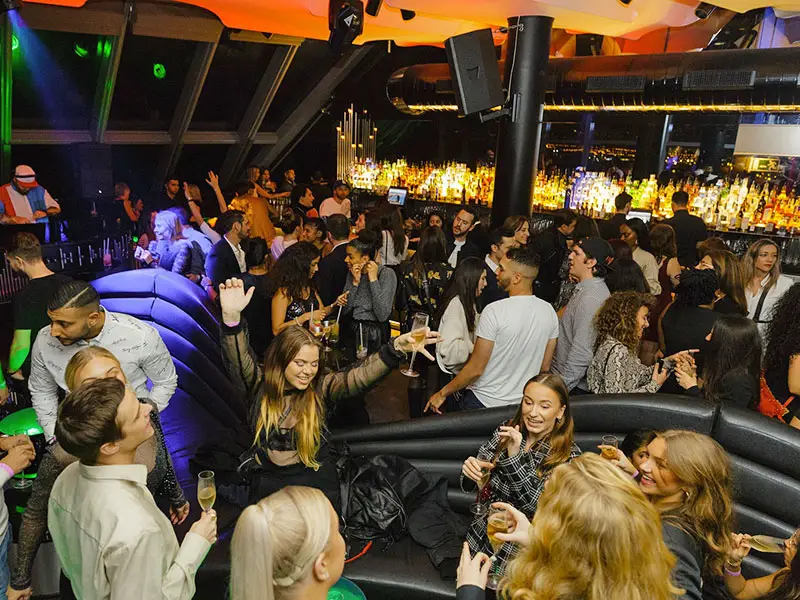 Eclipse is located at the stylish W Hotel, which we looked at in more detail in our guide to the best hotels in Barcelona. Panoramic ocean views and cocktails combine to create an exceptional environment at this elegant nightclub found on the W's 26th floor.
Eclipse is situated at one of the city's most opulent addresses on Barceloneta Beach. Since its opening, The W hotel has functioned as one of the most breathtaking locations. Every Sunday, the week's most anticipated pool party takes place here. During the summer, the Wet Deck event draws the most stunning crowds and features unmatched dance music, as well as spectacular views of the Mediterranean Coast. Don't be afraid to sample one of their fantastic cocktails while lounging by the pool and soaking up some Eclipse magic.
---

---
8. Skybar
Neighbourhood: The Gothic Quarter
Best for: Cocktails with panoramic city views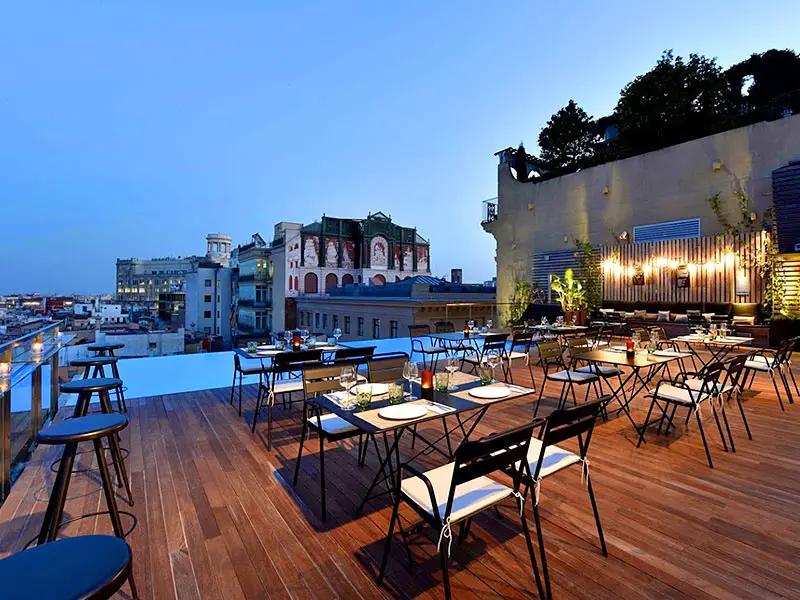 Because of its panoramic city views, this is another rooftop bar that earns our vote as one of the best bars in Barcelona. The view from the Grand Hotel Central's Skybar is spectacular, as it appears to include the entire city.
Non-hotel guests are welcome to use the terrace after 8 pm, and it's a nice area to unwind over dinner. Be sure to make a reservation in advance and bear in mind that unless you're also having a meal, there's a cover charge. The service, location, and drinks on offer here make up for this. Skybar is an impressive venue not to be missed, especially if you're visiting as a couple.
---
9. Dome Club
Neighbourhood: Las Ramblas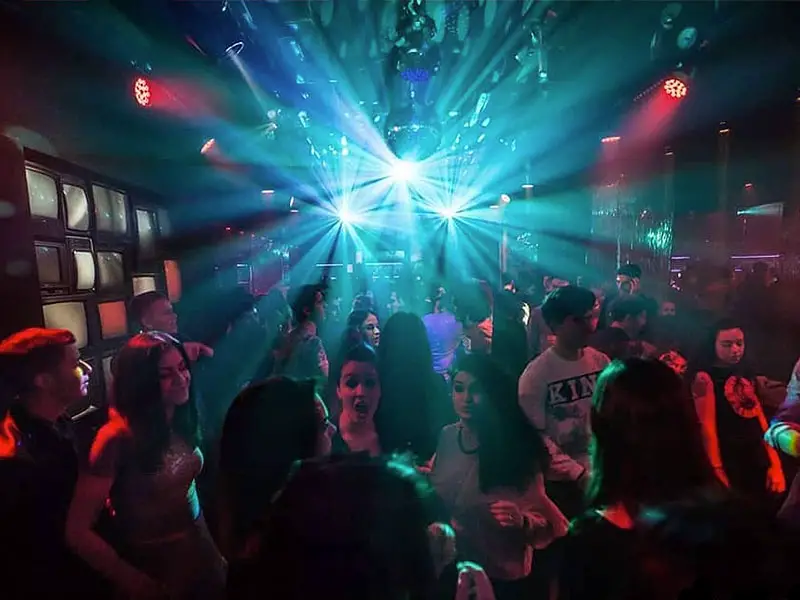 Dome Club is one of Barcelona's most central nightclubs, as it's conveniently located right on La Rambla. It's a spacious club with a diverse and cosmopolitan environment that's ideal for dancing into the early hours of the morning.
In this club, you'll find DJs performing throughout the week, and you'll be able to dance to the latest songs, including not only commercial music but also house and techno. Dome is a nightclub that hosts parties and events for people of various ages and interests so it should be easy to have a good night here!
---
10. The MIX
Neighbourhood: El Borne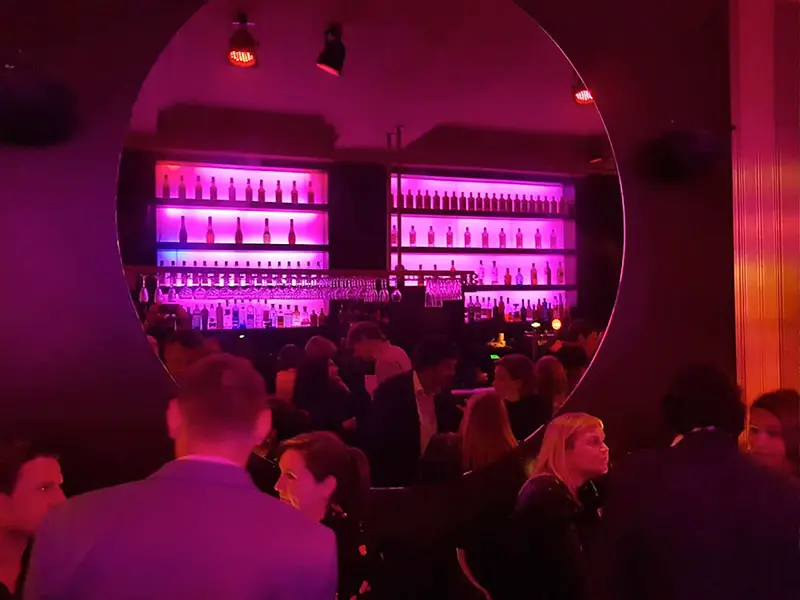 The colourful club MIX is located in the middle of the city, in the Born (El Borne) neighbourhood. The MIX is home to a chic lounge and bar where you can enjoy cocktails in a welcoming and stylish ambience. You'll also enjoy mingling with genuine, Catalan locals and curious visitors.
A long and exquisite bar, fluffy leather seats, enormous mirrors, bright Tom Dixon lamps, opulent wallpaper, and the DJ's explosive altar are among the stylish features attributed to this well-thought-out nightclub. Combine all this with the best commercial music available and you have the recipe for a perfect Barcelona night out.
---
We hope that after reading our nightlife guide, you're feeling a little more clued up about the best bars and nightclubs in Barcelona. With the sheer amount of nightlife venues here, it can be hard to pick the best one to enjoy on a particular night out. Wherever you choose to spend your time in the city, you've now got a list of things to do in Barcelona at night from high-energy nightclubs to laid-back rooftop bars. Enjoy!
Plan Your Trip to Barcelona
The first thing you should do… Download our FREE Barcelona Travel Guide App for your iPhone or Android device. This app allows you to make easy bucket lists and plan your entire trip. From recommending the top 10 restaurants, attractions, nightlife and top things to do in Barcelona, to giving you easy access to the best guided tours. Excited? Count down the seconds until your Barcelona trip with our CAN'T WAIT! Vacation & Holiday Countdown App !
We always look for the best deals when it comes to flights, accommodation and tours. Over the last 2 decades of enjoying trips together, we've come to rely on a few providers that have saved us money and given us a great service…
GUIDED TOURS, ATTRACTIONS & THINGS TO DO IN BARCELONA
GetYourGuide.com – Excellent guided tours and all of the best things to do in Barcelona, hand-picked by local, English and Spanish speaking tour guides.
HOTELS & PLACES TO STAY IN BARCELONA
Booking.com offers the lowest prices from a huge choice of 2,468 hotels and places to stay in Barcelona!
CHEAP FLIGHTS TO BARCELONA
Skyscanner will get you up to 20% OFF your flight price by comparing flight prices on hundreds of websites including Expedia, Opodo, British Airways, Vueling, Emirates, Etihad, Qatar Airways, KLM and more! Book a few weeks in advance and you'll find cheap flights to Barcelona, including international flights flying direct to Barcelona–El Prat Airport from major cities.
TRAVEL INSURANCE FOR BARCELONA
World Nomads – Simple, flexible and affordable worldwide travel insurance which includes 24/7 emergency assistance before & during your trip, valuables protection, trip cancellation cover and more