Looking for the best places to eat in Barcelona? Well, you've come to the right place. To celebrate the launch of our FREE Barcelona Travel Guide App for iPhone and Android, we've compiled an original top 10 list of the very best restaurants in Barcelona… ranging from casual dining to romantic meals for two. In the city and the wider Catalonia area, eating is an important social activity. Even for locals, eating out is still a popular habit, whether it's with friends in the evening, lunch with colleagues in a local bar, or a traditional Mediterranean Sunday family feast.
Even though Barcelona is a fast-paced city, mealtimes are highly respected. The entire city shifts into low gear between 2pm and 4pm each day. Many people return home or pile into nearby restaurants for a three-course "menu del dia" (lunch of the day).
Are you visiting Barcelona on a city break? You won't be disappointed with the number of culinary options to choose from!

During our own time exploring the city, we've been keen to sample as many different culinary delights as possible. Naturally, we've learned a few tips whilst dining at some of the trendy restaurants in Barcelona.
Restaurant Tip 1: never eat at a restaurant where the menu has images of all the food.
Restaurant Tip 2: the best restaurants are often ones that don't have English on their menus (get your Spanish dictionaries ready!)
Restaurant Tip 3: avoid the busy main streets on La Rambla if you are looking for top-quality, Spanish food.
With that out of the way, let's get on with it, and share with you some of the best restaurants in Barcelona from casual dining experiences to romantic meals you'll never forget.
1. Salvaje (SLVJ)
Neighbourhood / District: Eixample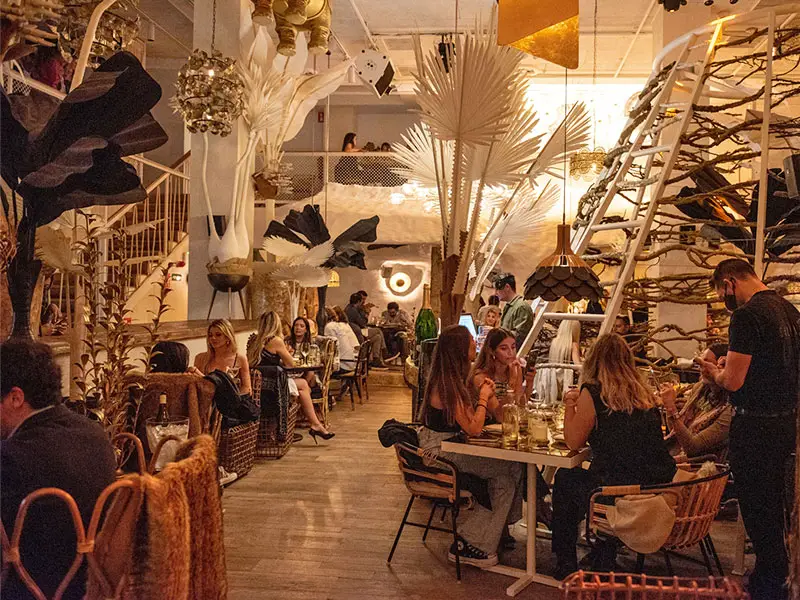 Salvaje Barcelona, which has already earned a reputation for itself with locations in Madrid, Panama, Bogotá and Miami, is the newest addition to the Salvaje hospitality brand. Also known as SLVJ, this restaurant's menu is influenced by Japanese cuisine and features some of the world's finest seafood.
With signature dishes such as roasted branzino in ponzo yuzu sauce, and wagyu steak a la robata, Salvaje is arguably Barcelona's most buzzed-about opening. SLVJ combines stylish décor, fresh Asian food and beautiful people. This fine establishment is a must-try if you are keen to check out one of the best restaurants in Barcelona whilst enjoying a cold glass of wine and the buzz of the city.
---
---
2. Disfrutar
Neighbourhood / District: Eixample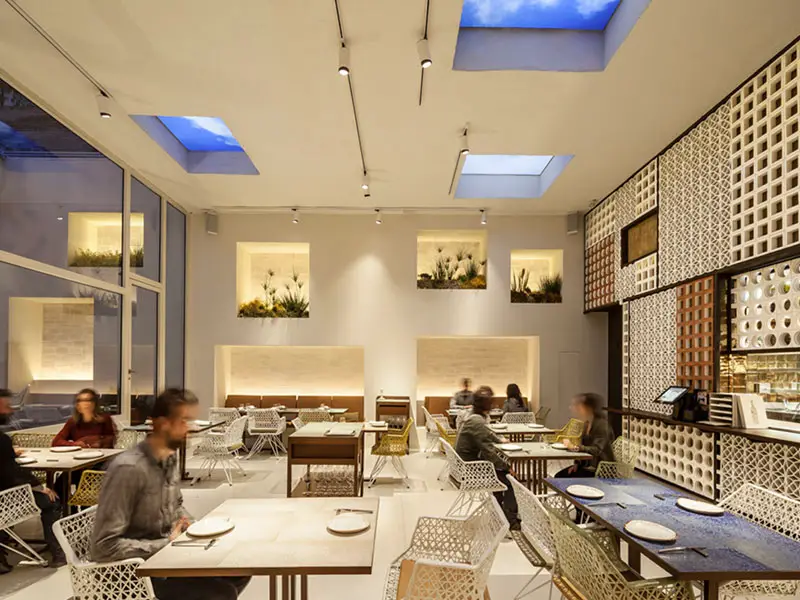 Without question, Disfrutar Barcelona is one of the most inventive restaurants in the world, let alone Barcelona. The two Michelin stars attest to this, but you will find that this restaurant provides much more than just delectable gourmet cuisine. Choose the experimental tasting menu here and you will find it is almost like you are at a show, you never know what will arrive at the table next!
Disfrutar's culinary genius knows no limitations, and these crazily delicious ideas can be found in every dish. It's worth noting that, should you choose to dine here, they also offer a great vegetarian alternative to their tasting menu, which can sometimes be tricky to find in this very meat-oriented city. In short, if you are looking for the perfect space in Barcelona for couples, this could be it, especially if you are not scared of one-of-a-kind foodie surprises!
---
Related articles and Travel Guides for Barcelona
---
---
3. Con Gracia
Neighbourhood / District: Gràcia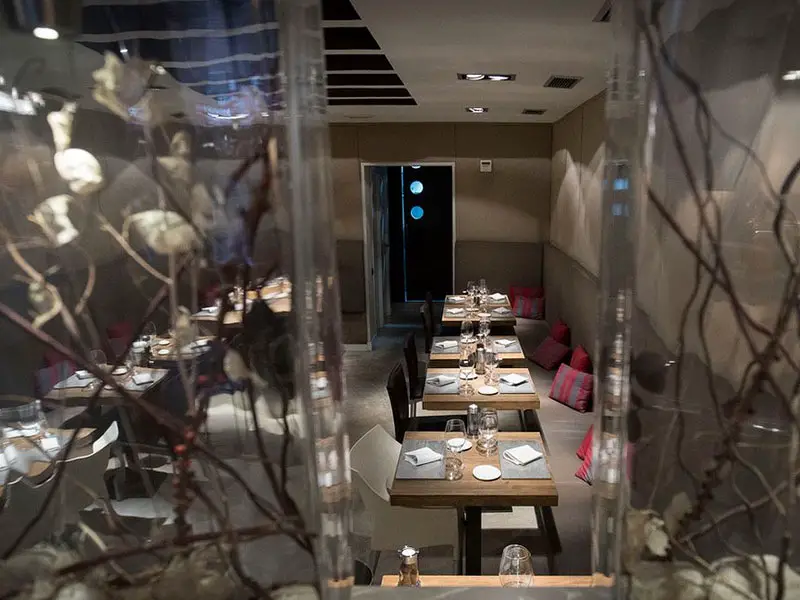 Here you can learn about some spectacular Mediterranean and Spanish cuisines. It's the perfect place to bring a loved one and dine on some of Con Gracia's dishes. Sample the grilled duck breast with seaweed salad, and the aubergine cannelloni in opulent surroundings. You need to visit here simply to taste the great Spanish wine on offer that can be paired perfectly with your dishes.
The cool waiters make this restaurant a must-visit. These restaurateurs are ready to provide excellent service (and great food) from start to finish. If you choose to eat here, you'll be pleasantly surprised at how reasonably priced it is to enjoy a delicious and expertly served meal. All-in-all, Con Gracia is a great choice for a laid-back but intimate dining experience in Barcelona.
---

---
4. Alkimia
Neighbourhood / District: El Raval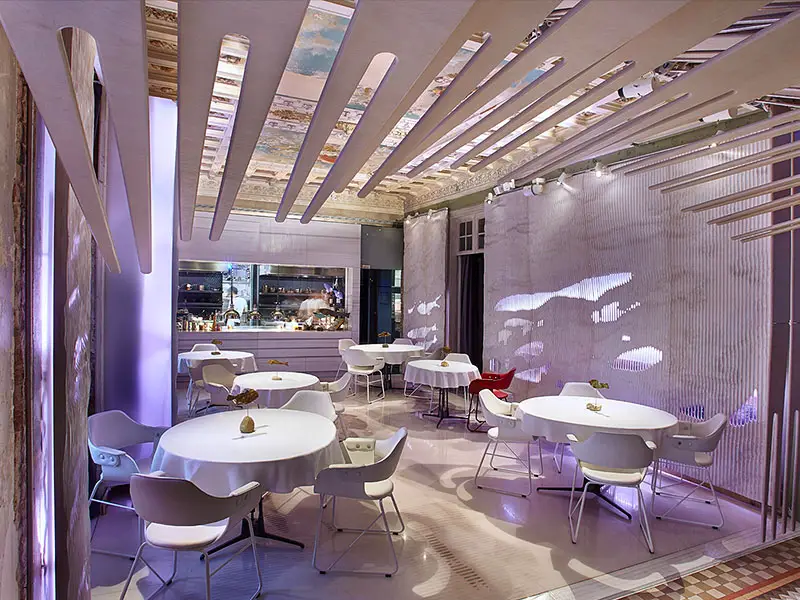 Visiting Alkimia is a once-in-a-lifetime Catalan culinary adventure. The restaurant is housed in a 19th-century building with a modernist design throughout its interior. Jordi Vilà, a celebrity chef, is credited with pushing Catalan cuisine to the forefront of Spanish cooking, so is worth checking out if you want to get beyond a mediocre paella dish.
Expect dishes such as Mediterranean red shrimp; and the charcoal-grilled seafood with fragrant zucchini flowers is hard to resist. As the normal menu consists of eight courses, you will not be leaving Alkimia hungry! If you've had a busy day exploring Barcelona's attractions, you'll be able to unwind after a meal here thanks to the magnificent decor and warm ambience.
---
---
5. El Xalet de Montjuic
Neighbourhood / District: Montjuïc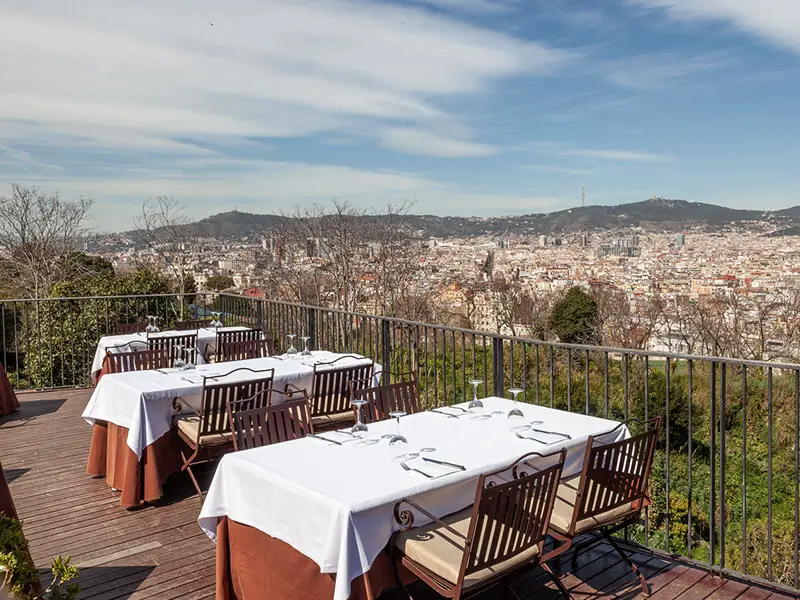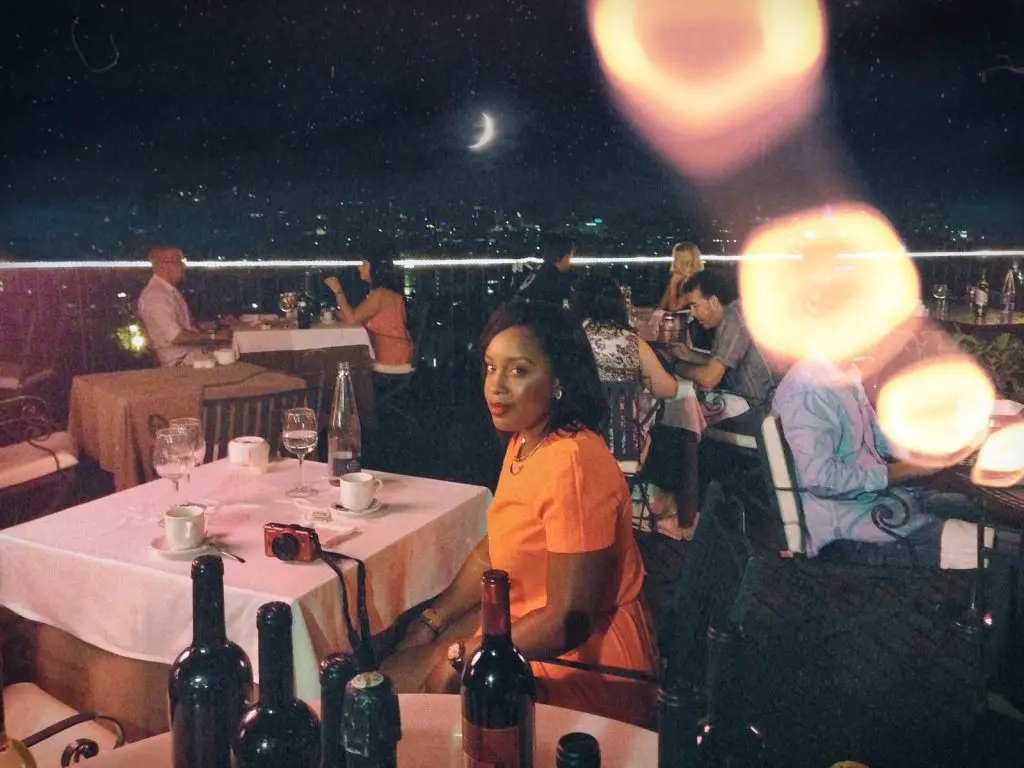 As you can see, we dined here on Nat's birthday! It's not just its gastronomic excellence, El Xalet de Montjuïc is distinguished by its stunning facilities. The restaurant features a gigantic panoramic terrace for Al Fresco dining, as well as a revolving lounge with magnificent views of Barcelona. Through its windows, you can see the city's sprawling skyline, making it the perfect place to sit back and enjoy a romantic drink together as the sun sets in what we can personally say is one of the best and most romantic restaurants in Barcelona.
---
6. Palo Verde
Neighbourhood / District: Eixample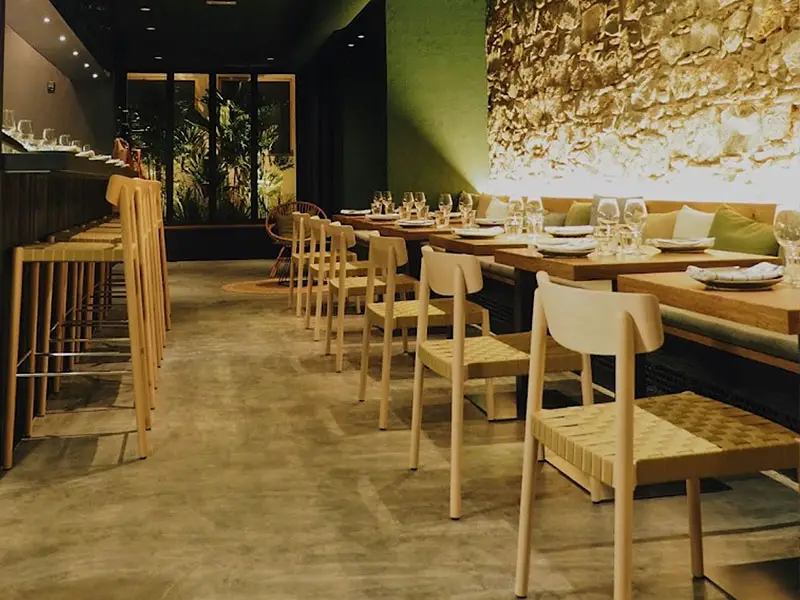 Local, seasonal and organic goods is what everyone seems to be after in Barcelona these days, and Palo Verde is no exception. Palo Verde, which is fairly new on the Barcelona food scene, offers a limited menu of produce-driven meals, the majority of which are prepared on the charcoal grill. The meals are small and meant to be shared, the flavours are light, and the interior decor is spot on. When all of these elements are added together, we can see why Palo Verde is seen as one of the must-try, trendiest restaurants in Barcelona.
---

---
7. Moments
Neighbourhood / District: Eixample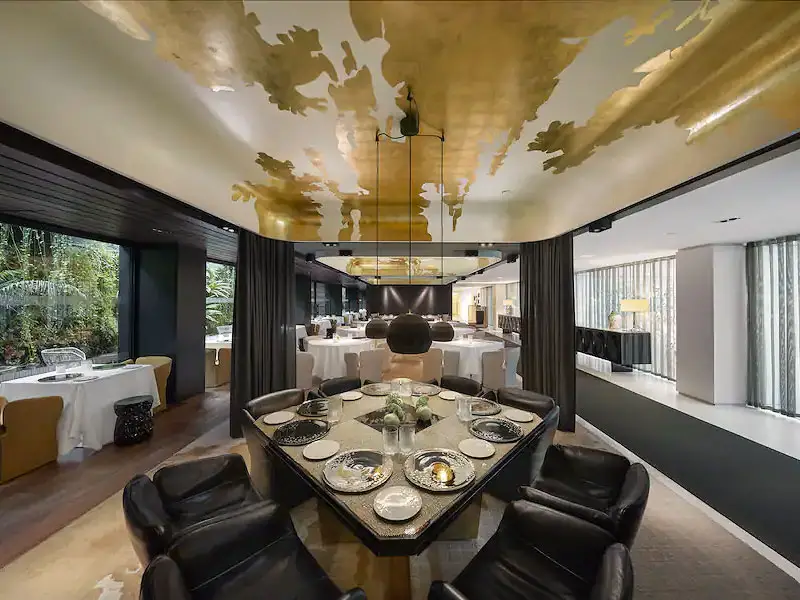 This restaurant is located within the ultra-sleek Mandarin Oriental Barcelona hotel. It maintains everything you would expect as part of the Mandarin Oriental chain, with contemporary chairs and gleaming gold leaf designs on the ceiling. This restaurant is led by Raül Balam and his mother, Carme Ruscalla. The seven-Michelin-starred restaurant stands up to its exceptional reputation with inventive ideas on Catalan culinary tradition.
We've stayed at the Mandarin Oriental Barcelona and for us, Moments provided one of the best dining experiences we had in the city. Dishes are light and beautifully prepared when they arrive. Our tip here is to request a "chef's table" in the kitchen to peek behind the curtain and witness the magic in action. Make a reservation and enjoy every moment of the experience because Moments is one of the pricier restaurants in our guide but in our opinion, worth every Euro.
---
---
8. Mano Rota
Neighbourhood / District: El Poble-Sec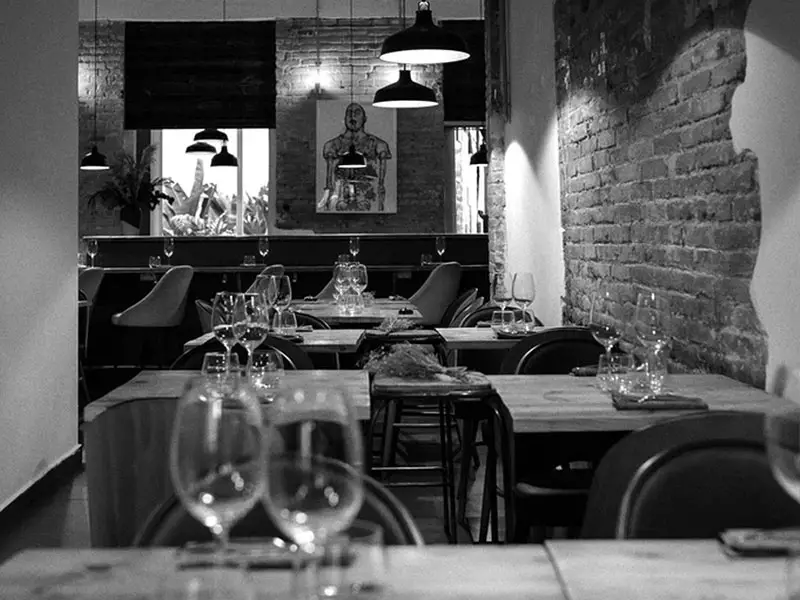 In Spanish, "mano rota" means "broken hand." It's derived from an old saying that refers to someone who has a high level of competence, and it's the ideal name for this gourmet hotspot. Expect innovative takes on Spanish staples like bacalao 'kokotxas' (salted cod stew) in the Basque way, as well as more unusual flavours like 'aguachile de mejillones' (mussels drizzled in a spicy salsa of lime, coriander and chilli peppers).
This is the place to go if you're searching for a place to celebrate a birthday or anniversary alongside authentic food and staff that can't do enough for you; or simply want to have a gastronomical adventure without all the hassle that comes with regular fine dining establishments.
---
9. 7 Portes
Neighbourhood / District: Barceloneta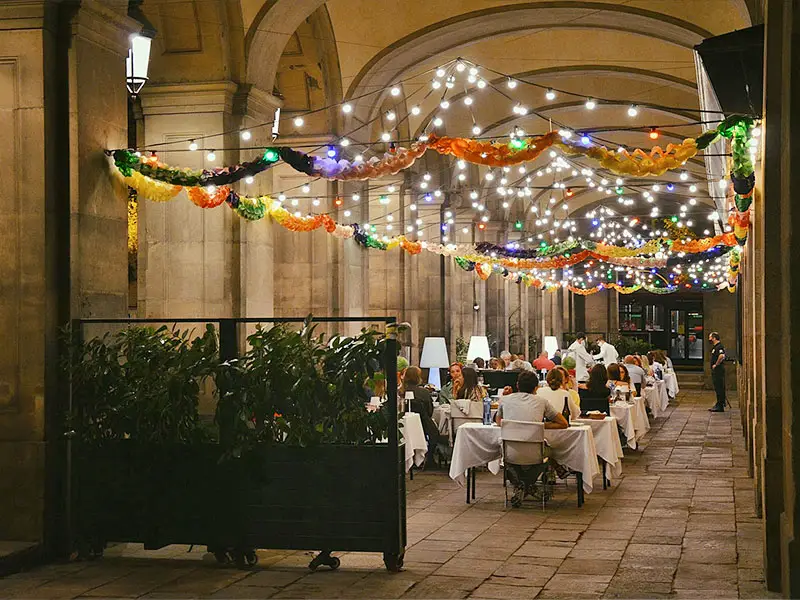 One of Barcelona's oldest and most popular restaurants, 7 Portes was founded in 1836. This restaurant is known for its old-world elegance, its seafood and meat dishes. Dark wood panelling, vintage pictures, drawings, mirrors and elaborate tiling create a warm and inviting ambience of yesteryear, as white-coated waiters stroll through this wide-open room.
Our tip here is to skip the paella if you want to enjoy what this restaurant really has on offer, because they make a new one every day, and we've heard they can sometimes be a little hit or miss. With that in mind, the other impressive food on the menu and the general feel of this restaurant make it definitely worth visiting.
---
---
10. Lasarte
Neighbourhood / District: Eixample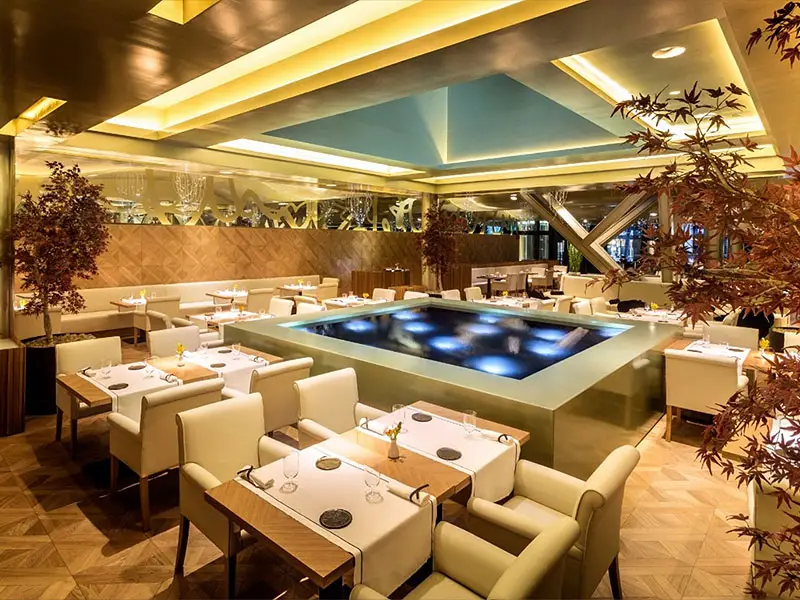 Everything about Lasarte shouts elegance, refinement and discretion from the moment you walk through the door. With 3 Michelin stars, Lasarte attracts a sophisticated crowd of well-heeled professionals and cuisine connoisseurs from around the world. The service is excellent in terms of quality, professionalism and friendliness. It may sound silly, but we think you'll love the size of the tables in Lasarte. Diners have tons of room, and space can sometimes be a problem in some of Barcelona's extra chic restaurants. The sofa area is a fantastic added extra if you need to rest up after a busy day exploring Barcelona.
---

---
Personally, we loved spending time eating in some of the best restaurants in Barcelona. This city is truly suited to couples, families and friend groups alike. The city's culinary scene offers something for everyone from trendy restaurants in the backstreets to some of the quaint street food off La Rambla. We hope this top 10 list has whet your appetite and gives an insight into what you can put on your bucket list. Enjoyyy!
Plan Your Trip to Barcelona
The first thing you should do… Download our FREE Barcelona Travel Guide App for your iPhone or Android device. This app allows you to make easy bucket lists and plan your entire trip. From recommending the top 10 restaurants, attractions, nightlife and top things to do in Barcelona, to giving you easy access to the best guided tours. Excited? Count down the seconds until your Barcelona trip with our CAN'T WAIT! Vacation & Holiday Countdown App !
We always look for the best deals when it comes to flights, accommodation and tours. Over the last 2 decades of enjoying trips together, we've come to rely on a few providers that have saved us money and given us a great service…
GUIDED TOURS, ATTRACTIONS & THINGS TO DO IN BARCELONA
GetYourGuide.com – Excellent guided tours and all of the best things to do in Barcelona, hand-picked by local, English and Spanish speaking tour guides.
HOTELS & PLACES TO STAY IN BARCELONA
Booking.com offers the lowest prices from a huge choice of 2,468 hotels and places to stay in Barcelona!
CHEAP FLIGHTS TO BARCELONA
Skyscanner will get you up to 20% OFF your flight price by comparing flight prices on hundreds of websites including Expedia, Opodo, British Airways, Vueling, Emirates, Etihad, Qatar Airways, KLM and more! Book a few weeks in advance and you'll find cheap flights to Barcelona, including international flights flying direct to Barcelona–El Prat Airport from major cities.
TRAVEL INSURANCE FOR BARCELONA
World Nomads – Simple, flexible and affordable worldwide travel insurance which includes 24/7 emergency assistance before & during your trip, valuables protection, trip cancellation cover and more