Lively, luxury, laid-back… these are three very different words that spring to mind when it comes to exploring the best nightclubs, bars and lounges in Doha. Practically all of the best nightlife in Qatar can be found in Doha, making it the place to enjoy your nights during your time in Qatar.
Are you visiting Qatar on a vacation, holiday or city break? Count down the days, hours, minutes & seconds until your trip with our CAN'T WAIT! Vacation & Holiday Countdown app 😊

Despite the restriction on public drinking, Doha offers a diverse nightlife that provides lots of enjoyment. Although Qatar's capital is known for its ultra-modern skyscrapers and Islamic-inspired architectural masterpieces, the city's nightlife includes rooftop bars, medieval-style retail areas, and even desert safaris.
Whilst our days of partying away until the early hours may be more infrequent than they once were, we still love to enjoy our evenings in vibrant cities. Sooo, bring it on Doha! But first…
Can you drink alcohol in Qatar?
It's worth noting that Qatar is a dry country meaning that if it's alcohol you're after, you'll only be able to purchase it inside tucked-away venues as part of a hotel complex or resort. In Doha, the public consumption of alcohol is strictly prohibited. So, no drinking in public, please.
How to stay out of trouble on a night out in Doha
Respect the laws of the land. Make sure you know when to stop drinking and stay inside the nightclub or venue until you're sober. Kissing, touching, and other public displays of affection can land you in jail in Doha, especially if you're single. You should also avoid same-sex intimacy in Qatar because it is not LGBTQ-friendly. Read this paragraph again!
So, what are the best nightclubs, bars and lounges in Doha?
With all the formalities out of the way, let's get down to it. Here's a closer look at some of the best nightclubs and bars in Doha that'll keep the party going after you've dined at one of the Doha restaurants that we recommended.
1. Ox Club Doha (formerly Oxygene)
Location: La Cigale Hotel (see more of this hotel)
Area: Fereej Bin Mahmoud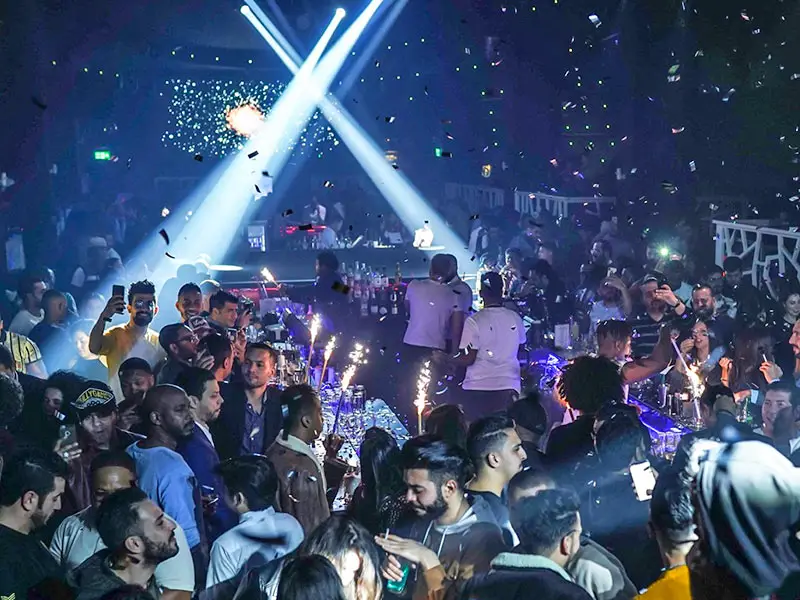 As part of the prestigious FACT Dining Awards 2019, Oxygene (before it became Ox Club) was voted Favourite Club in Doha. The vibe here is sultry, seductive, and energetic. Located within La Cigale Hotel, Ox Club is a European-style disco club where you can let your hair down and dance like a raver. The music is pumped-up and lively, the DJs are on point, and the laser lights flash all night. Whoop whoop!
Ox Club can get quite crowded on a busy night, which is worth being aware of if that's not your thing. With blue illumination and sophisticated cocktails, the bar area is impressive. For those who wish to sit down, take a break from dancing, and get some light snacks, you'll find seated booths located beside the dance floor.
Best affordable places to stay near Ox Club Doha
---
---
2. The Vogue Club
Location: Crowne Plaza West Bay (see more of this hotel)
Area: West Bay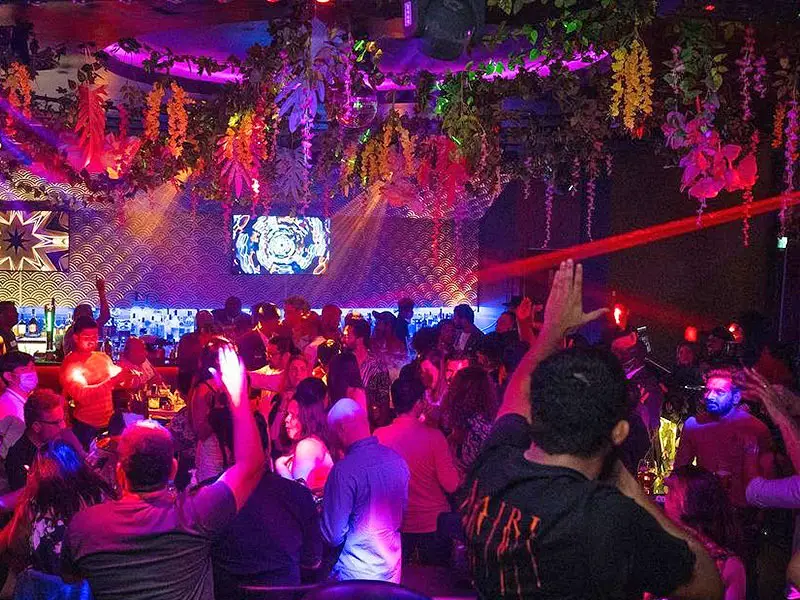 Situated on the mezzanine floor of the Crowne Plaza West Bay Hotel in West Bay, The Vogue Club is a combination of a lounge and a nightclub. In this venue, you'll find richness, fashion, the best sounds, model hosts, and beautifully prepared food and beverages. Vogue Club plays host to several different themed music nights playing sounds with roots in some of Qatar's mixed cultures – including Arabic night, Latin night, and African night.
The Vogue club is a mixed bag, and the relaxed club atmosphere means you can easily spend the whole night here. It's worth mentioning that in a city that struggles to attract female guests, almost all clubs will need a female to accompany any males into the venue, and the Vogue Club is no exception.
Best affordable places to stay near The Vogue Club
---

---
3. Sky View
Location: La Cigale Hotel (see more of this hotel)
Area: Fereej Bin Mahmoud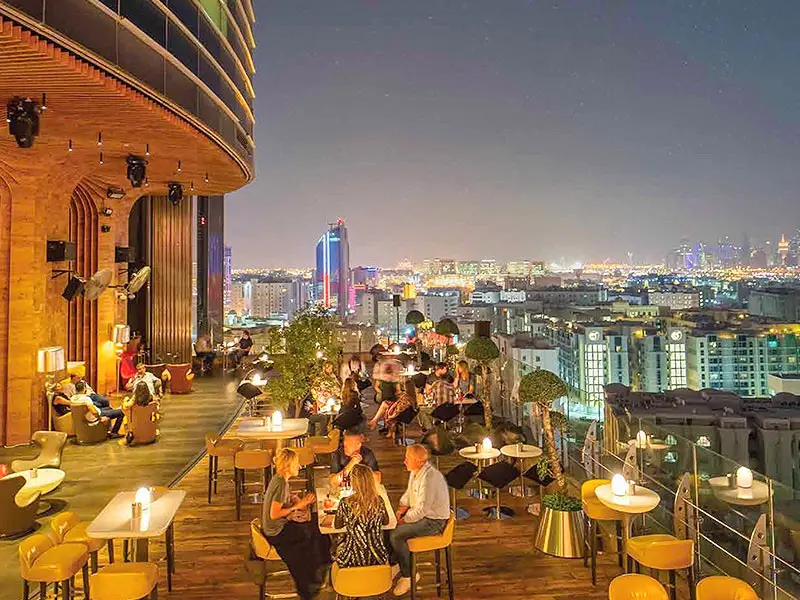 When you visit Qatar, this is the venue that everyone is talking about. Sky View is Doha's most iconic rooftop bar, providing live entertainment and a spectacular, panoramic view of the city. This medium-sized club has been recently remodelled and is looking superb, with a long bar and side sofas. La Cigale Hotel guests are admitted into Sky View free of charge, but for everyone else, a 200 QR membership may be necessary. Charging a membership is not unusual for Qatar, due to its alcohol policy but it's definitely something to factor into the cost of your night.
Every night has a different theme (Latin on Monday, R&B on Tuesday, Arabic on Saturday, Slavic on Sunday, etc). Tuesday is Ladies' Night. Their resident DJs are well-known in Doha, and they occasionally bring in famous guest DJs.
Best affordable places to stay near Sky View
---
Must-haves for every city break! Don't forget to pack these travel essentials for your Doha trip
---
4. Black Orchid
Location: Mondrian Doha (see more of this hotel)
Area: West Bay Lagoon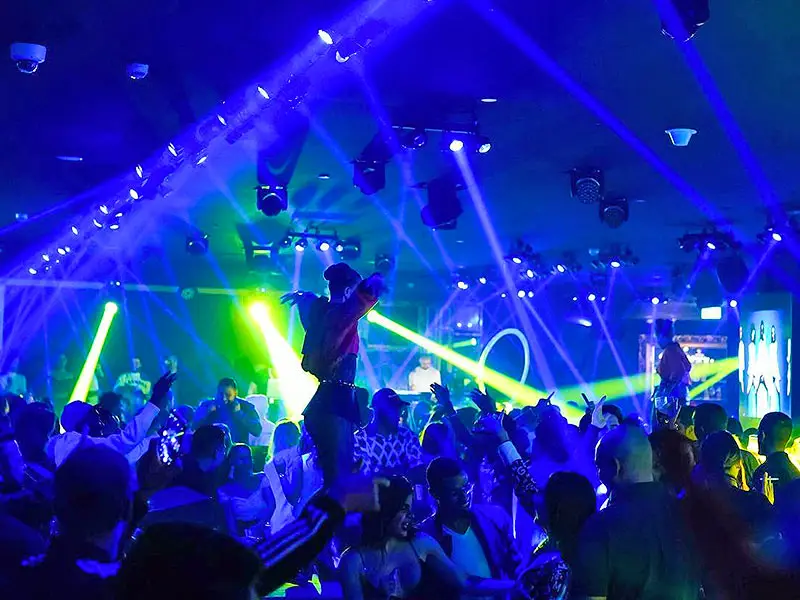 Black Orchid, a small membership-only nightclub at the Mondrian Hotel, gets interesting on Thursdays (R&B evenings) or Sundays (Ladies' night). This is definitely one of the more upmarket venues in Qatar. This is the place to go if you expect table service and wish to pop open a bottle of something fizzy with your group. There's a 1,000 QR minimum spend to reserve a table here and the strict dress code policy ensures that visitors contribute to the overall luxurious feel of this venue.
Best affordable places to stay near Black Orchid
---
---
---
5. Iris
Location: The Ritz-Carlton Sharq Village (see more of this hotel)
Area: Doha Bay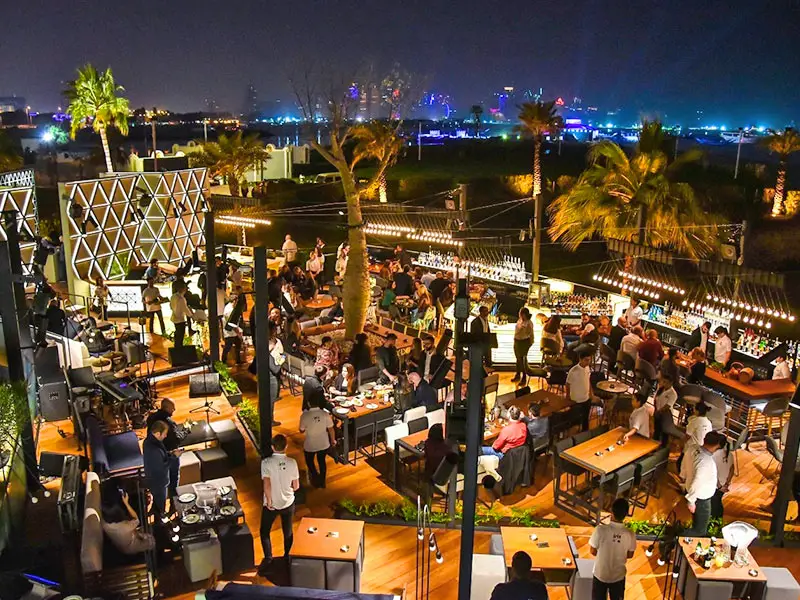 Located at the Ritz-Carlton Sharq Village, Iris is a modern lounge bar that infuses the city with an exquisite, sensual, and free-spirited vibe. This spacious outdoor lounge bar by the sea is a deliciously unique spot to enjoy drinks, aperitifs, and an international dining and snack menu. It's popular not only in the early evenings, sunsets, and late nights but also for its Friday brunches, which are set to relaxing lounge music and live DJs. The time here can be easily spent listening to the DJs do their thing with a cocktail or two in hand.
Best affordable places to stay near Iris
---
Must-haves for every city break! Don't forget to pack these travel essentials for your Doha trip
---
Related articles and travel guides for Qatar
---
6. La Vista 55
Location: InterContinental Doha – The City (see more of this hotel)
Area: West Bay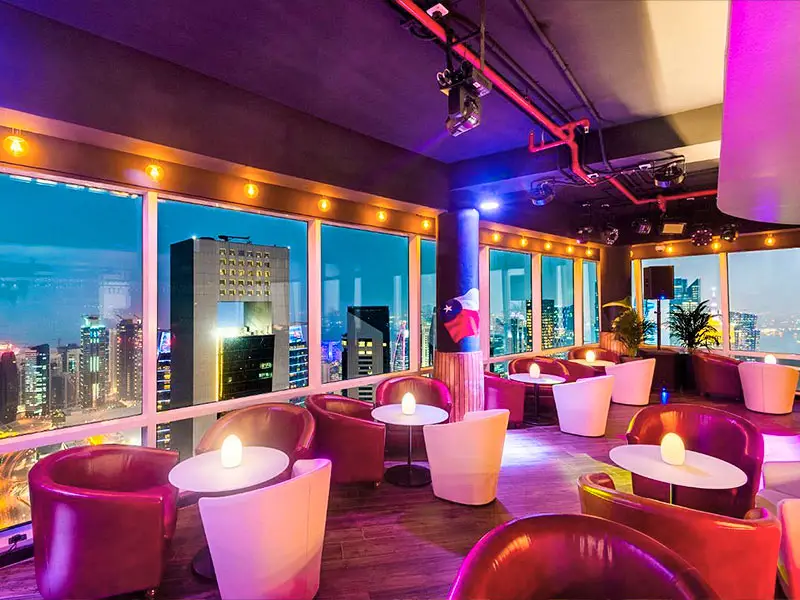 When you search for the best nightclubs and bars in Doha and Qatar, La Vista 55's name will always show up! La Vista 55 bar and club is a blend of the vibrant ambience and exquisite Cuban flavours of historic Havana. This exciting venue delivers a piece of Cuba to Doha with a lively environment and contemporary furnishings.
Every night, live Latin music is performed at this new Cuban bar. Located on the 55th floor of the InterContinental "The City" Hotel, you'll find an amazing view of Doha's skyline, as well as superb dining. Every Monday and Wednesday from 8 pm until midnight, there's an all-you-can-drink promotion for 100 QR just for the ladies. Happy hours are from 5 pm to 8 pm every day making it a great choice for all budgets.
---
7. Glo Cocktail Bar
Location: Marriott Marquis Hotel (see more of this hotel)
Area: Downtown Doha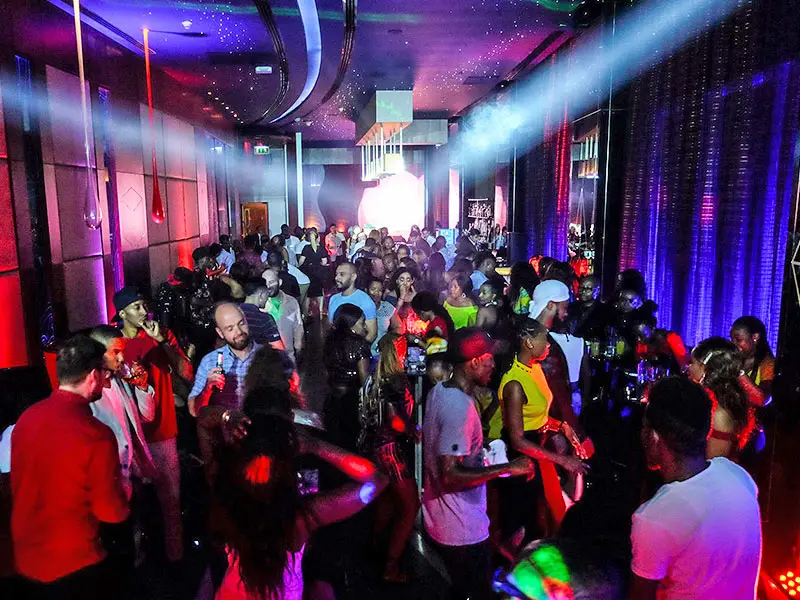 In the centre of Doha at the Marriott Marquis City Center Hotel, you will find Glo Cocktail Bar. This venue is famous for its sleek atmosphere and craft cocktails. Guests also love the mezze, tapas and other tasty finger food on offer here, as well as the shiny gold bar, which super-stylish drinks are served from.
Glo is open from Tuesday to Friday, starting at 5 pm and finishing at 2 am. Arrive early for happy hour specials from the premium-stocked bar and get ready for a glamorous night out in a glitzy setting.
---

---
8. O'Hara Doha
Location: W Doha (see more of this hotel)
Area: West Bay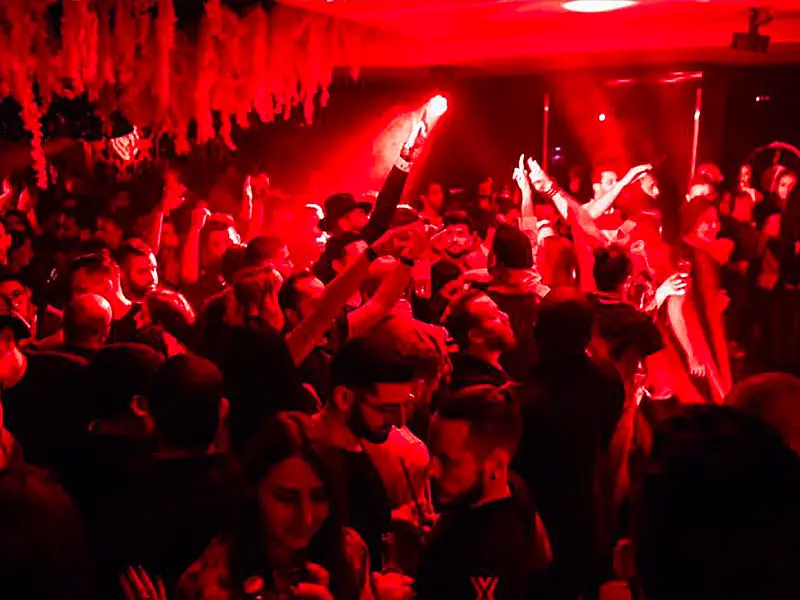 O'Hara is described as an underground music venue, but this really plays down what can be found in this hidden gem. This modest, intimate techno hideaway is located at the stylish W Doha Hotel and Residences, attracting some of the world's best DJs.
There's a small and always-crowded dance floor, accessible through a tunnel, under garlands and a beautiful hanging chandelier. There are also other lounges and dance floors available for you to sit back and people-watch. At present, O'Hara is only open on Friday nights which is probably why it manages to be so popular with those in the know.
---
9. Darbar Lounge
Location: Swiss-Belhotel
Area: Old City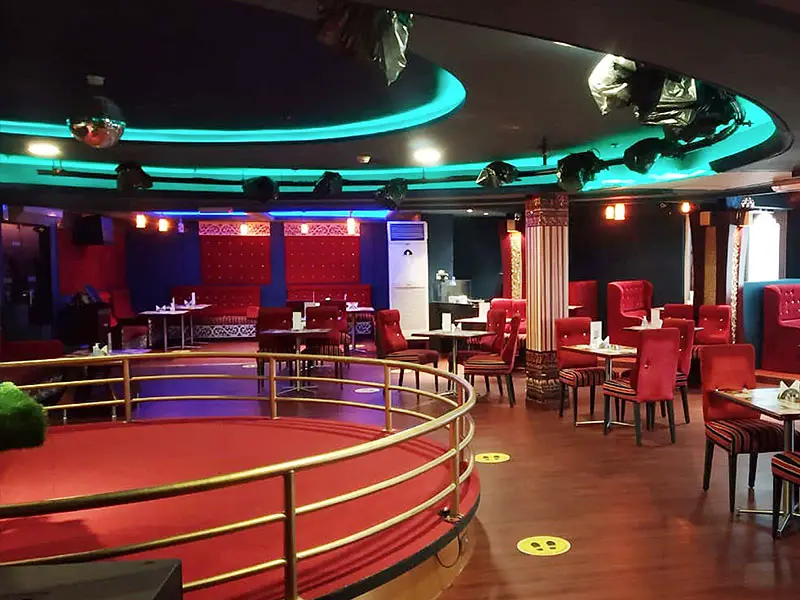 Situated on the penthouse floor of Doha's Swiss-Belhotel, Darbar Lounge offers guests a relaxed ambience, good service, and outstanding value for money in Doha. This is definitely a place for a more chilled-out vibe rather than the party club scene that we see in many of Doha's glitzy nightclubs.
---
10. Crystal Lounge
Location: W Doha (see more of this hotel)
Area: West Bay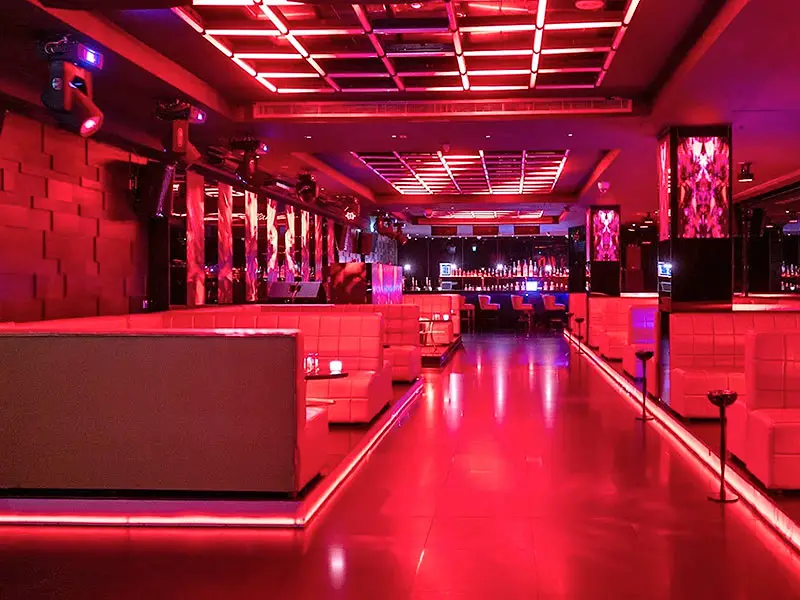 You'll be impressed by Crystal Lounge's sleek, black and red décor, where chic flirts with utter comfort. Self-styled as the "Most Wanted Club in Doha", Crystal Lounge is another great choice if you are looking for the best nightlife during the Qatar World Cup. Drinks may be expensive here, but the electric atmosphere, the big DJ and the friendly staff make it worth it.
---

---
It's clear to see that Doha is home to the best nightclubs, bars and lounges in Qatar. The city is packed full of stylish establishments for you to enjoy on your trip whether you're looking for supreme luxury or a chilled-out sexy vibe. Provided you consider the cultural rules, Doha at night really is a blast! Hopefully, this guide has given you a better understanding of the best nightlife in Doha and offered some great places to enjoy your nights during the Qatar World Cup and beyond.
Plan Your Trip to Doha, Qatar
The first thing you should do… Download our FREE Qatar Travel Guide App for your iPhone or Android device. This app allows you to make easy bucket lists and plan your entire trip. From recommending the top 10 restaurants, attractions, nightlife and top things to do in Qatar, to giving you easy access to the best guided tours. EXCITED? Count down the seconds until your Qatar trip with our CAN'T WAIT! Vacation & Holiday Countdown App !
We always look for the best deals when it comes to flights, accommodation and tours. Over the last 2 decades of enjoying trips together, we've come to rely on a few providers that have saved us money and given us a great service…
GUIDED TOURS, ATTRACTIONS & THINGS TO DO IN QATAR
GetYourGuide.com – Excellent guided tours and all of the best things to do in Qatar, hand-picked by local, English and Arabic-speaking tour guides.
HOTELS & PLACES TO STAY IN DOHA
Booking.com offers the lowest prices from a huge choice of 251 hotels and places to stay in Doha!
CHEAP FLIGHTS TO DOHA, QATAR
Skyscanner will get you up to 20% OFF your flight price by comparing flight prices on hundreds of websites including Qatar Airways, Expedia, Opodo, British Airways, Emirates, Etihad, KLM and more! Book a few weeks in advance and you'll find cheap flights to Doha, including international flights flying direct to Hamad International Airport from major cities.
TRAVEL INSURANCE FOR QATAR
World Nomads – Simple, flexible and affordable worldwide travel insurance which includes 24/7 emergency assistance before & during your trip, valuables protection, trip cancellation cover and more