When visiting Qatar, you'll see in the major cities such as Doha, that the rich culinary culture reflects the country's high standard of luxury. To celebrate the release of our Qatar travel guide app for iPhone and Android, we wanted to put together a list of the best restaurants and places to eat in Doha.
So, where are the best restaurants and places to eat in Doha?
You'll find a vast variety of restaurants and different cuisines in Doha. There are a handful of Michelin-starred restaurants in Qatar's capital that serve a diverse range of cuisines, from Latin American to Japanese. With the city's gourmet cuisine attracting the attention of foodies all around the world, it's important to be able to visit the city and know the best restaurants to visit in Doha for food, drink and simply, experience! During your time in Doha, you might find your issue will be finding the time and stomach to experience all of the city's culinary treasures. So, let's take a look at some of the gems you'll find on your Qatar adventure, from a meat lover's paradise to family-friendly eats.
1. Spice Market
Location: W Doha (see more of this hotel)
Area: West Bay
Best for: Asian cuisine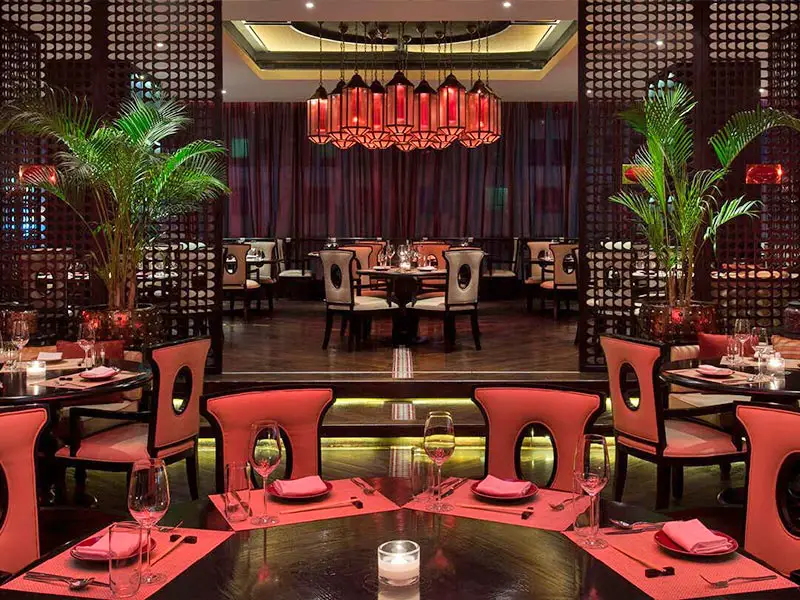 Known for its soulful and exotic atmosphere, Spice Market is located on the West Bay at the W Doha hotel. This restaurant truly is a treasure trove of Southeast Asian-inspired cuisine.
When it comes to choosing your food, we recommend checking out either their small plate menu or indulging in their taster menu where you get to try 5 of their delicious courses throughout the evening, if you can fit it in of course! Spice Market also holds a great "Tuk Tuk" brunch event where you can arrive early and enjoy a signature brunch while drinking to the sound of the live DJ along with your fellow brunchers. You'll love the relaxed vibe and tasty food here.
---
---
2. Morimoto
Location: Mondrian Doha (see more of this hotel)
Area: West Bay Lagoon
Best for: Luxury dining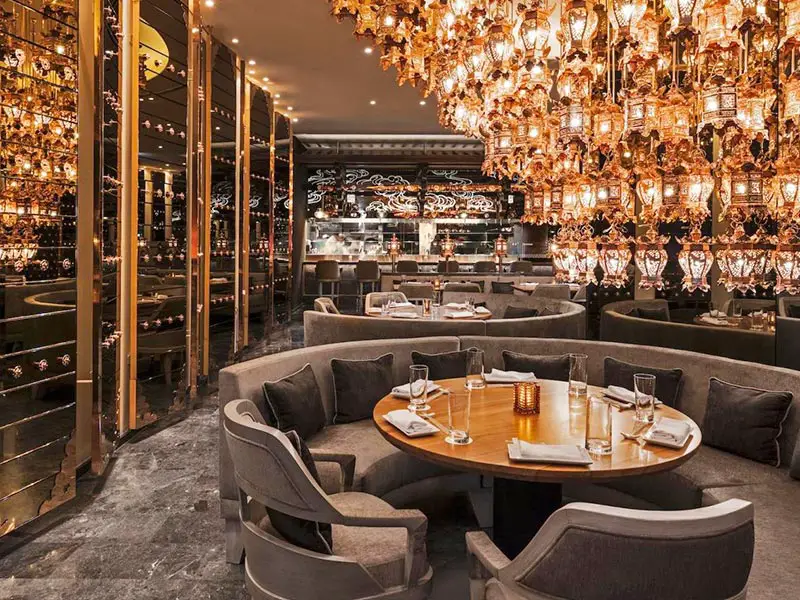 An injection of Japanese cuisine in the heart of Doha, Morimoto is located at the Mondrian Hotel and offers an out-of-this-world dining experience. Morimoto wows customers as you glide past the Mondrian's corridor of boiling, rose-gold mirrors into the main restaurant situated on the mezzanine level. Spend time gazing at the centrepiece, which is made from beautiful lanterns that resemble something from old Japan, gleaming from the bronze and green walls.
The music from the in-house DJ is a nice blend of chilled electronica, and the décor is soft and airy. This is high-quality food in a luxury setting, with the ultimate braggin' rights if you get to eat here. Japanese Saturday brunch served here is a great way to get here if you're on more of a budget as it's always well attended by Doha's movers and shakers.
---

---
3. CUT by Wolfgang Puck
Location: Mondrian Doha (see more of this hotel)
Area: West Bay Lagoon
Best for: Celeb spotting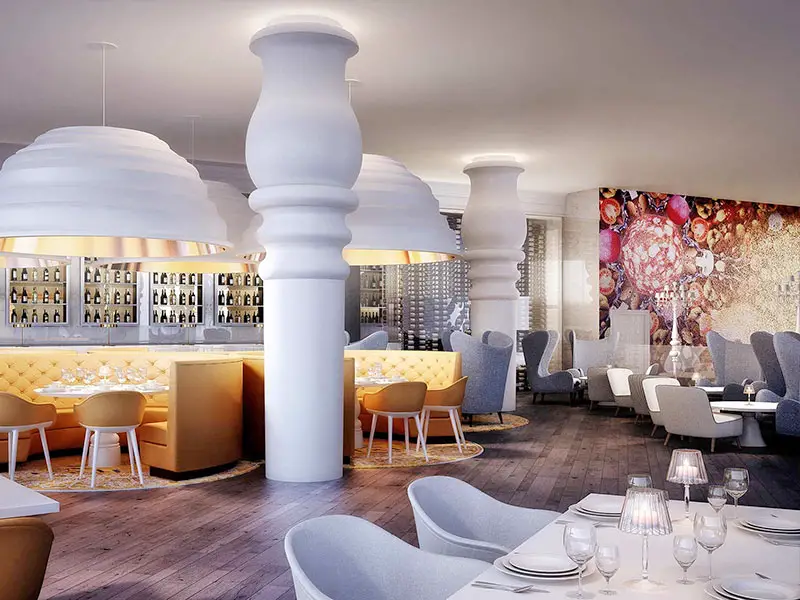 From the dramatic entry around the floating spiral staircase to the imaginatively larger-than-expected design features within, Wolfgang Puck's CUT is another restaurant set in the magnificent Mondrian. Customers' jaws are dropped by the surroundings alone, but it seems like the menu lives up to the hype too. For dinner, think wagyu beef, freshly caught seafood with sides including creamy parmesan polenta and crispy tempura onion rings.
This is another one of the best restaurants in Doha if you're looking to sample contemporary (and large!) desserts before leaving to continue your evening at the bar for a cocktail (or three). Like many of these venues in Doha, private dining suites are available, and you may even be able to get a peek at their elusive 'gold menu'. If you've been lucky enough to dine at another one of Wolfgang Puck's restaurants elsewhere in the world, you'll understand why CUT is often listed as one of the best places to eat in Doha.
---
---
4. Nobu Doha
Location: Four Seasons Doha (see more of this hotel)
Area: West Bay
Best for: Groups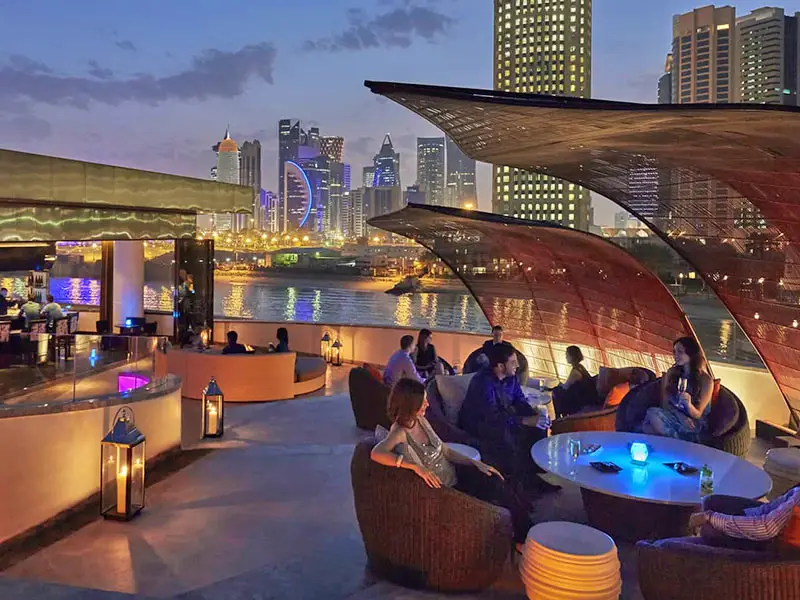 Nobu Doha is a contemporary and exciting dining venue that offers diners seats in their interior private spaces and rooftop terrace lounges. This restaurant – located at the Four Seasons Doha hotel – offers seating for approximately 400 people. The arrangement is thoughtfully intended to appear open and airy at all times. This, paired with views of the beautiful shoreline, creates a sense of intimacy and space all at once.
Most tables at Nobu Doha are circular, allowing groups of diners to sit facing one another, meaning great food is served alongside engaging chatter. You'll love Nobu for its delicious cocktail offering and will really rate this venue if you're looking for places to eat as a group during the World Cup. If you visit Nobu for their brunch sitting, the price includes not only a multiple-course brunch, but non-alcoholic and alcoholic beverages too. Make ours a Japanese Gimlet and a Yuzu pear martini, please!
---
Must-haves for every city break! Don't forget to pack these travel essentials for your Doha trip
---
5. Damasca One
Location: Souq Waqif (book a tour)
Best for: Entertainment whilst dining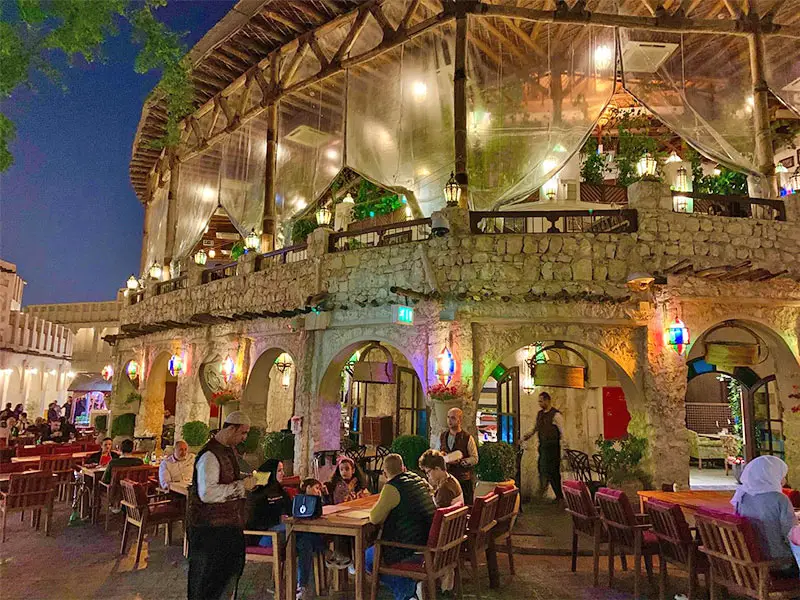 Damasca One provides plenty of seating options, both inside and out. To be at the heart of the action (and for a spot of people-watching) we recommend taking a seat outside where you can truly get to see Doha from a different perspective. The staff are arguably the friendliest in all of Souq Waqif which adds to the enjoyment of heading to Damasca One.
Muhammara and hummus with fattoush as well as other Syrian-inspired delights can be enjoyed whilst sitting on comfortable outdoor sofas. If you're lucky, catch the dancers who can be seen spinning and illuminating the entire restaurant before the restaurant's live band gradually returns to entertain diners. You'll thoroughly enjoy the relaxed atmosphere of Damasca One as well as the food and entertainment on offer making it one of the best restaurants in Doha for us.
---
Related articles and travel guides for Qatar
---
---
6. Al Nahham
Location: Anantara Banana Island (see more of this resort)
Area: Banana Island (off the East Coast of Doha)
Best for: Families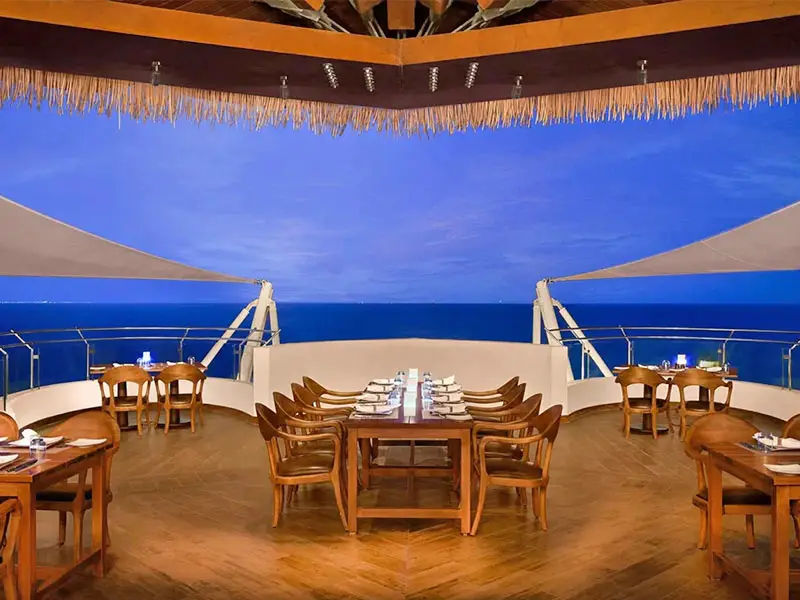 Al Nahham is a seaside pavilion on Anantara's Banana Island Resort, serving fine Middle Eastern cuisine to its visitors. Its chilled-out beach vibe really lends itself to the many diners visiting to sit back and let everything be taken care of for them while in the care of the restaurant's attentive staff.
Al Nahham's menu is decidedly local, so expect fragrant spices, mezzes, and masses of flavour. The restaurant also serves a selection of shishas to enjoy after you dine that you can enjoy while taking in views of the dramatic Arabian Gulf.
---

---
7. Nusr-Et Steakhouse
Location: Sheraton Grand Doha (see more of this hotel)
Area: West Bay
Best for: Salt Quality ingredients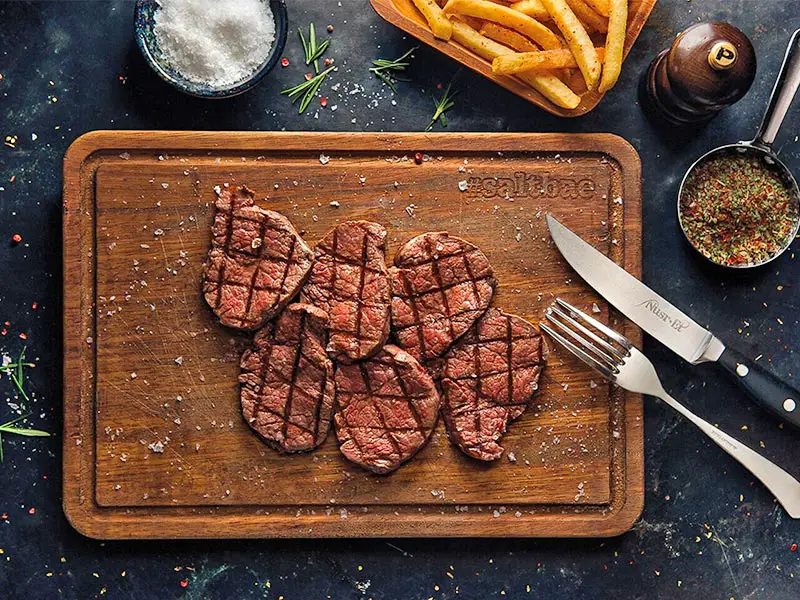 This super-slick restaurant is the brainchild of the Instagram-famous "Salt Bae" (Turkish butcher and chef, Nusret Gökce). Despite the big personality behind the restaurant itself, the quality of Nusr-Et's products is the foundation of this restaurant, and you will not be disappointed.
It's hard not to be drawn into the experience this restaurant provides which is one of the reasons we've selected Nusr-Et Steakhouse as one of our best restaurants in Doha. The meat is wonderful, and it arrives at the table prepared exactly to your specifications. This is something we've struggled with in the past, but it really should be expected with this steakhouse's hefty price tag. The main attraction here is meating meeting the man himself and watching in awe as he sprinkles a fistful of salt crystals from a height all over your steak!
---
---
8. Al Jalsa Garden Lounge
Location: InterContinental Doha – The City (see more of this hotel)
Area: West Bay
Best for: Date night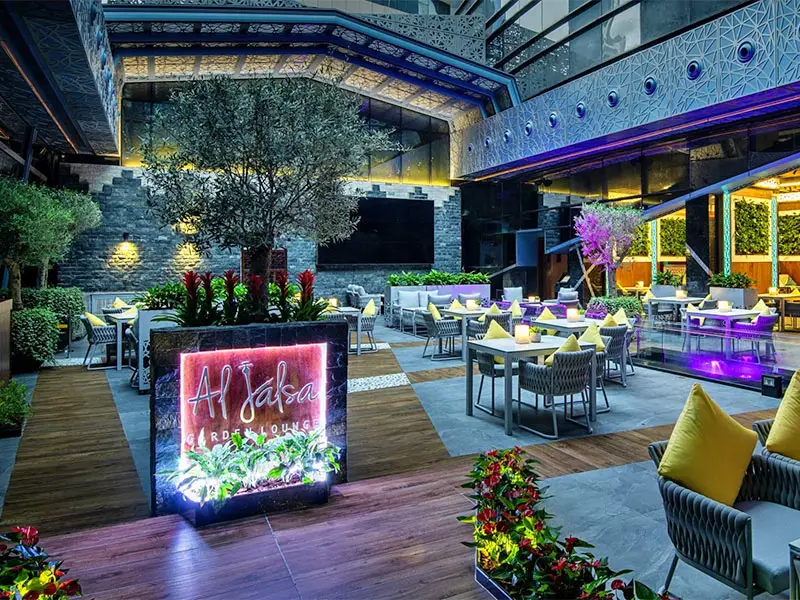 The colour-rich neon lights in a lush, garden-inspired set-up are the first thing you notice as you walk in. The atmosphere here is more eclectic than anything else as it draws you in to want to find more of its hidden delights.
The ceiling is draped in red and white draperies, and the lights are constantly changing. You can choose between the plush couch area or the more casual wicker seating. The Arabic music playing in the background is cheerful, but not loud enough to drown out your conversation about the delicious food you will no doubt be served here with its selection of mezze available. Enjoy a relaxed evening here with a not-to-be-missed atmosphere, which is perfect for couples.
---
Must-haves for every city break! Don't forget to pack these travel essentials for your Doha trip
---
9. Three Sixty – 360
Location: The Torch Doha (see more of this hotel)
Area: Aspire Zone
Best for: Panoramic views of Doha city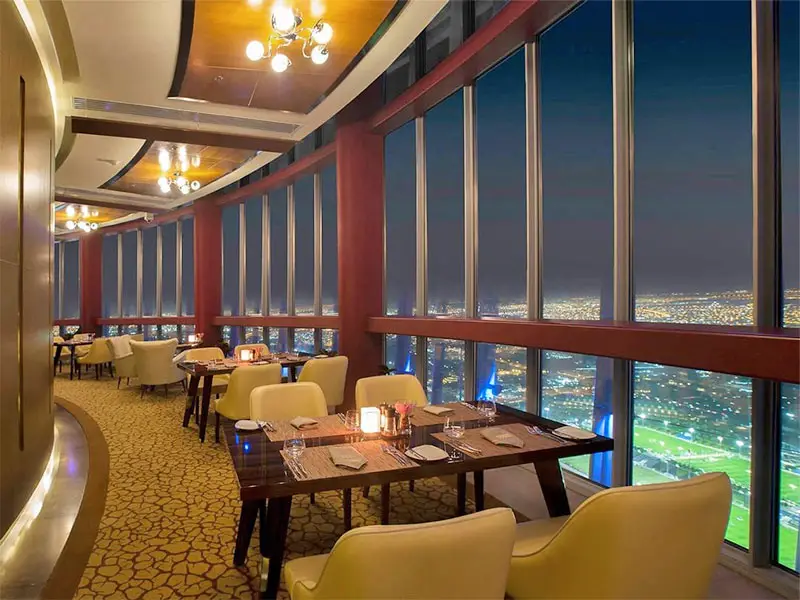 On the 47th floor of the landmark Torch building, Three Sixty is Doha's first revolving restaurant. We love how the panoramic view changes every time you look out the window, even though you can't feel the entire restaurant slowly revolving. The entire environment is incredibly upmarket, and every piece of the décor, from the oak tables to the rugs, is of the greatest quality.
Perhaps unusually for the best restaurants in Doha, Three Sixty's menu mainstay is decidedly Mediterranean, which is a bold move that has paid off for the restaurant. If you want outstanding European-inspired food in a magnificent environment with unbeatable views, Three Sixty is the place to go.
---
---
10. Rodizio Brazilian Churrascaria
Location: Crowne Plaza Doha, the Business Park (see more of this hotel)
Area: Najma / Financial District
Best for: Meat lovers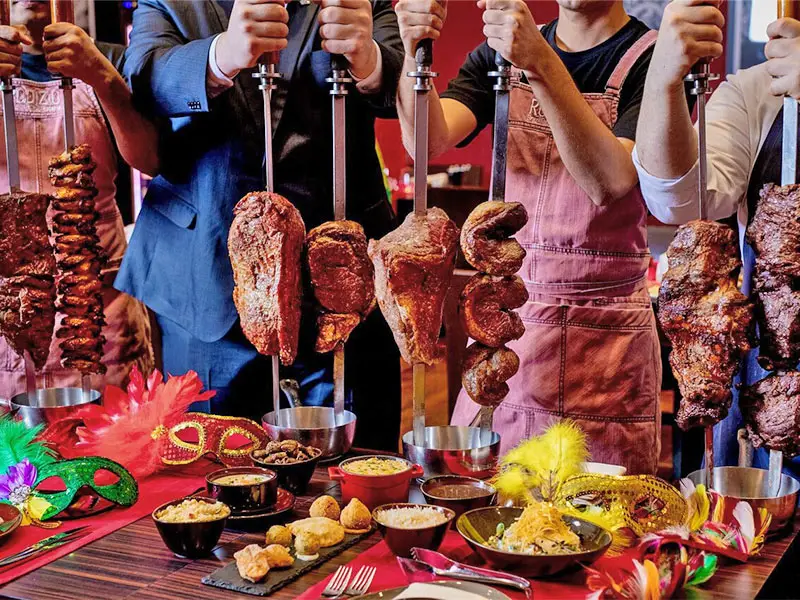 Rodizio Churrascaria is located in Doha's busy Najma neighbourhood at the Crowne Plaza Business Park hotel. It serves Brazilian meats grilled on open flame barbecues in the middle of the restaurant. This is the ideal destination for meat enthusiasts.
The restaurant uses the concept of letting customers choose how much and what meats they try. They achieve this by placing a variety of meats on the table for guests to eat. This makes Rodizio one of the best restaurants in Doha for groups and meat lovers alike.
---

---
As you can see, the Doha restaurant scene is jam-packed with stunning places to eat on your trip. Eating here is not only about sampling mouth-watering cuisine, but for the experience. Doha has become a terrific showroom for worldwide chefs to demonstrate their talents to the Middle East, thanks to a growing local interest in gourmet dining. Qatar, as well as Doha itself, is creating an impressive reputation on the international culinary map. We hope this article has given you an insight into some of the best restaurants in Doha as well as places to eat during Qatar's World Cup.
Plan Your Trip to Doha, Qatar
The first thing you should do… Download our FREE Qatar Travel Guide App for your iPhone or Android device. This app allows you to make easy bucket lists and plan your entire trip. From recommending the top 10 restaurants, attractions, nightlife and top things to do in Qatar, to giving you easy access to the best guided tours. EXCITED? Count down the seconds until your Qatar trip with our CAN'T WAIT! Vacation & Holiday Countdown App !
We always look for the best deals when it comes to flights, accommodation and tours. Over the last 2 decades of enjoying trips together, we've come to rely on a few providers that have saved us money and given us a great service…
GUIDED TOURS, ATTRACTIONS & THINGS TO DO IN QATAR
GetYourGuide.com – Excellent guided tours and all of the best things to do in Qatar, hand-picked by local, English and Arabic speaking tour guides.
HOTELS & PLACES TO STAY IN DOHA
Booking.com offers the lowest prices from a huge choice of 251 hotels and places to stay in Doha!
CHEAP FLIGHTS TO DOHA, QATAR
Skyscanner will get you up to 20% OFF your flight price by comparing flight prices on hundreds of websites including Qatar Airways, Expedia, Opodo, British Airways, Emirates, Etihad, Qatar Airways, KLM and more! Book a few weeks in advance and you'll find cheap flights to Doha, including international flights flying direct to Hamad International Airport from major cities.
TRAVEL INSURANCE FOR QATAR
World Nomads – Simple, flexible and affordable worldwide travel insurance which includes 24/7 emergency assistance before & during your trip, valuables protection, trip cancellation cover and more