It's been a few years since we personally experienced it ourselves, but we LOVE the Miami nightlife scene! Nightclubs and bars in Miami and Miami Beach will forever be up there with the best in the World. Miami's clubs play music to rival that of Ibiza, and they attract an eclectic mix of party-hungry people reminiscent of the clubs we've visited in Cancun and Las Vegas.
To celebrate the launch of our FREE Miami travel guide app for iPhone and Android, we wanted to show you how much fun you can have at night in this South Florida city!
Is there a good nightlife scene in Miami?
Yes, yes, yes. Greater Miami and Miami Beach have some of the best nightclubs in the World! You can also find great cocktail bars, lounges and outdoor event venues that play live music (such as Oasis Wynwood).
Are nightclubs expensive in Miami?
The price you pay depends on where you go and if there's a celebrity hosting. That being said, some cover charges are quite high. LIV nightclub varies between $60 and $100. STORY varies between $40 and $100. E11EVEN varies between $25 and $80.
Which nightclubs play hip-hop and R&B music in Miami?
Which nightclubs play techno, house and dance music in Miami?
STORY (on Fridays) and Treehouse are frequented by lovers of deep house, techno and EDM music. Club Space has also been a popular nightspot for dance music fans over the past 20 years.
Does Miami have LGBTQ-friendly nightlife?
Greater Miami and Miami Beach have prominent LGBTQ+ communities and are leading destinations for LGBTQ+ nightlife. There are several gay bars and nightclubs to choose from. We'd recommend Twist nightclub, which is on our list of the best nightclubs and bars in Miami.
---
Are you visiting Miami on vacation or on holiday? Build excitement by counting down the days, hours, minutes & seconds until your trip with our CAN'T WAIT! Vacation & Holiday Countdown app 😊

---
What are Miami's best nightclubs and bars in 2023?
If you find yourself wondering where to enjoy your nights in Miami, we've hand-picked 10 of the best nightclubs and bars in Miami just for you! Our aim is to give you some inspiration when planning your night out. From the best cocktail bars to high-energy nightclubs and chilled beachside venues, we'll get you clued up on the best nightlife to experience in "The Magic City".
1. LIV
Neighbourhood: Miami Beach (Collins Ave)
Best for: Celebrity spotting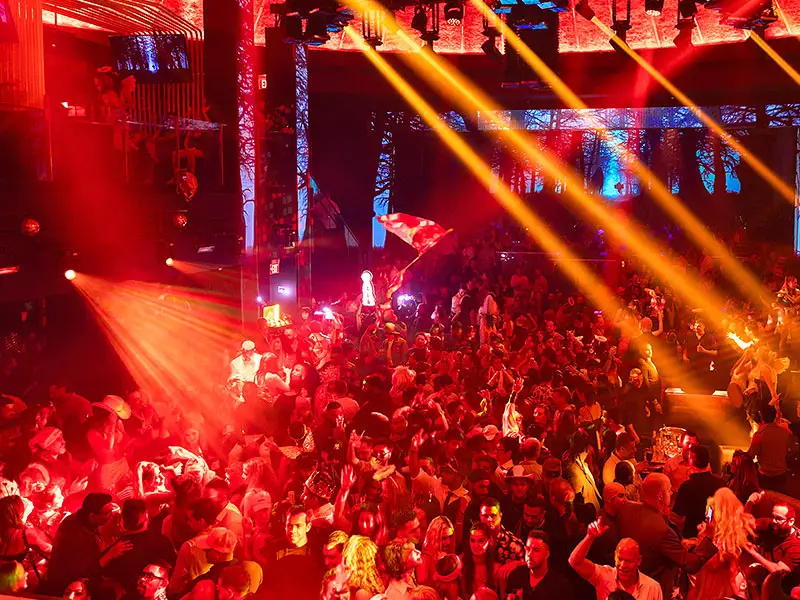 Located at the 5-star Fontainebleau Hotel in Miami Beach, LIV is all about good music. Depending on the night, you'll find yourself either dancing to house music or hip-hop into the early hours. The style, sound, and high-profile guest list all combine to create the ultimate ultra-exclusive club experience. With a huge 18,000 square feet of architecture and good vibes, LIV is always ready to host you for an incredible night. Don't forget to spend some time celeb-spotting at the VIP tables!
Like no other club in the Miami Beach area, LIV creates a bespoke playlist that includes live performances by artists who are current and taking the world by storm. LIV has hosted popular artists such as Lil Wayne, Rick Ross, Ty Dolla $ign, Polo G, Gucci Mane and more. As well as good music, LIV serves up a good drink too. Mix, mingle, and choose your favourite position among four full-service bars as the mixology experts shake, stir, and craft you a cocktail.
Featured Events
LIV ON SUNDAY (every Sunday)
---
2. STORY
Neighbourhood: South of Fifth (South Beach)
Best for: Performances by mainstream artists and DJs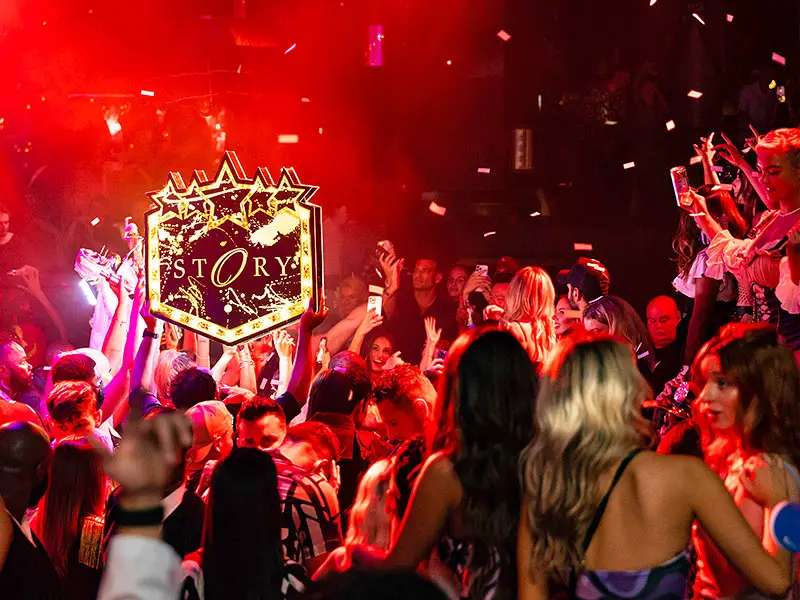 STORY is the brainchild of David Grutman's Groot Hospitality Group, previously Miami Marketing Group. This company also brought LIV to the Miami nightclub scene. This popular club grabs a spot in the "South of Fifth" area of South Beach and unapologetically places itself as one of the best nightclubs in Miami.
With 27,000 square feet of space, STORY creates an electrifying, circus-like atmosphere for everyone to enjoy. The stage area periodically emits an eruption of light through red smoke that can be seen by the entire club.
This nightclub appears to be just your average two-story building from the outside, but don't be fooled. On both levels, beautiful white leather sofas ring the perimeter of the dancefloor, making it the perfect venue to see and be seen.
Previous DJs at STORY's Friday night events include Steve Aoki, ZEDD, Marshmello, Swedish House Mafia and more. Hip-hop and R&B artists who have performed on a Saturday night at STORY include Jadakiss, Drake, Fabolous, Roddy Ricch, French Montana, Chris Brown, Kodak Black, Cardi B and more!
Featured Events
Dance and House Music STORY (every Friday)
Hip-Hop and R&B STORY (every Saturday)
---

---
3. Miami Nightclub Experience with Open Bar & VIP Entry
Neighbourhood: South Beach
Best for: Simplicity of planning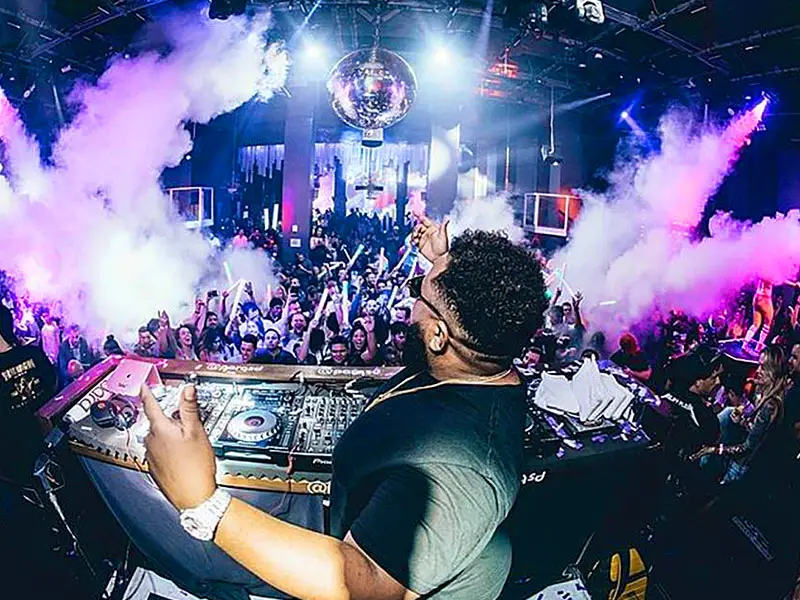 Hop in a limousine or party bus to experience Miami nightlife at its best. This guided tour lets you explore some of the best nightclubs and bars in Miami, starting in South Beach.
By handing over the hard work of organising your night out to an experienced guide, you'll get the opportunity to step inside a party limousine with a free bar. From here, you'll make your way to several different bars and clubs, where you'll skip the line and head straight to the VIP area to party the night away. We hope you enjoy taking advantage of the free bar and no cover charge on this great evening adventure!
---
---
4. Do Not Sit On The Furniture
Neighbourhood: South Beach
Best for: Intimacy and underground music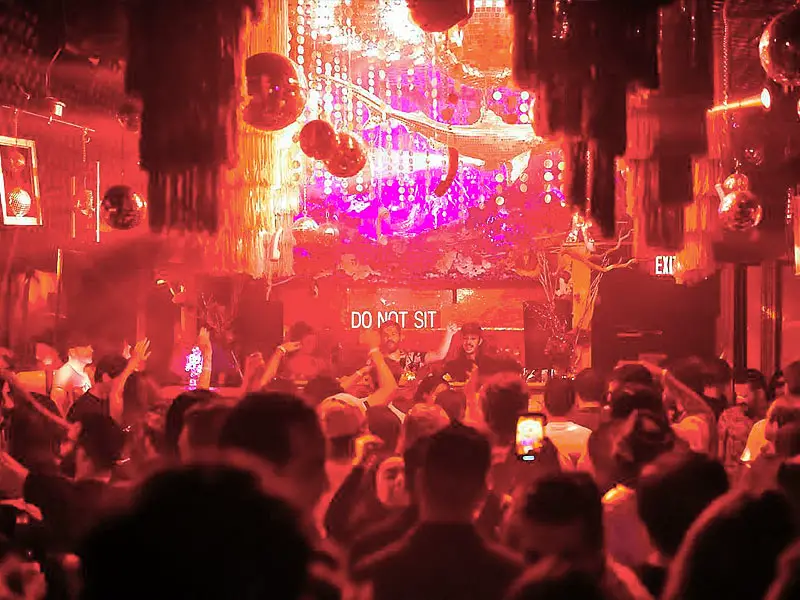 Do Not Sit On The Furniture is a Miami nightclub that might come across as small and dimly lit to some people. However, when you step in, you'll be able to enjoy some of the most memorable experiences of your life here! DNSOTF has developed a reputation for providing exceptional experiences to South Beach visitors who appreciate the underground music scene.
Half of this nightclub's appeal is how it creates an intimate atmosphere for guests to go in and dance without having to wait in queues. The staff here have also garnered a stellar reputation for their amazing customer service. It feels like Do Not Sit On The Furniture's entire staff enjoys hanging out with you. As a result, you'll be able to have a fun-filled experience.
---
More articles and travel guides for Miami and Miami Beach
---
5. E11EVEN
Neighbourhood: Downtown
Best for: Theatrical performances and after-hours clubbing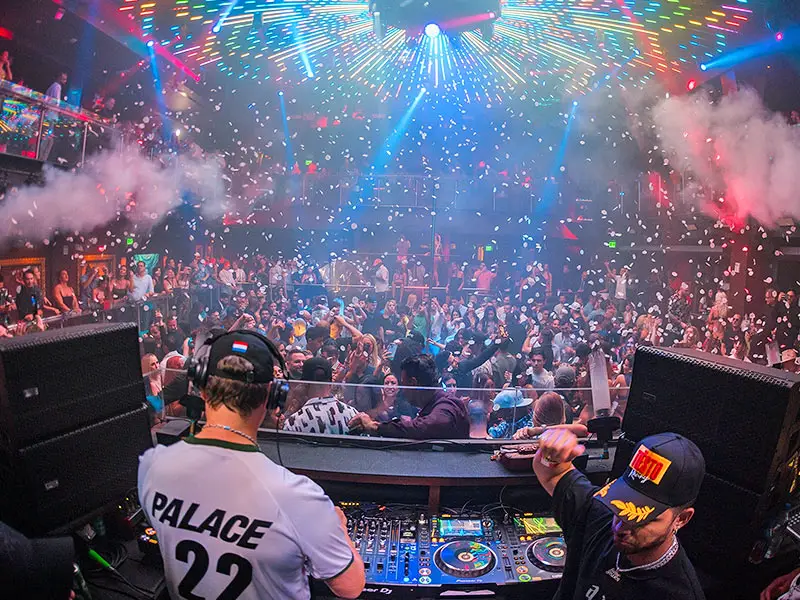 Great nightclubs aren't only found in Miami Beach. Downtown Miami is another popular nightlife area. This is where you'll find E11EVEN, Miami's one-of-a-kind nightlife destination, describing itself as "the world's only 24/7 Ultraclub".
Pronounced "eleven", this vast nightclub spans 20,000 square feet and features trapeze performances and burlesque dancers. It also vows to provide its patrons with exceptional service and an amazing night on the dance floor!
E11EVEN is recognised for its extreme after-hours late-night club scene, so it's certainly worth checking out if you are a true night owl. The venue hosts outstanding theatrical productions and live events with a high level of elegance, making it a leading entertainment spot.
Recent DJs and performers at E11EVEN include Tiësto, 50 Cent, Cee Lo Green, Cardi B and Offset, Esther Anaya, Snoop Dogg and more.
Featured Events
LOCAL SUNDAYS (free entry and complimentary drink for locals, every Sunday)
---

---
6. Club Space
Neighbourhood: Downtown
Best for: Dance music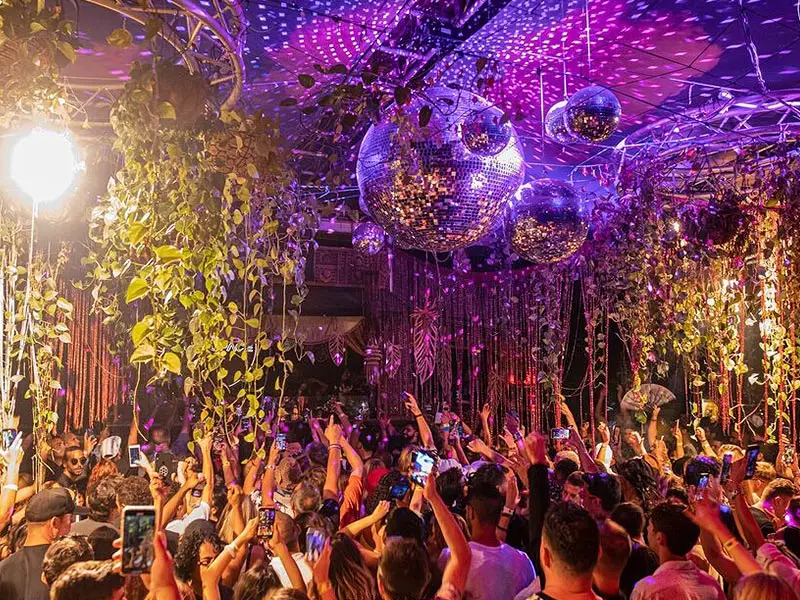 Club Space has built a solid 20-year reputation for providing the perfect party atmosphere in the heart of Downtown Miami. You can expect a sizeable audience of electronic music lovers here, particularly on Friday and Saturday nights.
The transparent ceiling on the club's terrace is popular with partygoers who love to gaze up at the sky. It's said that most people who visit Club Space dance until the sun rises the next morning.
Past DJs who have spun the decks here include Diplo, Carl Cox, Camelphat, Loco Dice, Chris Lake and more.
---
7. Floyd Miami
Neighbourhood: Downtown
Best for: Cocktails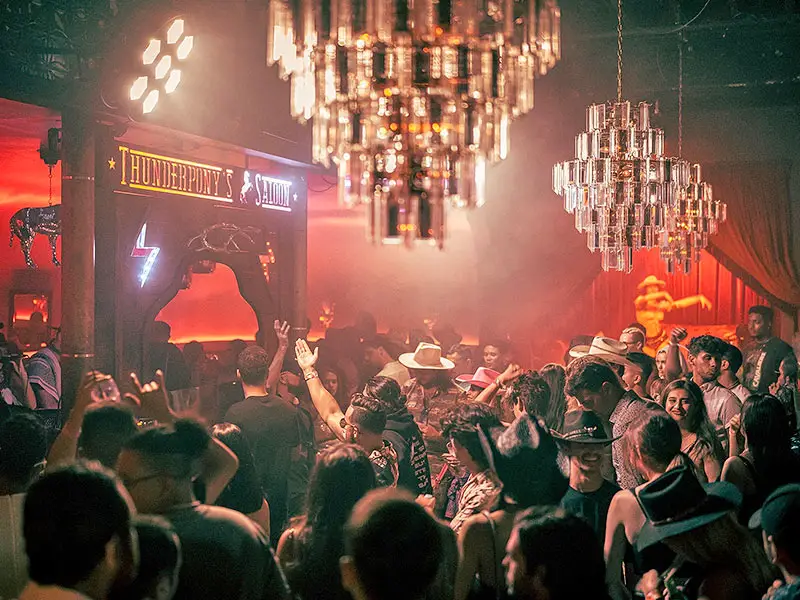 Floyd isn't the most well-known nightlife venue in Miami. However, it's still a nice cocktail lounge for you to visit and spend your night out. It's in the heart of Downtown Miami, underneath the popular Club Space, so it's easy for travellers like us to find. Floyd Miami is definitely more popular among Miami residents, but visitors to the city will be welcomed with open arms. You won't feel one bit out of place here.
It's in a good location with a nice vibe that everybody can appreciate. You'll notice the down-to-earth décor as soon as you enter Floyd Miami, which is complemented by attractive architecture.
Floyd Miami offers happy hour and drinks promotions during a few select days of the week. It's worth visiting here if you want to get down with the locals and detach yourself slightly from the larger nightclubs' bright lights and dance floors.
---

---
8. Twist
Neighbourhood: South Beach
Best for: The gay community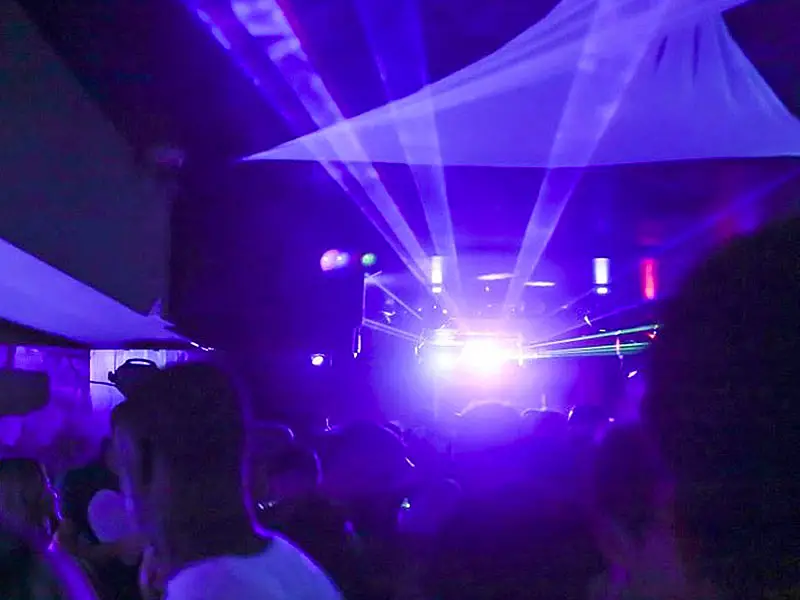 Twist is an intricate entertainment complex with seven bars, each with its own unique setting. It's one of South Beach's most well-known and established gay nightclubs. Various themes keep guests engaged seven days a week until the small hours of the morning, including an amazing movie room, a bungalow room with male dancers, and a games room with pool tables and video games.
The music varies from popular hits from the 1970s and 1980s to dramatic tribal beats and heavy house beats. This informal nightspot attracts a decent mix of locals and travellers from all over the world and is a great place to let loose all night long. Another bonus here, there's no cover charge, so just turn up and party!
Featured Events
HOUSE PARTY TUESDAYS (every Tuesday)
FRESH WEDNESDAYS (every Wednesday)
THROWBACK THURSDAYS (every Thursday, in the Bungalow Bar)
SABROSO THURSDAYS (every Thursday, upstairs in the Main Room)
---
9. Treehouse
Neighbourhood: Miami Beach
Best for: EDM, deep house and techno music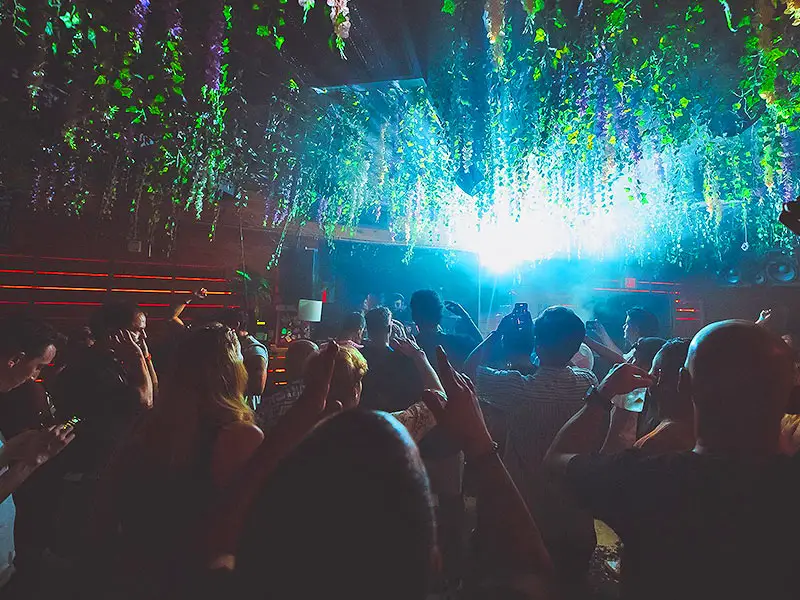 When reading up on the best EDM and deep house nightclubs in Miami, Treehouse will always be written about. After all, it's one of Miami's must-go-to nightclubs for electronic music enthusiasts. It's situated close to the sea and sand of Miami Beach. As a result, you can roll right off the beach and into this ultra-trendy nightclub.
Music lovers who enjoy deep house music and EDM flock to Treehouse in droves. Underground electronic sounds are always being spun here by DJs from labels such as Anjunadeep, Sound of Egypt, Stereo and more. Another aspect of this nightclub that makes it popular is that it's not at all pretentious. Treehouse proudly offers a super-casual atmosphere for its ravers.
---

---
10. Oasis Wynwood
Neighbourhood: Wynwood
Best for: Open-air partying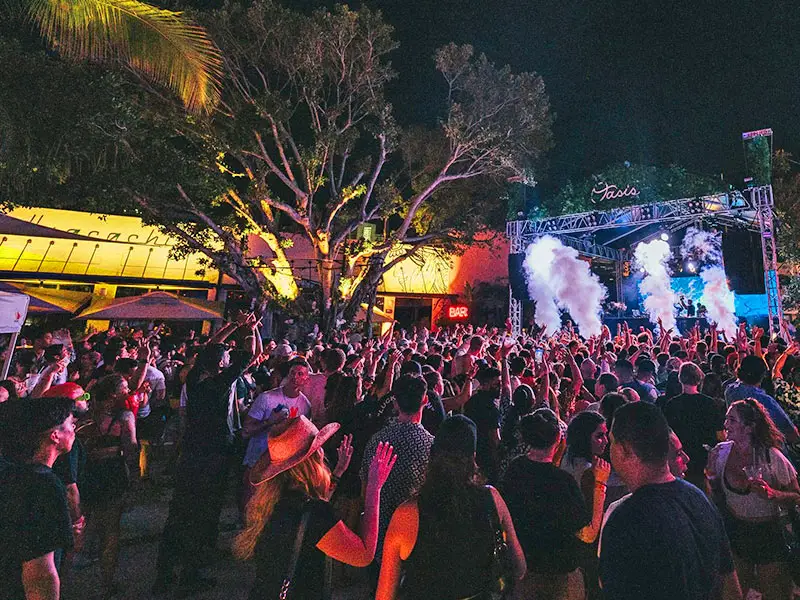 Oasis Wynwood is an emerging spot that isn't strictly speaking a nightclub or a bar; it's more than that. It's a 35,000-square-foot bar, music venue, and food hall all in one.
This outdoor entertainment venue in Wynwood features six dining concepts, a commanding Tower Bar and a stage, where big-name acts perform nearly every weekend. This is the perfect spot to check out if you're after a more relaxed night where you can dress up, grab some food with friends and continue the night in style.
---
Another piece of advice, now that you've checked out all the best bars in Miami, is to take advantage of the happy hours that most of these venues offer and be aware of each venue's cover charge.
Miami nightlife has everything, from beach-side haunts to lofty skylines and high-energy dance floors. As you can see, this is a city that knows how to party, and we hope this guide leaves you feeling in the know about what's on offer when it comes to experiencing the best nightclubs and bars in Miami.
Plan Your Trip to Miami & Miami Beach
The first thing you should do… Download our FREE Miami Travel Guide App for your iPhone or Android device. This will help you to plan your entire trip – from giving you the top 10 restaurants, attractions, nightlife and top things to do in Miami, to giving you instant access to the very best guided tours. Excited? Count down the seconds until your Miami trip with our CAN'T WAIT! Vacation & Holiday Countdown App !
We always look for the best deals when it comes to flights, accommodation and tours. Over the last 20+ years of enjoying trips together, we've come to rely on a few providers that have saved us money and given us a great service…
GUIDED TOURS, ATTRACTIONS & THINGS TO DO IN MIAMI
GetYourGuide.com – Excellent guided tours and all of the best things to do in Miami, hand-picked by local, English and Spanish speaking tour guides.
HOTELS & PLACES TO STAY IN MIAMI
Booking.com offers the lowest prices from a huge choice of 1,356 hotels and resorts in Miami !!
CHEAP FLIGHTS TO MIAMI
Skyscanner will get you up to 20% OFF your flight price by comparing flight prices on hundreds of websites including Expedia, United, American Airlines, Opodo, British Airways, Emirates and more! Book a few weeks in advance and you'll find cheap flights to Miami, including international flights flying direct to Miami International Airport (MIA) from major cities.
TRAVEL INSURANCE FOR MIAMI
World Nomads – Simple, flexible and affordable worldwide travel insurance which includes 24/7 emergency assistance before & during your trip, valuables protection, trip cancellation cover and more