Miami and Miami Beach attract visitors from around the world each year who seek sun-kissed days on the sandy beaches, and lively nights out on the town. The city is known for its vibrant culture, spicy nightlife, and of course the world-class dining options that allow you to enjoy cuisines from around the world, all in one exciting city. To celebrate the launch of our FREE Miami travel guide app for iPhone and Android, we've hand-picked 10 of the best restaurants in Miami for you to enjoy.
What is Miami's signature food?
Miami doesn't have a signature food. However, 70% of Miami's population is Hispanic, and you'll find several Cuban eateries on its streets. One of many places that are known for authentic Cuban cuisine is Mofongo Restaurant in Miami's neighbourhood of Little Havana.
What are the top 3 foods to try in Miami?
No visit to Miami is complete without trying these three foods…
Stone crabs (from Joe's Stone Crab restaurant)
The Cubano – a Cuban sandwich with ham, cheese and juicy marinated pork
Ceviche – a Peruvian dish, made from fresh, raw fish
Where do celebrities eat in Miami?
Where are the best Cuban restaurants in Miami?
Calle Ocho (Eight Street) is a popular street in Little Havana for authentic Cuban dining. You'll find dozens of restaurants and eateries here, where you can dine on Cubanos (Cuban sandwiches) and sip on Batidos (Cuban milkshakes).
Where can you find the best seafood in Miami Beach?
Miami Beach is surrounded by water, so seafood restaurants aren't hard to come by. You can find some amazing seafood dishes at Lure Fishbar on Collins Ave, and Joe's Stone Crab is a South Beach staple when it comes to fresh fish.
Do you tip in Miami?
Yes, tipping is recommended in all restaurants throughout the United States, and Miami is no exception.
---
Are you visiting Miami on vacation or holiday? Build excitement by counting down the days, hours, minutes & seconds until your trip with our CAN'T WAIT! Vacation & Holiday Countdown app 😊

---
What are Miami's best restaurants in 2023?
We've selected 10 of the best restaurants in Miami and Miami Beach for your dining pleasure, with options to suit every taste. From romantic date nights to casual post-beach lunch spots – you'll find exactly what you're looking for in beautiful Miami, Florida. 
1. Joe's Stone Crab
Neighbourhood: South Beach
Best for: Seafood, and a classic Miami Beach experience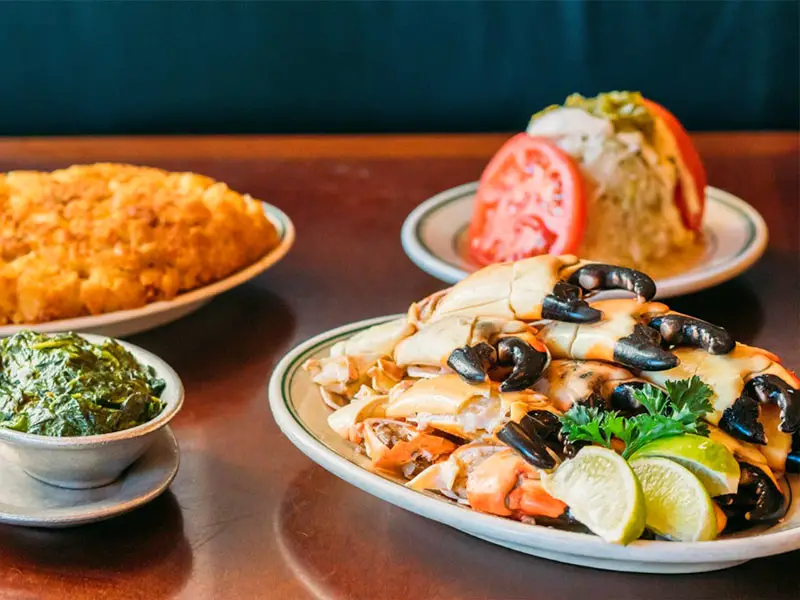 Located in popular South Beach, Joe's Stone Crab restaurant began as a tiny lunch counter in 1913 serving casual fish sandwiches and fries. Back in the early days, it was a favourite haunt of the notorious Al Capone who would dine there every day at 5 pm sharp.
Anyone and everyone who visited Miami Beach would stop at Joe's and the list of A-List clients was a mile long. For over a hundred years, no visit to Miami has been complete without a trip to Joe's.
You can experience this classic Miami Beach dining experience too, with delicious options to suit every palette. The menu has expanded to include a variety of tasty dishes like Mahi Mahi, New York Strip Steak, and of course the world-famous Stone Crabs. Please note that Joe's is only open seasonally, between October and May.
---
2. RED South Beach
Neighbourhood: South Beach
Best for: Steak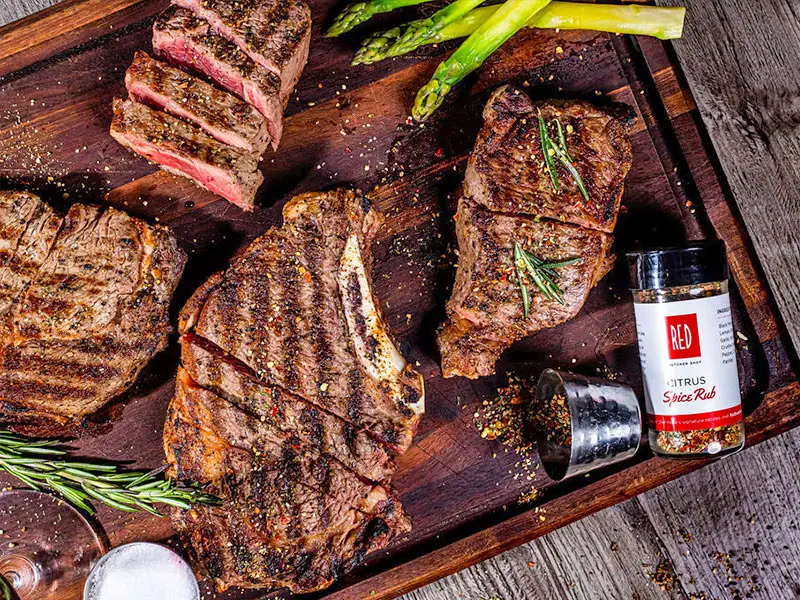 Rave reviews for RED South Beach continue to pour in since its Miami opening in 2008. Forbes, Esquire, Food and Wine, and USA Today have all sung their praises for this upscale restaurant, naming it one of the top 10 steakhouses in the United States.
It lives up to all the hype and is absolutely one of the best steakhouses you'll ever have the pleasure of enjoying. One glance at the menu will leave your mouth watering. We recommend the award-winning Surf and Turf.
---

---
3. COTE Miami
Neighbourhood: The Design District
Best for: Korean barbecue and steak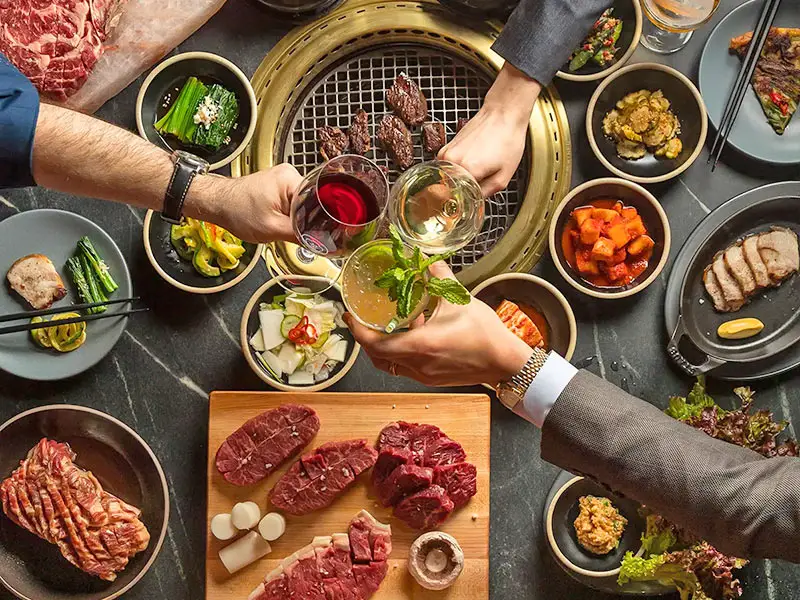 COTE is an expansive Michelin-starred Korean Steakhouse. Like the New York City flagship location, COTE Miami blends the exciting experience of a Korean barbecue with the elegance of an American Steakhouse for a unique dining experience that you'll never forget.
Executive chef David Shim keeps the menu on point with items like a 45-day USDA prime dry-aged beef, and the famous Butcher's Feast which highlights four of his favourite meats accompanied by Korean sides and sauces.
---
---
4. Prime 112
Neighbourhood: South Beach
Best for: Romantic date nights and celeb-spotting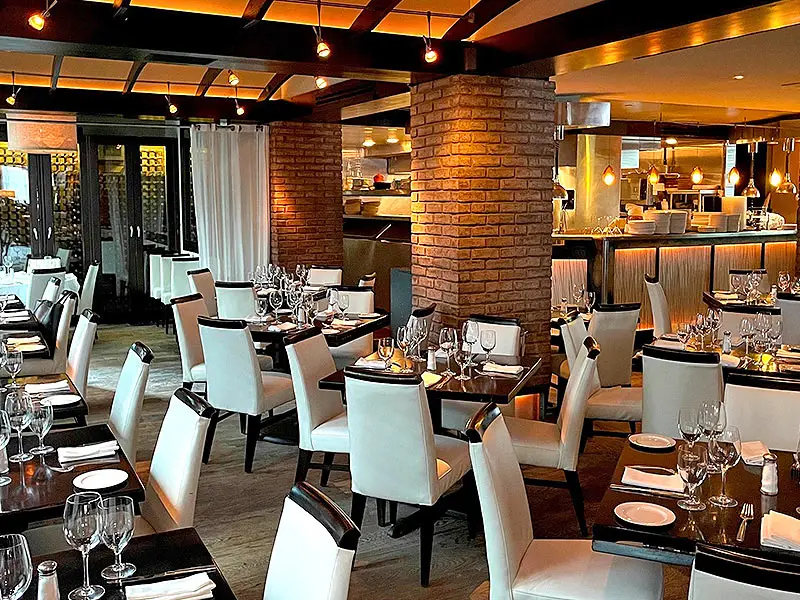 Located in the historic Browns Hotel, Prime 112 opened its doors in 2004 and has delighted visitors ever since. We were super-impressed with this restaurant when we first dined here in 2005! The ambience is everything. It's incredibly romantic with gorgeous lighting and a lively atmosphere.
Coupled with an innovative menu that features top-of-the-line fresh ingredients, the upscale Prime 112 is perfect for an unforgettable date night. The Truffled Lobster Mac and Cheese is reason enough to visit!
Not to mention, Prime 112 has become somewhat of a celebrity hot spot. In recent years, the restaurant has fed the mouths of David Beckham, Oprah Winfrey, Kanye West, Jamie Foxx, Shaquille O'Neal and Michael J. Fox. If you want to indulge in a bit a celeb-spotting, then you won't be disappointed here.
---
More articles and travel guides for Miami and Miami Beach
---
5. House of Food Porn
Neighbourhood: Little Haiti
Best for: Experimental dining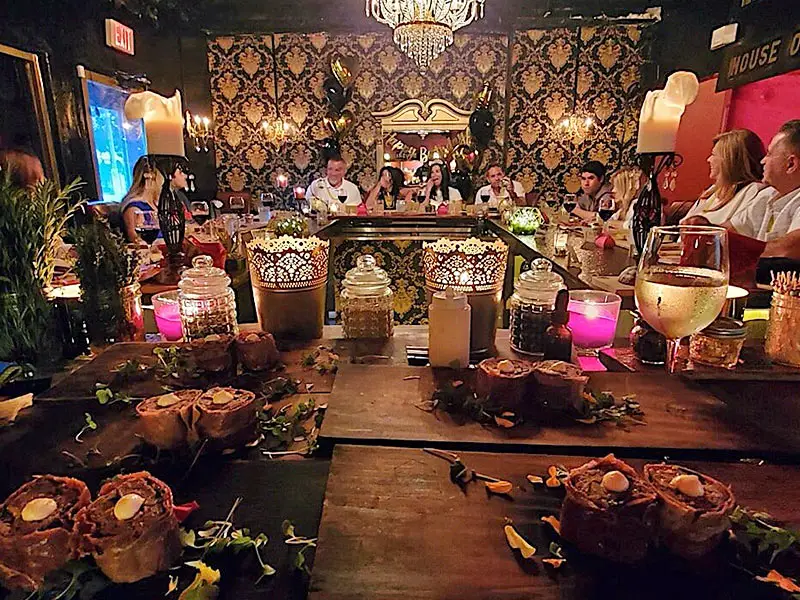 The only thing more attention-grabbing than its scandalous name and its funky facade is the food at House of Food Porn. Chef Franco Antonio Blanco is a sushi-loving Cuban who has formulated a one-of-a-kind cuisine blending traditional Cuban ingredients like Yuca, sweet plantains, avocado, and mojo with the essence of Japanese sushi.
Located in Miami's Little Haiti neighbourhood, this private dining establishment offers incredible "Omakase" tasting experiences where what you eat is left in the hands of the chef. Yes, you read that correctly, there is no menu! It's a reservation-only eatery, so make sure to plan for this one. You'll need to make your booking well in advance.
---

---
6. Carbone
Neighbourhood: South Beach
Best for: Celebrity-spotting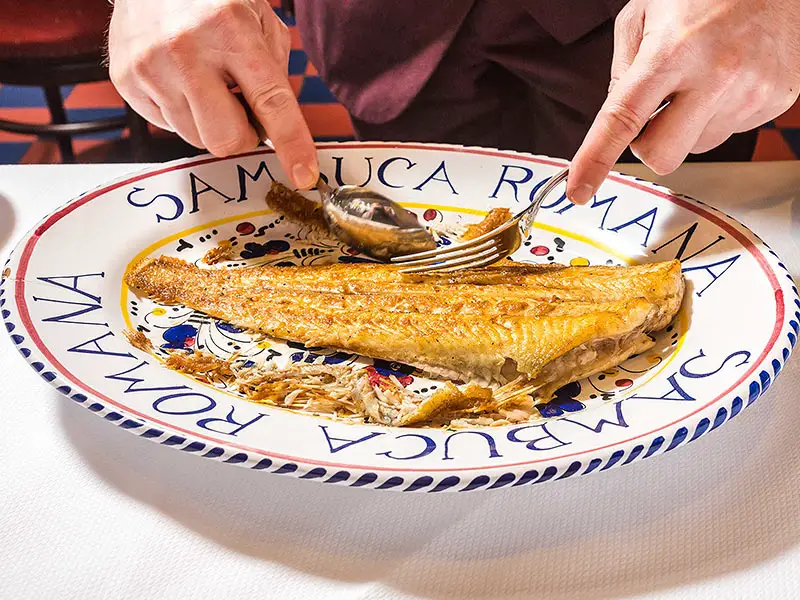 If you're able to get a table at Carbone, count yourself lucky. This upscale restaurant remains one of the best places to see and be seen in Miami. It isn't unusual to spot celebrities such as Drake, Rihanna, Serena Williams, The Kardashians, or Leonardo DiCaprio dining here.
The interior of the South Beach Italian restaurant is chaotic and gorgeous with bursts of velvet and animal print, and the food and cocktails are beyond amazing. It's expensive, but worth it for the experience.
The ambience is only part of the magic at Carbone. The food is what shines with traditional Italian food dishes and excellent wine pairings. If you're looking to woo on a date night, Carbone is certain to do the job. Some of the popular options on the menu here are the Spicy Rigatoni Vodka, Lobster Ravioli, Whole Branzino and Ribeye Diana.
---
7. Lure Fishbar
Neighbourhood: South Beach
Best for: Seafood and beach vibes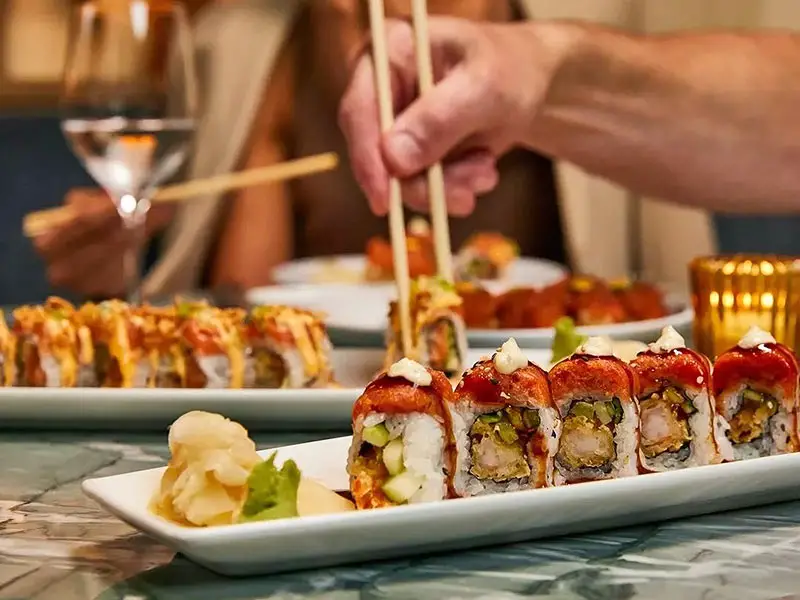 Another South Beach favourite, Lure Fishbar offers some of the most delectable seafood options from around the world. Located in the St. Moritz Tower of the Loews Miami Beach Hotel, Lure Fishbar offers oysters, sushi & sashimi, salads, and of course delicious fish dishes. 
The staff are attentive and friendly, and the prices are quite reasonable. It's not quite fancy, but neither is it casual. It's the perfect middle ground with lovely, modern decor and a relaxed atmosphere.
Some of the popular dishes on the dinner menu include the Bash Burger, Crispy Asian Snapper, 8 oz Filet Mignon Steak, and the Miso Glazed Salmon.
---

---
8. Zitz Sum
Neighbourhood: Coral Gables
Best for: Creative Asian plates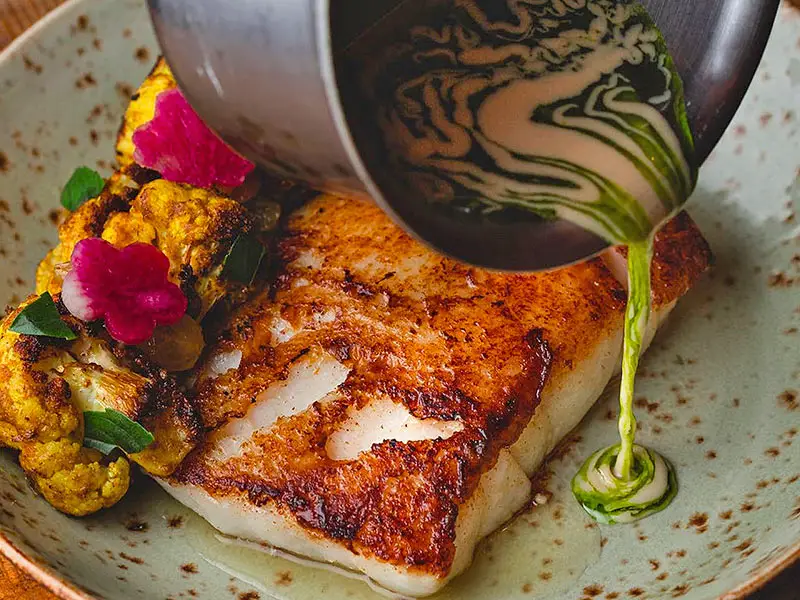 Zitz Sum is an exciting Asian food spot in Coral Gables that's perfect for a date night. The contemporary menu is based on Chinese cuisine, and it pulls flavours from Japan, Laos, and Korea to craft a creative blend of cultures and tastes.
Describing itself as a cross between a dim sum restaurant and a Japanese Izakaya, each dish served at this family-owned haven is surprising and exciting. Zitz Sum is the type of restaurant you could return to again and again until you've tried all of the options on the menu.
We recommend the Korokke, which are Japanese croquettes, but with a twist. These ones are stuffed with cheddar cheese and Lap Cheong (Chinese sausage), honestly, you can't go wrong. Every choice is more delicious than the last.
---
9. Casa Tua Restaurant
Neighbourhood: South Beach
Best for: Fine dining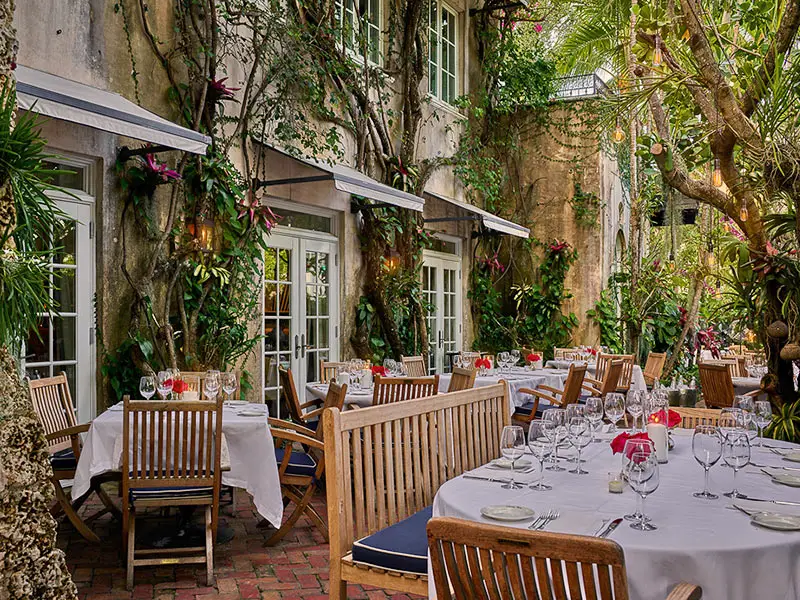 Casa Tua is a restaurant, a club, and a boutique hotel all rolled into one that is designed to feel like you're dining in a luxurious Miami home. You can dine inside the villa in the library, or al fresco in the lush lantern-lit gardens, depending on your mood.
Either way, you'll adore the fresh organic ingredients, extensive wine list, and gracious service at Casa Tua. The cuisine is Italian, but classically Miami, with options ranging from Tuna Tartare and Seared Octopus to Fettuccine with wild Mushrooms and Black Truffle.
---

---
10. Mofongo Restaurant Calle 8
Neighbourhood: Little Havana
Best for: Authentic Puerto Rican food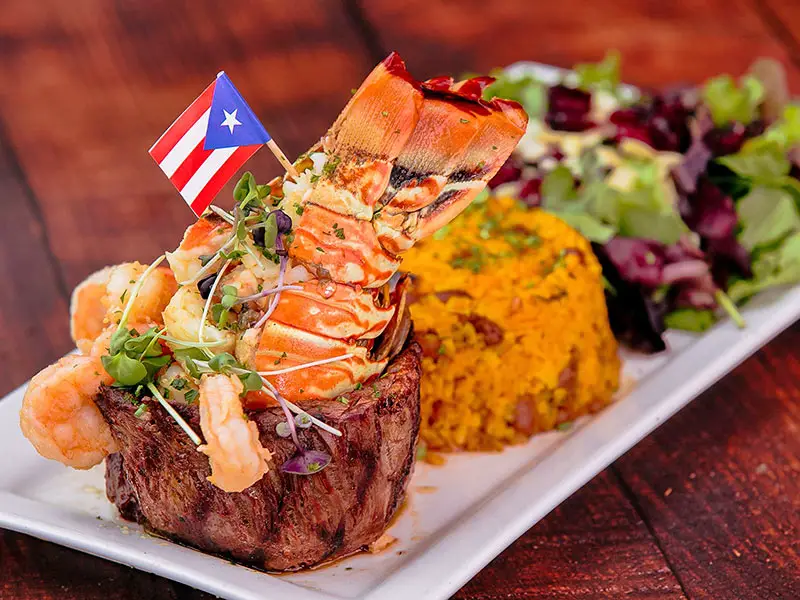 Mofongo Restaurant is a family-owned joint in Little Havana, with incredible Puerto Rican food and tasty cocktails. A visit to Miami wouldn't be complete without sampling the sumptuous flavours of Latin America and Mofongo Restaurant is a warm and enjoyable atmosphere to do just that.
Try some of the traditional dishes like the Chicharrones De Pollo or the Bacalatitos Frito for a Puerto Rican meal that you'll dream about for years.
---
As you can see, Greater Miami and Miami Beach are home to some really great restaurants, so these are just a few of our top picks for places to eat while you enjoy the best of the city.
With our comprehensive list of the best restaurants in Miami, you'll be sure to find one that suits your needs perfectly.
Plan Your Trip to Miami and Miami Beach
The first thing you should do… Download our FREE Miami Travel Guide App for your iPhone or Android device. This will help you to plan your entire trip – from giving you the top 10 restaurants, attractions, nightlife and top things to do in Miami, to giving you instant access to the very best guided tours. Excited? Count down the seconds until your Miami trip with our CAN'T WAIT! Vacation & Holiday Countdown App !
We always look for the best deals when it comes to flights, accommodation and tours. Over the last 20+ years of enjoying trips together, we've come to rely on a few providers that have saved us money and given us a great service…
GUIDED TOURS, ATTRACTIONS & THINGS TO DO IN MIAMI
GetYourGuide.com – Excellent guided tours and all of the best things to do in Miami, hand-picked by local, English and Spanish speaking tour guides.
HOTELS & PLACES TO STAY IN MIAMI
Booking.com offers the lowest prices from a huge choice of 1,356 hotels and resorts in Miami !!
CHEAP FLIGHTS TO MIAMI
Skyscanner will get you up to 20% OFF your flight price by comparing flight prices on hundreds of websites including Expedia, United, American Airlines, Opodo, British Airways, Emirates and more! Book a few weeks in advance and you'll find cheap flights to Miami, including international flights flying direct to Miami International Airport (MIA) from major cities.
TRAVEL INSURANCE FOR MIAMI
World Nomads – Simple, flexible and affordable worldwide travel insurance which includes 24/7 emergency assistance before & during your trip, valuables protection, trip cancellation cover and more