Winter is one of the most popular times of year for visitors to descend upon The Big Apple. Both Thanksgiving (in November) and Christmas (in December) are exciting times to be in this festive city, especially as a family with children – the sparkling atmosphere is truly unmatched. If you're looking for things to do in NYC with kids in the winter, then keep reading… there are tons of fun options and most of them are 100% free!
As a family of three from London, UK – we traditionally choose to visit New York City in November and December because of the city's electric atmosphere at this time of the year. 15 years ago, we even got engaged here during Thanksgiving so it has a special place in our hearts. Here are three essential tips to prepare for a family winter break in New York:
Book a family-friendly hotel in a central location: Our favourite is the InterContinental New York Times Square in Midtown – perfect location and spacious, family-sized rooms.
Wrap up warm with thermal clothing: Amazon sells great women's thermal sets, men's thermal sets and kids thermal sets – you'll feel warm even in sub-zero temperatures!
Bring a suitable travel stroller: If you have a toddler with you, a foldable travel stroller is a must-have for all the walking you'll be doing around Manhattan. We use the Mountain Buggy Nano, which folds up small enough to fit into an airplane's overhead locker – this pushchair is perfect for families visiting the Big Apple from abroad or out-of-state.
To build even more excitement for your NYC adventures, count down the days, hours, minutes & seconds until your trip with our CAN'T WAIT! Vacation Countdown & Story Maker app 😊

So, what are 10 of the best and most fun things to do in NYC with kids this winter?
Many of our favourite family activities will get your heart pumping and adrenaline racing, and some will be busy, jaw-dropping or simply heart warming. Without further ado, here's our top 10 list of things to do with children in New York this winter season, which includes 8 free activities…
1. Ice Skating at The Rink in Bryant Park
Price: Free admission to the ice rink (skate hire is $15 – $45)
Location: Bryant Park, New York, NY 10018, United States (between 40th & 42nd Street and 5th & 6th Avenues)
Nearest Subway Stations: 42nd Street-Bryant Park Station (B, D, M or F train) or 5th Avenue Station (7 train)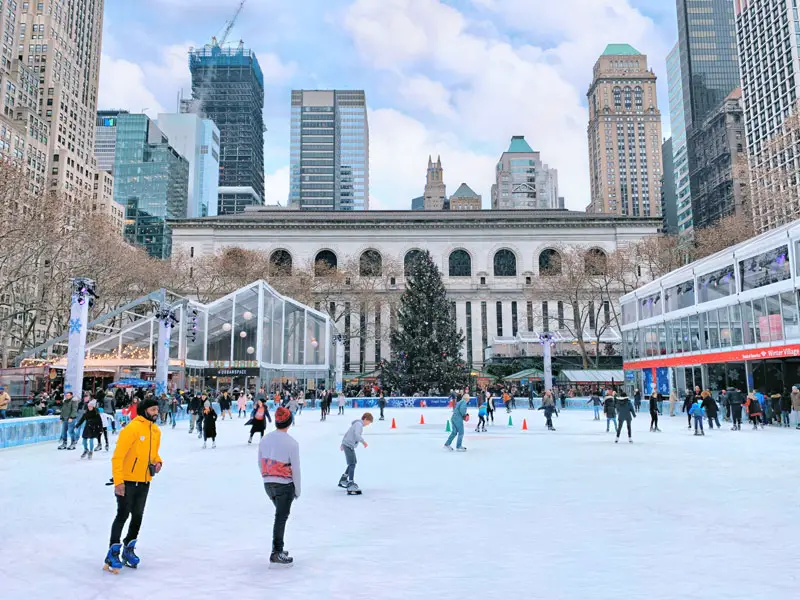 Every year at the end of October, the famous Bryant Park is transformed into the Bank of America Winter Village until the start of March in the following year. The 17,000 square-foot ice rink at Bryant Park is one of the most well-known outdoor ice skating rinks in all of America, let alone New York City. This ice rink is suitable for kids and it's loads of fun for adults too – best of all, it's FREE to skate! Well, it's 100% free if you bring your own ice skates and a backpack for your shoes, otherwise you have to pay for skate rental. Kids who are not so confident on the ice can use a snowman or penguin skate aid, which is available at a cost of $22 per hour.
The rink is open daily from 8am until 10pm (it closes later at 11:30pm, Friday to Sunday). As well as a "Skate School" for beginner skaters, there are free skating shows and events for the whole family to enjoy. Reserve your time slot on the rink for free, here: bryantpark.org/amenities/bank-of-america-winter-village-at-bryant-park
2. Experience Magic at Macy's Thanksgiving Day Parade
Price: Free
Location: Starts at 77th Street and Central Park West – Ends at 34th Street and 7th Avenue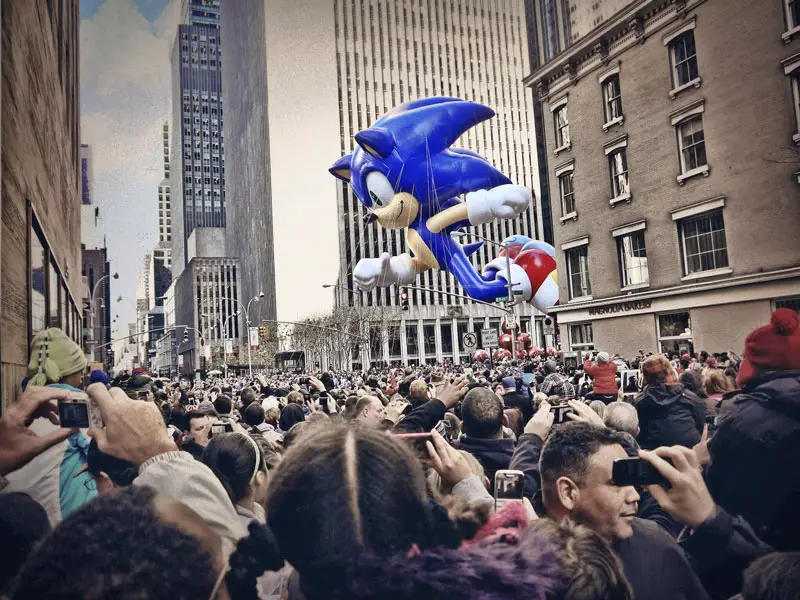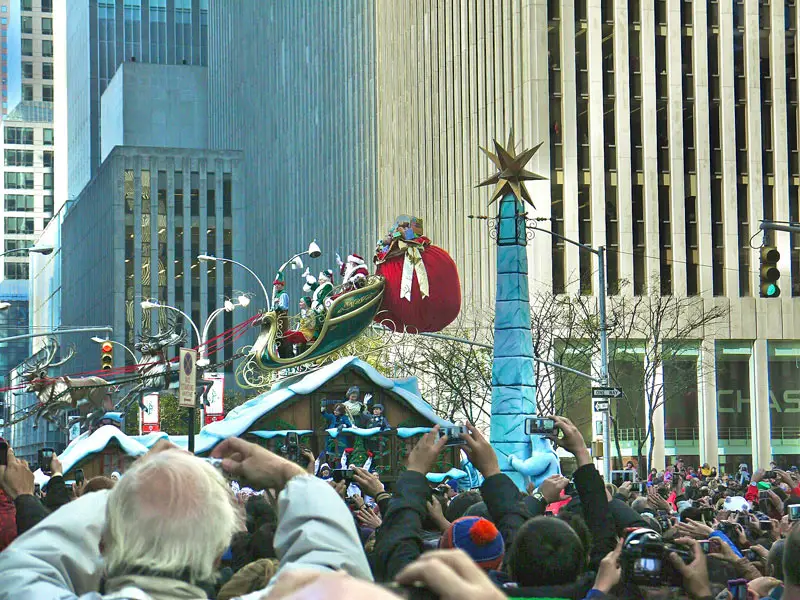 Macy's Thanksgiving Day Parade is an ever-so-exciting spectacle that starts at 9am and finishes at 12pm every year on Thanksgiving Day. For our non-American readers, Thanksgiving is an American national holiday that falls on the fourth Thursday in November each year. In 2021, Thanksgiving falls on the 25th of November; and in 2022 it falls on the 24th of November.
This fun-loving parade is an annual event that has been enjoyed by Americans and foreign tourists (such as ourselves) since 1924. It's a super-popular day out for kids, as they love to witness the live musical performers and gaze open-eyed as huge floats fly past them. Santa Claus will be seen flying down 6th Avenue in his sleigh, flanked by jolly old elves and these fantastic, giant floats – some of which, reach more than 60 feet in height. Floats that have been featured over the years include Pikachu, the Pillsbury Doughboy, Buzz Lightyear, Paddington Bear, SpongeBob SquarePants, Olaf from Frozen, Sonic the Hedgehog and many more – the line-up changes each year.
The parade starts on 77th Street at 9am, and it marches all the way down to 34th Street where it ends with a big celebration in Herald Square, as Santa starts his residency for the next 5 weeks at Macy's Santaland. To get the best, unobstructed view of the parade, you and the kids will have to claim your spot along the parade route from about 6:30am! For more info about the parade and what floats you can expect to see this year, visit www.macys.com/social/parade
---
Cheap Tickets and Guided Tours for Some of New York City's Fun Attractions
---
3. Sizing Up to The Rockefeller Center Christmas Tree
Price: Free
Location: 45 Rockefeller Plaza, New York, NY 10111, United States (West 49th Street between 5th & 6th Avenues)
Nearest Subway Station: 47-50 Sts-Rockefeller Center Station (B, D, F or M train)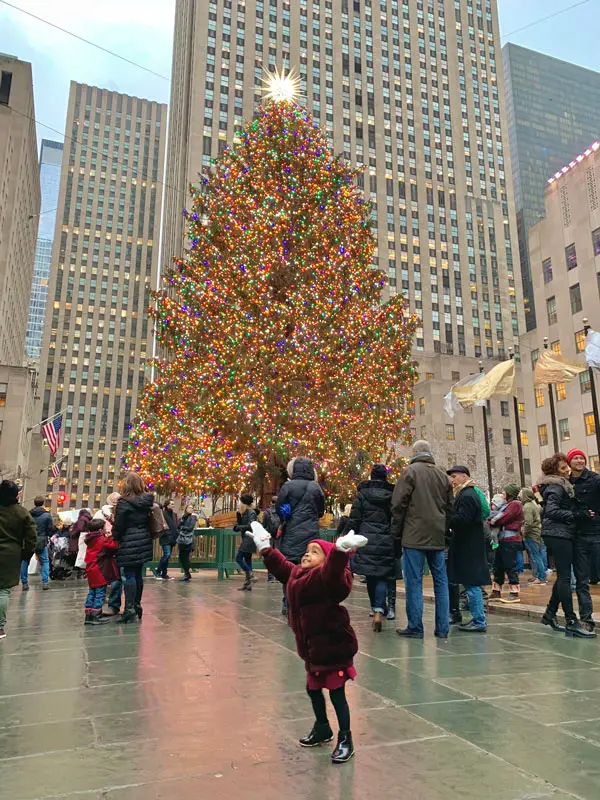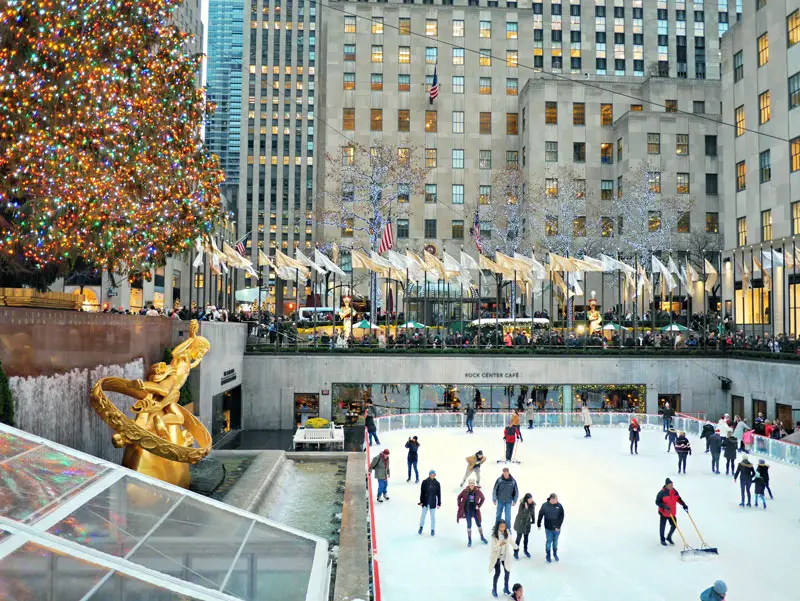 Imagine your kids going into school on a Monday morning and their teacher asks them what they did on the weekend… "Miss/Sir, I stood in front of an 80-foot tall Norwegian Christmas tree with 50,000 sparkly lights and a Swarovski crystal star on it!". Since 1933, The Rockefeller Center Christmas Tree has been erected every year in mid-November and is on display until at least the 6th of January. This "Norway Spruce" tree is so popular that half a million people pass by it every day while it's on display. It gets crowded here, so it's best to visit early in the morning to beat the crowds. We took the above photos on a weekday in mid-December at 4pm – it was slightly busy, but we had more than enough room to navigate.
Fancy a 360-degree panoramic view of the New York City skyline while you're here? You can take the ear-popping journey to the 70th floor of the Rockefeller Center and visit their indoor and outdoor observation decks for truly astonishing, unobstructed views of the city skyline. Click here for cheap tickets and skip the lines to the "Top of the Rock" experience.
4. Meeting Santa Claus & his Elves at his Grotto (Macy's Santaland)
Price: Free
Location: 151 West 34th Street, New York, NY 10001, United States
Nearest Subway Stations: 34th Street – Penn Station (1, 2 or 3 train) or 34th Street – Herald Square Station (B, D, F, M, N, Q, R or W train)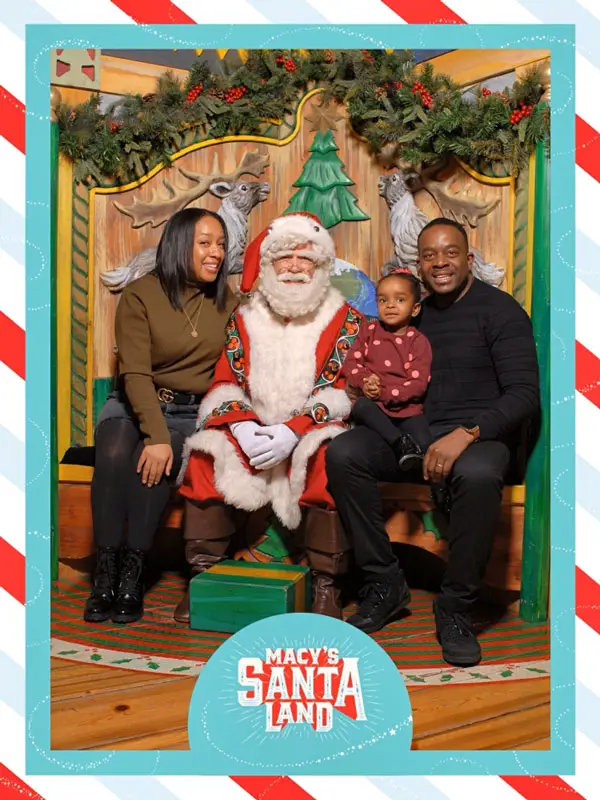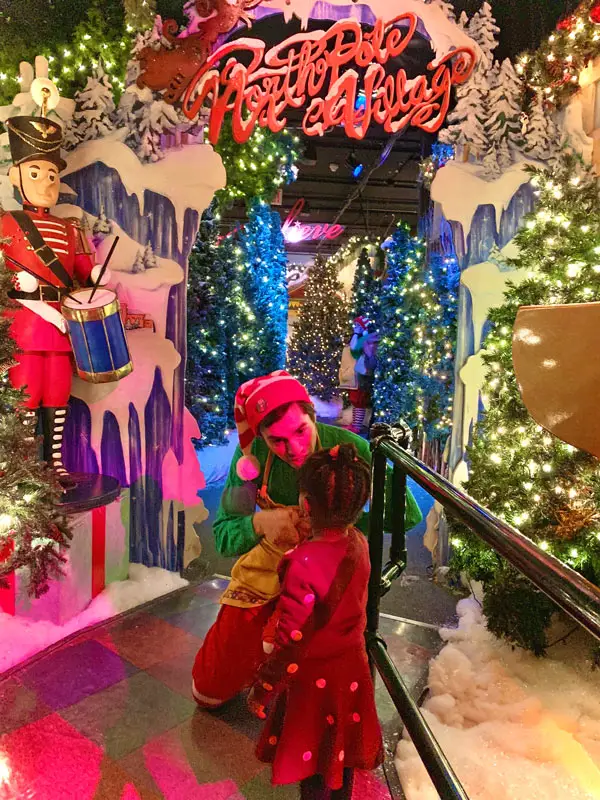 Every kid loves meeting Santa Claus. In the 5 weeks leading up to Christmas, Macy's Herald Square magically transforms 13,000 square feet of its 8th floor into a winter wonderland. Macy's Santaland features different zones such as Sonic's Workshop, Nice Street and the North Pole Village (pictured above). Navigating this wintry world of fantasy is a great way for kids to experience the magic of Christmas. It also helps to build excitement before actually meeting Santa Claus in his grotto at Macy's!
Once you meet him, you'll get the chance to take some family photos with jolly ol' Saint Nick. Hearing his softly spoken voice is part of the experience, and you'll meet a few of his helpful elves along the way as well. As far back as traditions go, Santa has been greeting visitors at Macy's since 1864 and his presents presence has always been popular, so snap up your free tickets now – www.macys.com/social/santa-land
5. Being Mesmerized by the Christmas Lights and Houses in Dyker Heights
Price: Free, or for convenience you could take a guided tour
Location: Dyker Heights, Brooklyn, New York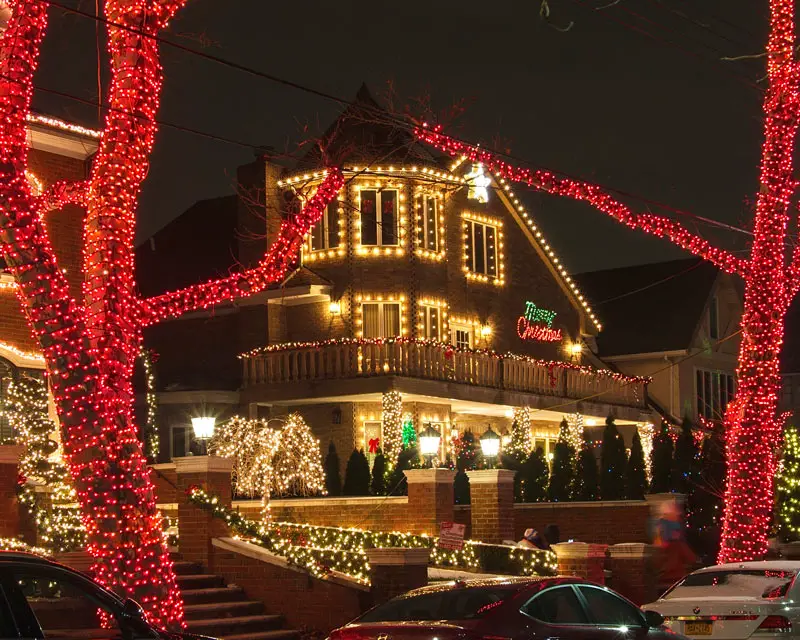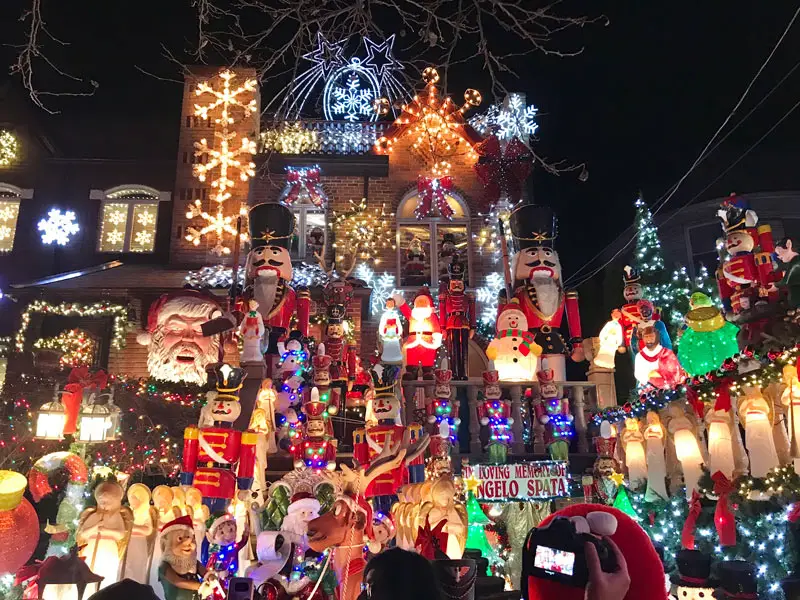 The Dyker Heights Christmas lights are a long-time favourite for New Yorkers and tourists – both old and young – to experience. To really get you and the kids into the Christmas spirit, you can either hop on the subway, drive over to this Brooklyn neighbourhood or take a guided tour. These amazing creations are made entirely out of lit-up holiday displays & statues, and colourful bulbs lining the streets. The Dyker Heights residents start decorating their homes in October, so you can even indulge in a spot of trick-or-treating and catch them during Halloween as well.
---
6. Picking Up Some Toys at Union Square Holiday Market
Price: Free entry to the market
Location: Union Square Park, East 14th Street, New York, NY 10011, United States
Nearest Subway Station: 14th Street – Union Square Station (4, 5, 6, L, N, Q, R or W train)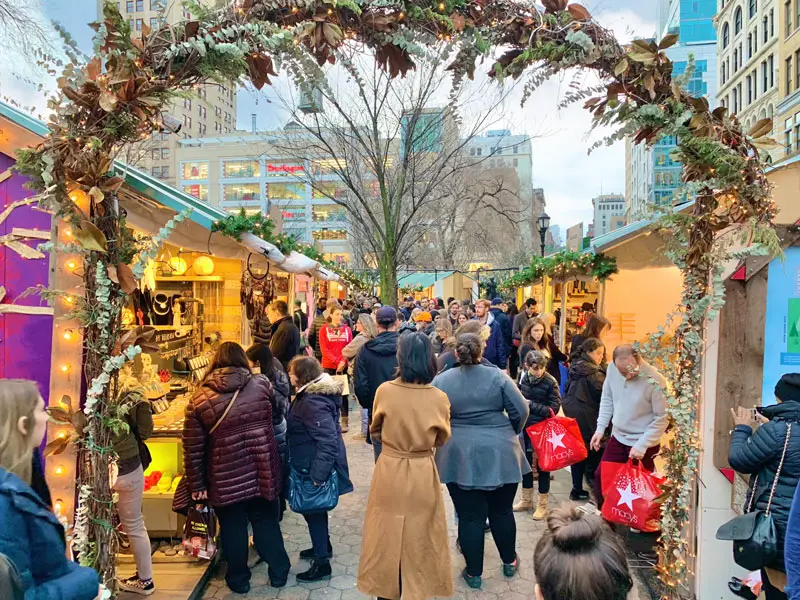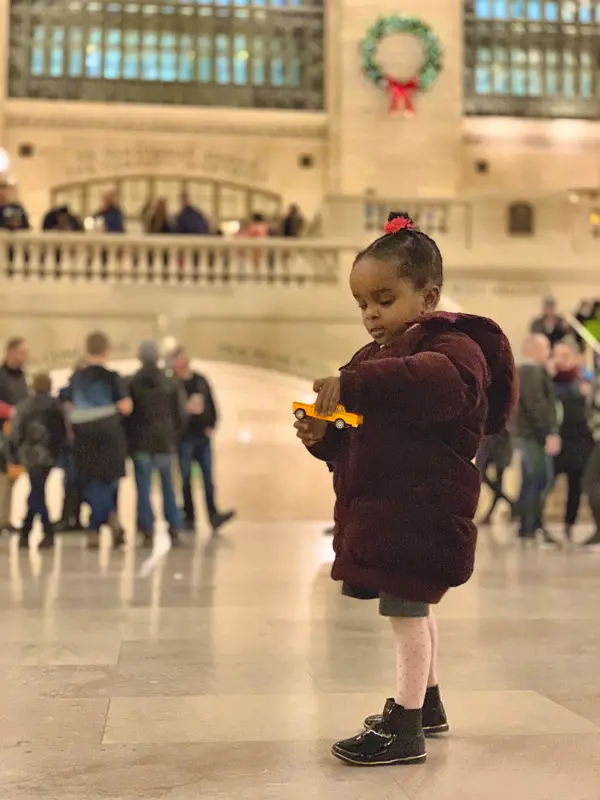 "It's the mooost wonderful tiiiime of the yeeaaar" but also the most expensive time of the year for many of us, and nothing says Christmas like a shopping spree! The Union Square Holiday Market is the perfect place to get all of those gifts you've been meaning to buy. You can make it fun for the kids by letting them pick those gifts for you, as well as letting them find some unique toys for themselves. It's easy to while away the hours browsing through more than 160 vendors' stalls that sell everything from handmade pottery and wooden toys, to artistic prints and woolly scarves.
This market also provides a great opportunity for kids to learn about different cultures as many of the vendors sell goods that are native to foreign countries, as we've personally seen products such as authentic Arabian lanterns, French soaps from Marseille and even Persian food. Hopefully you'll leave the market with a full bag and a happy family!
7. Checking Out Macy's Holiday Window Displays
Price: Free
Location: 151 West 34th Street, New York, NY 10001, United States
Nearest Subway Stations: 34th Street – Penn Station (1, 2 or 3 train) or 34th Street – Herald Square Station (B, D, F, M, N, Q, R or W train)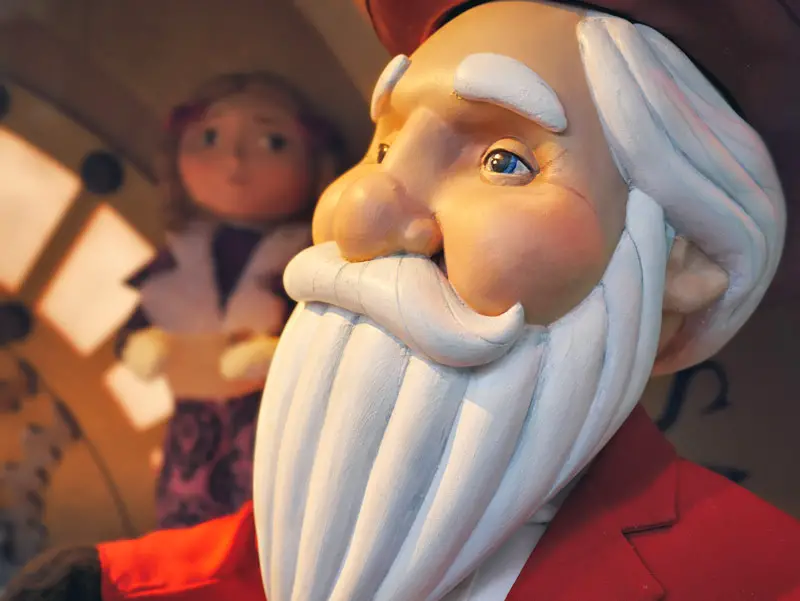 Starting every year in mid-November, Macy's famous and iconic holiday window displays are a must-see for children of all ages. These magical window displays follow a different theme each year – usually incorporating the word "believe" – and they always illustrate a meaningful story in the most creative way for both kids and adults to interpret. Amongst the six main window displays at Macy's Herald Square, interactive features are made available to visitors. These features allow kids and adult spectators to interact with the different characters and settings in the window. In addition to these larger-than-life installations at Macy's, other major department stores that have followed their lead in the New York holiday window tradition include Saks Fifth Avenue, Bloomingdale's and Barneys.
8. Eating Tasty S'mores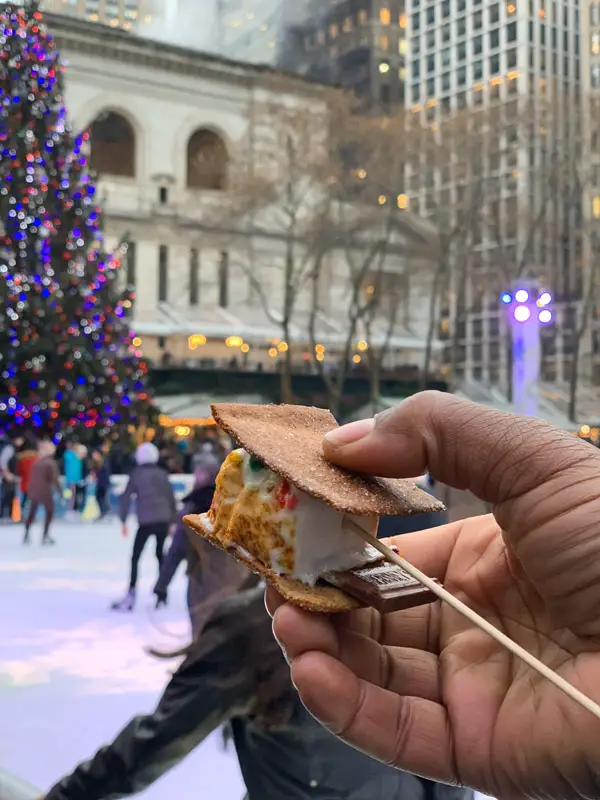 Gimme S'more! (get it? give – me – some – more) Who thought a toasted marshmallow and Hershey's chocolate sandwich on a stick could taste soooo good? On our last trip to New York, our toddler daughter was a little too young to try one of these sweet treats, but we'd definitely recommend s'mores for older kids. After all, which kids don't like candy and chocolate? For us, indulging in s'mores at Bryant Park's Winter Village is not just about the taste, it's about the process too. Once you've placed your order, watch your s'more craftsman (or craftswoman) at work as they skilfully toast your marshmallow with a blow torch. It's an art! If you're in the city this winter with kids and want to try some s'mores, check out these tasty locations:
Winter Village at Bryant Park: Bryant Park, New York, NY 10018, United States
DTUT Cafe: 1744 2nd Ave, New York, NY 10128, United States
Max Brenner New York: 841 Broadway, New York, NY 10003, United States
Lili's Bake Shop: 828 7th Ave, New York, NY 10019, United States
9. Taking a Leisurely and Iconic Walk Across Brooklyn Bridge
Price: Free
Location: Brooklyn Bridge, New York, NY 10038, United States
Nearest Subway Stations (Manhattan End): Brooklyn Bridge – City Hall Station (4, 5 or 6 train) or Chambers Street (J or Z train)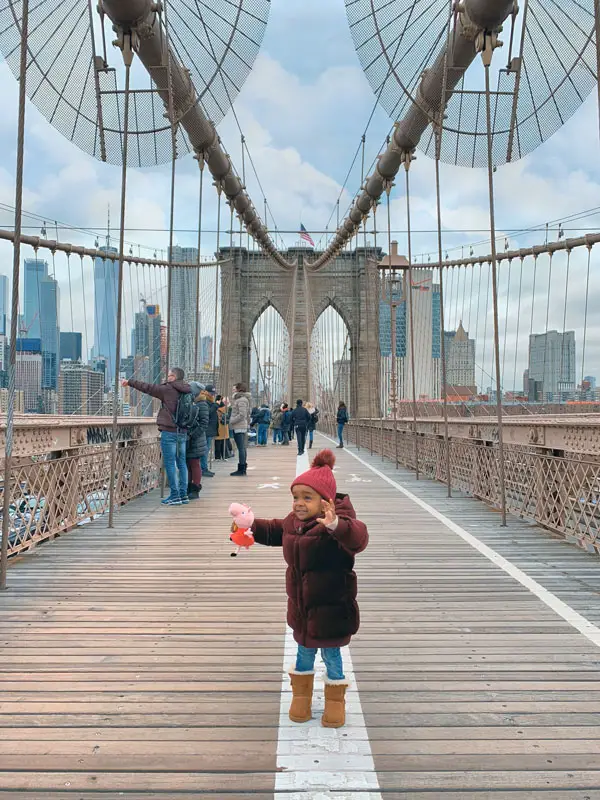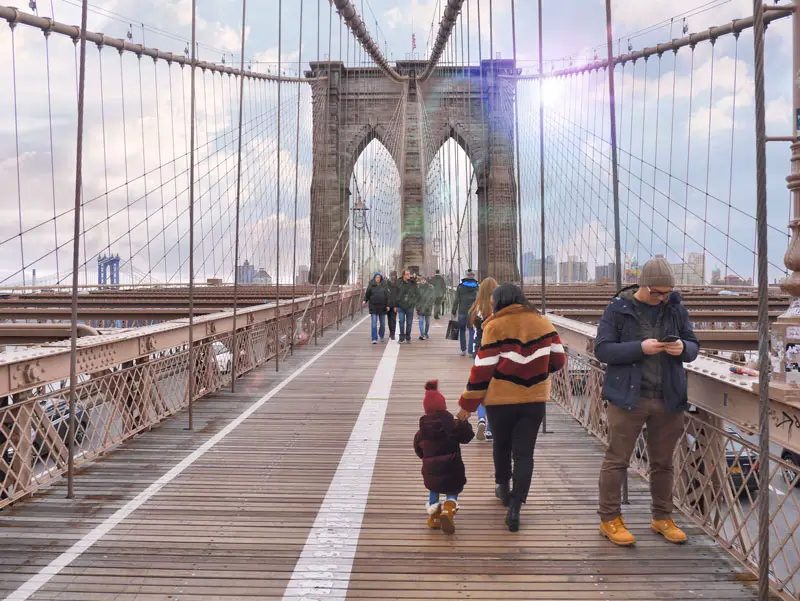 Walking across Brooklyn Bridge may not be the first thing that comes to mind when thinking of things to do in NYC with kids, but it can be more fun than you imagined. Firstly, you can't come to New York and not partake in this iconic walk (whilst playing "I Spy" and "Dodge the Cyclist" with your kids along the way). Secondly, you and your family will be treated to sweeping views of the city skyline, the East River and the Statue of Liberty – so let your kids be photographers for the day. Third, it's a free activity!
Check out our top 10 tips for walking across Brooklyn Bridge with kids! There's tons of insightful information in that article, which should help to make your experience even more enjoyable.
10. Sledding in Central Park
Price: Free
Location: North of West 59th Street / South of Harlem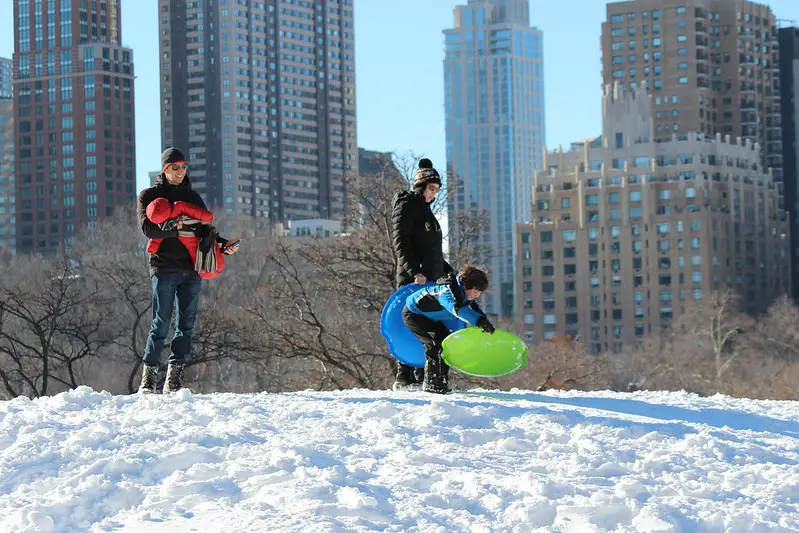 Although it doesn't snow very often in New York City, when a winter storm hits the city, you and the kids should be ready. The world-famous Central Park has sledding hills for kids that are just waiting to be slid down. Pick up your supplies at FAO Schwarz in the Rockefeller Center before heading over to the park to "catch some powder". Once you've concluded your sledding escapades, you can enjoy the rest of the day walking around and exploring everything this great green (or white) space has to offer. As always, you can be extra prepared from now and buy yours and the kids' sleds cheaply on Amazon before it actually snows.
Do you have any more ideas for things to do in NYC with kids in the Winter?
Let us know in the comments… and thanks for reading, we hope you found our suggestions useful.
Plan Your New York City Winter Break
Excited? Count down the seconds until your NYC trip with our CAN'T WAIT! Vacation Countdown & Story Maker app!
As avid travellers, we always look for the best deals when it comes to flights, accommodation and tours. Over the last 2 decades of enjoying trips together, we've come to rely on a few providers that have saved us money and given us a great service…
GUIDED TOURS, CHEAP TICKETS & THINGS TO DO IN NYC
GetYourGuide.com – Excellent guided tours and even more fun things to do in New York City with kids, hand-picked by local, English speaking tour guides.
HOTELS & ACCOMMODATION IN NYC
Booking.com offers the lowest prices from a huge choice of 382 family-friendly hotels in New York City!
TRAVEL INSURANCE TO COVER YOUR STAY IN NYC
World Nomads – Simple, flexible and affordable worldwide travel insurance which includes 24/7 emergency assistance before & during your trip, valuables protection, trip cancellation cover and more