Aaah, the Palazzo Versace Dubai Hotel – right, where do we start? We all know the Versace brand, founded by the late fashion designer Gianni Versace and had its reigns successfully taken over by his sister Donatella… the household name with it's iconic gold medusa emblem and luxury silk shirts has now cemented its place amongst Dubai's 5-star hotel elite. When you first hear the term "fashion hotel", it's quite easy to conjure up images of a hotel lobby dripping in cubic zirconia, over-the-top chandeliers and diamond-shaped frosted glass coffee tables. Well, we're happy to report in our Palazzo Versace Dubai hotel review that this is not the case at this luxury hotel. Nothing tacky to see here :o)
From the moment that you cruise up the driveway and approach this Italian palace, to being greeted by its always-smiling staff, walking through its (very) grand entrance and across 1.5 million mosaic pieces on its expertly tiled lobby floor, this hotel oozes class and luxury. We stayed here as a family of three and as part of our Palazzo Versace Dubai hotel review, it hasn't been hard for us to come up with 5 reasons why you too should be #LivingPalazzoVersace when you're in Dubai…
5. The HUGE Infinity Pool: Relax While Gliding over Medusa
Completely unwind, away from the hustle & bustle of the City… Classified as part of the Palazzo Versace Dubai "Quiet Zone", the Capri lagoon pool is as relaxing as it gets. Not only is this oval-shaped swimming pool huge in size for avid swimmers to enjoy and practice their strokes, but it also offers dreamy infinity-pool views over Dubai Creek for the more chilled out sun-seekers, many of whom we witnessed floating on inflatable beds enjoying the serenity. Other than its views and length, a major feature of this pool is the super-sized Versace medusa mosaic, expertly tiled on the floor of the pool. This design feature isn't obvious from outside of the pool (as you'll see in the below photo), but once you dive in, you'll be eager to swim under and take a closer look.

4. Quincy Jones' Bar: Enjoy Live Music at Dubai's Most Sophisticated Night Out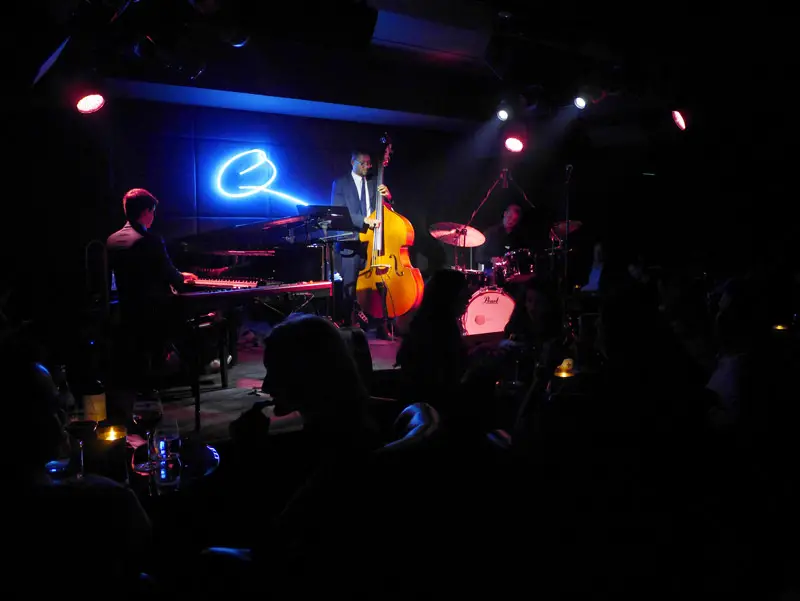 A Quincy Jones inspired childhood… As a music-obsessed child of the 80's, the first album Mase ever owned was Michael Jackson's "Bad" on 12-inch vinyl – bought for him as a present by his Aunty Carol. Like many other MJ fans, Mase knew every word to every song on this Quincy Jones produced album! Fast-forward a couple of years and we can both recall rushing home from school to watch our favourite television comedy, the Fresh Prince of Bel Air – also executive-produced by Quincy Jones, who gave Will Smith his first acting job! Fast-forward again (to 2016) and Quincy Jones has opened his first-ever bar & live music venue at Palazzo Versace Dubai, so of course we had to check it out! Q's Bar & Lounge plays host to a monthly-rotation of live music acts, hand-picked by Quincy Jones himself. We had the pleasure of enjoying a night of "Thriller" cocktails and live music from American jazz pianist Justin Kauflin and soulful singer Imani-Grace Cooper – what a classy night, no hangovers or aching feet the next day!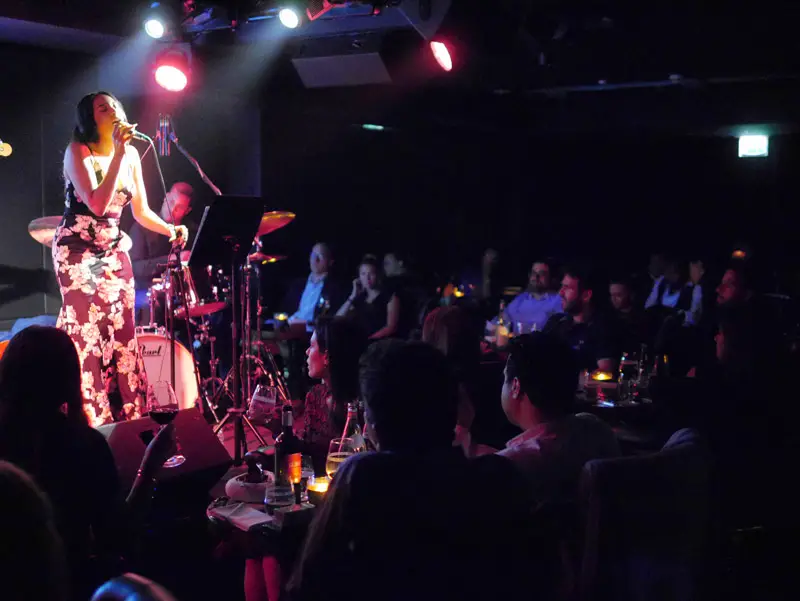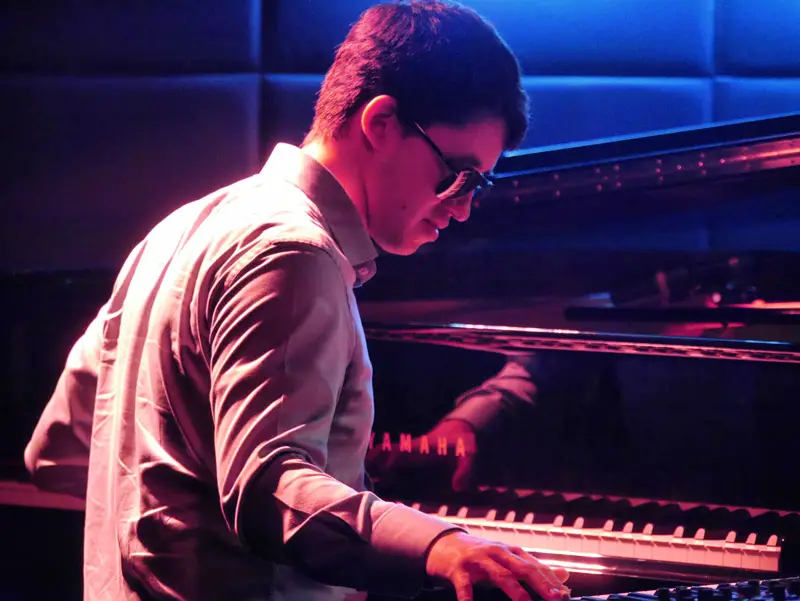 3. Ascend to Food Heaven at Vanitas, Enigma and Giardino Restaurants
If you're a foodie, you will literally die and go to heaven during your stay here. As we're from London, we live in a City littered with gourmet restaurants, but the best ones aren't all grouped together in one place. At Palazzo Versace Dubai however, we had the pleasure of experiencing 3 exceptional restaurants under one roof.
Vanitas Restaurant, an intimate Italian experience… Versace-designed chairs, dinner plates, side plates, water glasses, wine glasses, knives, forks and spoons; simply sitting down at a table in Vanitas restaurant is a classic Italian experience in itself. The food is superb too!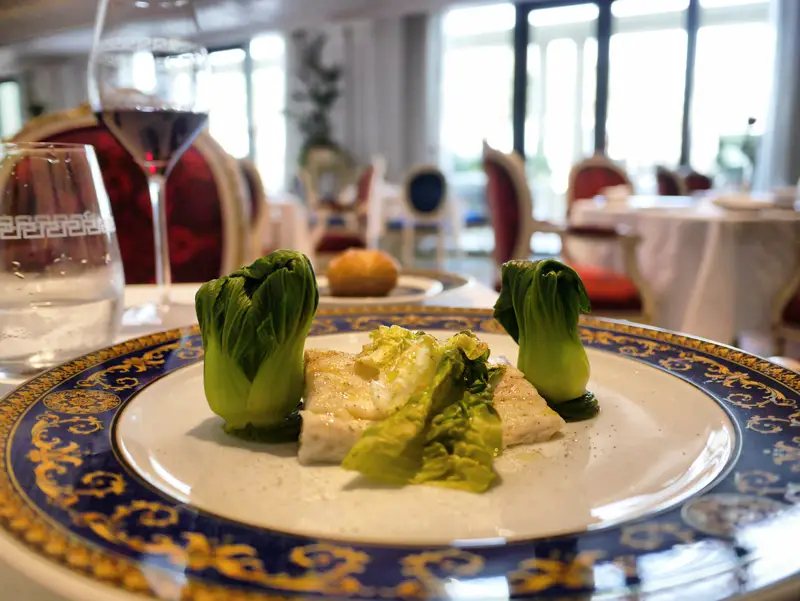 Enigma Restaurant, the taste of Turkey… eating dinner at this Turkish gourmet restaurant can only be described as romantic and sexy! We've only dined here with our 1-year old daughter (hehe!) so we couldn't fully appreciate the dimly lit ambience and heavily-cushioned sofas. One thing we did fully appreciate though – the chef making breadcrumb-coated chicken nuggets from scratch for our daughter, even though that (obviously) wasn't on the menu! She loved them!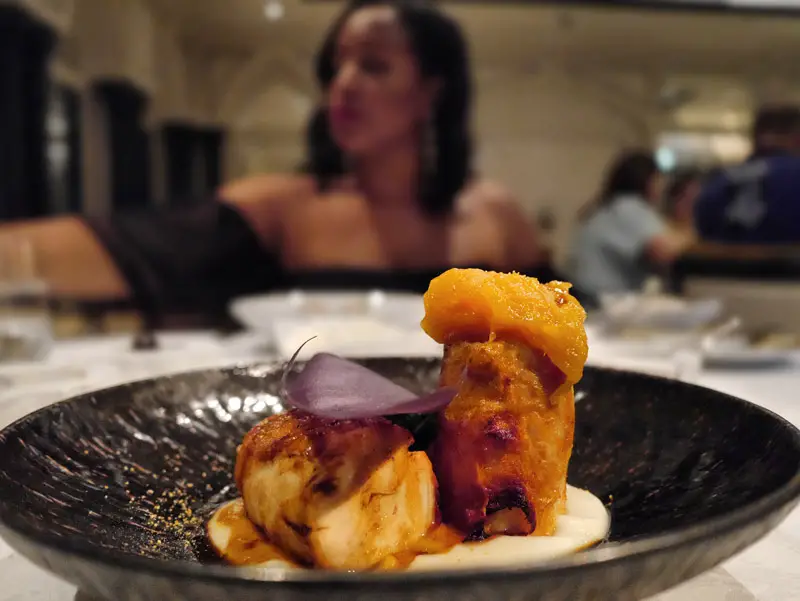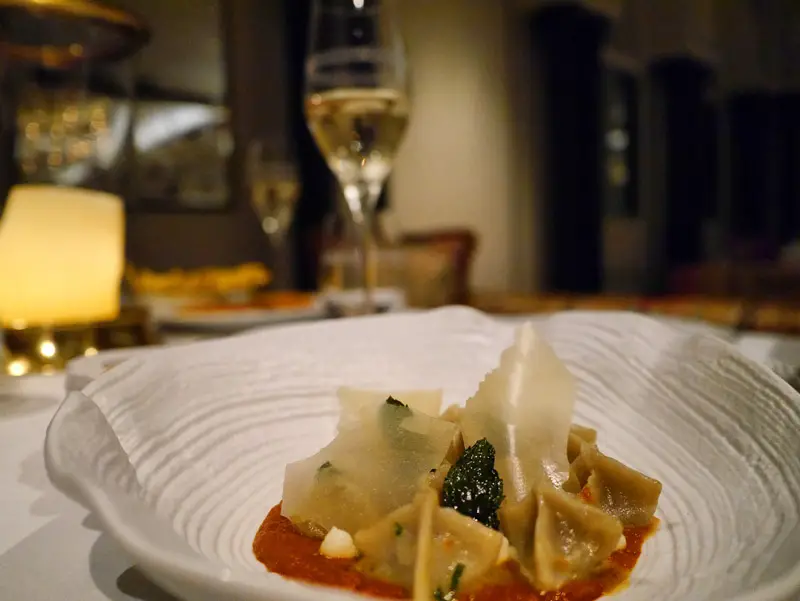 Giardino Restaurant, bold breakfasts… we ate at this very (very) green, garden-themed restaurant each morning of our stay. We love 3 things about this restaurant… (1) its waiters & waitresses wear elaborate green leaf patterned shirts that match the restaurant's wallpaper, (2) the breakfast buffet selection is the largest we've ever seen in a City, and (3) the food in the buffet is always fresh, not a single cold scrambled egg in sight! Yippee!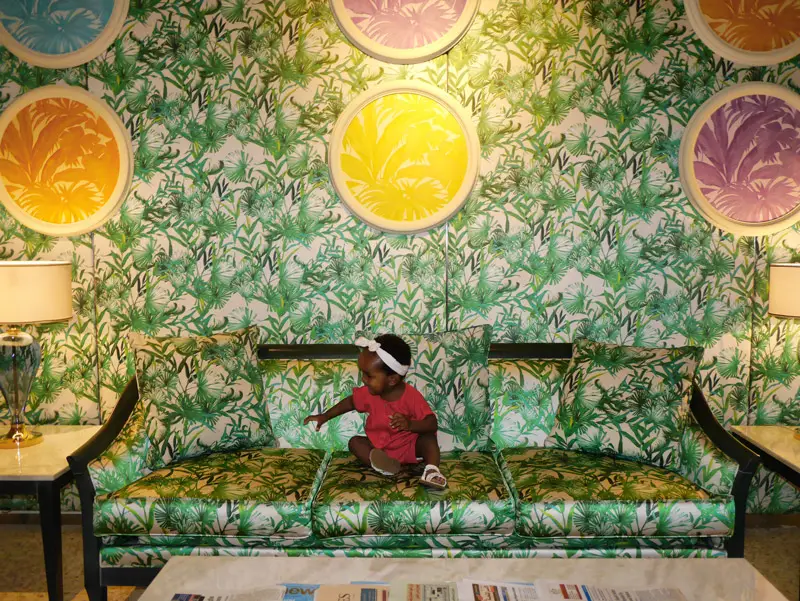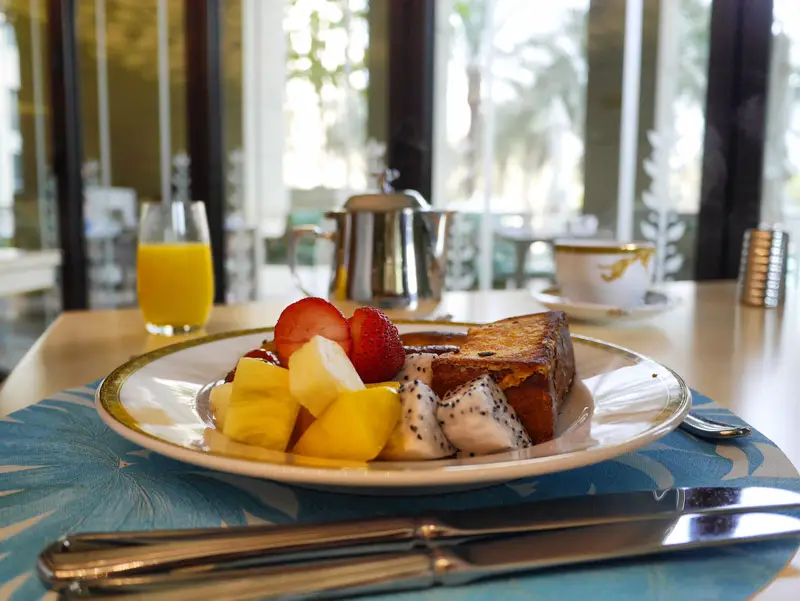 2. Feel Like Royalty: The Devil is in the Detail
The arrival… When you see the iconic medusa logo, you know that it's Italian luxury, you know its' opulence, you know that it's Versace. From the very moment that this 5-star hotel's door men push open the grand doors at the hotel entrance and usher you into the palatial lobby, you feel nothing short of royalty.
Checking in… To welcome you to Palazzo Versace Dubai, you're greeted at the reception with iced-tea, in Versace-designed drinking glasses of course… and then comes the Versace-designed cold towels to cool you down even further. After all, it's 40 degrees celsius outside!
Your room or suite… As you walk along the corridors on the way to your room or suite, you can't take your eyes off the fashion-inspired Versace paintings that adorn the walls. Once you arrive at your Italian-themed room or suite, a baroque-designed bed awaits; with furnishings, tableware, stationery and bathroom amenities that are tastefully designed around the signature medusa logo. Surely, only royalty could live with such exquisite possessions – apparently not. At time of writing, Palazzo Versace Dubai are offering up to 30% OFF rooms & suites if you book more than 21 days in advance.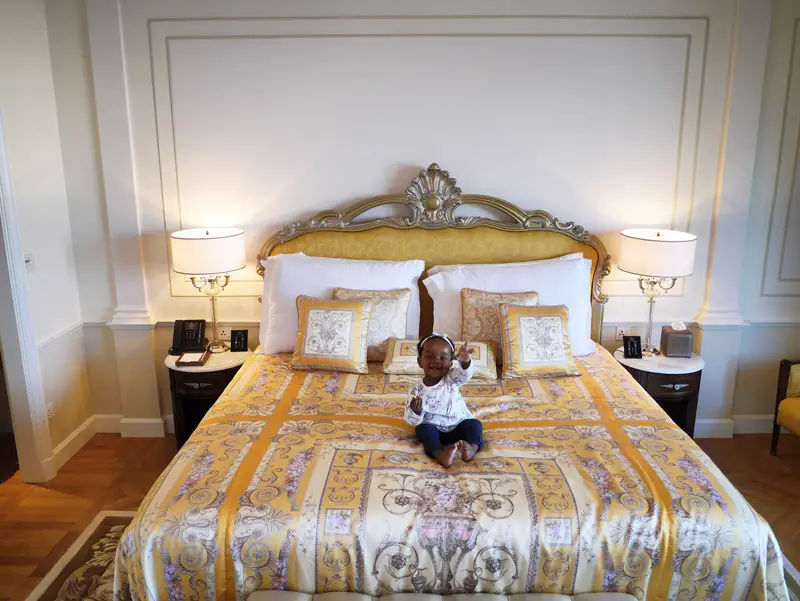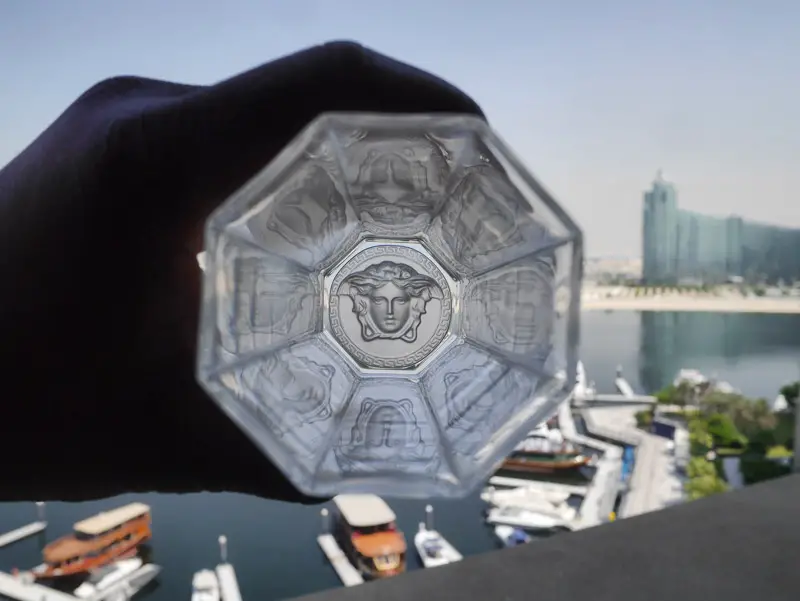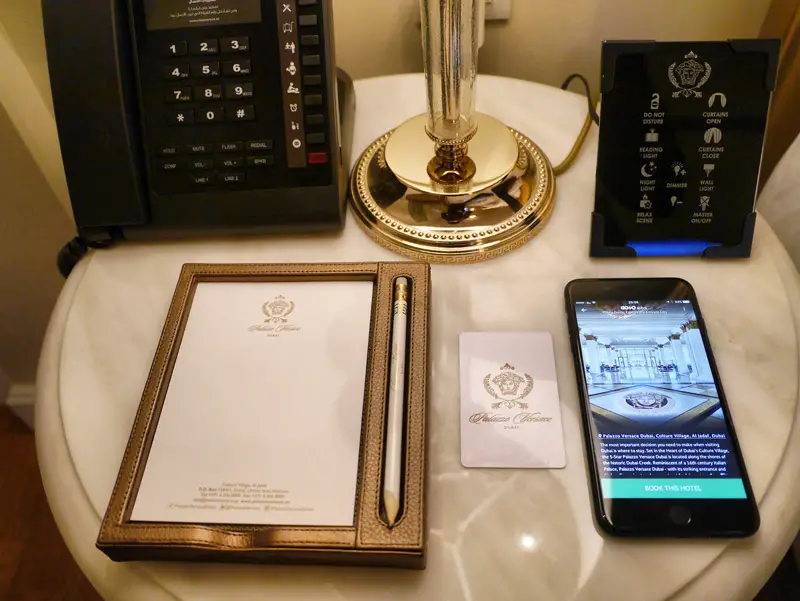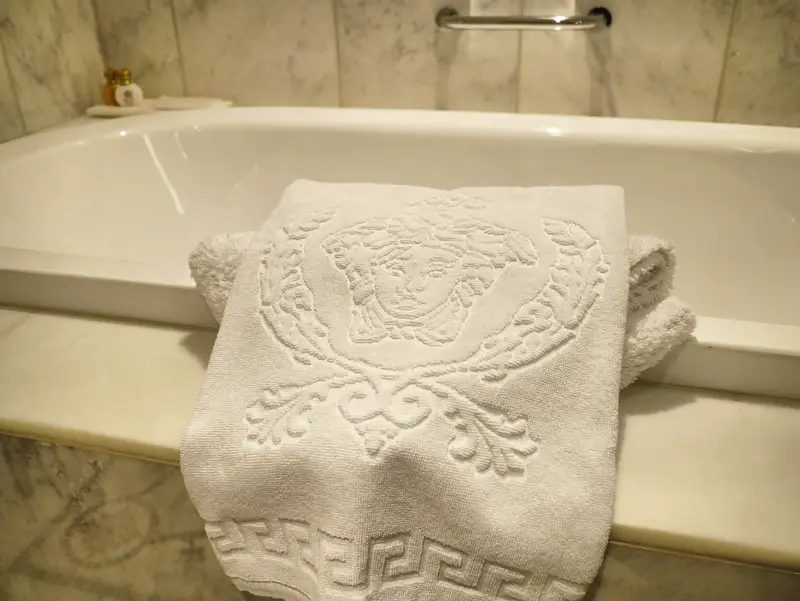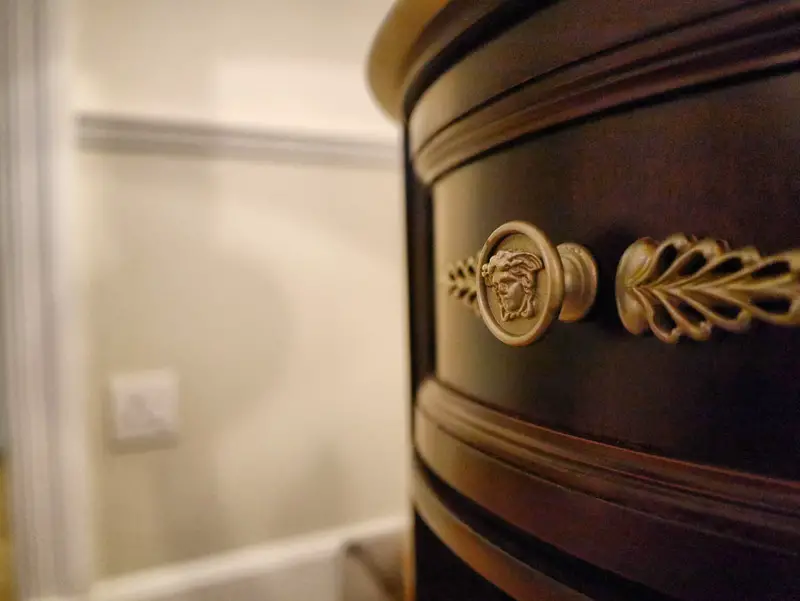 1. #LivingPalazzoVersace – Experience the Biggest, Most Luxurious Suite You've Ever Seen!
The 1,200 square metre Imperial Suite is definitely the mother (if not grandmother) of all hotel suites – spread over 2 floors and complete with it's own private swimming pool, gym, pool tables and private elevator (if you're too lazy to take the stairs!). It's the most expensive suite in the hotel and will set you back a cool 80,000 dirhams per night… that's roughly £16,000 or $22,000 USD, so get your credit card(s) out and start #LivingPalazzoVersace
Palazzo Versace Dubai Hotel Review: Our Conclusion
Well, that concludes our Palazzo Versace Dubai hotel review… Now that you've read our 5 reasons to stay at this hotel, our conclusion should be pretty self-explanatory 🙂 Book your stay immediately.
What are you waiting for? Bag yourself a deal at this luxury 5-star fashion hotel today !!
Plan Your Own Trip to Dubai
The first thing you should do… Download our Free Go To Dubai App for your iPhone, iPad, Android, Apple TV or Amazon Fire TV Stick. This will help you to plan your entire trip – from giving you the top 10 restaurants, attractions, nightlife and top things to do in Dubai, to giving you access to the best tours in the city.
We always look for the best deals when it comes to flights, accommodation and tours. Over the last 18 years of enjoying trips together, we've come to rely on a few providers that have saved us money and given us a great service…
GUIDED TOURS & THINGS TO DO IN DUBAI
GetYourGuide.com – Excellent guided tours and all of the top things to do in Dubai, hand-picked by local, English & Arabic speaking tour guides.
CHEAP CAR HIRE IN DUBAI
TravelSupermarket – Offering car rentals for as little as £2.60 per day (or 13.50 AED / $3.70 USD), TravelSupermarket finds you the cheapest and best deal by comparing car hire prices at Avis, Hertz, Sixt, Budget, Holiday Autos and more
TRAVEL INSURANCE FOR DUBAI
World Nomads – Simple, flexible and affordable worldwide travel insurance which includes 24/7 emergency assistance before & during your trip, valuables protection, trip cancellation cover and more