If you're over 21 years of age and looking for the best nightclubs in Dubai, you can rest assured that the city certainly doesn't have a shortage of impressive clubs! When it comes to superclubs, Dubai is perched at the top of the nightlife ladder right next to Las Vegas. If you're a music-lover and party-goer who wants to experience the brightest, most-colourful strobe lights, pyrotechnics, trendiest music, the most sparkly decor and the best-dressed people, then you definitely won't be disappointed with the superclubs that Dubai has to offer. Whether you want to enjoy the Dubai nightlife as a couple or as a group, you can be guaranteed a night (or two, or three) of energetic fun at our highly recommended, must-visit nightclubs in Dubai.
There was a time before our daughter was born, that we would party the night away – every. single. night – whenever we visited a new destination. Nightlife was a huge part of our travels! We'd literally be on a dancefloor at 4am and end up on a boat / zipline / mountain by 9am. Crazy stuff 🙂
Get Access to the Best Nightclubs in Dubai
Get a full TOP 10 list of the best nightclubs in Dubai, for FREE – simply download our Dubai travel guide app for your mobile, tablet and Smart TV. Use our app to get tickets for nightclub events, book guided tours and reserve your table at the best restaurants! If you're heading to Dubai on a vacation or holiday, build excitement by counting down the days, hours, minutes & seconds until your trip with our CAN'T WAIT! Vacation & Holiday Countdown App 😊

So, what are the 5 best nightclubs in Dubai right now? Let us break it down for you in no particular order…
1. BASE Dubai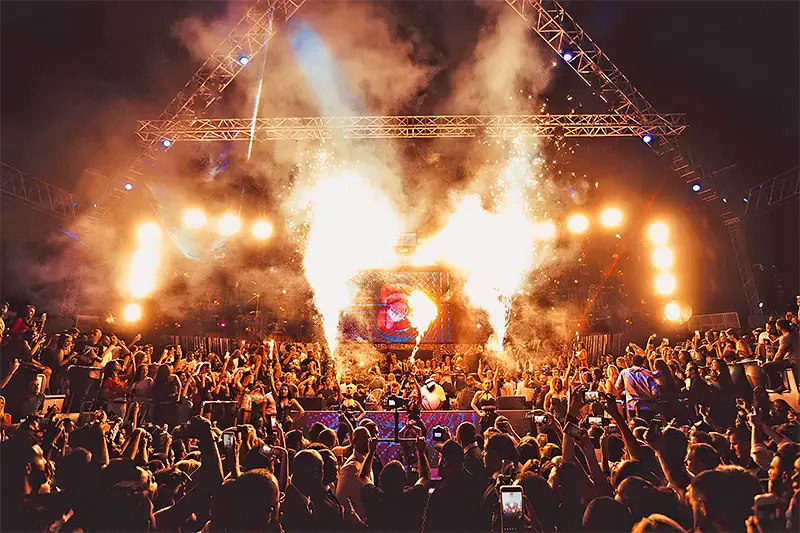 Situated in the Dubai Design District (d3), BASE Dubai is an open-air superclub that combines music, art and entertaining shows. From its fire-throwing dancers and electrifying light shows, to hosting International DJ's and musicians, this huge venue offers its party-loving guests a concert-like experience. Past performers at BASE include David Guetta, Sean Paul, Tyga, Akon, Afrojack and A$AP Rocky. The nightclub was recently redesigned with the help of Spanish street artist Demsky, who is known for his edgy, futuristic designs.
Featured Events
LYFE Ladies Night (every Thursday, 10pm to 4am)
Base On Fridays (every Friday, 10pm to 4am)
Crazyland Saturdays (every Saturday, 10pm to 4am)
---
---
2. WHITE Dubai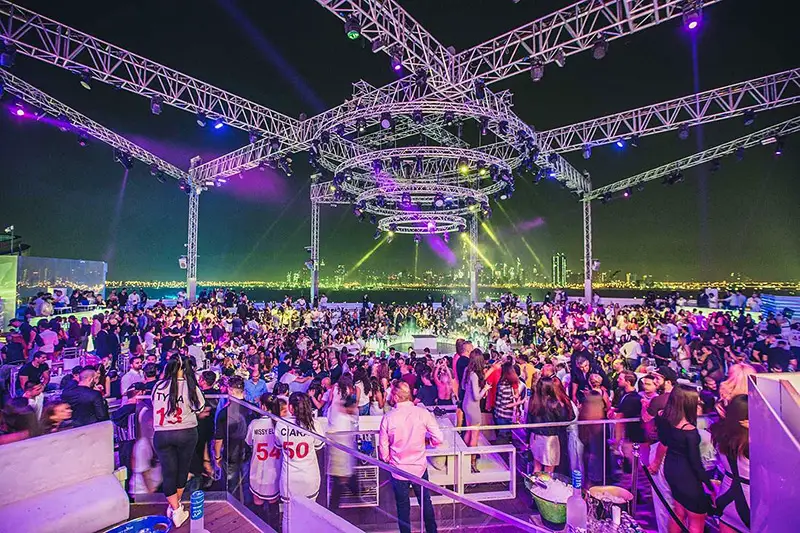 Describing itself as "the ultimate chic playground for upscale party-goers", this Beirut superclub has found its feet in Dubai. Located at the Meydan Racecourse Grandstand Rooftop, WHITE Dubai is an ultra-modern outdoor nightclub that's famous for dazzling its guests with exuberant, synchronised light shows and dancing waitresses. Appealing to a mixed crowd of both casual and glammed-up party-lovers, this tiered-level superclub is a major player on the Dubai nightlife scene, having hosted International performers such as Rick Ross, Wiz Khalifa, NE-YO, Tory Lanez and Jason Derulo.
Featured Events
DisturbingDubai (every Thursday, 11pm to 4am)
Bizaar Fridays (every Friday, 11pm to 4am)
URBN Saturdays (every Saturday, 11pm to 4am)
---
---
3. Billionaire Mansion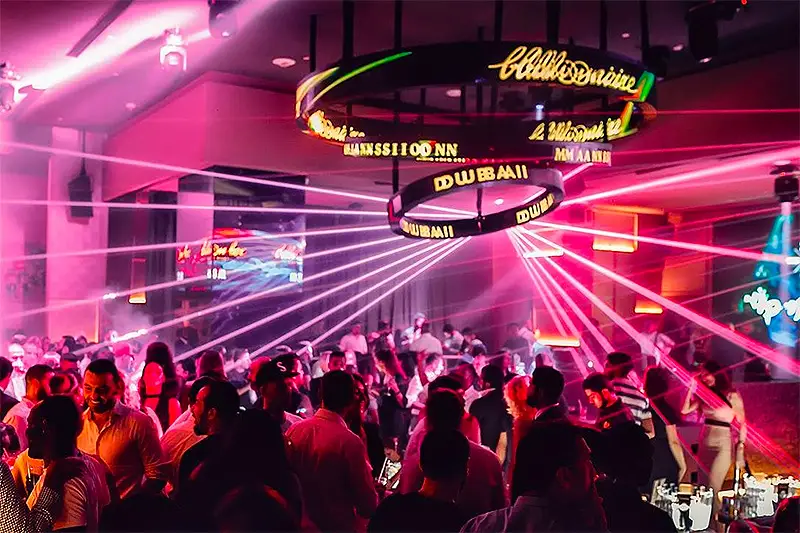 Please don't be put off by its name, you don't have to be a billionaire to party here! Created by Italian businessman and entrepreneur Flavio Briatore, the Billionaire brand prides itself on providing luxury experiences in lavish settings. Billionaire Mansion (located at the Taj Hotel) opened in 2016 and is comprised of 5 different venues under one roof – a nightclub, a karaoke lounge, a Japanese restaurant, an Italian grill and a shisha terrace. A favourite with A-list celebrities, this super-venue has hosted guests such as Madonna, Mariah Carey, Mike Tyson, Diddy, Ludacris and Will.i.am.
Featured Events
Hip-notize Thursdays – Ladies Night (every Thursday, 10:30pm to 3am)
Billion*her Fridays – Ladies Night (every Friday, 10:30pm to 3am)
The List (every Sunday, 10:30pm to 3am)
4. BOA Dubai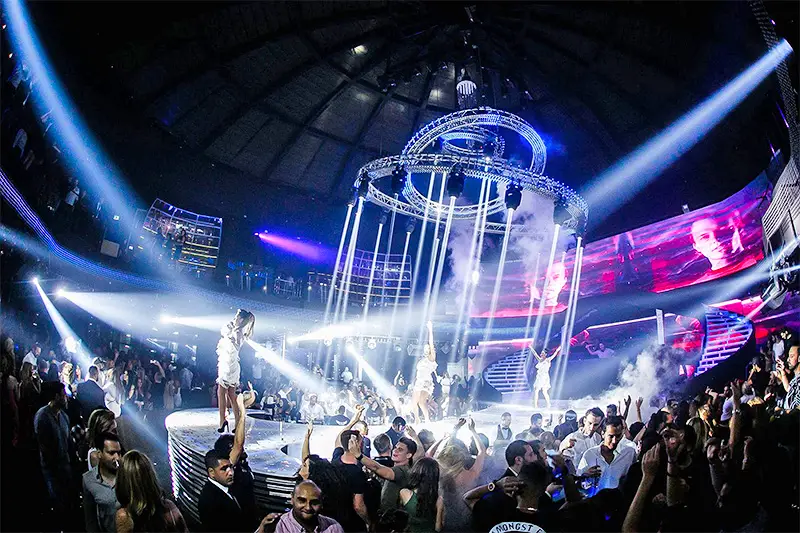 Describing itself as "a dual story ultra-luxe lounge and nightclub", BOA Dubai is located on the 32nd floor of the V Hotel in Al Habtoor City. With an impressive 1,000 guest capacity, the nightclub comes complete with a luxurious terrace that offers impressive views across the Dubai Water Canal and Arabian Gulf; as well as premium cocktails, shisha and International lounge food. BOA Dubai has hosted International guests such as Yo Gotti, OT Genasis (I'm in love with the Coco) and Afro B (Drogba / Joanna).
Featured Events
High Heels Wednesday (every Wednesday, 8pm to 3am)
EPIC Thursday – Ladies Night (every Thursday, 8pm to 3am)
Bling Friday (every Friday, 8pm to 3am)
Urban Saturday (every Saturday, 8pm to 3am)
Story Sundays (every Sunday, 8pm to 3am)
---
---
5. Cavalli Club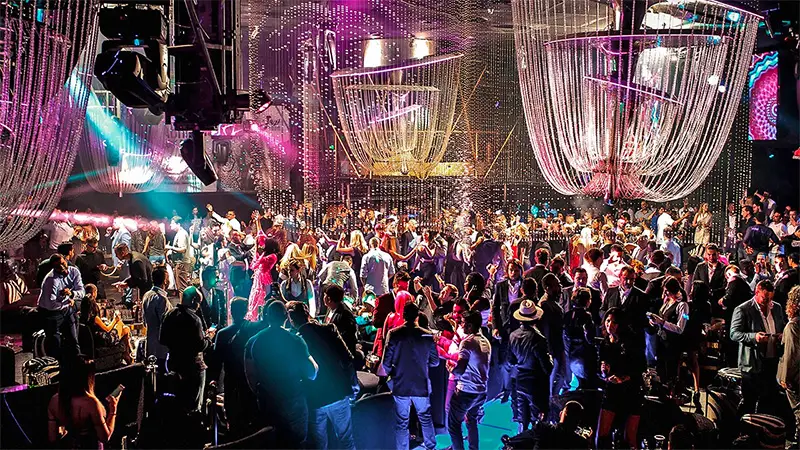 Brought to you by the famed Italian fashion designer Roberto Cavalli, the Cavalli Club oozes glamour and opulence as its ceiling is adorned with eye-catching Swarovski crystal chandeliers. This swanky superclub – located at the 5-star Fairmont Dubai – is one of the longest-running nightclubs in Dubai, boasting a VIP guest list that has included the likes of Will Smith, Jennifer Lopez and Paris Hilton. Not to be outdone by the other superclubs on our list, Cavalli Club has also hosted International DJ's and performers such as Kelis, Sean Paul, The Game and Kid Ink.
Featured Events
ROSAY Urban Night (every Wednesday, 8:30pm to 3am)
Luxury Thursdays (every Thursday, 8:30pm to 3am)
Roman Empire (every Friday, 8:30pm to 3am)
Cavalli Saturday (every Saturday, 8:30pm to 3am)
Anonymous Sunday (every Sunday, 8:30pm to 3am)
Want to mix it up a little? As an alternative to a nightclub, enjoy some live music at Q's Bar & Lounge, Palazzo Versace Dubai
American music legend Quincy Jones (producer of Michael Jackson's BAD album) opened his first-ever live music venue at the 5-star Palazzo Versace Dubai, and we enjoyed a really classy night there! Check it out for yourself…
Plan Your Own Trip to Dubai
The first thing you should do… Download our Free Go To Dubai App for your iPhone, iPad, Android, Apple TV or Amazon Fire TV Stick. This will help you to plan your entire trip – from giving you the top 10 restaurants, attractions, nightlife and top things to do in Dubai, to giving you access to the best guided tours in the city. Count down the days, hours, minutes & seconds until your Dubai trip with our CAN'T WAIT! Vacation & Holiday Countdown app 😊
We always look for the best deals when it comes to flights, accommodation and tours. Over the last 19 years of enjoying trips together, we've come to rely on a few providers that have saved us money and given us a great service…
GUIDED TOURS, ATTRACTIONS & THINGS TO DO IN DUBAI
GetYourGuide.com – Excellent guided tours and all of the top things to do in Dubai, hand-picked by local, English & Arabic speaking tour guides.
HOTELS, ACCOMMODATION & PLACES TO STAY IN DUBAI
Booking.com offers the lowest prices from a huge choice of 5,447 hotels and resorts in Dubai!
CHEAP FLIGHTS TO DUBAI
Skyscanner will get you up to 20% OFF your flight price by comparing flight prices on hundreds of websites including Expedia, Opodo, British Airways, Virgin Atlantic, Emirates, Etihad, American Airlines, United and more! Book a few weeks in advance and you'll find cheap flights to Dubai, with several international flights flying direct to Dubai from major cities.
CHEAP CAR HIRE IN DUBAI
TravelSupermarket – Offering car rentals for as little as £2.60 per day (or 13.50 AED / $3.70 USD), TravelSupermarket finds you the cheapest and best deal by comparing car hire prices at Avis, Hertz, Sixt, Budget, Holiday Autos and more
TRAVEL INSURANCE FOR DUBAI
World Nomads – Simple, flexible and affordable worldwide travel insurance which includes 24/7 emergency assistance before & during your trip, valuables protection, trip cancellation cover and more