As a couple, we've been to Paris four times together, so it's fair to say that there's definitely something we love about the city! Paris has long been considered one of the most romantic locations on Earth, earning it the title "The City of Love". It might come as no surprise that it's also one of the most popular places to propose marriage, or be proposed to. If you're looking for romantic marriage proposal ideas or more specifically, where to propose in Paris, then keep reading because we've compiled a list of some of the best places for you!
For instant access to all of the most romantic things to do in Paris, download our FREE Paris travel guide app for your iPhone, iPad, Android, Apple TV or Amazon Fire TV Stick. You can use the app to instantly book guided tours, activities and restaurants – best of all, it works offline! To build even more excitement for your Paris trip, count down the days, hours, minutes & seconds until your trip with our CAN'T WAIT! Vacation & Holiday Countdown App 😊

Asking the love of your life "will you marry me?" is incredible and life-changing, but also pretty daunting! Aside from working out what you're going to say and getting that all-important engagement ring, you also need to figure out what location would be best too. After all, this is a huge commitment you're about to enter and it's important to set the right tone. You want to make sure it's something that your other half remembers for all the right reasons, which is why forward planning is a must.
If you're looking for someone to capture your magic moment, you'll need the best Paris proposal photographer, Adagion Studio. Photo credit: Our feature image was beautifully shot by Adagion Studio on the River Seine.
So, you're looking for both romantic and original ideas on where to propose in Paris?
Whether you've got your sights set on that classic Paris marriage proposal with The Eiffel Tower in the background, or something a little more intimate like a private cruise down the River Seine, here are some of the best marriage proposal ideas in Paris to inspire you…
1. The Eiffel Tower: Background, Foreground or Above Ground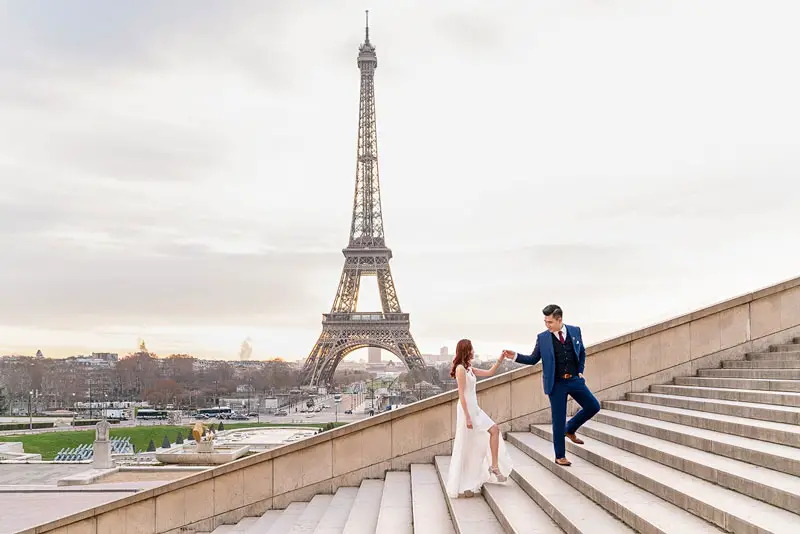 We'll start with the first image that comes into your head when you're thinking of where to propose in Paris – The Eiffel Tower!
Although it might seem like a bit of a cliché to propose here, there are some creative ways you can make it a little more unique.
Eiffel Tower as your backdrop – Head to Champ de Mars or The Trocadéro for a scenic view of the Eiffel Tower in the background. This is the perfect backdrop for those all-important engagement shots! In the summer you can even bring a picnic and make a real day of it.
Add 20,000 sparkles to your marriage proposal – Thinking of proposing by the tower at night? What could be a more perfect accompaniment to a sparkly ring, than an equally sparkly Eiffel Tower? The famous twinkly lights (made up of 20,000 bulbs) are turned on for a few minutes at the top of the hour after the sun goes down. Time it right, and hopefully they will say yes at the exact moment thousands of lights will illuminate the tower behind them!
Propose above the City – Ascend to the summit or the second floor of the Eiffel Tower, and ask your loved one to marry you with the whole "City of Love" behind you.
2. Wall of Love: Say "I Love You" in 250 Languages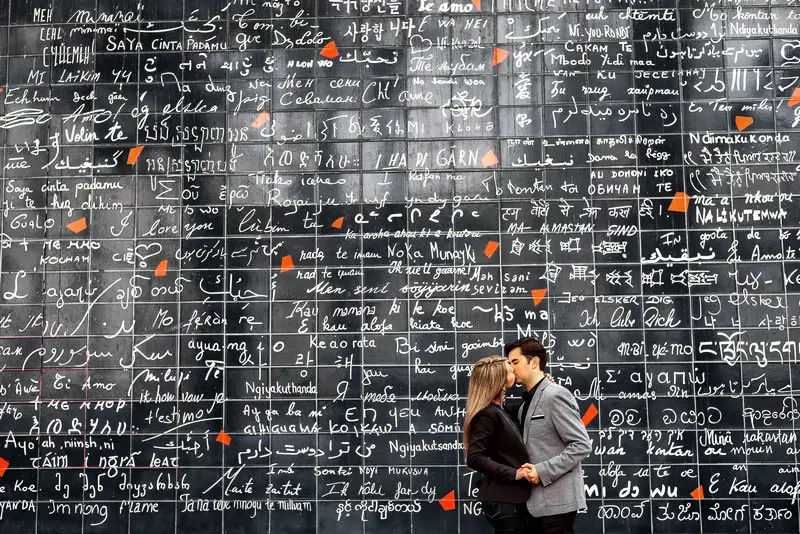 In any relationship, you sometimes have to spell it out for your partner. When it comes to proposing, two creative artists (Frédéric Baron and Claire Kito) have provided the ideal facility for this exact predicament: The Wall of Love (also known as the I Love You Wall or Le mur des je t'aime).
Located on Place des Abbesses in the quaint Montmartre district, The 40-square-metre Wall of Love literally spells out 311 different ways to say "I love you" in 250 different languages. Made up of 612 enamelled lava tiles, "Le Mur" features several red splashes, which represent the pieces of a broken heart (!!). It's a little more quirky than the bigger tourist attractions and is perfectly located for a nice meal to celebrate afterwards. You can even enjoy a romantic walking tour of Montmartre as part of your marriage proposal… followed by your portraits being hand-drawn by a talented French artist in Place du Tertre (also in Montmartre).
Tip: If you're not looking for anything overly-grand, this less-touristy location in Montmartre is a little more subtle.
---
3. A Royal Proposal at The Palace of Versailles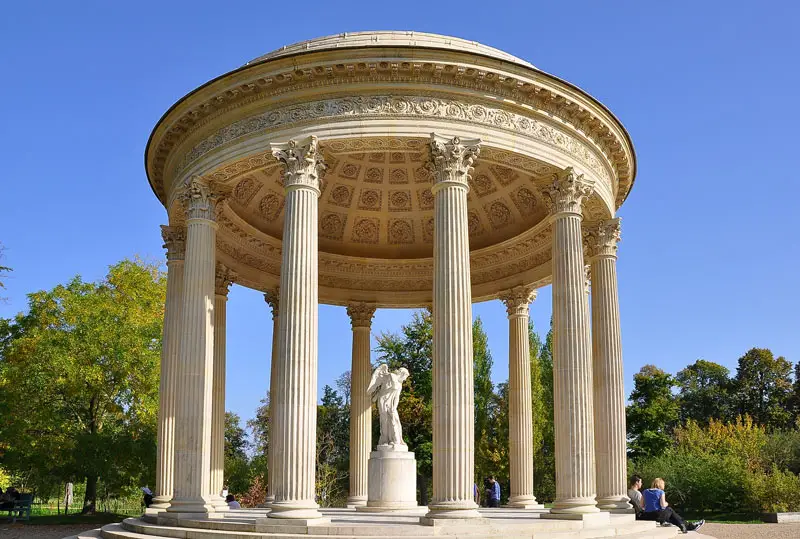 Although you're looking for ideas on where to propose in Paris, approximately one hour's travel time outside of Paris is the Palace of Versailles. As the former principal royal residence of France, this venue is probably one of the most grandiose locations in the whole of France. So, if you're really looking to impress your loved one so they say yes… this palace will start you off on a real-life fairytale, so you and your loved one can live happily ever after!
Dating back to the 17th century, you will find incredible decadence throughout this royal palace. Belonging to the last Queen of France, one of the most romantic locations is Marie Antoinette's Temple de l'Amour (the "Temple of Love", pictured above), which is set amongst the gardens of Château de Versailles. This would offer some privacy and seclusion away from the crowds visiting the palace. There are also miles of landscaped gardens and walkways where you can pop the question too.
Must-haves for every city break! Don't forget to pack these travel essentials for your Paris trip
---
4. Propose on the Water with a River Seine Boat Cruise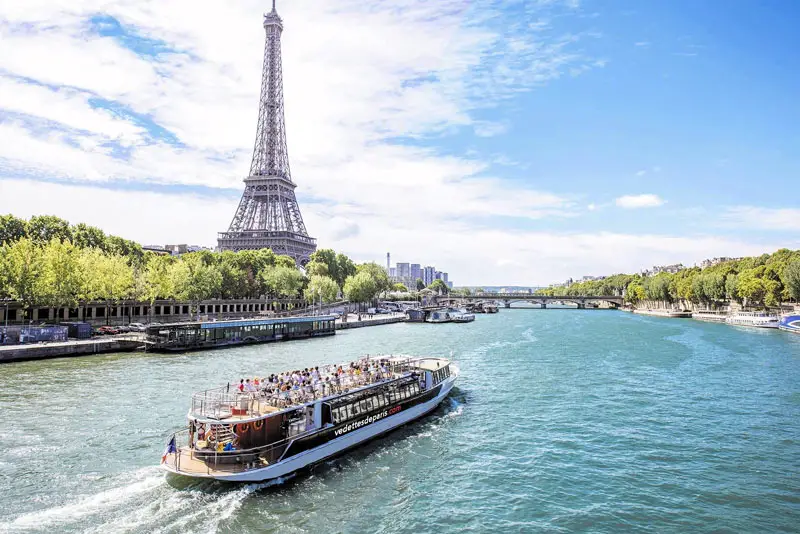 The most famous river in Paris is of course The Seine, and there are many river cruises you can enjoy which would create the perfect atmosphere for a marriage proposal. We've taken (and enjoyed) this cruise ourselves, which we booked with GetYourGuide…
Cruising the River Seine is definitely a romantic idea for where to propose in Paris; and if you want to turn the sophistication and romance up a notch, then you can head for an evening dinner cruise instead. Here you will sail past Paris' most famous landmarks, all whilst enjoying some fine French cuisine in a super-romantic setting.
You could even arrange something special in advance with the waiters, letting them know of your plans. A River Seine dinner cruise is ideal for seeing The Eiffel Tower twinkle at night whilst sipping on champagne after your loved one has said yes.
---
5. Pont des Arts: Propose on a Romantic Bridge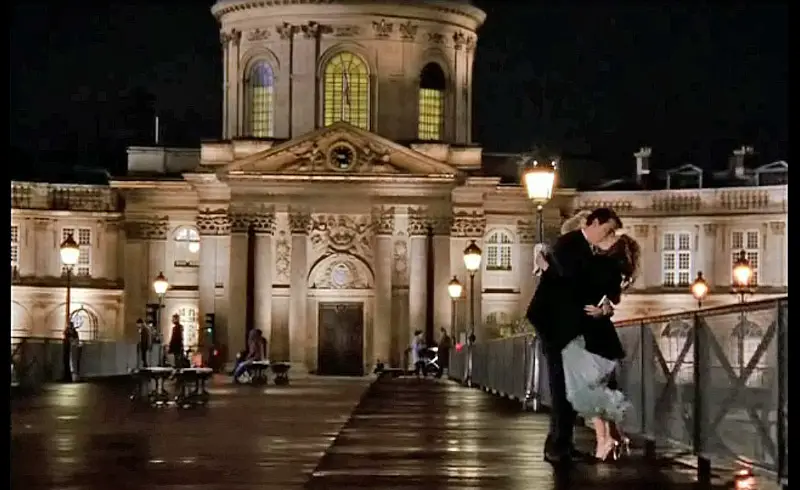 As one of the most famous bridges in Paris, Pont des Arts is an incredibly romantic location to propose, overlooking the River Seine. It has played centre stage in many films and tv shows over the years, including Amélie and Sex and The City (pictured above). This bridge was made famous, and named "love lock bridge" as loved up couples used to write their names on padlocks and attach them to this bridge. There were nearly 1 million padlocks love locks attached to Pont des Arts until they were removed, due to them being too heavy (45 tonnes to be precise).
For a proposal as smooth as the boats that will be sailing underneath you, make sure not to get too close to the edge whilst popping the question. Dropping your precious engagement ring over the side into the River Seine will take you from being "Mr Big" to "Mr Big Idiot" in seconds…. ouch.
---

---
6. Sacré-Cœur – Because Your Loved One's Heart is Sacred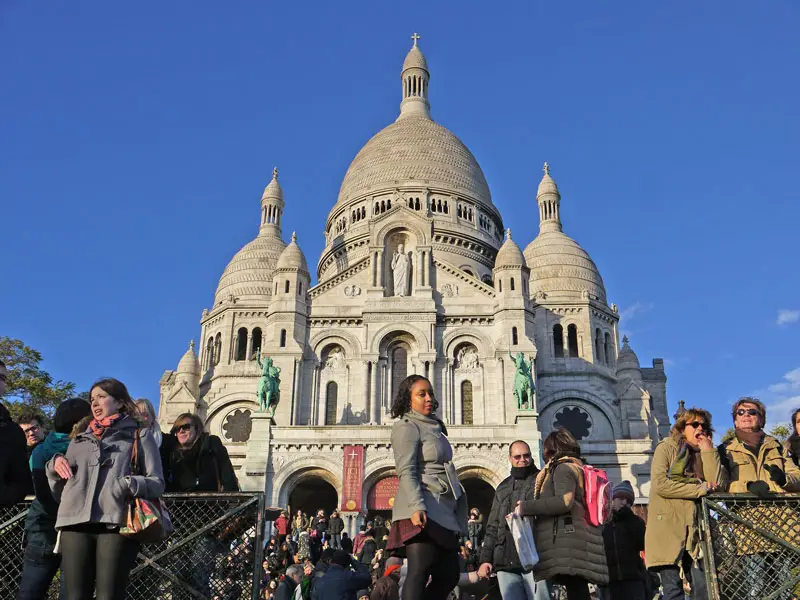 What better way to express your love for someone than to take them to a place which literally translates into English as "Sacred Heart"?
The Sacré-Cœur Basilica is more than just one of the most beautifully designed buildings in Paris, it also overlooks one of the best views of the city, as it sits high up on Montmartre hill.
Although it does get very busy on weekends, this famous Roman Catholic Church can feel a little more relaxed than some of the bigger Paris landmarks, especially once you're inside the building. If you have the jitters about getting down on one knee, this is one of our marriage proposal ideas that comes with a lot less pressure.
Tip A word to the wise: Be careful putting your knee down on the cobblestones that surround the Sacré-Cœur Basilica, as you might have trouble getting back up again! It might be better to propose inside the church *wink wink*
7. Get Down on One Knee in the Tuileries Garden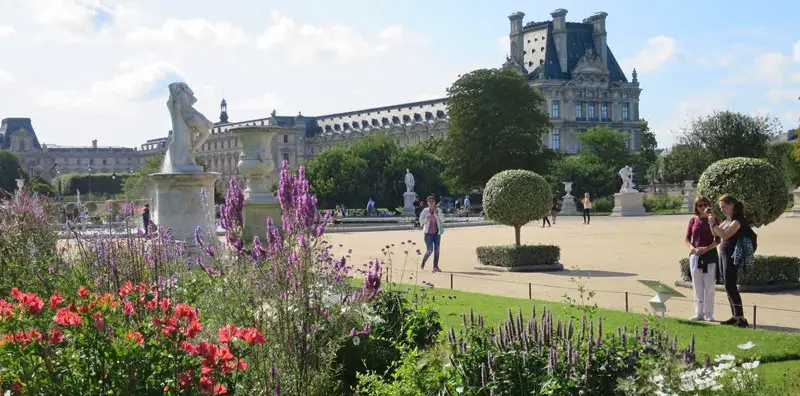 When you go to pop that all-important question, you might want to consider somewhere a little quieter. After all, many people choose to say a few sentimental words as they ask for their partner's hand in marriage. In a busy capital city like Paris, it might be difficult to hear each other, so why not head off the beaten track?
For a peaceful setting, make your way to the Tuileries Garden (Jardin des Tuileries), which is located between the Louvre Museum and the Place de la Concorde. What's perfect about this location is that you can combine your marriage proposal with a visit to France's most popular, pyramid-shaped museum, The Louvre (with skip-the-line tickets of course).
As you take this romantic stroll along the lush landscapes you will see several ideal locations to propose. The best part is it's a little more secluded from the crowds. Plus, it will also be more unexpected.
Tip: Try not to propose next to a naked lady in the park – that might be a bit awkward!
---
8. Propose on a Parisian Rooftop (or Roof Terrace)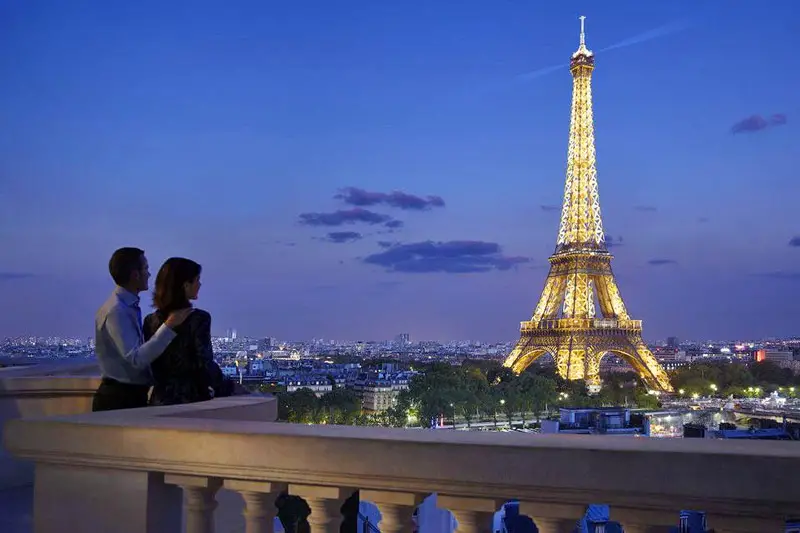 If you've read this far, then you're still looking for ideas on where to propose in Paris! Well don't worry, this last idea is a good one. In order to create a marriage proposal that feels like it's straight out of a chick-flick, then head to one of the many restaurants, hotels or tourist attractions in Paris, which offer a rooftop or terrace, perfect for a marriage proposal.
Whether you plan on decorating the area with candles or even bringing a string quartet along, this is one of those marriage proposal ideas that you can really customise, based on what you know puts a sparkle in your partner's eye.
Here are some romantic Paris rooftops and roof terraces to give you a better idea…
The roof of the Arc de Triomphe (get skip-the line rooftop tickets here)
A rooftop terrace at the Shangri-La Hotel
Maison Blanche Restaurant, 15 Avenue Montaigne, Champs-Élysées (reservation required)
Georges Restaurant, on the 6th floor of the Georges Pompidou Centre
Proposing on a Parisian rooftop will create a truly unforgettable experience set amongst the backdrop of one of the most beautiful cities in the World. Who wouldn't say yes after that?!
Tip: If you still need more advice on where to propose in Paris, then our free "Go To Paris" travel guide app is jam-packed with even more great ideas on romantic things to do in Paris for couples.
Need marriage proposal ideas outside of Paris? See Mase's article on the most romantic places to propose; featuring places in Thailand, Jamaica, Italy, Indonesia and more!
Plan Your Own Trip to Paris
The first thing you should do… Download our Free Go To Paris Travel Guide App for your iPhone, iPad, Android, Apple TV or Amazon Fire TV Stick. As well as giving you even more ideas on where to propose in Paris, this travel guide app will help you to plan your entire trip in and around Paris. From giving you the top 20 restaurants, attractions, nightlife and top things to do in Paris, to giving you access to the best discounted tickets and tours in the city. To build even more excitement for your Paris trip, count down the days, hours, minutes & seconds until your trip with our CAN'T WAIT! Vacation Countdown app 😊
We always look for the best deals when it comes to flights, accommodation, tickets and tours. Over the last 19 years of enjoying trips together, we've come to rely on a few providers that have saved us money and given us a great service…
TICKETS, GUIDED TOURS & PARIS ATTRACTIONS
HOTELS & ACCOMMODATION IN PARIS
Booking.com offers the lowest prices on a huge selection of 4,500+ hotels and rental properties in Paris. Hotels.com also offers up to 70% Discount on many of their Hotels and rental properties in Paris. We've been using hotels.com since 2003 !!
CHEAP CAR HIRE IN PARIS
TravelSupermarket – Offering car rentals for as little as £2.60 per day (€3.00 or $3.50 USD), TravelSupermarket finds you the cheapest and best deal by comparing car hire prices at Avis, Hertz, Sixt, Budget, Holiday Autos and more
TRAVEL INSURANCE TO COVER YOUR STAY IN FRANCE
World Nomads – Simple, flexible and affordable worldwide travel insurance which includes 24/7 emergency assistance before & during your trip, valuables protection, trip cancellation cover and more