You've just arrived in Rio de Janeiro for the first time, you're surrounded by lively Cariocas (natives of Rio), the atmosphere is buzzing, it's blazing hot and your adrenaline is pumping!
As it's your first time in the City, you probably don't feel entirely ready yet to go off the beaten track and jump straight into the heart of that favela you saw in the Brazilian gangster movie City of God… and don't worry, that's fine. Save that for your second visit. For now, get your favourite Rio de Janeiro travel guide out and enjoy the tourist attractions as much as we did!
1. Enjoy a Perfect Sunset at Arpoador on the Rocks
Not only is this a unique and chilled out experience, it's also FREE! While most sunsets can usually be classed as romantic, Arpoador can get pretty crowded so any chances of romance are quite slim – it's more of a social experience. Sandwiched directly between Copacabana and Ipanema beach (where the two beaches meet), the rocks at Arpoador are quite easy to climb onto to watch the sunset, just be careful if you're wearing flip-flops!
Top Tip: get there at least 1 hour before the sun sets to get the perfect look-out spot! To find out the sunset time, go to Google and type in "rio de janeiro sunset time".
2. Ascend Corcovado Mountain and Visit the Christ the Redeemer Statue
This is probably the most popular attraction in Rio de Janeiro, but for good reason. Everyone wants to get up close with Cristo Redentor – especially as you constantly observe him in the far distance watching over Rio, guarding and protecting the city from almost any point at ground level. The panoramic views as you reach the summit of the 2,300 foot high Corcovado Mountain (where Christ the Redeemer stands) are truly jaw-dropping!
Top Tip: book a guided tour in advance to avoid massive crowds and a potential FIVE HOUR wait to see Christ the Redeemer!
3. Take a Cable Car to the Peak of Sugarloaf Mountain
Standing at 1,300 feet high, Pao de Acucar (Sugarloaf Mountain) is possibly the second most popular tourist attraction in Rio de Janeiro. Riding the cable cars is equally as significant as being at the top of the mountain itself! Halfway up the mountain is Morro de Urca (Urca Hill) where you can chillax and have a bite to eat or browse some souvenir shops before you reach the main attraction. Click here to book a guided tour!
Top Tip: don't let the long queues for the cable cars tempt you into going back to ground level after reaching the half-way point at Urca Hill. Go all the way to the top, you won't regret it!
4. Ride a Bike Around Rodrigo de Freitas Lagoon
This is definitely one of our most enjoyable daytime activities in Rio. You can simply turn up to the lagoon and you'll find a few options there for cheaply renting a bicycle. Lagoa Rodrigo de Freitas is huge and its' surroundings are green and picturesque – cycling around it is the perfect way to experience it.
Top Tip: if you don't enjoy cycling, you can still enjoy the lagoon on a "Pedalinho", which is a giant, pedal-operated swan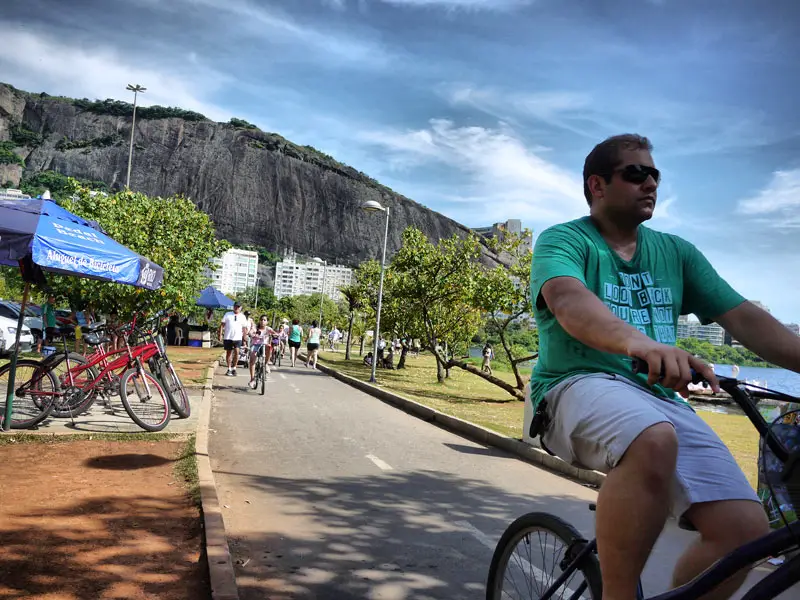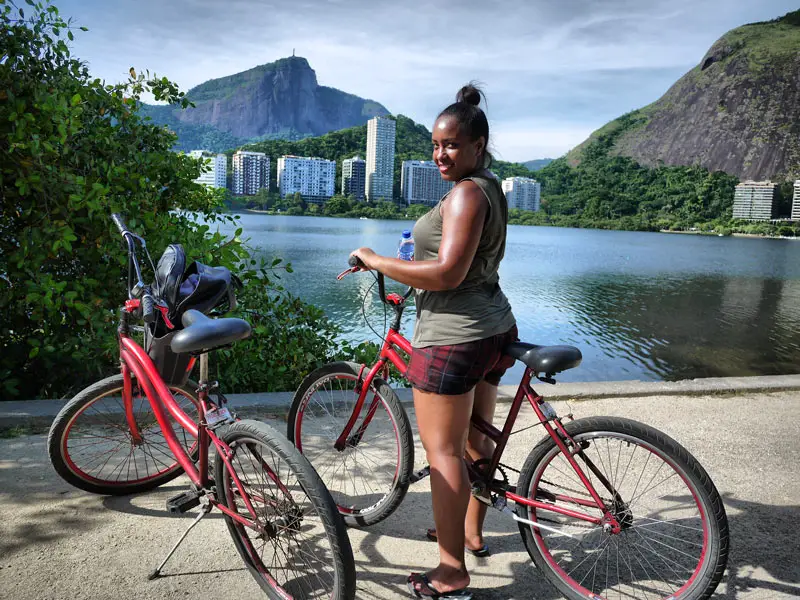 5. Bask in the Blazing Heat on Copacabana or Ipanema Beach
We've been to many beaches in our time, but none have been as bustling as Copacabana or Ipanema beach! If you visit Rio between November and February, you'll most definitely find yourself wiping sweat off your head on these busy beaches. As well as people-watching and swimming against the strong currents, you can also participate in a spot of footvolley (volleyball with your feet) – a game that originated on Copacabana beach.
Top Tip: buy your own fold-away beach chairs if you plan on visiting these beaches more than once or twice; it may end up being cheaper than renting beach chairs every time you visit.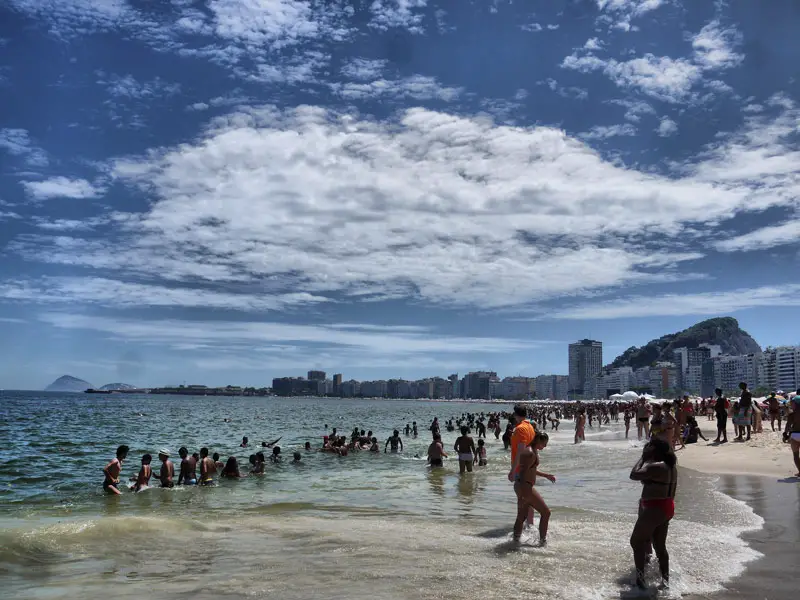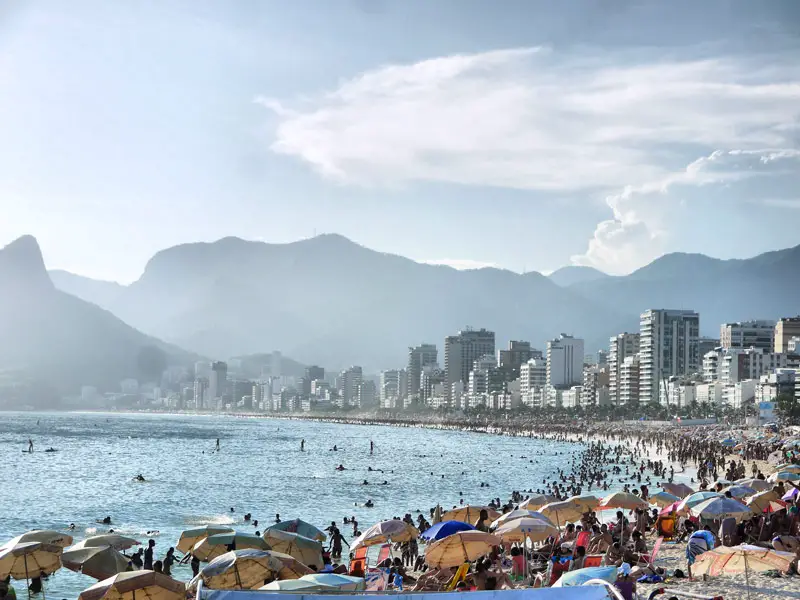 Plan Your Own Trip to Rio de Janeiro
The first thing you should do… Download our Free Go To Rio App for your iPhone, iPad, Android, Apple TV or Amazon Fire TV Stick. This will help you to plan your entire trip – from giving you the top 20 restaurants, attractions, nightlife and top things to do in Rio de Janeiro, to giving you access to the best tours in the city.
We always look for the best deals when it comes to flights, accommodation and tours. Over the last 19 years of enjoying trips together, we've come to rely on a few providers that have saved us money and given us a great service…
GUIDED TOURS & THINGS TO DO
GetYourGuide.com – Excellent guided tours and all of the top things to do in Rio de Janeiro, hand-picked by local, English & Portuguese speaking tour guides.
ACCOMMODATION
Booking.com offers the lowest prices on a huge selection of 5,000+ hotels & rental properties in Rio de Janeiro. Hotels.com also offers up to 70% Discount on many of their Hotels in Rio. We've been using hotels.com since 2003 !!
FLIGHTS
Skyscanner can save you up to 20% OFF your flight price by comparing flight prices on hundreds of websites including Expedia, Booking.com, Opodo, British Airways, Virgin Atlantic, Emirates and more! Book a few months in advance and you'll find cheap flights to Rio, with many international flights flying direct from major cities.
CAR HIRE
TravelSupermarket – Offering car rentals for as little as £2.60 per day (or $3.70 USD), TravelSupermarket finds you the cheapest and best deal by comparing car hire prices at Avis, Hertz, Sixt, Budget, Holiday Autos and more
TRAVEL INSURANCE
World Nomads – Simple, flexible and affordable worldwide travel insurance which includes 24/7 emergency assistance before & during your trip, valuables protection, trip cancellation cover and more