Are you looking for the quickest and easiest way to reach the summit of Corcovado Mountain to visit the Christ the Redeemer statue in Rio de Janeiro? We've got the best tips for you, especially after we made every single mistake in the book and it ended up taking 5 HOURS for us to get there! "FIVE Hours?" we can hear you asking yourself? "Surely not?"
Our response: "We kid you not… It took us FIVE HOURS to see Christ the Redeemer and we've even got video footage to prove it"
After we made the regrettable mistakes seen in the above video, we discovered 3 simple ways that we could have avoided them. So, if you're eager to find out the best way to visit Christ the Redeemer, then today is your lucky day!
1. Book a Tour With a Professional Tour Guide
If you pre-book a guided tour of Christ the Redeemer, not only does the tour guide conveniently pick you up from your hotel in an air-conditioned van, they also transport you to the summit of Corcovado Mountain – which saves you from hours upon hours of queuing to get up the mountain!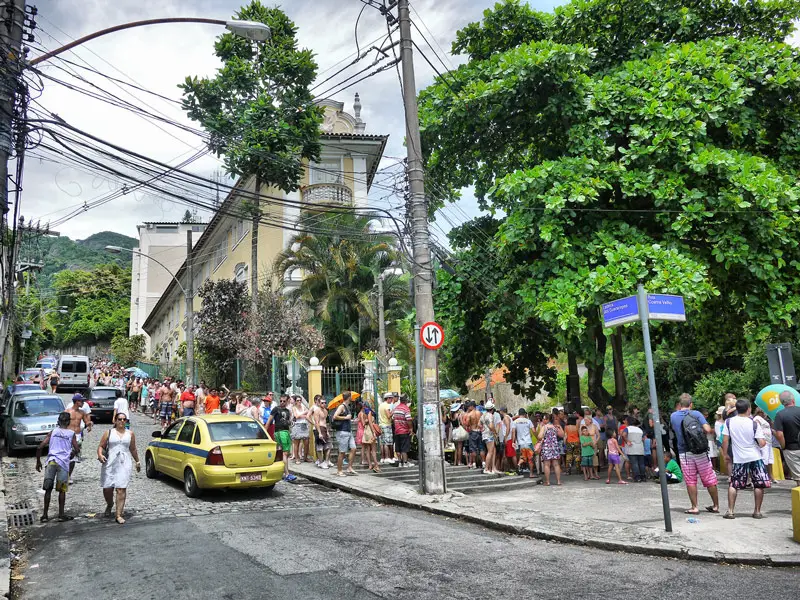 2. Take the Little Tram Up the Mountain
The Corcovado Tram is an attraction in itself and it's been used by Princess Diana, Pop John Paul II and Albert Einstein! As you may have seen in our YouTube video, we didn't exactly get to enjoy the luxury of the Corcovado Tram, but rumor has it that a small musical band play passengers some really cool songs halfway through the journey. We actually turned up on the day and attempted to book the tram but we were obviously laughed at, so make sure you book your tram tickets online at least 1 week in advance.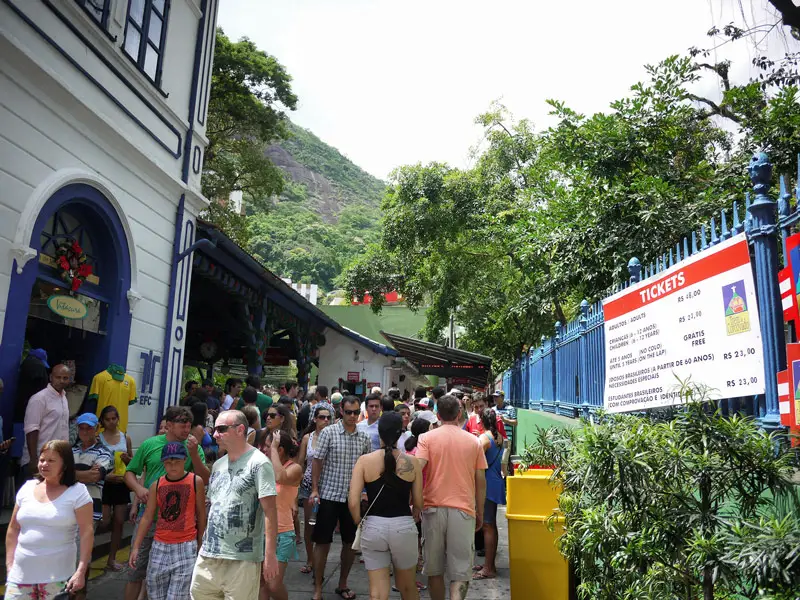 ---
Rio de Janeiro Related Posts…
---
3. Set Off at the Crack of Dawn
If you've just arrived in Rio de Janeiro and want to know how to visit Christ the Redeemer tomorrow, then you might have left it a little too late to book a guided tour or buy Corcovado Tram tickets. Fear not! You can still get a taxi to Rua Cosme Velho and get the Corcovado Minibus up the mountain, BUT… You'll have to start your journey very early, literally as the sun comes up! By doing this, you'll beat all the crowds and the seemingly never-ending queues.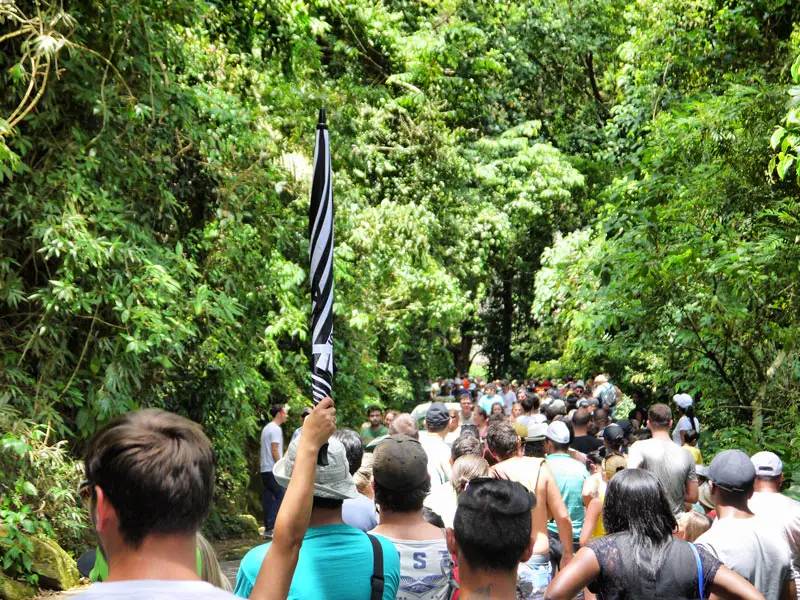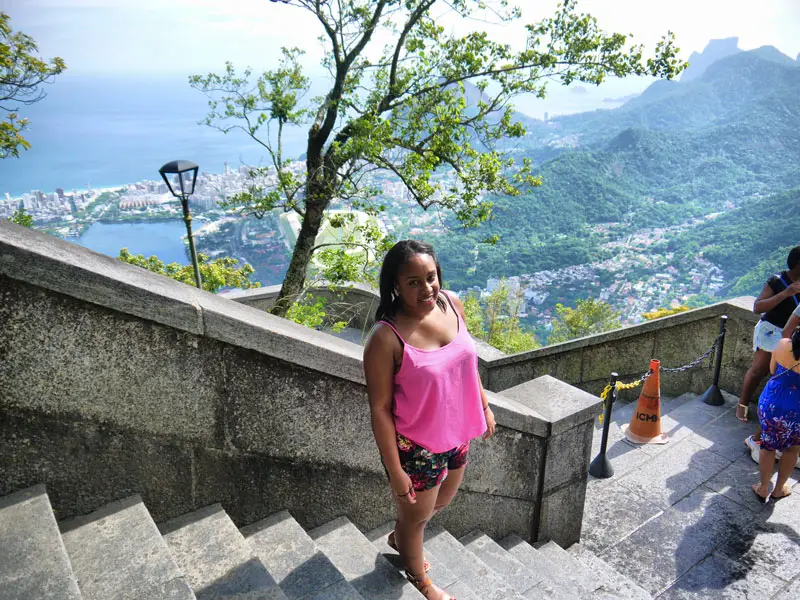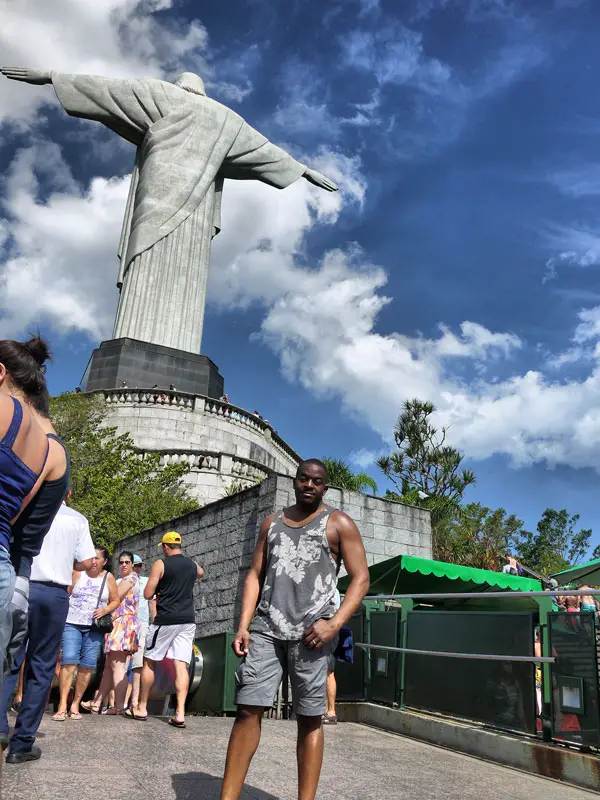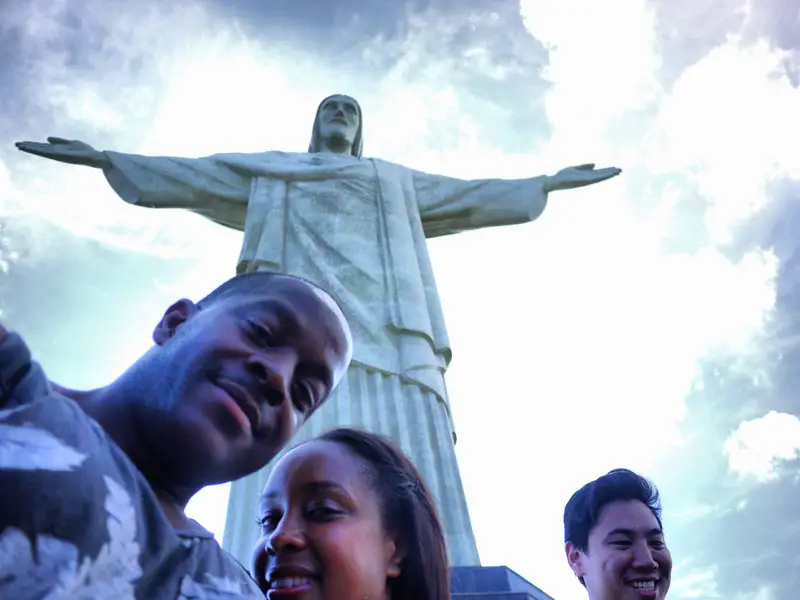 Plan Your Own Trip to Rio de Janeiro
The first thing you should do… Download our Free Go To Rio App for your iPhone, iPad, Android, Apple TV or Amazon Fire TV Stick. This will help you to plan your entire trip – from giving you the top 20 restaurants, attractions, nightlife and top things to do in Rio de Janeiro, to giving you access to the best tours in the city.
We always look for the best deals when it comes to flights, accommodation and tours. Over the last 19 years of enjoying trips together, we've come to rely on a few providers that have saved us money and given us a great service…
GUIDED TOURS, ATTRACTIONS & THINGS TO DO
GetYourGuide.com – Excellent guided tours and all of the top things to do in Rio de Janeiro, hand-picked by local, English & Portuguese speaking tour guides.
HOTELS & ACCOMMODATION IN RIO DE JANEIRO
Booking.com offers the lowest prices on a huge selection of 5,000+ hotels & rental properties in Rio de Janeiro. Hotels.com also offers up to 70% Discount on many of their Hotels in Rio. We've been using hotels.com since 2003 !!
FLIGHTS TO RIO DE JANEIRO
Skyscanner can save you up to 20% OFF your flight price by comparing flight prices on hundreds of websites including Expedia, Booking.com, Opodo, British Airways, Virgin Atlantic, Emirates and more! Book a few months in advance and you'll find cheap flights to Rio, with many international flights flying direct from major cities.
CAR HIRE IN RIO DE JANEIRO
TravelSupermarket – Offering car rentals for as little as £2.60 per day (or $3.70 USD), TravelSupermarket finds you the cheapest and best deal by comparing car hire prices at Avis, Hertz, Sixt, Budget, Holiday Autos and more
TRAVEL INSURANCE FOR RIO DE JANEIRO
World Nomads – Simple, flexible and affordable worldwide travel insurance which includes 24/7 emergency assistance before & during your trip, valuables protection, trip cancellation cover and more