Congratulations! You've booked a trip to the Cidade Maravilhosa… Brazil's "Marvellous City" and South America's most popular City! Rio de Janeiro is no ordinary place, so you can't just rock up to the City with ordinary items in your suitcase… there really are some essential items that you'll need to take with you. Hopefully our packing list will help!
1. Your Favourite Rio de Janeiro Travel Guide
There's only one Rio de Janeiro travel guide you'll need… It's 100% FREE, it'll fit in your pocket, it'll let you instantly book the best tours, it'll give you personal Rio travel tips from a male & female perspective, it'll tell you the top 20 restaurants, nightlife and attractions… We're talking about Go To Rio of course !!
2. A Pair of Budgie Smugglers (for the gents)
Guys, seriously… You'll stick out like a sore thumb if you show up to Copacabana Beach or Ipanema Beach with your oversized knee-length swimming shorts on. You might actually be laughed at – haha! Okay, we may be slightly exaggerating here, but if you really want to fit in with the Cariocas on the beach, it'll be in your best interests to invest in a pair of speedos / budgie smugglers.
Whoa! Check these bad boys out…
3. A Thong Bikini (for the ladies, of course)
Girls, unfortunately that £100 swimsuit that you just bought with the Sugarloaf Mountain print all over it is not gonna cut it in Rio. Thong bikinis are standard beach wear for ladies of all shapes, sizes and ages strutting along the blazing-hot beaches of Copacabana and Ipanema.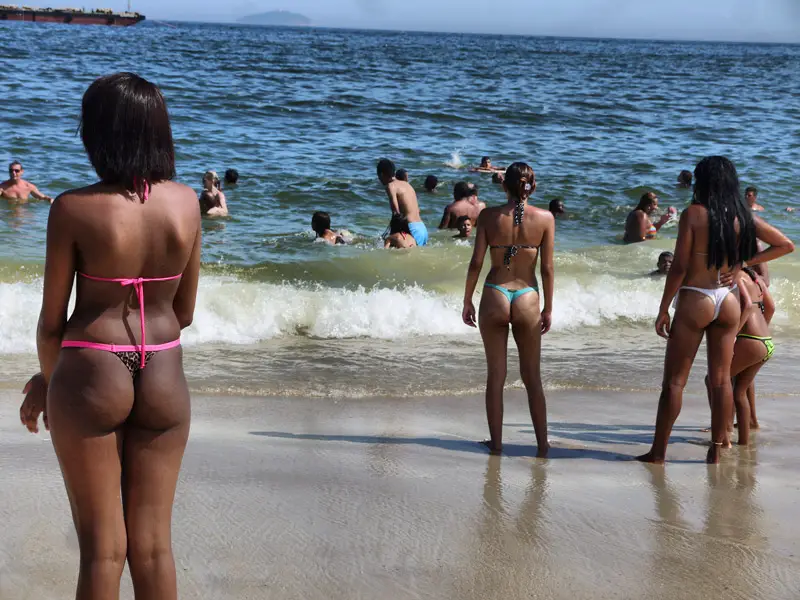 ---
Rio de Janeiro Related Posts…
---
4. A Fold-Away Beach Chair
That's right, there are no sun loungers on the beaches in Rio! Beach chairs are available to rent on Rio's beaches – but we found that with 5 visits to the beach, we spent way more money on chair rentals than we would have spent if we actually bought 2 fold-away beach chairs ourselves!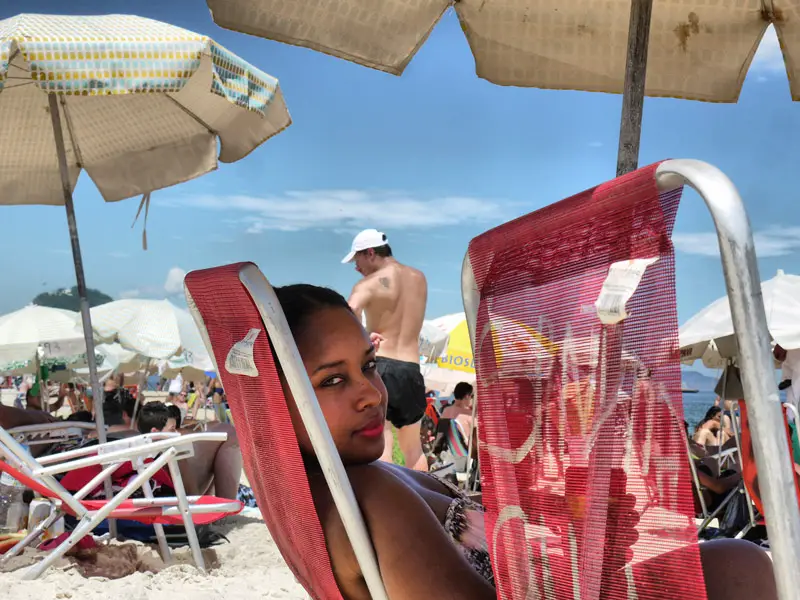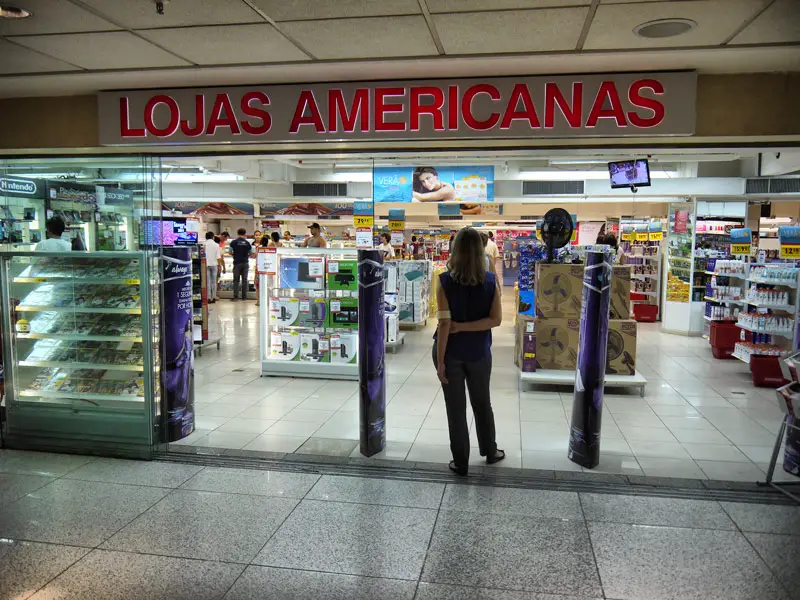 5. A Pair of Havaianas Flip-Flops
Havaianas flip-flops are a must-have for your trip to Rio – they even have the Brazilian flag on them. They're popular with men, women and children; and not only do they come in every colour under the sun to match any outfit, they're not expensive either! Trust us, when you're outside in the heat for 5 hours waiting to see the Christ the Redeemer statue, your feet will need to be in a pair of these!
6. A White Outfit (for new years eve)
On new years eve in Rio, over a million people descend on to Copacabana Beach donning their crispiest white outfits. If you're travelling to Rio over this busy period, then don't forget to pack your best white outfit for the biggest new year street party and fireworks display you're likely to ever attend!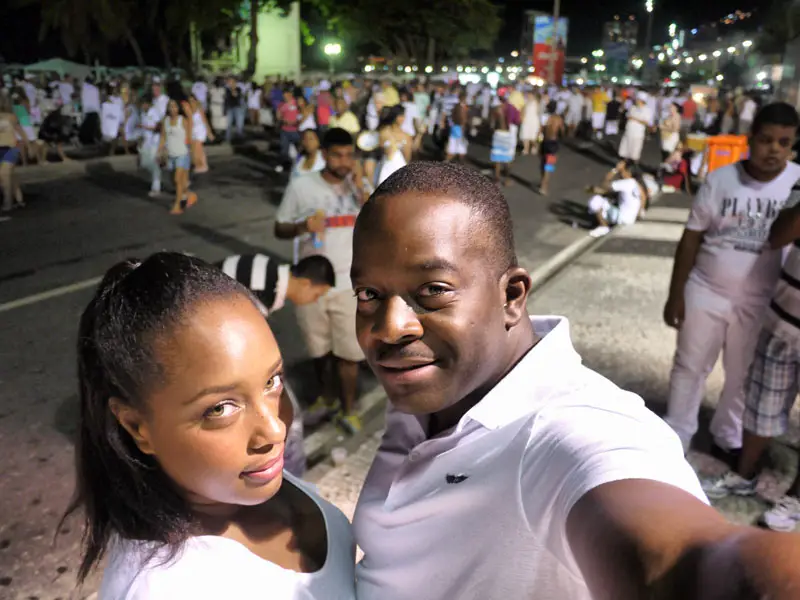 7. A GoPro HERO Action Camera
The GoPro HERO action camera is one of the best purchases we've ever made and we used it every day during our time in Rio. Not only did we strap it to our heads and record the breathtaking scenery as we cycled around Rodrigo de Freitas Lagoon, but we also captured some amazing timelapses, which you can see for yourself right here…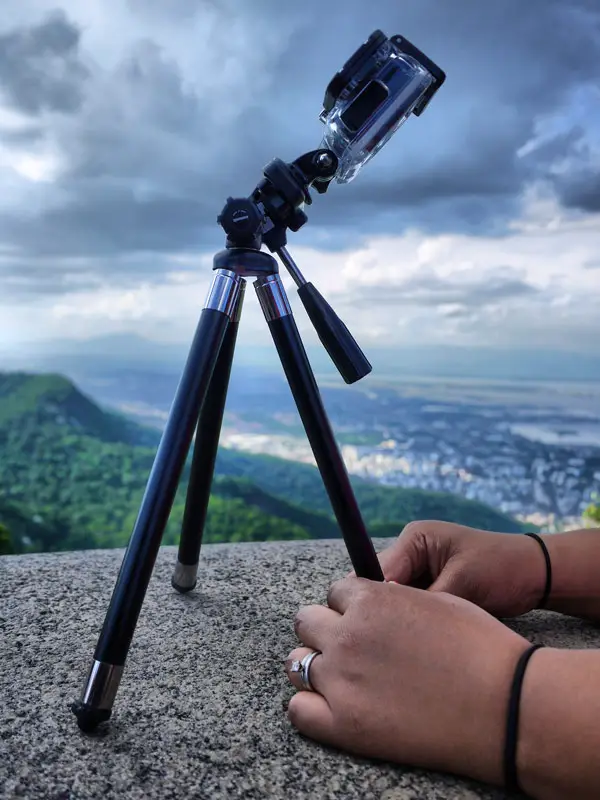 8. A Zoom Lens for your Digital Camera
Don't be like Mase and FORGET your zoom lens when you visit the tourist sites! Mase forgot to bring their zoom lens to Sugarloaf Mountain and Nat will never let him live this down, oops! When you reach the top of Corcovado Mountain, Urca Hill or Sugarloaf Mountain, you will want to take a million photos! You'll feel awesome as you zoom in on planes and helicopters as they fly beneath you and the metropolitan cathedral also looks spectacular from above.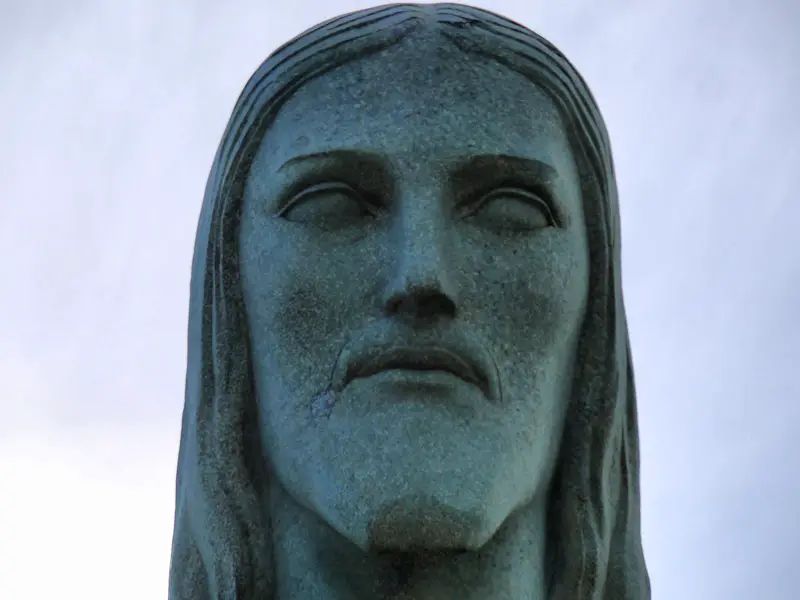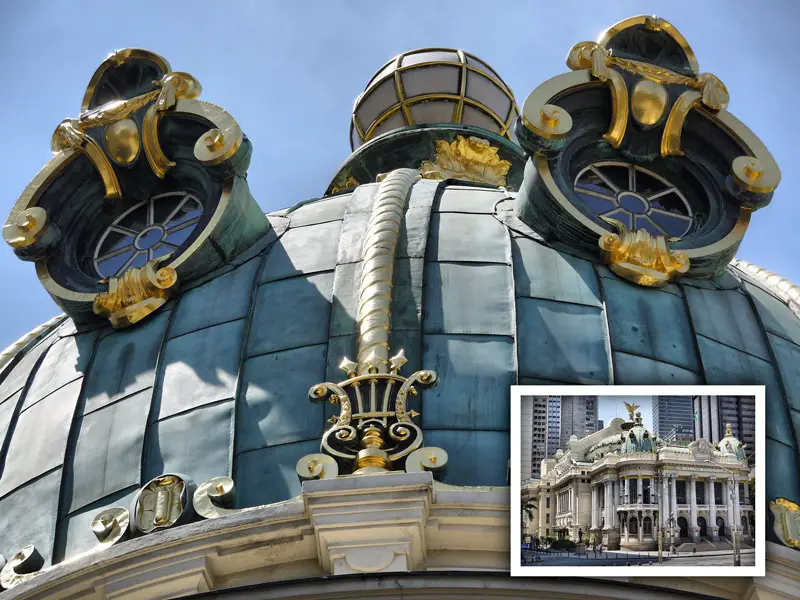 Plan Your Own Trip to Rio de Janeiro
The first thing you should do… Download our Free Go To Rio App for your iPhone, iPad, Android, Apple TV or Amazon Fire TV Stick. This will help you to plan your entire trip – from giving you the top 20 restaurants, attractions, nightlife and top things to do in Rio de Janeiro, to giving you access to the best tours in the city. Count down the days, hours, minutes & seconds until your Rio trip with our CAN'T WAIT! Vacation Countdown app 😊
We always look for the best deals when it comes to flights, accommodation and tours. Over the last 19 years of enjoying trips together, we've come to rely on a few providers that have saved us money and given us a great service…
GUIDED TOURS, ATTRACTIONS & THINGS TO DO IN RIO
GetYourGuide.com – Excellent guided tours and all of the top things to do in Rio de Janeiro, hand-picked by local, English & Portuguese speaking tour guides.
HOTELS & ACCOMMODATION IN RIO
Booking.com offers the lowest prices on a huge selection of 5,000+ hotels & rental properties in Rio de Janeiro. Hotels.com also offers up to 70% Discount on many of their Hotels in Rio. We've been using hotels.com since 2003 !!
CAR HIRE IN RIO
TravelSupermarket – Offering car rentals for as little as £2.60 per day (or $3.70 USD), TravelSupermarket finds you the cheapest and best deal by comparing car hire prices at Avis, Hertz, Sixt, Budget, Holiday Autos and more
TRAVEL INSURANCE IN RIO
World Nomads – Simple, flexible and affordable worldwide travel insurance which includes 24/7 emergency assistance before & during your trip, valuables protection, trip cancellation cover and more