Let's be honest, when many people think of Rio de Janeiro, they think of the slums (or favelas) that are overrun with poverty, gangs, drugs and violence. People tend to think of these negative stereotypes before conjuring up positively colourful images of Copacabana Beach and Ipanema Beach – this lively Brazilian City doesn't exactly have the squeakiest reputation and fear will keep many people away. Well, it definitely didn't keep Nat and I away and we lived to tell the tale (we also created a Rio de Janeiro travel guide app while we were at it).
For instant access to all of the most fun things to do in Rio de Janeiro, download our FREE Rio de Janeiro travel guide app for your iPhone, iPad, Android, Apple TV or Amazon Fire TV Stick. You can use the app to instantly book guided tours, activities and restaurants – best of all, it works offline! To build even more excitement for your Rio trip, count down the days, hours, minutes & seconds until your trip with our CAN'T WAIT! Vacation Countdown App 😊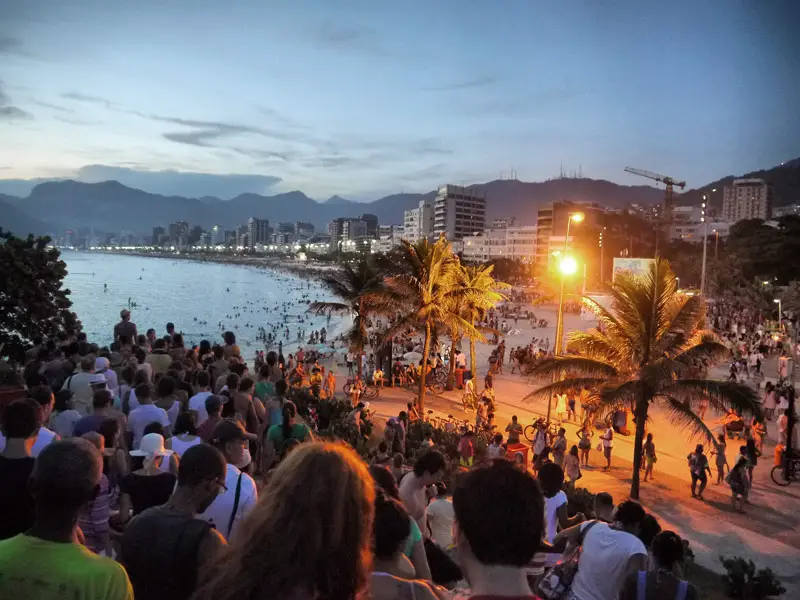 Is Rio de Janeiro Dangerous? Our First Experiences as Newbies Tourists
Show Me the Money… When Nat and I touched down in Rio and made our way through the international airport, our first task was to locate some local currency as we had only exchanged a small amount in the UK. After the lady at the bureau de change shunned my offer of a debit card payment in exchange for some Brazilian Real, she sent me upstairs in the airport to withdraw some cash from an ATM. So… I left Nat with our luggage and I went upstairs (at least 3 floors) to be greeted by 4 or 5 standalone ATM machines. I tried the first one as it was HSBC-branded and it felt familiar. However, as soon as I inserted my debit card and entered my PIN number, the machine conveniently decided that it was now "out of service" and it spat my card right back at me. As this happened, a Brazilian gentleman rushed over to me speaking Portuguese verrry fast. I asked him in my finest Portuguese accent "do you speaky the Inglese" to which he made a hand gesture with both hands, suggesting that my card was being cloned! I was absolutely horrified and frantically ran back downstairs to my wife, haha! fyi – my card didn't ever end up being cloned :o)
Driver! Get us to our Hotel Safely Please… So, after our cash machine fiasco, Nat and I found a licensed taxi driver at the airport's taxi rank who told us that we had just enough Brazilian Real to make it to Copacabana, which is where our hotel was. Although we were told at the taxi rank that there was a fixed-price fare from the airport to the Copacabana/Ipanema area, our taxi driver started our journey with his meter switched on (and ticking!) and when I questioned him about it, he no longer spoke English! I was already regretting not learning some Portuguese. Doh! Schoolboy error on my part. After 45 minutes of complete silence in the taxi, we arrived at our Copacabana hotel where the numbers on the taxi meter were HIGHER than the price quoted to us at the airport, and highway toll charges were also added to the price of our journey. My *confused-face* of displeasure was met with an angry and aggressive response from our taxi driver, but I just had to let it slide and not let it ruin my holiday! You win some, you lose some hey :o)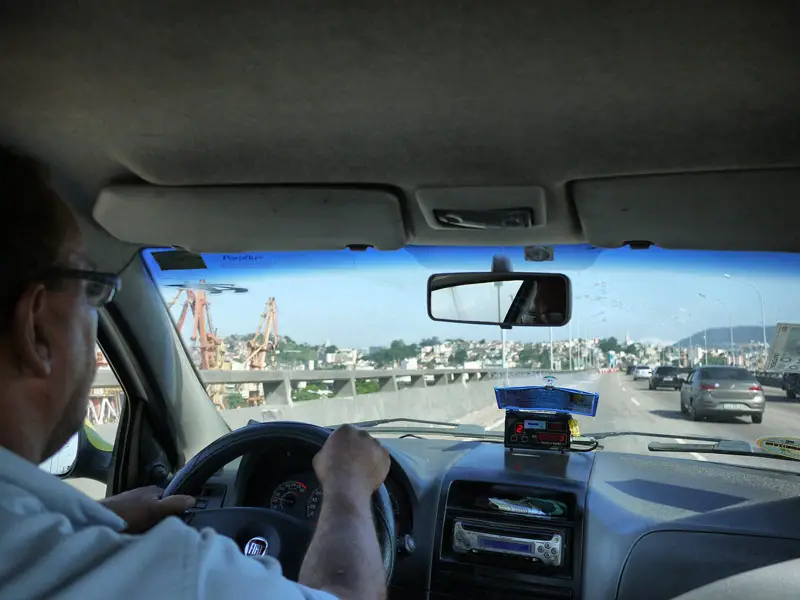 Scaremongering: To Listen or Not To Listen
Don't do This, Don't do That… People in Rio (especially the staff at our hotel) gave us all sorts of safety "advice" – the number of tips we received on a daily basis were definitely appreciated, but felt slightly overbearing at times… although we do realise that staff at hotels and other establishments simply wanted us to enjoy a trouble-free experience in their City. I usually try to ignore scaremongering as, not only do I find it mentally draining, but I find that it restricts me from fully letting go and enjoying my experiences. Think about it… While you should always keep your wits about you, who wants to be constantly looking over their shoulder when all they should be doing is looking up and admiring the spectacular Christ the Redeemer statue or looking out across the dramatic views of Guanabara Bay?
#ShouldersWereNotMadeToBeLookedOver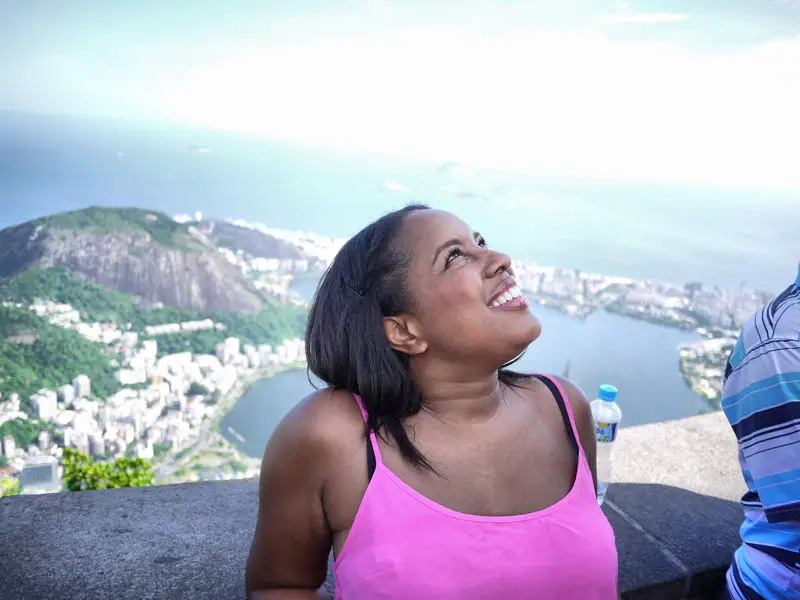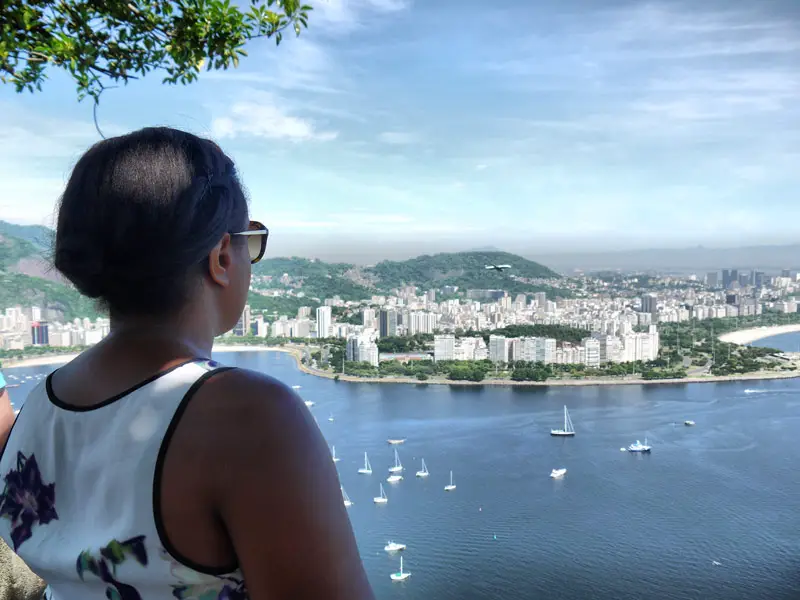 ---
Rio de Janeiro Related Posts…
---
Here are some of the safety tips that we received whilst in Rio:
Don't take your camera out at night
Leave your iPhones in your hotel room safe when going out at night
Whilst on the beach, tie your beach bag to your umbrella/parasol and never leave it unattended
Don't stray away from the beach and walk down unfamiliar side-streets
Oh, how we regret taking the following advice regarding our camera and iPhones… On the night of new years eve, Nat and I were excitedly heading out of our hotel to Copacabana promenade wearing our best white outfits (as you do in Rio) when we were stopped in our hotel lobby by a member of staff. "Sir, Madam, please take off your watches, put away your iPhones and your camera and leave them upstairs in your safe. It is dangerous out there". Nat and I looked at each other in utter disbelief, but we heard genuine concern in this young man's voice so we reluctantly followed his advice. We quickly popped outside the hotel doors to take a selfie first though!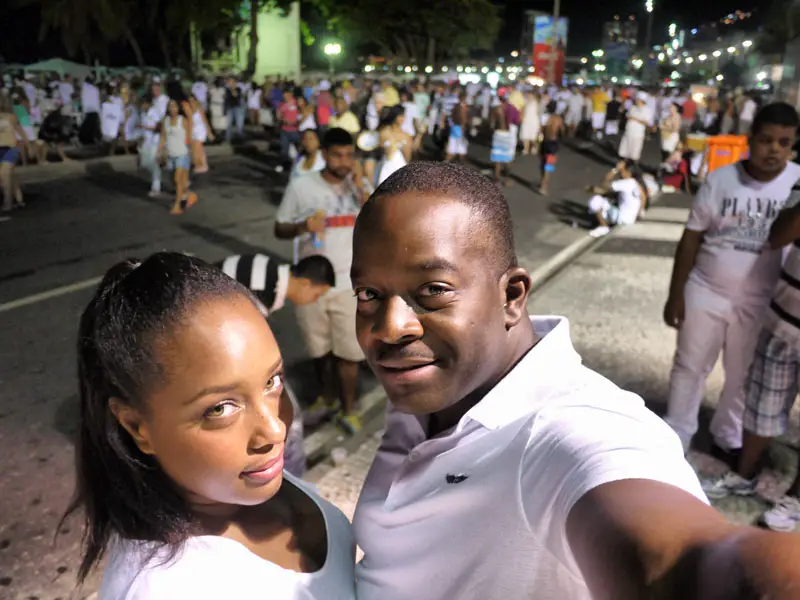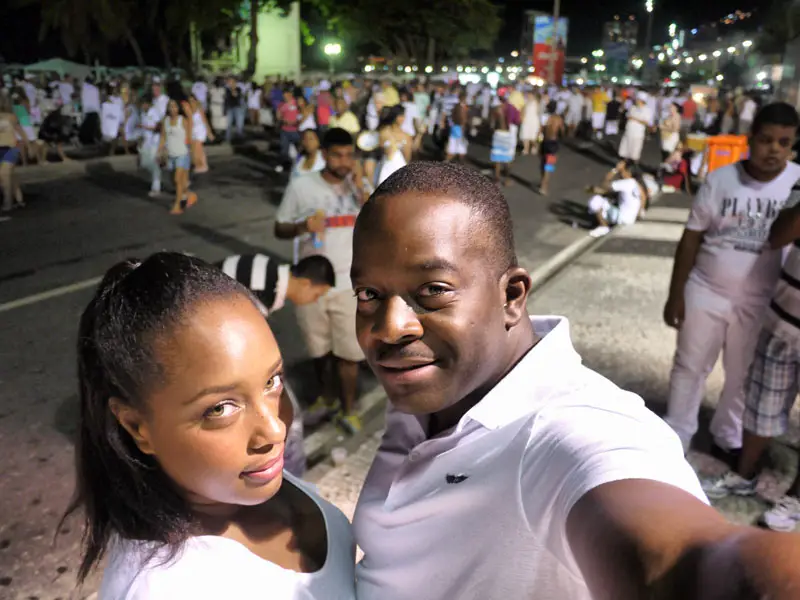 Anyway… We finally started our night, meandering through the thick crowd of partygoers along Copacabana promenade, looking for a good spot while enjoying the live music with just minutes to go until midnight. BOOM! As the clock struck midnight, the sky lit up in an array of colours as we witnessed the best fireworks display we had ever seen! As we looked around us, approximately 500 people in our immediate vicinity (no exaggeration) had their smartphones and cameras in the air, filming the entire spectacle – it was amazing to see. Nat and I on the other hand… No iPhones, no camera. We were a tiny bit disappointed to not have captured that, but on a positive note, we were fortunate enough to enjoy the fireworks properly without observing them through an LCD display. fyi – we didn't see or hear about anybody (let alone, tourists) getting robbed for their phones or cameras that night, we only witnessed good ol' party vibes!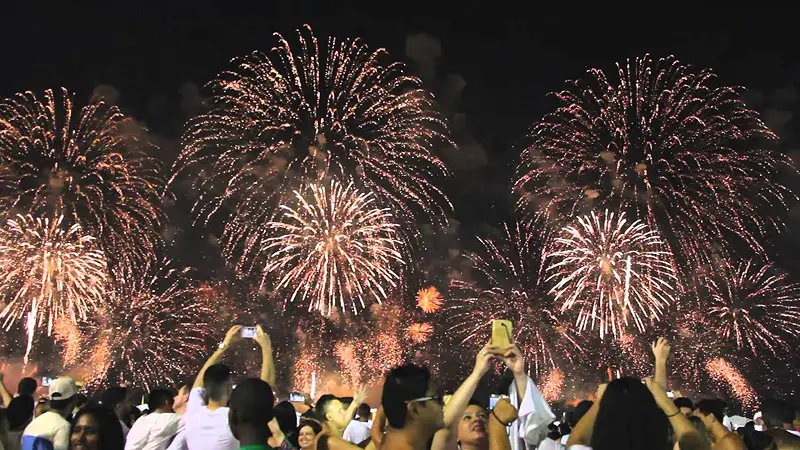 Dangerous Neighbourhoods: Staying Safe
Poverty-Driven Favelas Run by Drug Lords… That's what you hear about, right? Those slums you saw in the City of God movie surely depict the whole of Rio, right? If you're a tourist in Rio, then visiting a non-tourist-friendly favela should be the furthest thing from your mind! Nat and I visited the following neighbourhoods at various times of the day and night, and we felt perfectly safe:
Copacabana – vibrant, beachy, crowded
Ipanema – fashionable, beachy, crowded
Leblon – trendy, restaurants
Lagoa – lagoony, leafy, peaceful
Lapa – bars, non-touristy, music
Downtown – homelessness, big buildings
Botafogo – locals, shopping mall
You can even take a guided tour of the popular and tourist-friendly Santa Marta favela if you feel like sampling that favela life. I can't tell you the names of any neighbourhoods to avoid, but pleeeaase try to be sensible and street-wise like you'd be in your own home town or city!
Poverty, Homelessness and Harrassment
Huh? You want my Chicken Wings? But I'm Halfway Through Eating Them… There's only one thing in Rio that pee'd me off more than that cheeky taxi driver – and that was seeing homeless CHILDREN sleeping on the streets. Nat and I saw them at all times of the day (and night) and many of them seemed to be alone, some looked as young as 8 years old! There was this one homeless kid who walked through a Copacanana beach bar one night as I was eating some chicken wings; he stopped at mine and Nat's table and looked me dead in the eye, and then at my chicken wings, and then in my eyes again. I just handed him my plate, how could I not? Who could deny a harmless, hungry child? Not me, that's for sure. I wish I could've done more for him.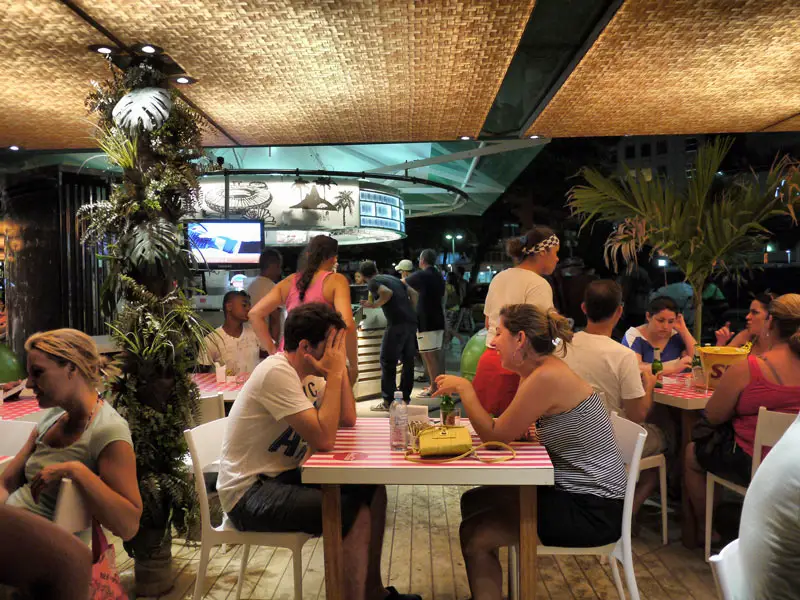 Here, Eat my Spaghetti Bolognese, I Wasn't Hungry Anyway… I didn't only witness homeless children; there were homeless adults too – men and women who were completely harmless and downright hungry. Nat and I were sat outside at an Italian restaurant in downtown Rio one afternoon when a homeless man and woman awoke from their bench and approached us mid-meal; not a single word was uttered from their mouths. I simply said to the man in my English-with-a-Portuguese-accent "I will eat a little more and then you can eat the rest if you want" – he understood me, smiled and went to sit back down on his bench. At this exact moment, his ladyfriend was handed a small box of leftover food by a waiter from the restaurant – and this same waiter handed me an empty food container for me to deposit my leftover spag bol. It was at this moment that I realised this was a daily ritual. Nat and I loved the fact that the restaurant made these kind gestures towards the homeless, and we hope that other restaurants in Rio are doing the same. I later watched from a distance as this friendly gentleman devoured my spaghetti bolognese with his bare hands. Again, I wish I could've done more.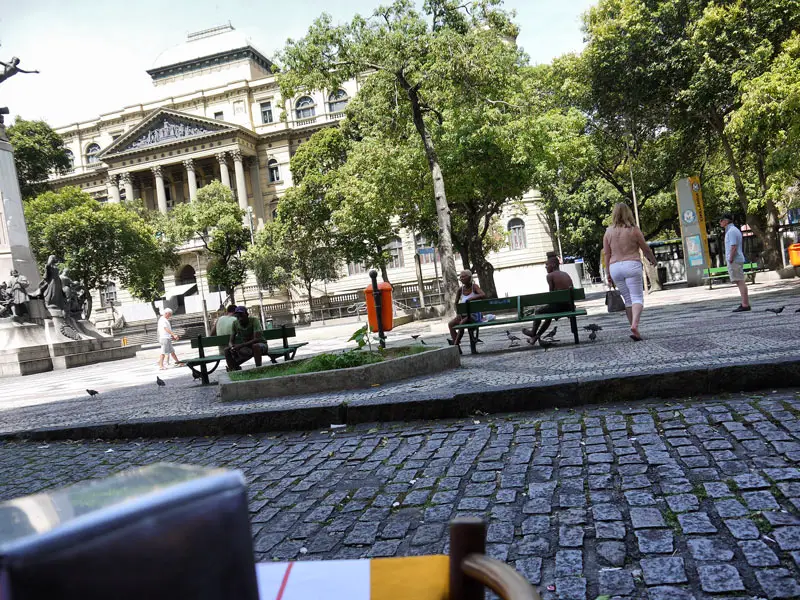 Fear in Rio: My Conclusion
Is Rio de Janeiro a dangerous place? Is it safe for tourists? I guess that's a matter of opinion. Did any of these experiences in Rio put fear in me? No way! When I think of Rio de Janeiro, I think of it as somewhere so so different to anywhere else I've visited – but its uniqueness is exactly what makes it worth visiting. Yes it has its problems with poverty, homelessness, drugs and crime just like any other major city (i.e. London, New York, Paris)… but there's so much fun to be had, so many exciting things to see, so many caipirinha's to drink and such a vibrant atmosphere to absorb. Nat and I didn't ever feel scared in Rio, and you shouldn't either.
Plan Your Own Trip to Rio de Janeiro
The first thing you should do… Download our Free Go To Rio App for your iPhone, iPad, Android, Apple TV or Amazon Fire TV Stick. This will help you to plan your entire trip – from giving you the top 20 restaurants, attractions, nightlife and top things to do in Rio de Janeiro, to giving you access to the best tours in Brazil's liveliest city. Count down the days, hours, minutes & seconds until your Rio trip with our CAN'T WAIT! Vacation Countdown app 😊
We always look for the best deals when it comes to flights, accommodation and tours. Over the last 19 years of enjoying trips together, we've come to rely on a few providers that have saved us money and given us a great service…
GUIDED TOURS, ATTRACTIONS & THINGS TO DO
GetYourGuide.com – Excellent guided tours and all of the top things to do in Rio de Janeiro, hand-picked by local, English & Portuguese speaking tour guides.
HOTELS & ACCOMMODATION
Booking.com offers the lowest prices on a huge selection of 5,000+ hotels & rental properties in Rio de Janeiro.
FLIGHTS
Skyscanner can save you up to 20% OFF your flight price by comparing flight prices on hundreds of websites including Expedia, Booking.com, Opodo, British Airways, Virgin Atlantic, Emirates and more! Book a few months in advance and you'll find cheap flights to Rio, with many international flights flying direct from major cities.
CAR HIRE
TravelSupermarket – Offering car rentals for as little as £2.60 per day (or $3.70 USD), TravelSupermarket finds you the cheapest and best deal by comparing car hire prices at Avis, Hertz, Sixt, Budget, Holiday Autos and more
TRAVEL INSURANCE
World Nomads – Simple, flexible and affordable worldwide travel insurance which includes 24/7 emergency assistance before & during your trip, valuables protection, trip cancellation cover and more